167 Views
What To Do With Pets When Selling Your Home
September 21st, 2023 8:14 AM
Share
We're committed to finding, researching, and recommending the best products. We earn commissions from purchases you make using links in our articles. Learn more here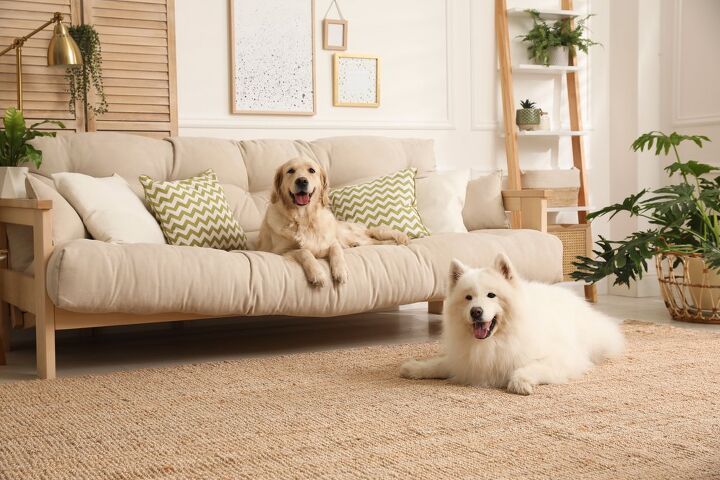 Having pets adds an extra challenge when you're trying to sell your home. But it's nothing to lose sleep over because plenty of people have pets. It's not a major red flag to buyers if there are dogs, cats, or other animals in the home. But that doesn't mean you should broadcast the fact that you have them to the world. So, what should you do with pets when selling your home?
Arrange for pets to stay with a friend, or board them during showings and open houses. Hire a dog walker or pet sitter, or take your pet to work with you. Hide pet supplies and keep pet areas clean. If your pet must be in your home during a showing, confine them using a pet gate or kennel.
Dogs and cats are part of the family, but that doesn't mean potential buyers want to see them when they check out your house. Plus, having your pets home during showings could put them in unsafe or uncomfortable situations. Make sure you have a plan for your pets when selling your house.
Why It's A Good Idea To Get Pets Out Of The House When You're Selling
You might think that a pet decreases your home's value, but that's only if they cause damage. Things like claw marks on furniture and baseboards or a strong urine smell in the carpet will indeed ding your home's appeal to buyers. So, if your house is showing signs of wear and tear thanks to your pets, address these issues before listing your home.
Beyond these issues, it's best to have your pets out of the house during showings for multiple reasons. First and foremost, consider your pet's feelings and safety. You won't have to worry about them feeling anxious or nervous with strangers in the house. Additionally, you don't need to stress about the chance your pet could get loose and run away from home.
When your pets are off the premises, there's less liability, since your pet can't attack anyone in the house. Then there's the logistics of having more freedom to schedule showings, which leads to more eyes on your property and a potentially faster sale.
Tips for Handling Pets When Selling Your House
The best thing to do with your pets when you're selling your house is to get them out of it. This is for your protection, their safety, the safety of others, and to have an overall more positive showing. Here are different suggestions of what you can do with your furry friends when your home is on the market.
1. Hire a Dog Walker
For short showings that you know about ahead of time, hire a dog walker to take your pup on a lengthy stroll or to a local dog park. Cats can also go on a walk with a leash, in a carrier, or in a cat stroller, depending on what your kitty's used to.
2. Use Hidden Storage For Pet Supplies
It's impossible to have pets and not have any of their stuff around, but that doesn't mean it needs to be a mess. Keep your pet's areas clean, and organize your pet's belongings in a way that makes them easy to keep out of sight.
3. Bring Your Pet To Work
If you're able, bring your pet to work with you. Whether you have a showing scheduled or not, this ensures you don't need to stress about any last-minute things popping up. Of course, this tip relies heavily on your work environment.
4. Take Advantage Of A Pet Sitter
Hire a pet sitter who will watch your dog or cat at their own home during showing days or open houses. Another possibility is doggy daycare if your pup is used to going. You can use sites like Bark.com and Rover to find various pet professionals.
5. Bring Your Pets On An Outing
If you're home before an open house or showing, you can take your pet for a ride or an outing. Go to a pet-friendly store or cafe, visit the park, or go to a friend's house.
6. Board Your Pets
Research local boarding facilities that offer day rates. This option is less expensive, since you're not leaving your pet overnight, but it hinges on the facility's availability.
7. Ask Friends Or Family To Keep Your Pets
Depending on your situation, it might make more sense to remove your pets from the home the entire time it's on the market. If you have a friend or family member willing to rehome your pet for a few months, this could be a good option. If you choose this route, make sure to visit your pet frequently, take them on walks, pay for their care, etc. Also, consider giving your friends a nice gift or taking them to a nice dinner as a thank you.
8. Relocate Your Pets To Your New Place If Possible
If you already have access to your new home, consider moving your pets (and you) in early. Start getting situated in your new place while you're trying to sell your other one. Overall, this would be the less stressful way to go, since you can stage your home and keep it tidy easier if no one is living in it.
What If Your Pets Have To Be Home During A Showing?
Although it's ideal to have your pets out of the house during showings and open houses, unfortunately, this isn't always possible. Assuming you've tried every other option, and you're left with no alternative, your pets might need to stay put. Keep these tips in mind if your pets need to stay home while you're selling your house.
1. Have A Designated Pet Space For Showings
Don't wait until a showing to figure out where you're going to keep your pets. Have a designated area set up so last-minute showings don't send you into a panic. If you have room in your yard, a designated pen, dog run, catio, or fenced-off area is a great option.
However, make sure to have a backup spot indoors in case the weather is bad or temperatures are too extreme to keep your pets outside. This indoor place could be a small room, like a laundry room or powder room where you place your pets, their food, water, and bedding. Another good spot is a garage if it's temperature-controlled.
Use a pet gate to confine your pets. Even better, keep your pets in a comfortable kennel, provided they don't get overly stressed. But the idea is to avoid closing any doors because then your buyers don't get to see that space, which could raise red flags.
2. Introduce Your Real Estate Agent To Your Pets
If you're working with a real estate agent to sell your house, introduce them to your pets. This way, at least your pets recognize someone when strangers come into your home. However, this is not a substitution for safely confining your pets. It's still essential for you to secure dogs and cats before anyone comes into your house.
3. Alert Buyers About Your Pets Ahead Of Time
Your agent, or you if you're showing your home, must alert buyers to the presence of animals in the house. This is out of courtesy and also for your protection, in case the buyers have allergies or any other issues with animals.
Reduce Your Pet's Presence When Selling Your Home
Having a clear game plan as to what you'll do with your pets before you list your home will significantly reduce your stress. It also helps keep you, your home, and your pets safe and happy. Whether you plan to board your pets, relocate them to your new home, or have them stay with a friend, make arrangements ahead of time.
If you can't relocate your furry friends, at least use a pet sitter, dog walker, or friendly neighbor to remove them from the home during a showing. Bring your pet to work or take them for a ride, but leaving them at home should be a last resort. If you do need to leave your pets in the house, confine them using a pet gate or kennel, or section off a small part of your yard if the weather is pleasant.
Selling your home when you have pets may add a few extra challenges to your to-do list. But with a bit of preparation, there's no need to stress. Set up your plan, make sure everyone involved is on board, and then you can focus on selling your house.
Related Guides:

Stacy Randall
Stacy Randall is a wife, mother, and freelance writer from NOLA that has always had a love for DIY projects, home organization, and making spaces beautiful. Together with her husband, she has been spending the last several years lovingly renovating her grandparent's former home, making it their own and learning a lot about life along the way.
More by Stacy Randall
Published September 21st, 2023 8:14 AM