900 Views
How Much Does Home Depot Charge For Fence Installation?
October 20th, 2021 3:39 PM
Share
Home Depot offers many in-store and remote services, and that includes fence installation. You can expect to pay $5,500, on average, for Home Depot to install your fence. Prices vary widely, so follow along as we explore how much Home Depot charges to install a fence.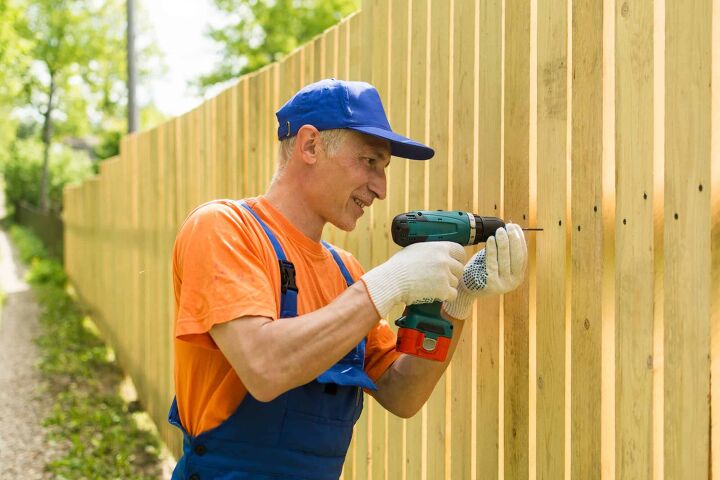 They say that tall fences make good neighbors, and to a point, I can agree with that. You don't want everyone knowing your business. Getting fencing installed, for most homes, is a must. The thing is, finding a fencing company can be a little tricky, especially if you aren't very comfy with getting them all called to your home and fielding quotes over the phone. Most people wish they could just go to Home Depot and get their fencing installed. But, is this a thing?
Home Depot can and does offer fence installation services. How much they'll charge will depend on the fence material, the number of feet that your fencing will need to be, as well as any additional labor that you might have to deal with. This can include tearing down existing fencing as well as installing a home gate. It can range from $1000 to $10,000 for a typical install.
Putting up a new fence can get pretty pricey, pretty quick. If you were curious about how much you should expect to pay if you go the Home Depot route, we understand. Here's what their site had to say about their fence installation services…
Do You Need Fence Installation or Repair Services?
Get free, zero-commitment quotes from pro contractors near you.
How Much Does Home Depot Charge For Fence Installation?
According to Home Depot's site, 80 percent of all their fence installations cost between $1,000 and $10,000.
The most common things that can impact a fencing job's price tag include:
Fencing Material
Additional Labor
Yard Size
To give you a better idea of what to expect, let's break things down by the major factors that come with a Home Depot installation, shall we?
How Does Fencing Type Impact Your Installation Price?
Without a doubt, the biggest factor that impacts your installation costs is the type of fencing that you have. Material costs have an incredible variety to them, which means that the act of simply choosing a different fencing type can easily reduce your costs by thousands of dollars. Here's what to expect with each common fencing type:
Aluminum. Aluminum fencing costs anywhere from $83 to $180 per part, depending on the type of fencing. This is usually the most expensive type of fencing Home Depot will install.
Chain Link.  The most affordable option, chain link fencing starts at $45 and peaks at $139 per linear foot. How much you can expect to be charged will hinge on the size of the fence as well as the type of linking material being used.
Wood. Wood's pricing is actually broken down by the type of wood you want, as well as the style of fencing. Pickets can be as low as a dollar a pop. If you want to go the panel route, you can expect to pay between $31 to $195 for each one. The wood type also matters. Whitewood is the least expensive, while Redwood is the priciest mentioned on their site.
Pressure Treated Wood. A more affordable route for fans of wood on a budget, this costs from $1 to $4 per picket or up to $73 per panel.
Vinyl. This popular fencing material costs from $35.80 to $108 per panel.
Concrete. Though concrete fencing is a popular option, it's not currently offered by Home Depot. If you want this type of fencing, you're going to have to look elsewhere.
Iron. Another popular (but ultra-upscale) option is wrought iron. Since this is considered to be an "artisan" material, Home Depot doesn't offer it as part of its menu of services. While you might be able to get a quote for a prefabricated fence install, this isn't guaranteed at this big box store.
How Does Additional Labor Factor Into A Home Depot Fence Installation Estimate?
A typical basic fence installation will include prepping the terrain and laying down the fence. However, this isn't the full story of what your install might require. If you live in an area where you need to get permits, you may need to pay extra for that. If you have an old fence you need to remove, particularly rocky terrain, or want to get a gate added to your home, you might get extra fees.
It's also good to know that Home Depot does offer some customization options, if you need to get a fence that has a personal touch. As one would expect, these come with an extra cost.
How Can I Tell If I'll Have To Pay Extra For My Landscaping?
If you're worried that you'll have to pay extra due to soil or terrain prep, you're not alone. It's a charge that can eat away at money faster than you'd believe. Generally speaking, if you have lots of trees, extremely rocky terrain, or lots of hills in your yard, then you probably will have to pay extra to get your area prepped for fencing.
Can I DIY My Own Terrain Prep?
The easiest way to cut costs is to do your own terrain prep prior to getting an estimate. People who have a knack for landscaping will be able to decrease their costs significantly. Even doing something as simple as brush removal or trying to dig away rocky patches can help reduce your costs by hundreds.
How Does Yard Size Impact A Home Depot Fence Installation Estimate?
This is actually fairly straightforward. The larger your yard is, the more fencing you're going to need to install. The more fencing you need to install, the more labor you will need in order to fully fence in your area. This leads to higher costs, regardless of what material you choose to use.
Does Home Depot Do A Good Job With Fencing Installations?
A lot of people get nervous about going to a big box store for contracting work, and it's easy to see why. There's a reputation of big box stores having underqualified people working for them, but this just isn't true. Home Depot only works with licensed, bonded, and insured contractors. So, the work that you get from them will be comparable to anyone who you would hire from Angie's List.
Does Home Depot Offer Any Warranty On Their Fencing Installation?
To help show that they mean business, Home Depot offers a one-year warranty on their workmanship when it comes to fencing installations. While this isn't the biggest warranty they've offered for their services, it's still pretty impressive and shows that they're willing to stand behind their work.
How Does Home Depot's Fencing Installation Costs Compare To Independent Fencing Companies?
Honestly, it depends on the contracting company. Like most types of services, there will be good companies and bad companies. There also will be companies that are pricier than average as well as ones that are cheaper. To make sure that you're getting a good price, reach out to at least three other reputable fencing companies to find out how much they'd charge.
What Kind Of Custom Work Does Home Depot Do?
This all depends on what's available at your location. Some areas will only have marginal customization work available, like adding a gate or adding a pre-purchased sign nearby. Others, however, might go more in-depth when it comes to their custom work. The best way to find out if the Home Depot contractors will do your custom work is to ask them directly.
How Do You Get An Estimate From Home Depot?
If you are curious about getting an estimate from Home Depot's fencing services, we've got some good news for you. It's easy. You will need to book an appointment via phone or an in-person visit to your local store. From there, Home Depot will send out a specialist to your home at the given time of your appointment.
The specialist will look at your terrain, talk to you about fencing options, figure out what kind of fence posts you need, then give you an estimate. The overall process won't take more than an hour. Since estimates from Home Depot are free of charge and obligation-free, you don't have to worry about being put in a bind if things don't work out.
Is Getting Fencing Installed By Home Depot Worth It?
It all depends on your needs, the price quote you get, as well as whether or not you want to pay the amount of money they quote. Every project has its own perks and pitfalls. So, we technically can't tell you what will or will not be worth it. With that said, most people find the reliability and reasonable pricing Home Depot offers to be a huge blessing.
Do You Need Fence Installation or Repair Services?
Get free, zero-commitment quotes from pro contractors near you.
Our Final Take
Home Depot's services have become a mainstay among home improvement aficionados because they're reliable, offer quick services, and have reasonable pricing. This also happens to be true about their fencing installation services. The price that they will quote you can vary greatly, depending on your location, the terrain, as well as the material that you want to use as a fence.
According to Home Depot's own studies, around 80 percent of all their fencing jobs have a price that falls between $1,000 and $10,000. In most cases, you can expect the price to be on the lower end of the scale. Even so, you will need to book an appointment for a free estimate to get an exact answer for your own unique project.
For the most part, choosing to go the Home Depot route isn't a bad idea. All of their contractors are licensed, bonded, and pass background checks. All of their work comes with a one-year warranty on their workmanship. People who want a reliable company to handle their fencing should consider hiring them to do the work. After all, it's a good way to get peace of mind.
Related Guides

Ossiana Tepfenhart
Ossiana Tepfenhart is an expert writer, focusing on interior design and general home tips. Writing is her life, and it's what she does best. Her interests include art and real estate investments.
More by Ossiana Tepfenhart
Published July 29th, 2020 3:15 PM