57 Views
Hackzall Vs Sawzall: Which One Is Right For My Task?
January 24th, 2022 11:21 AM
Share
We're committed to finding, researching, and recommending the best products. We earn commissions from purchases you make using links in our articles. Learn more here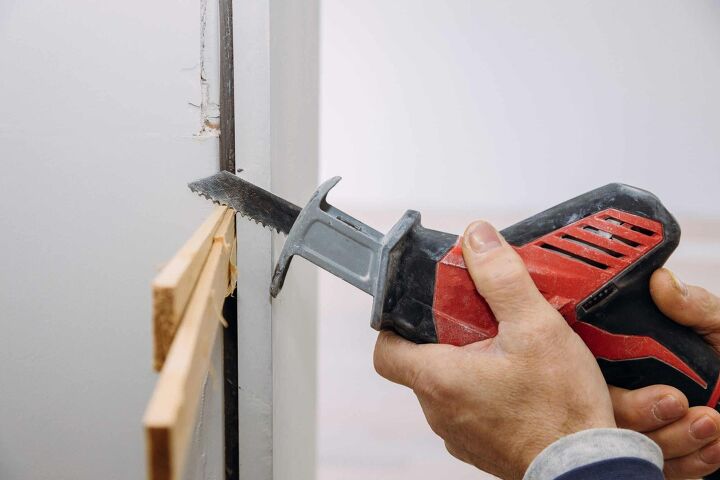 Hackzalls and Sawzalls are two designs of reciprocating saws created by Milwaukee power tools. For home use, these saws are particularly useful for remodeling or repairs. The saws are often used in place of a circular saw when someone needs greater control of a saw. For example, reciprocating saws can be used in a more constrained area because they lack a flat base.
The short answer is Hackzall is a smaller, less powerful one-handed unit. Sawzall is a larger, more powerful 2-handed unit. If you need greater versatility in cutting, go for the Sawzall.
What is a Reciprocating Saw?
A reciprocating saw is a type of power saw. It gets its name from the forward and backward, reciprocating motion, the saw makes to cut material.
What is the Reciprocating Saw Used For?
The reciprocating saw is predominately used in demolition and construction. However, it is also useful for a consumer that wants to do significant remodeling or repairs, especially on ceilings.
This saw makes doing work above your head safer due to an increased ability to control the saw. There are several other tasks that a homeowner may want to use a reciprocating saw for:
A reciprocating saw is handy for cutting holes in pipes without damaging the pipe
These saws work well for cutting wood, even for artistic purposes.
A reciprocating saw will cut nail embedded wood without damaging the saw blade.
Reciprocating saws are also excellent for framework due to their effectiveness at creating straight or curved cuts.
The saws are also useful for doing plasterwork.
The Best Accessories for a Reciprocating Saw
Several accessories can extend the use of your saw by allowing you to do more than cut things with it. For example, attachments such as brushes, scrapers, rasps, scouring pads, and sanding pads can be useful for many projects.
With a brush, you can do things such as cleaning the rust off your grill or the mud off your deck. Whereas the rasp or sanding pads would allow you to more easily complete woodworking projects.
The many accessories make a reciprocating saw much more useful for an average homeowner. Notably, reciprocating saws like and including Milwaukee's can be used with scraper blades to remove paint, tile, and many other things.
Safety Guidelines For Using a Reciprocating Saw
It is essential to take proper safety precautions while using a reciprocating saw. Therefore, listed below are several essential precautions:
Wear safety gear. You need to wear goggles, gloves, a mask, safety shoes, and ear protection.
Keep your hands away from the saw blade. This may seem obvious, but it is vital you remain diligent about this precaution.
Do not use this saw around flammable materials. The saw produces sparks and could cause a fire.
Make sure you keep your saw blades sharp. Using a dull blade may result in the saw moving around unpredictably, which could cause injuries.
Make sure your work area is safe. Keep your worksite adequately lit and free of tripping hazards.
Always grip the saw with both hands. This helps you maintain balance and be prepared for any sudden movements of the machine.
Use the saw correctly. Look over the manual and make sure you are thoroughly familiar with the directions. You may find that there is a safer way to use the saw.
Milwaukee Reciprocating Saws
Before we dive too deep into a comparison of the Hackzall and Sawzall, let's take a moment to highlight one major thing they share: manufacturer. Both of these tools embody different lines of reciprocating saws made by Milwaukee Electric Tool Company.
Leading the industry in performance and durability since the company began in 1924, Milkwaukee offers two versions of the standard reciprocating saw, aptly named the Hackzall and the Sawzall. With that said, it's important to understand that, while these are fine tools, Milwaukee does not make the only reciprocating saws on the market.
What is a Hackzall?
Many users claim that the Hackzall is like any other tool you've ever operated before. Instead of your typical elongated, two-handed design, the Hackzall was specially built for one-hand use. Because of this, the device features a form factor that is modified from an ordinary power drill.
The grip is pistol-style with a balanced weight, allowing for efficient use without additional support. The line of Hackzall products also offers an anti-vibration system that is designed to increase both control and accuracy while operating the device one-handed. You'll find that this technology comes standard across the various models in the line.
All models are cordless and use Milwaukee's RedLithium battery system for dependable power. The Hackzall has numerous benefits, because of its small form factor these include:
Weight: The Hackzall weighs much less than the Sawzall.
Size: The Hackzall is smaller and designed to be carried and used in cramped spaces.
One-handed: The hackzall uses a pistol grip handle like a power drill. The Hackzall is used on items like pipes while holding them in your other hand.
Price: The Hackzall costs slightly less than the Sawzall.
What is a Sawzall?
When you first view the Sawzall, you'll notice that it looks just like your standard reciprocating saw from any other manufacturer. Most of the models included in this particular product line feature a rear-mounted support area, along with the device's trigger.
On the Sawzall's elongated body, you'll also find a forward-mounted support point. This allows the entire device to be held and operated like you would a rifle. There are both corded and cordless Sawzall options and most users prefer the battery-operated model.
In recent years, the manufacturer has started to offer models with One-Key, allowing you to connect the unit to an app on your smartphone. This feature allows you to track the unit's battery life and performance. The Sawzall like the Hackzall has its own benefits to boast these include:
Power: The Sawzall can be powered by the same battery that the Hackzall uses. Alternatively, you can choose a corded model for higher power applications.
Control: The Sawzall is designed for a 2-handed operation. This means if you are cutting difficult material, you can retain a better grip than the Hackzall.
Flexibility: The Sawzall uses the same blades and batteries as the Hackzall, but can cut through more challenging material.
How Do I Decide Which is Right for Me?
One of the most notable differences between the Hackzall and the Sawzall is form factor. While the Sawzall holds true to the general style and shape of conventional reciprocating saws, the Hackzall was specifically designed for one-handed operation. As a result, the form factor of the Hackzall is more focused on balance.
The Hackzall is also a smaller device to store and carry and retains enough power for many applications. In addition, the Hackzall costs less for a battery-powered model at only $99 vs.—the Sawzall's $119 for the same battery-powered series.
The Sawzall boasts more powerful options giving it greater potential applications for heavy-duty users. This doesn't mean that the Hackzall is a "fragile" tool, but due to its' smaller size, it tends to be slightly less powerful.
Where it's limited on power, the Hackzall makes up for in versatility. Since you operate it with one hand, it can be used in much more situations than its Sawzall counterpart. Whereas, the Sawzall is great for achieving large cuts that don't necessitate much finesse.
How to Choose a Blade
Manufacturers measure blades in teeth per inch (tpi). Many manufacturers state on the package what material their blades are designed for. However, if you need to decide yourself, remember the lower the tpi, the faster you will generally cut.
Tpi also helps you decide what material it is going to be able to cut. A tpi of 3-12 works best for wood and other relatively soft material. A tpi of 12 and greater works best for metal.
---
Related Questions
What Are Some Cheaper Alternatives?
Milwaukee makes both the Sawzall and Hackzall. However, there are many other varieties and makers of reciprocating saw out there. Many companies make similar designs, but with different prices and quality.
Corded or Cordless?
There are many reasons to choose a corded reciprocating saw, power, versatility, unlimited energy source, and no expensive batteries. On the other hand, cordless models offer no tangled cords and no need for electrical outlets.One primary consideration in deciding between the two is whether you're working in an area with a power source nearby. For example, contractors often may work on a site before power is set up.
Our Final Verdict
The Hackzall is probably the right choice for light-duty users who may want a reciprocating saw around the house. Moreover, this could make a good saw to cut tree branches or PVC pipe.
The Sawzall is an excellent choice for heavy-duty users, such as contractors who may need to cut steel tubing. It's slightly larger and more costly, but it offers more versatility. Regardless of which Milwaukee reciprocating saw you choose, your Hackzall or Sawzall will be a worthy addition to your tool collection.

Lisa Borga
I am a writer who enjoys working on home improvement projects. My husband was in the navy, so we moved frequently. This gave me many opportunities to fix up new places. In my spare time, I enjoy reading mysteries and hiking.
More by Lisa Borga
Published July 25th, 2020 5:56 PM