193 Views
Does Every Room Need A Heat Source? (Find Out Now!)
January 24th, 2022 11:58 AM
Share
We're committed to finding, researching, and recommending the best products. We earn commissions from purchases you make using links in our articles. Learn more here
Heating a house is something that requires either a central heating unit or individual heaters for each room. Federal laws require that every habitable space has access to heat. In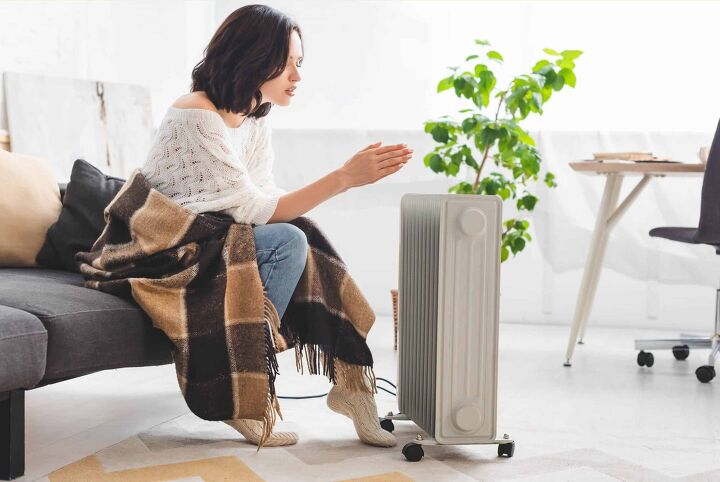 Heating a house is something that requires either a central heating unit or individual heaters for each room. Federal laws require that every habitable space has access to heat.
In places where it gets cold during the winter, you should have access to heat in every room, if possible. This is usually done with a heat and air system, or heating systems such as space heaters. Federal laws require that every living or habitable space has access to heat.
Owning or renting a home comes with a set of responsibilities, such as proving heat and air conditioning. In many cases, you are required by law to have access to these amenities. The code requirements may be different, depending on your location.
We're going to take a look at some of the options for having a heat source in every room, as well as the rules and regulations.
Why You Need a Heat Source in Every Room
There are things in life that are considered essential, and heat is one of them. If you live somewhere that gets cold, you know just how important heat is. Having a heat and air system is a necessity, and is required in most places.
For a home to pass inspection, it must meet certain requirements. When it comes to the heat in a home, it must be heated to the temperature required for a living space. The exact temperature can be different in each state, and city.
The home must be able to be temperature regulated, to meet those requirements. This is mostly done with a heat and air system. Many homes have central heating and air systems, but other systems are also allowed.
Some spaces do not have to be heated, such as closets, and utility spaces. The rule of thumb is that not every room has to have a heat source, rather the heat requirements must meet the entire living space.
Building Code Heating Requirements
What qualifies as a living area is different in each state and city. You will need to look into the building codes if you are having a home built so that you meet all of the local requirements for heat and air.
The Department of Housing and Urban Development requires that all habitable rooms must have access to sufficient heat. There are a few states that have exceptions, and your local codes may have different building codes.
Check all of the codes before you move forward with a building project. You need to find out exactly what you must have, to meet the codes for heating requirements in your area. This can most likely be done locally at your county offices.
Does a Bedroom Have to Have a Heat Source?
A bedroom is considered a habitable room. Since we live in our bedrooms, it is required by law, to have access to heat in that space. Habitable rooms include bedrooms, kitchens, living rooms, finished basements.
Bedrooms are somewhere we spend a lot of our time, and for obvious reasons, it must have a heat source. The source does not have to be located in the bedroom. A home can have one central heating source, as long as every habitable room in the house has access to the heat.
For extra heat in a bedroom, or for extra control, you may decide to use a secondary heating system, such as a space heater. This is optimal if you want one room to be a different temperature than the rest.
Is a Heat Source Required in a Bathroom?
Some places may, or may not, consider a bathroom a habitable space. You will need to check the code requirements, to find out if bathrooms must have access to heat in your area. A lot of areas do not consider bathrooms habitable. The same goes for closets, hallways, utility rooms, and other spaces in the home.
If it is not required in your area, and your bathrooms are not heated, you can consider using a space heater or other heating element for extra warmth. Space heaters come in all shapes and sizes and can be perfect for small spaces, like bathrooms.
What is Considered a Primary Heat Source?
Some places may require a primary or permanent heat source. This means that you need a central heat and air system, that delivers heat to every habitable space in the home. This can be a stand-alone unit or a heating system that has a heat source in multiple rooms.
Primary heat sources are designed to deliver heat to every living space in the house. Central heat and air systems, have ducts throughout the home, that deliver heat and air. Other systems have heating elements placed throughout the home.
Even if your home meets all of the requirements for heat, you may still need extra sources for heat, such as space heaters and other heating systems.
Types of Heat and Air Systems
Let's look at some of the different types of heating systems. There are many styles of heating systems that can deliver heat inside of a home. The most common is a central heat and air system.
Heating systems:
Central heat and air
Heat pumps
Furnaces
Gas heaters
Fireplaces
There are many ways to deliver heat within a home. Every habitable room must have access to this heat. Many places require a thermostat and temperature control. Other areas may only require access to the heat.
Central heat and air is the most common way to heat a house. Not every home has this type of system. Furnaces and gas heaters are used in many places in the north, where heat is needed the most. More common heating systems, are radiator systems, boilers, and electric space heaters.
Tips for Saving Money on Heat
Saving money can be a big deal when you live somewhere that gets very code in the winters. The cost of gas, firewood, and electricity can become expensive during these months. Here are some tips to save money on heat.
Proper home insulation. Your home needs to have good insulation in the walls to keep in the heat. Fully insulating your home will save you a ton of money on heating bills, during those extra cold months.
Winterize your windows and home. You can save money by winterizing your windows, with products that keep cold air out. By adding extra protection against the cold, you make your home more efficient at retaining heat
Use blankets when you can. Everyone wants to turn up the heat. However, to keep costs down, consider not keeping the entire house extra warm, and use blankets to keep warm instead. This keeps the house just warm enough while saving money.
---
Related Questions
How much does a central heat and air system cost?
Installing a central heat and air system can differ in price, depending on the size of your home. The costs can be anywhere from $3,000 to $7,000 and up. The location of your home can also affect the total price of your system and installation.
Does FHA require heat in every room?
The FHA requires that every habitable room has access to heat. This means that not every room must have a heat source, but that heat must be able to be brought into every habitable room in the house.
Chad Kilpatrick
I'm a writer that is passionate about home improvements, remodeling, and renovating. I enjoy learning new skills and techniques and sharing them with others.
More by Chad Kilpatrick
Published September 23rd, 2020 10:50 AM