150 Views
Do You Need A Building Permit For A Wheelchair Ramp? (Find Out Now!)
November 30th, 2021 2:43 PM
Share
We're committed to finding, researching, and recommending the best products. We earn commissions from purchases you make using links in our articles. Learn more here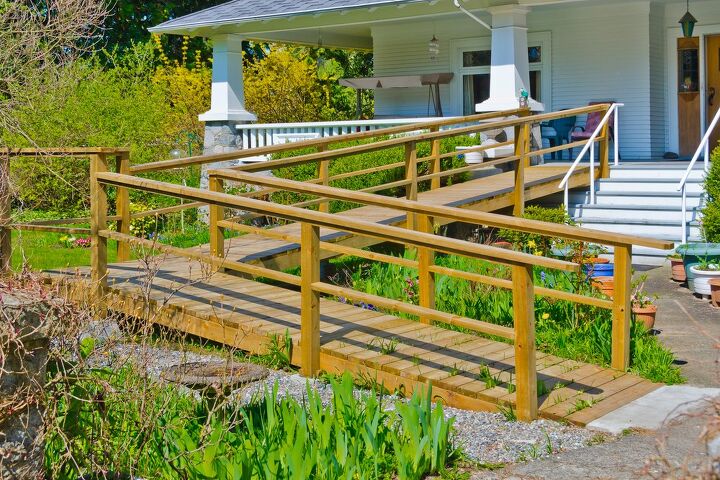 Getting a building permit is step one when it comes to doing any type of home remodel or addition. Even something as simple as moving your water heater or building a fence requires a permit from your county. But what about a building permit for a wheelchair ramp?
Even though it's a simple addition, you still need to get a building permit to add a wheelchair ramp. Along with a permit you need to know where and how to build the proper ramp for your residence. Be aware that a permanent structural ramp will require engineering or carpentry specialists which may require additional building permits.
Quite easily one of the biggest mistakes a homeowner or business owner can make is not applying for a permit. When you don't get a permit for something as simple as a wheelchair ramp, you are subject to numerous delays. It is quite a simple process when done right.
Do You Need a Permit Service?
Get free, zero-commitment quotes from pro contractors near you.
What Is A Building Permit?
Your city or county issues a building permit to declare that work has to be done. With any addition added, such as a wheelchair ramp, a permit is definitely needed. A permit is especially needed from a contractor to ensure the work is efficient and correct.
Permits, unlike licenses, are set for a certain amount of time. If the work extends or reconstructs your home in any way, a permit is essential for the inspection later. By building a ramp, this counts as an extension and you need to follow the correct steps.
What Does A Building Permit Cost For A Wheelchair Ramp?
By looking through your county and city regulations, you can find the price for a proper permit. Cost depends on the scope of the project and how much it will cost to add an additional structure. However, the average amount of a permit is easier on the wallet than paying a fine for improper documentation.
The average cost of obtaining a building permit can range from $150 to $1,500. Depending on the size and amount of money the job requires will determine how much your permit will cost. Jobs done for a business can cost up to $6,000 to ensure it is sound and up to code.
Without a building permit, you can be given a hefty fine. The fine can result in no more than $75,000. It's worth it to apply and pay for a building permit to make sure you don't have to pay more.
How Much Does It Cost To Build A Wheelchair Ramp?
A professionally done wheelchair ramp can be quite costly. On top of a permit, getting all the materials to build a ramp can be pretty expensive. Looking at where and how to build a ramp will depend on how much you may have to spend.
On top of getting a permit from $150-$6,000, you could pay another $992 to $3,124 to build a ramp. If you add a simple DIY ramp for a loved one in a wheelchair, then it can range from about $900 to an average of $2,052. Wood costing $100 per square foot, a ramp 30 feet long and 30 inches wide, costs approximately $1,455.
Decide Where The Wheelchair Ramp Will Go
Some considerations come into play when building and installing a wheelchair ramp. How it will fit is the main factor in figuring out where the ramp should go. Location will determine how big or long a ramp will be and how accessible it is.
By choosing the ideal entrance, it will give you the range and width of the ramp. Along with width and place, you also need to measure the size and steepness. Preferably building a ramp on flatter land makes it easier to access and to create.
How Do You Close a Permit After Building A Wheelchair Ramp?
You should have outlined that the contractor is responsible for obtaining and maintaining any required building permits. Before doing this, you will need to ask the contractor for a copy of the inspection. Inspections ensure that the job is done, and no other modifications are required.
If you have done the work yourself, you will need to ensure your permit is closed correctly. This means you are responsible for the inspection and all that follows in repairs and changes. You would contact your city to provide all documentation of work, permit, and assessment.
If the building department for the city has inspected and checked off your work, then the permit can be closed.
Do You Need a Permit Service?
Get free, zero-commitment quotes from pro contractors near you.
---
Related Questions
Do I need a permit to build a deck in my backyard?
Even though your backyard might be unseen from the front of your house, building a deck still requires a permit. It mainly depends on the state you live in, but most require a license or permit to build a deck. You can contact your county or city office to ask if a permit is needed.Since a deck is an extension or addition to a home, you usually must apply for a building permit. A dated permit means that you will have this for a limited amount of time to finish your deck. Sometimes you will need an inspection, but sometimes you might not need to get one. Therefore, make sure to find out all the specifics before beginning your deck project.
How many types of permits are there?
There are about nine different construction or building permits. Each one is required for a specific type of work. Depending on the extent of work done to your home, you may need numerous licenses or permits.Some of the permits are a commercial, new foundation, plumbing, apartment, and residential. You can use each permit for various extensions, construction, and repairs to a business or residential area. Insurance and city codes will need a permit to be in place for any amount of work, even with putting in windows. Insurance companies usually use contractors that they know are reputable and licensed. They want you to apply for a permit, and they want the work done correctly. Insurance companies also want to make sure the process and inspection occur without a hiccup. Also, a permit ensures that no one is hurt on the job, and your insurance covers it.

Stacy Randall
Stacy Randall is a wife, mother, and freelance writer from NOLA that has always had a love for DIY projects, home organization, and making spaces beautiful. Together with her husband, she has been spending the last several years lovingly renovating her grandparent's former home, making it their own and learning a lot about life along the way.
More by Stacy Randall
Published October 20th, 2021 6:16 PM