312 Views
Do You Need A Permit To Replace Drywall? (Find Out Now!)
December 21st, 2021 9:02 PM
Share
We're committed to finding, researching, and recommending the best products. We earn commissions from purchases you make using links in our articles. Learn more here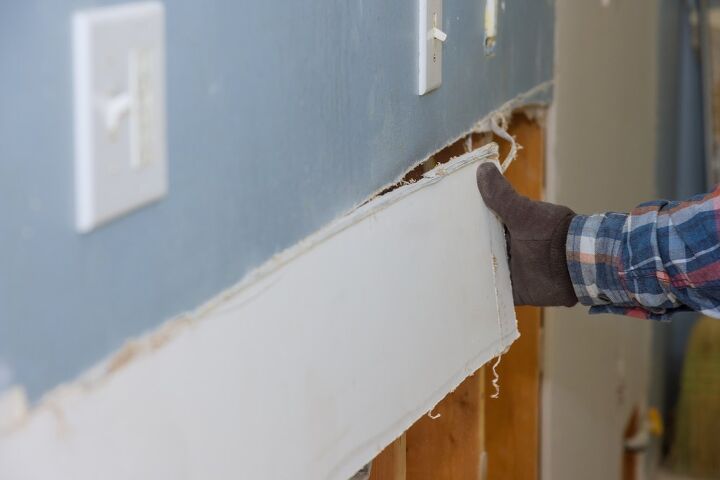 When too much moisture is in your drywall, whether from a flood or old age, it is time to replace it. When you decide to take on this project, you will first need to hire a contractor. The most important step is determining whether you'll need a permit to replace drywall.
You do not need a permit to replace drywall or repair or remove existing drywall. However, you will need a building permit to add drywall to a new wall in your home. Remember that this may vary by state, city, and county, and you need to know before starting the work.
Do You Need to Hire Drywall Installers?
Get free, zero-commitment quotes from pro contractors near you.
Do You Need a Permit to Replace Drywall?
Obtaining permits for home renovations can be expensive, time-consuming, and frankly annoying. However, it can be more expensive if you start the work on your home without permits and receive a fine. Permit requirements will vary based on the job and your local building codes.
When replacing drywall, you do not need a permit as long as you are only replacing the paneling. Repairing or removing existing drywall paneling does not require a permit. However, if you work on support structures or alter walls by adding drywall, you may need a permit.
Building regulations vary depending on where you live, but there are some standard rules. If you are repairing or making minor improvements to the aesthetic of your home, you probably won't need a permit. If you are adding supporting walls or removing load-bearing walls, you will need a permit.
What Are Possible Necessary Permits To Replace Drywall?
Permits are written authorizations issued by a city or county before beginning a construction project. They are required for some construction or remodeling projects to ensure the safety of the work. They also ensure that the project complies with any building, construction, or zoning codes.
If your project is a simple one, you likely won't need a permit to replace drywall. However, if your drywall renovation adds windows or changes the shape of windows or doors, you will need a permit.
If you do require a permit for the drywall project, you must request a building permit. This permit is necessary for the property owner or contractor before constructing any new building or structure.
Any electrical or plumbing system changes will require a permit unless you are replacing them with equivalent components. This additional permit ensures that the home is safe and prevents fire, flood, or electrocution.
How Do I Obtain a Building Permit To Replace Drywall?
Once you've determined that your project requires a permit, you will have to follow the proper procedures to get one. When trying to obtain a building permit for your project, the exact process will vary by location. However, these are usually the typical steps to obtain a building permit.
Step 1: Create a Project Plan
The first thing you want to do is come up with a budget and a plan. Your project plan should outline everything about your project. This includes changes you want to make to anything mechanical, electrical, or plumbing.
On this plan, you'll want to have some basic information such as your contact information, address, and description of the work. You should include the name of the architect or engineer, the general contractor, a timeline of the project, and any drawings. Bring this project plan to your local officials and request a review before you submit the permit application.
Step 2: Submit Your Project Plan for a Preliminary Review
Before you submit your formal application, have your local building department look over your proposed project. The staff may refer you to other departments for approvals, perhaps saving you time and money in the long run. Some cities require plan project approvals before applying for a building permit.
This preliminary review will clarify what documents you'll need with your application and ideas on making the process smoother.
Step 3: Submit Your Permit Application
Filling out a permit application is relatively simple, but don't hesitate to ask questions to the building department. Most cities will offer downloadable forms for applications. The forms will have instructions, so if you follow them, you should be fine.
If you live in a community with a homeowners' association, you may need a letter from them approving your project. Once you've completed all the documents, attach your project plan and permit fees and submit your application.
Step 4: Wait for the Building Department
After the building department receives your application, they will review your project plan and your application. Depending on the extent of the project and the number of applications, it may take a few weeks to hear back. During this time, they may ask you for more information on the project or ask for plan revisions.
Step 5: You Get The Permit
Once officials approve your permit, the project can begin. However, there will still be required inspections. Keep in mind that the project must comply with building codes, so the inspection will ensure this.
Most departments only do one inspection, but major construction projects require multiple inspections. These will be scheduled by you or your contractor, depending on the phase of the project.
What If The Project Doesn't Meet the City's Requirements?
Don't be discouraged; if the city rejects your project, you will have a chance to revise it. The building department will issue a rejection letter and include the steps you should take. First, review their comments and revise; they will include instructions for submitting your application again and the date to do so.
Do You Need to Hire Drywall Installers?
Get free, zero-commitment quotes from pro contractors near you.
---
Related Questions
Who is responsible for acquiring the permit?
The answer to this question will vary based on if you have a contractor for your project or not. If you hire a contractor, they will typically arrange for, or pull, the permit. The person who pulls the permit is responsible for the project following code. If you pull the permit, the city will consider you the contractor for the project. You will be liable if there is a problem. Because they do this regularly, contractors are familiar with the process and the city's inspectors, which can work to your benefit. When deciding who will pull the permit, consider whether or not the contractor is charging by the hour. If they are, it may save you money by completing the permit paperwork and submitting it yourself. The complexity of the project should help you decide who is the best party to obtain the permit.
What's the average cost to install drywall?
The cost to install drywall will depend on the size and complexity of the job. On average, drywall installation costs $1,844 but can range in price from $999 to $2,889. This amount is about $1.50 to $3 per square foot for materials and labor, but the average is $2 per square foot. Once you add materials and labor, the cost per drywall panel will range from $60 to $90. For example, an average 12 by 12-foot room will use 18 drywall panels. The total cost for this project will range from $1,000 to $1,600. There are several factors that go into pricing drywall projects, so be thorough when requesting an estimate. It should include materials, specific dimensions of the panels, if corners are rounded or square, transportation costs for materials, and equipment. The estimate should also include prep to protect existing structures and finishes, labor, setup, mobilization time, clean-up, and debris removal.
Related Guide

Stacy Randall
Stacy Randall is a wife, mother, and freelance writer from NOLA that has always had a love for DIY projects, home organization, and making spaces beautiful. Together with her husband, she has been spending the last several years lovingly renovating her grandparent's former home, making it their own and learning a lot about life along the way.
More by Stacy Randall
Published October 27th, 2021 5:50 PM