43 Views
How Much Does It Cost To Build A House In Houston?
December 20th, 2021 9:00 AM
Share
We're committed to finding, researching, and recommending the best products. We earn commissions from purchases you make using links in our articles. Learn more here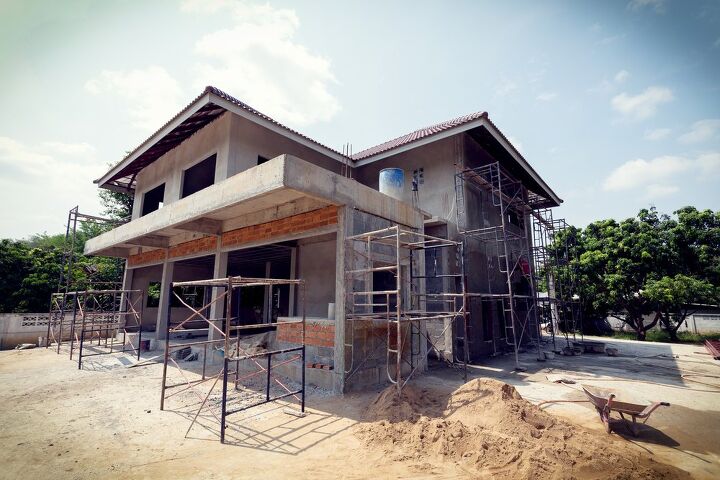 Texas is growing faster than almost any other state in the Union. In Texas, Houston is experiencing an economic and population boom as businesses relocate and their employees follow. The lower cost of living and the relatively modest cost of homes than other states make Houston particularly attractive. Many people are surprised at how much it costs to build a house in Houston.
The average cost to build a home in Houston is $401,821 at $112 per square foot. Homeowners spend an average of $4,500 to prepare land for construction in Houston, $10,000 to connect to a septic system, and $4,250 for initial electric work. It costs an average of $195,000 to develop a lot in Houston.
Houston offers a wide variety of choices for the new homeowner. Most new home purchasers or builders opt to contract with a land developer, or a builder involved in suburban neighborhood development. There are always options for purchasing raw land and building a home on the land you own.
Related Guide: What Are The Safest Neighborhoods In Houston? | What Is The Cost Of Living In Houston vs. Austin?
Do You Need to Hire an Architect or a Builder?
Get free, zero-commitment quotes from pro contractors near you.
Location and Land Costs
If you are interested in a larger lot or even several acres, there are plenty of opportunities around the Houston area to fulfill your dreams. As Houston grows, many of these properties are further and further from the Houston metro area and require lengthy commutes.
You should understand that Houston lies extremely close to sea level and much of the land surrounding Houston requires special building and foundation techniques that can drive up the cost of building in these areas.
| | | |
| --- | --- | --- |
| | Upper Range of Land Cost | Lower Range of Land Cost |
| Raw Land | $1,5000,00 per acre | $89,900 per acre |
| Suburban Development | $120,000 per lot | $15,900 per lot |
In many cases, the most economical and efficient way to build a new home in Houston is to find a location that you like, contract with the developer or builder of the new neighborhood and then work with the builder to complete your new home. This process eliminates many of the headaches associated with rural buildings.
Buying Raw Land
Suppose your goal is to live the ranch life in Texas, then purchase a raw land parcel in a rural area. This plan is, of course, still very much possible around Houston, but there are many challenges that you must consider if this is your goal.
Access and Site Preparation – Site preparation on rural building sites around Houston varies according to the extent of preparation needed. Heavily wooded sites and sites needing extensive soil preparation and compaction will add to the cost. In general, site preparation in the Houston area runs from $3,790 to $6,710.
Electricity – The location of the nearest connection and terrain are the big factors in getting electrical service to a rural parcel of land around Houston. Different electrical providers have different rate structures, but, in general, you can expect to pay between $3,500 and $5,000 for each pole the service provider must set to get to your site.
Water and Sewer – A conventional septic system in the Houston area can cost between $5,000 and $15,000. The cost can vary depending on the soil and local regulations. Domestic water wells in the Houston area typically cost between $1,500 and $10,000, depending on the depth and size of the well.
Suburban Developments – The Typical Residential Building Location
Houston is experiencing unprecedented growth. Developers and builders are expanding their developments in every direction around the metropolitan area. You should have no trouble finding a builder or developer with plans in neighborhoods within your building budget.
In Houston, land costs in suburban developments typically average between $40,000 per lot and $350,000 per lot. From smaller communities to the urban metroplex of Denver, residential development is booming in Texas.
Coming Up Out of the Ground – Task Costs on a Residential Build
As you begin the adventure of building a new home, many wonder how the costs break down. Of course, the costs will vary depending on the builder or developer you chose, the sub-contractor agreements already in place, or the current cost of materials and supplies. Overall, these are the averages for cost inputs into a home building project.
| | | | |
| --- | --- | --- | --- |
| Job or Task | Percentage of Overall Project Cost | Houston Average Low Costs | Houston Average High Costs |
| Dirt Work and Site Work Preparation | 3 to 8 percent | $5,614.26 | $49,320.00 |
| Foundation and Concrete | 10 to 15 percent | $18,714.20 | $92,475.00 |
| Framing | 10 to 20 percent | $18,714.20 | $123,300.00 |
| Dry in (Exterior, windows, doors, and Roof) | 15 to 20 percent | $28,071.30 | $123,300.00 |
| Mechanical Systems (plumbing, sewer, HVAC, Electrical) | 10 to 15 percent | $18,714.20 | $92,475.00 |
| Interior Finish (drywall, paint, flooring, trim) | 25 to 35 percent | $46,785.50 | $215,775.00 |
The figures represent basic building costs. As you add enhancements and amenities to your basic home plan, the costs will, of course, rise.
How Big and How Much
The average home being built in Houston today has three bedrooms, two and a half baths, and a two-car attached garage. However, you should consider your present situation and any plans for growing your family soon when deciding on the appropriate size for your new home.
| | | |
| --- | --- | --- |
| Total Square Footage of Home | Lower Range of Cost | Upper Range of Cost |
| 800 | $72,536.00 | $107,704.00 |
| 900 | $81,603.00 | $121,167.00 |
| 1,000 | $90,670.00 | $134,630.00 |
| 1,200 | $108,804.00 | $161,556.00 |
| 1,500 | $136,005.00 | $201,945.00 |
| 1,600 | $145,072.00 | $215,408.00 |
| 1,800 | $163,206.00 | $242,334.00 |
| 2,000 | $181,340.00 | $269,260.00 |
| 2,500 | $226,675.00 | $336,575.00 |
| 2,700 | $244,809.00 | $363,501.00 |
| 3,000 | $272,010.00 | $403,890.00 |
| 4,000 | $362,680.00 | $538,520.00 |
| 5,000 | $453,350.00 | $673,150.00 |
Many of these costs depend on location, the style of home your developer or builder is building, and your needs and expectations. In most instances, custom-built homes approach or exceed the upper ranges of these estimates.
Adding Bedrooms – What Does it Cost to Add Sleeping Space?
The most requested addition to most custom home designs is additional bedrooms or bedroom suites. In general, adding bedrooms is relatively cheap. If you add an ensuite bath, costs can rise significantly.
| | | |
| --- | --- | --- |
| Number of Bedrooms | Lower Range of Costs | Upper Range of Costs |
| One | $117,586.30 | $174,596.26 |
| Two | $148,428.60 | $220,392.00 |
| Three | $179,270.91 | $266,187.74 |
| Four | $210,113.22 | $311,983.48 |
| Five | $240,955.53 | $357,779.23 |
Other factors than just bedroom count affect the cost of your new home project. Total square footage, finish and trim decisions, flooring selections, and added amenities such as ensuite, bathroom spa additions, etc., can add significantly to the cost.
Personnel Costs of Building a Home in Houston
Like every other area of the country where the economy is booming and building is proceeding at a frantic pace, finding skilled labor is challenging for most builders and developers. Labor is a major cost component of any project, and as the economy heats up, labor costs will rise as well.
Architect or Engineer
Building in or around the Houston metro area will almost always involve local building inspection and permitting officials. In general, communities in Texas require a set of plans prepared by a licensed architect or engineer to start the permitting process. You can expect to spend between $10,000 and $60,000 on architecture or engineering fees.
Builder or Construction Manager
Hiring or contracting with a builder or developer is the choice most people make when starting a new home project. Contracting with a builder or developer removes many of the headaches of trying to manage a construction project. You will almost always save money hiring a builder. The general rule is to expect your builder or construction manager to make between five and fifteen percent of the project's total cost.
Cost Estimate for Professional Tasks
Labor costs in Houston are relatively stable. Compared to national rates, labor rates in the Houston area come in slightly lower.
Electrician rates – In Houston, union electricians typically charge between $59.53 – $72.35 per hour in Colorado.
Roofing contractor – The cost to roof your house is dependent on the size of the roof, the pitch of the roof, and the roofing material you choose. On average, roofers charge between $5,185 – $6,861 for roofing installation in the Houston area.
Framers – Framers typically charge by the square foot. However, this can differ based on the complexity of the framing and the number of stories in the plan. You can expect basic framing costs for a single-story residential structure to run between $19.60 – $22.89 per square foot.
Drywall, Trim, and Finish – Drywall, trim, and finish work are often grouped as a cost when budgeting for building a new home. Drywall costs are usually quoted by the square foot and run approximately $1.50 per square foot. Trim costs in Houston are usually quoted by the running foot, and you can expect these costs to range from $2 to $8 per linear foot.
Plumbers and HVAC – Part of finishing your home's interior is installing plumbing fixtures, kitchen fixtures, and the HVAC system. Overall, you can expect to pay $62.96 – $71.43 per hour.
Administrative and permits In Houston, the building permit fee structure is graded according to the value of the project. In general, for the average-sized residential structure, you can expect permitting costs to run from $900 to $4,000.
Upgrade Costs – Adding Amenities to Your New Home
Very few families opt for the basic and standard offerings in home construction from their builders. Most builders offer a wide array of upgrade choices in many areas of a home project. All of these add to the project's overall cost, which you must consider when budgeting for your home building project.
Framing
Most builders in the Houston area base their estimates or prices on wood framing for their home construction projects. The most popular upgrade option for framing in Houston is metal framing materials.
The downside of using metal framing materials is the cost. Typically, metal framing costs about $1.25 per square foot more than traditional wood framing. There may be additional costs for framing with metal, but many contractors claim metal framing is faster than wood.
Concrete
Concrete slab foundations are the norm in residential home construction in the Houston area. In addition, sidewalks, patios, and driveways add additional concrete work to the project. Concrete work in Houston typically runs from $4.00 to $7.50 per square foot.
Drywall and Trim Work
Creating an inviting and comfortable living space involves many factors. The quality and style of the trim and finish work are a huge part of these kinds of upgrades. Most families choose to install better finishes, flooring, and trim to enhance the appearance of their new homes.
Adding appeal and livability to your home is often a function of your decisions about the finishes. In general, you may see additional costs from $12 to $200 per square foot for some of these services and products.
Upgraded Kitchens and Appliances
Many new homeowners see the kitchen/dining area of their new home as the focus of their family life and entertaining. It is no surprise that kitchens are the most upgraded area of new home construction. Upgraded appliances, counter surfaces, cabinetry, and flooring all add substantially to the overall cost of the home.
If you specify your appliance and finishes, such as countertops, cabinets, and flooring for your kitchen, you can expect additional costs. Nationally, these types of additions can cost between $40 and $185 per square foot.
Adding Appeal – Amenity Upgrades
Houston is a vibrant and exciting city near the coast of the Gulf of Mexico. Many families enjoy Houston for its climate and the opportunity to enjoy the outdoors almost year-round. This excellent climate means that adding outdoor amenities to new homes is high on the list with most home builders.
The most popular outdoor add-on with new home builders in Houston is a swimming pool. On average, an in-ground home pool costs about $25,000 in Houston.
Outdoor living areas, including luxurious outdoor kitchens, add another dimension of livability to your new home. Adding an outdoor kitchen living area to new home construction in Houston usually costs $5,000 to $15,000.
Part of creating an appealing home is the visual effect of great landscaping. Most builders include some landscaping, but at best, it is usually sparse and minimal. Upgrading your landscaping as you build your new home is a natural progression. Typically, a landscape plan created by a professional landscaper or landscape architect costs about $65.00 per hour and can run as must as twenty percent of the overall cost of your building project.
The downside to these types of exterior upgrades is the additional costs involved. Landscaping is one of those initial investments that can continue to increase in value as your home ages. However, landscapes require ongoing maintenance and care, which adds to the cost of maintaining your home.
Do You Need to Hire an Architect or a Builder?
Get free, zero-commitment quotes from pro contractors near you.
Building Your New Home in Houston
Houston has much to offer. The booming economy, proximity to the Texas Gulf coast, a metropolitan atmosphere, and the stable political climate in Texas all contribute to making Houston one of the target markets in the US.
There is no doubt that things are on the rise in Texas and Houston. Investing in a new home in the Houston area has great promise and great potential.
Related Guides

Dennis Howard
Dennis is a retired firefighter with an extensive background in construction, home improvement, and remodeling. He worked in the trades part-time while serving as an active firefighter. On his retirement, he started a remodeling and home repair business, which he ran for several years.
More by Dennis Howard
Published July 27th, 2021 12:07 PM