49 Views
Cost Of Living In Staten Island, New York (Taxes, Housing & More)
December 20th, 2021 8:27 AM
Share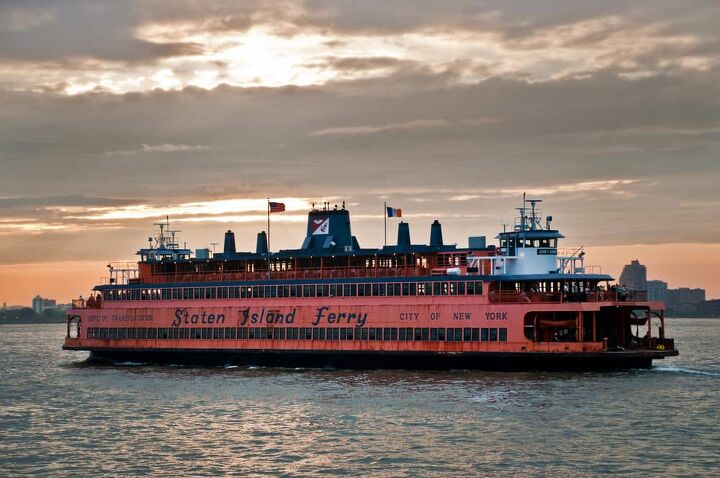 Staten Island offers a rare chance for New Yorkers to live in an area where they can have some breathing room and access to the outdoors in the form of several smaller islands and many parks. Even better, it offers access to Manhattan with an affordable cost of living (for some) and a quality of life that is a welcome combination of urban and suburban.
Overall, Staten Island has a cost-of-living index of 163. That means it's above the national average of 100 and also above the New York state average index, which is 120. However, it is drastically less than Manhattan's cost of living (258) or that of some of the other boroughs including Brooklyn (200) and Queens (178).
The quality of life makes Staten Island an appealing place to call home, and its cost of living is not as inflated as other metro areas in the United States like Silicon Valley. Read on to learn more about the costs to expect if you want to call Staten Island home.
Do You Need to Hire Movers?
Get free, zero-commitment quotes from pro contractors near you.
Housing Costs on Staten Island
Staten Island housing costs are the dominating factor for the higher cost of living. Because mortgages or rent take up such a large slice of Americans' income, expensive housing quickly escalates the cost of living for an area. The island's housing is 224 on the cost of living index, meaning it is 124 percent more than the national average.
This figure is not unusual for a metro area in the United States. In comparison, Greenwood Village, Colorado, a Denver suburb, has a housing index of 421. San Francisco's is 596.
That being said, let's look at what that 224 cost of living index means for Staten Island. The median home price prices are creeping up, and right now the median home price lands at $689,500. It is helpful to look at the median price per square foot – $369 – to get an idea of what the median home price actually buys, and in this case, it isn't a tiny little shack.
There is huge variation in the Staten Island real estate market because the island is comprised of 63 communities, and home prices on the island can range from $150,000 to the low millions. The most expensive home sold on Staten Island in 2020 was $3.45 million.
For more modest housing, check out Heartland Village, Mariner's Harbor, or Port Richmond where 2020 median sales prices were in the mid-to-upper $300ks. The borough markets itself as a family-friendly, suburban atmosphere featuring mostly 1-and-2 family detached homes rather than the multi-family units one would expect so close to Manhattan.
Related Guide: The Safest Neighborhoods In Staten Island, New York
Rental Costs on Staten Island
Given the relative affordability of homeownership on the island, only about 30 percent of residents rent. Many metro areas rely on the rental market as a source for more affordable housing for people who cannot afford elevated home prices, and Staten Island is no exception.
Unfortunately, the rental market is heating up in a way that will prove difficult for some people to find a home in Staten Island. The 2019 Census data reflected a median rent price in Staten Island of $1,365, but current average rent rates are below:
| | |
| --- | --- |
| Bedrooms | Monthly Rent |
| Studio | $1,900 |
| 1 Bedroom | $1,600 |
| 2 Bedrooms | $1,900 |
| 3 Bedrooms | $2,475 |
| 4 Bedrooms | $2,825 |
Given that these rates are, for some sizes, a 10 percent increase over the previous year, expect that average rent rate figure to go upward, and know that finding a rental on the low end may require a bit of good timing and luck.
Generally speaking, rent is higher in states with higher incomes. For instance, the top states with the highest average monthly rental prices are also among the highest earning states in the U.S. With a statewide average rent of $1,280 per month, New York State has the sixth highest average rent in the nation. On Staten Island, however, the average monthly rent for an apartment is $1,577, which is quite a bit higher than the statewide average. But, as displayed above, your actual rental price will vary based on the size of the apartment and also where it's located.
To put things in perspective, the following table outlines how the average monthly rent in Staten Island compares to other neighboring areas in New York:
| | |
| --- | --- |
| City | Average Rent |
| Manhattan | $4,072 |
| Rochester, NY | $1,144 |
| Buffalo, NY | $1,132 |
| Albany, NY | $1,385 |
| Staten Island, NY | $1,577 |
| Springfield, NY | $1,106 |
Taxes on Staten Island
The major taxes that will impact Staten Island residents are sales tax, property taxes, and personal income taxes.
Sales Tax on Staten Island
The base sales tax in the state of New York is 4 percent. Cities then establish a local tax on top of the state rate, which for Staten Island is another 4.75 percent for a total sales tax rate in the area of 8.75 percent, which is above the national average of 7.12 percent.
Property Taxes on Staten Island
Prospective home buyers should remember that the cost of property taxes is tacked onto the monthly mortgage payments by the lender, but Staten Island's, and New York's overall, property taxes are less expensive than the national average. Real estate property taxes are calculated on the assessed value of the home, which is usually not the list or sell price, and is actually a percentage of the home's value. Regardless, the more expensive the home, the higher the property taxes.
In Richmond County, which encompasses Staten Island, the effective median property tax rate is 1.12 percent, which is higher than the national average, of 1.070 percent. The average property tax rate in New York is 1.690 percent.
Personal Income Tax on Staten Island
New York's income tax rate is a variable, progressive tax, meaning that the rates increase as a person's annual income goes up. The rates vary from 4 percent to 8.82 percent.
At 8.82%, New York's top marginal income tax rate is also one of the highest in the nation. However, the rate only applies to select few taxpayers. With Staten Island being located in New York City, you will also be subjected to an additional income tax. NYC collects its own income taxes, ranging from 3.978% to 3.876% of taxable income, which must be paid on top of the tax collected by the state.
Utility Rates on Staten Island
Staten Island suffers from cold winters, hot summers, and the third-highest residential electricity rate in the country. On the cost of living index, utilities only rate 153.4, so 50 percent more than the national average. That figure includes electricity, natural gas, and any other residential fuels.
Electricity Rates: The average residential electricity bill in New York City is $120 per month, which is above the national average of $107. In Staten Island, the residential electricity rate is $0.1762 per kilowatt and is not significantly different from the average rate in New York.
Child Care Costs on Staten Island
Staten Island is one of many places in America experiencing a child care shortage, and areas on the north and south shores are considered child care deserts. Consequently, the average child care costs are above the national average at 167.4 on the cost of living index. In those areas, there are 10 times more infants than there are care spots available for them.
The child care shortage translates to an economic crisis for families as 3 in 4 Staten Island families cannot afford care without assistance, and assistance is limited. If you can find a spot, it costs over $21,000 to put an infant in center-based care. Home-based care can only accommodate 1 to 8 percent of infants in the various areas of the island. One in 4 Staten Island families report that they have gone into debt to cover child care.
For all the allure the island offers to families with schools, affordable homes, and a suburban atmosphere, families with young children will have to evaluate whether child care, if needed, is a resource that they can access on the island.
Food & Grocery Costs on Staten Island
Groceries are a sneaky necessity that can strain a family's budget. Fortunately, Staten Island groceries average just above the national average at 115 on the cost of living index.
The following table is a list of some grocery items and prices that you can expect on Staten Island; use this as a starting place to determine whether your grocery bills will be more or less expensive on Staten Island than where you currently live.
| | |
| --- | --- |
| Item | Price |
| Milk – 1 gallon | $3.87 |
| Loaf of Bread – White – 1 pound | $2.82 |
| Rice – White – 1 pound | $1.40 |
| Eggs – 1 dozen | $2.82 |
| Cheese – 1 lb | $5.50 |
| Chicken Fillets – 1 lb | $4.66 |
| Bananas – 1 lb | $0.92 |
Education Costs on Staten Island
With the competitiveness of New York City schools so well-known that Bravo even made a television show about it, families will definitely wonder what the educational options are on Staten Island. Staten Island Technical High School regularly makes top 10 lists regarding New York public schools.
Other highly ranked schools are Ps 5 Huguenot and Naples Street Elementary School. The district that encompasses all 31 schools in the borough ranks as the 5th safest of all NYC school districts.
Many private schools also serve the students of Staten Island. The average elementary school tuition is $13,081 and the average high school tuition is $25,198.
Staten Island also has postsecondary educational opportunities. The College of Staten Island is a 4-year public college with resident tuition of $3,465 per semester. St. Paul's School of Nursing offers two-year degrees in nursing, dental hygiene, medical assistance. Tuition varies by program. SUNY Empire State College also has a Staten Island location, and resident the rate for undergraduate programs is $295 per credit hour.
Entertainment Costs on Staten Island
Staten Island island is known for a few things: the free ferry, food, and parks.
The free ferry between Staten Island and Manhattan is both a tourist attraction and a vital transportation method for Staten Island residents. Over 60,000 people ride the ferry per day, and no roads directly connect the island to Manhattan.
When you think of food and Staten Island, Italian may first come to mind, and rightly so. Denino's Pizzeria is a Staten Island staple but far from the only place to get pizza. Sri Lankan, Mediterranean, and seafood restaurants all add to the dining scene on the island; residents have no fear of going hungry.
Staten Island is known as the greenest borough thanks to its many acres of parks and trails, so the outdoors is apt to call to residents. Residents can enjoy miles of bike trails, reserve a spot on community tennis courts, take a stroll on one of many boardwalks, kayak, and much more on the island.
Cost of Popular Activities in Staten Island
| | |
| --- | --- |
| Activity | Price |
| Staten Island Ferry | Free |
| Freshkills Park | Free |
| RollerJam USA | $15-20 |
| Snug Harbor Cultural Center and Botanic Garden | $5 |
| GreatKills Park Kayaking | $15 – Permit |
| St. George Theater | Cost varies |
Staten Island Economy
In 2019, the median household income in Staten Island was $82,783. The per capita income was $36,907. Nine percent of Staten Island residents live in poverty.
Many people who live on Staten Island work in Manhattan, but certainly many residents actually work where they live. Healthcare, education, and retail are the industries on the island that employ the most people. Staten Island University Hospital is the single biggest employer on Staten Island. Otherwise, the area puts a lot of emphasis on small businesses.
Do You Need to Hire Movers?
Get free, zero-commitment quotes from pro contractors near you.
Is Staten Island Right for You?
Undeniably, New York City is one of the most exciting places on the planet, but also the most expensive. Staten Island offers affordable home prices with only a 30-minute ferry ride from Manhattan. For many, Staten Island is the best chance at homeownership in the area and can give a quieter, suburban lifestyle to those who want to step away from the city.
Though, if you're not completely sold on Staten Island but are still considering relocating to the Big Apple, check out What Are The 8 Safest Neighborhoods In Nassau County, New York?
Related Articles

Kirbee Anderson
Kirbee is a licensed attorney and real estate broker, but DIY projects of all kinds call to her. Kirbee loves being at home with her husband, daughter, and dog and investing her time and energy into projects to make their home a unique and comfortable place for all of them. Her favorite projects include gardening, building new items, and creating solutions to manage clutter.
More by Kirbee Anderson
Published March 16th, 2021 4:58 PM