24 Views
What Is The Cost of Living in Maine? (Taxes, Housing & More)
October 16th, 2021 12:17 PM
Share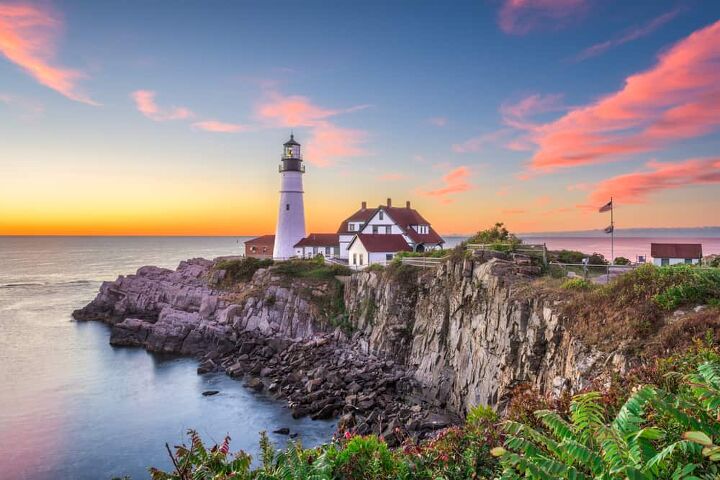 There is no shortage of reasons why Maine's 1.34 million residents have stayed in the coastal New England state. Maine offers beautiful sights, remarkable food, beautiful autumnal seasons, and a low cost of living to top it off. No matter which way you slice it, Maine is an inviting state where you can comfortably live for little money.
To cover the cost of necessities while living in Maine, a one-person household needs an income of around $31,000. The median home value of Maine is $184,500, with some larger cities such as Portland and Bangor averaging at $150,000. Although grocery budgets are slightly higher than the national average, transportation costs are over 20% lower.
Other expenses, such as property taxes, sales tax, and car insurance premiums all factor into living costs in Maine. Some costs of living in Maine are above the national average, but the White Pine state makes up for it in other ways. Follow along as we dive deep into how much it costs to live in Maine, and why it's worth it.
Do You Need to Hire Movers?
Get free, zero-commitment quotes from pro contractors near you.
Housing Costs in Maine
The median home value in Maine is $184,500, and home prices are all over the board. Currently, 72.2% of Maine residents own homes, and low housing costs drive high homeownership rates in the White Pine state. The cost of a home itself is not enough to entice prospect buyers, and monthly costs show a home's affordability.
| | | |
| --- | --- | --- |
| Location | Median Home Value | Homeownership Rate |
| Bangor | $150,700 | 47.6% |
| Portland | $273,400 | 44.3% |
| Maine | $184,500 | 72.2% |
| United States | $295,300 | 65.1% |
Homeownership rates are higher in Maine than the national average, and that is for a simple reason: affordability. A house in Portland, Maine may be pricey, but $150,700 or less can buy you a comfortable home in Bangor. Coastal homes in Maine near Camden and Portland are generally pricier, and the further inland you go, the houses are cheaper.
You can expect to pay up to $500 per month on homeownership bills and fees before making a mortgage payment. Once you've paid your bills and mortgage, you'll likely have spent the $1,381 average in Maine. Bills and mortgage payments aren't the only costs of ownership, and property taxes will cost you every year.
Median Home Prices in Maine
| | |
| --- | --- |
| Home Prices | Percentage of Homes |
| > $1,217,184 | 1.0% |
| $912,656 – $1,217,184 | 1.1% |
| $608,616 – $912,655 | 3.7% |
| $486,547 – $608,615 | 4.6% |
| $364,942 – $486,546 | 10.1% |
| $243,448 – $364,941 | 23.6% |
| $121,668 – $243,447 | 35.4% |
| $60,840 – $121,667 | 13.2% |
| $0 – $60,839 | 7.3% |
Buying a House in Maine: Most Affordable Cities
Where you decide to live in Maine will determine the price of your home. There are several affordable areas in Maine. Median home price and median income determine the 10 most affordable cities in Maine.
The 10 Most Affordable Cities in Maine
City
Median Home Price
Median Income
Caribou
$91,200
$38,168
Presque Isle
$107,000
$37,401
Brewer
$162,000
$58,403
Gardiner
$139,700
$48,212
Eastport
$110,900
$35,147
Calais
$87,300
$31,078
Belfast
$189,700
$60,993
Auburn
$155,900
$48,924
Old Town
$135,900
$42,342
Ellsworth
$179,300
$55,191
Maine Property Tax Rate
The average property tax rate throughout the whole state is 1.35% in Maine, You can expect to pay $2,435 each year in property taxes in Maine, on average, depending on property value. Just like anywhere else, your property tax rate varies between cities and counties in Maine.
| | |
| --- | --- |
| Maine County | Property Tax Rate |
| Knox | 1.32% |
| Hancock | 0.95% |
| Cumberland | 1.40% |
| Washington | 1.29% |
| Aroostook | 1.45% |
The lowest property taxes in Maine can be found in Hancock County, and residents pay $1,977 on average. Maine's highest property tax rate is 1.69%, and that applies to residents of Androscoggin County. Knowing your specific county's property tax rate is an important factor in cost of living and yearly housing costs.
Exemptions are available for Maine residents that qualify, and it can save you money each year. The Homestead Exemption is common, and it applies to residents who declare the property as their primary residence. Maine residents who utilize energy-efficient housing technology can qualify for the Renewable Energy Investment Exemption and save on property taxes.
Average Rent Cost In Maine
Residents of Maine spend an average of $831 per month on rent, but it depends on many factors. Some cities in Maine, such as Bangor, are more expensive than others, and neighborhoods play a role as well. Renters are in the minority in Maine, and only 27.8% of residents rent as opposed to own their homes.
Apartment size and floor plan largely determines how much your monthly rent will cost in Maine. A one-bedroom could cost anywhere between $700 and $1,800, for example, and a two-bedrooms generally average $1,650 per month. Bigger cities in Maine like Portland and Bangor are largely responsible for the high end of apartment rent cost averages.
| | |
| --- | --- |
| Maine Cities | Average Rent Cost |
| Bangor | $799 |
| Portland | $1,079 |
| Saco | $1,085 |
| Westbrook | $963 |
| Hallowell | $910 |
Average Cost of Utilities In Maine
Utilities costs are low in Maine, and residents generally pay $87 per month in utility bills. Low utility bills make it much easier for homeowners and renters alike to tuck money away for other living expenses. Of course, there are several factors such as energy usage and plumbing fixtures that can determine utilities costs.
Utility bills can be higher in Maine based on the particular city or county. Bangor, for example, is pricier than the state average, and utility bills can cost $115 or more each month. In Portland, Maine, utility bills can soar to between $120 and $140 per month, but limited usage lowers the bill.
You are charged for electricity in Maine at an average rate of 11.89 cents per kilowatt-hour. That is technically slightly higher than the national average, but it's low enough for inexpensive utility bills.
Maine State Income Tax
State income taxes are high in Maine, and the current rate is 7.15%. Depending on your own tax bracket, the income tax rate in Maine could be as low as 5.8%. The median household income in Maine is currently $55,425, and that falls into the 7.15% top income tax bracket.
Residents that make between $21,850 and $51,700 only pay an income tax rate of 6.75% in Maine. Residents that make below $21,850 per year pay the lowest income tax rate of 5.8%. Until 2013, the top income tax rate in Maine was 8.5%, and there has been a steady decline since then.
Maine Tax Rates
Taxes are a part of life no matter where you live, and Maine is no exception. Luckily, tax rates are low enough in Maine that it doesn't make you feel like you're being strong-armed. The average state sales tax rate in Maine is 5.5%, but there are several other important taxes to budget for.
| | |
| --- | --- |
| Maine Taxes | Sales Tax Rate & Cost |
| Property Tax | 1.35% |
| State Income Tax | 5.8%-7.15% |
| Gasoline Tax | $0.30 Per Gallon |
| Sales Tax | 5.5% |
| Tobacco Tax | $2.00 Per Pack |
Some tax rates in Maine, such as gasoline and property taxes, are above the national average. Gasoline taxes are significantly higher in Maine, and the national average is $0.18 per gallon, compared to Maine's $0.30. Property taxes are only higher 0.09% in Maine than the national average, however, so it doesn't break the bank.
The sales tax rate in Maine doesn't add too much to your tab, but it's worth remembering while shopping. Part of making a budget for your own city's cost of living is knowing the tax rates and how much they'll cost you each year. Luckily, Maine makes that information readily available, and they keep the costs low.
Income Tax Rates
There are only three income tax brackets in Maine. Maine's income tax system has a bottom rate of 5.80% and a top marginal rate of 7.15%. The maximum rate of 7.15% is the country's 10th-highest state income tax rate.
The income tax brackets for single filers and married filing separately are the same.
Income Tax Brackets for Single Filers and Married Filing Separately
Maine Taxable Income
Rate
$0 – $22,000
5.80%
$22,000 – $52,600
6.75%
$52,600+
7.15%
Cost of Food In Maine
Maine is just as well known for its memorable autumns and gorgeous views as it is for perfect seafood. There is no shortage of delicious and memorable restaurants in Maine, but local produce and groceries are just as enticing. While it may be tempting to dine out frequently in Maine, that could get expensive quickly.
Groceries are the best way to stay on budget and feed yourself in Maine. The average Maine resident spends $3,736 per year on groceries, and that is $1,000 more than the national average. Grocery costs make up an average of 9% of most Maine residents spending, so careful shopping is important.
| | | |
| --- | --- | --- |
| Food | Bangor, Maine | Portland, Maine |
| Gallon Milk | $4.70 | $4.30 |
| Dozen Eggs | $2.20 | $1.60 |
| Pound of Apples | $2.00 | $2.50 |
| Pound of Chicken | $4.50 | $5.80 |
| Restaurant Meal | $14 | $15 |
| Dinner For Two | $48 | $62 |
Several essential grocery items, such as milk and eggs, and pricier in cities like Bangor than the national average. Throughout the state, grocery items are somewhat expensive, and you will spend $311 each month, on average, at the store.
Maine Public Transportation
Public transportation is available in most of the major cities in Maine. Services such as Greyhound Buses are available for statewide transportation, and Amtrak is available in Maine as well. There are 19 cities in Maine that have train access, and tickets start at $24 per person.
Public transportation is a good alternative to driving for your daily commute in some cities in Maine. It all depends on how much you drive, how far your commute is, and how often you'll make it. If you live in Bangor, Maine, for example, using public transportation can save you a small fortune.
| | |
| --- | --- |
| Bangor Public Transportation | Cost |
| Bus Single Ride Pass | $1.50 |
| 5 Ride Bus Pass | $6.00 |
| Bus Month Pass | $45 (Adults) $20 (Students) |
| Amtrak Ticket | $31-$199 |
| Taxicab | $2.50 Per Mile |
Some smaller towns in Maine may not have public transportation available, and driving is a must. Ultimately, public transportation is mostly in your best interest if your daily commute is adding hundreds to your yearly budget. If you visit or move to a particular city in Maine, check for public transportation and invest in month passes.
Driving Costs in Maine
A gallon of gasoline goes for an average of $2.08 per gallon in Main, and that's below the national average. Many of the 1,344,212 residents of Maine are commuters, and the typical commute takes 24 minutes for them. Driving that much can wind up costing you $1,364 each year at the pump in gasoline costs.
Car insurance premiums are low in Maine, and they're 35.1% less than the national average currently. Maine residents pay an average of $927 each year in car insurance, but rates vary between cities. The most affordable car insurance in Maine is USAA with the lowest rate available of $885 per year.
If your driving history includes crashes and other driving problems, your insurance premiums will be higher. Personal driving history plays the biggest role in car insurance premiums and availability. Providers such as Allstate increase rates severely based on history, and their cheapest option is $1,880.
Cost of Education In Maine
For parents and college-age residents in Maine, education costs are likely a big part of your budget. Parents of elementary and high school-age children can save money by sending them to public schools in Maine. There are 620 public schools and 267 school districts available in Maine, and the public education system is outstanding.
Private education, on the other hand, is quite expensive and costs an average of $21,897 per year for tuition. Sending your kids to a private elementary school in Maine averages $8,000, but high school is much more expensive. The average cost of private high school education in Maine is $30,731, and that's almost $16,000 above the national average.
| | |
| --- | --- |
| Maine Education | Average Tuition Cost |
| Private Elementary School | $8,000 |
| Private High School | $30,731 |
| University of Maine | $11,438 (State Residents) $31,748 (Non-Residents) |
| University of Southern Maine | $9,226 (State Residents) $22,050 (Non-Residents |
| Bowdoin College | $56,350 |
One of Maine's best colleges is the University of Maine in Orono, and state residents only pay $11,438 per year. Portland, Maine's own University of Southern Maine also offers cheap tuition of $9,226 per year to in-state students. Out of state tuition in Maine can often cost $12,000-$20,000 more than tuition for state residents.
Maine Entertainment Costs
You can find entertainment in every corner of Maine, and different cities and towns offer their own opportunities. Famous attractions like the Portland Head Lighthouse are great for families and only cost $6.50 per ticket for adults. If you live in or around Maine, you could head to the Maine Discovery Museum and only spend $5 per person.
You can find movie theaters all over Maine, and the average cost is $9 per ticket. There are no opportunities to catch live professional sporting events in Maine, and there are no professional teams. Luckily, you don't even need to bring your wallet to have great entertainment in Maine.
Some of the best attractions in Maine are free and are provided by mother nature. Acadia National Park, for example, lets you run wild and gawk at 47,000 acres of gorgeous land, especially during fall. Or, you could head to York, Maine and visit the Nubble Lighthouse, but arrive early to get a good parking spot.
Cheapest City In Maine: Vanceboro
Median Home Value: $59,300
Average Rent Cost: $589
Average Monthly Utilities: $100
Population: 133
Average Household Income: $17,386
The cheapest city in Maine is Vanceboro, and the cost of living is astonishingly low. Vanceboro residents have many affordable housing options, and the median home value is $59,300. There are currently only 141 residents in Vanceboro, and it's a somewhat remote location and small area explains that.
Vanceboro is located right near the Canadian border, and it is part of Washington County, Maine. In the greater Washington County area, residents pay an average of $589 per month in rent. Commuting to work is a regular and expected part of life in Vanceboro, so driving costs may add up.
Your average Vanceboro resident has a 20-minute commute for work, and that means you'll use a lot of gas. Luckily, gas is cheap in Vanceboro and will generally cost between $2.04 and $2.12 per gallon at the pump. You could wind up spending between $1,338 and $1,390 each year on gas in Vanceboro, Maine with regular driving.
---
Related Questions
Is Maine a safe place to live?
Maine is one of the nation's safest states, with a violent crime rate of 1.1 incidents per 1,000 people. This is less than half of the national rate of 3.7. The property crime rate is 13.6, which is much lower than the national average of 22.0.Maine's crime rate has decreased for the last seven years. This could be why Maine's population is 37% less concerned about crime and safety than the national average. Maine's safest community is Kennebunk, with a population of 11,463 and a violent crime rate of 0.52.Gorham earned the state's lowest rate of violent crime, 0.23 per 1,000 people, in 2018. Wells, Falmouth, and Scarborough round out the list of safest cities in Maine. Residents can rest easy at night, knowing they live in a safe place. 
What are healthcare costs in Maine?
Maine residents can expect to pay an average of $9,531 per year on healthcare per person for major medical insurance plans. This is higher than the individual national average of $574 per month and the family monthly average of $1,634. Of course, prices will vary based on a person's health. Marketplace plans in Maine come in three tiers: bronze, silver, and gold. The more coverage you want, the more you'll pay in monthly premiums. The bronze plan is $384 per month, the silver plan is $506 per month, and the gold plan is $609.Premiums for a gold plan cost about 59% more than a bronze plan because it covers 80% of medical costs. The bronze plan only covers 60% of medical expenses. The limit on out-of-pocket costs is $8,150 for individual plans and $16,300 for family plans.
What is the weather like in Maine year-round?
Maine experiences mild seasons throughout the whole year, and it is known for its comfortable climate. The summer season rarely gets blisteringly hot and doesn't generally exceed 75 degrees Fahrenheit, and it cools down at night. Maine's average low temperature during the winter is between 15 and 25 degrees Fahrenheit, and extreme winter weather is rare.
Does Maine get hurricanes?
Hurricanes do not regularly occur in Maine, but they are possible and have caused destruction. The worst hurricanes in Maine's history occurred in 1954, 1960, and most recently, in 1991. Hurricane Bob in 1991 is one of New England's most destructive hurricanes, affecting Maine, North Carolina, and Rhode Island.
Do You Need to Hire Movers?
Get free, zero-commitment quotes from pro contractors near you.
Summing It Up
Maine is a safe and highly affordable state to live in, and it is worth the move. Yearly expenses include car insurance premiums, groceries, and fueling your car. At least $3,736 and $1,364 of your budget will go to groceries and gasoline costs alone, respectively.
Housing costs are below average in Maine, and the median home value is $184,500. Once your utilities and mortgage has been paid, you'll have spent an average of $1,381 each month as a homeowner. For residents who would rather not buy a home, they will wind up spending $831 monthly, on average, in rent.
Maine is known for its views and comfortable weather, so outdoor entertainment is available and free. You can live in Maine comfortably whether you are single or married with children. Countless cities from Bangor and Portland, to Vanceboro, have enough options for anyone to enjoy living cheaply.
Related Guides

Nick Durante
Nick Durante is a professional writer with a primary focus on home improvement. When he is not writing about home improvement or taking on projects around the house, he likes to read and create art. He is always looking towards the newest trends in home improvement.
More by Nick Durante
Published January 17th, 2021 5:14 PM