76 Views
15 Cheapest Places To Live In Montana
June 2nd, 2022 5:32 PM
Share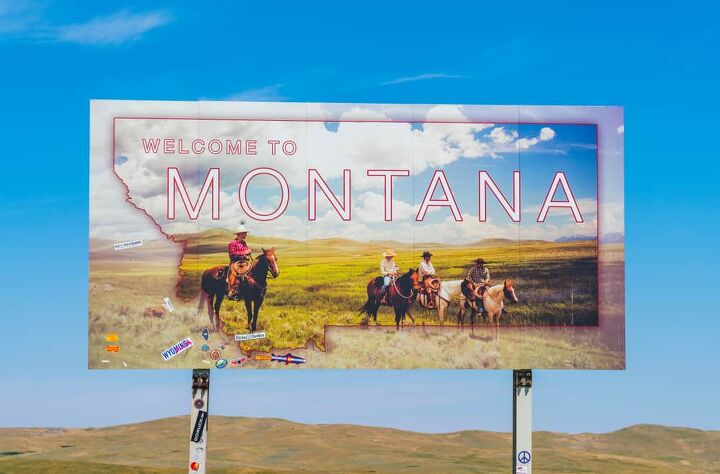 A state like Montana is worth living in no matter the cost, but luckily, it's a cheap state to live in. You don't need big wages to live in some of the country's most charming cities, and many of them are located in Montana. With all the state has to offer, what are the cheapest places to live in Montana?
Wolf Point and Colstrip are the two cheapest places to live in Montana. They have median home values of $101,700 and $126,000, respectively, and low monthly ownership costs as well. Wolf Point residents can rent apartments for $611, on average, and low household incomes are enough for comfortable living.
Low gasoline costs, affordable groceries, and cheap housing costs are what make a city's cost of living low. Luckily, there are 15 cities in Montana in particular that check each of those boxes. Let's take a look at the cheapest places to live in Montana, and what makes them so affordable.
Do You Need to Hire Movers?
Get free, zero-commitment quotes from pro contractors near you.
How We Determined The Most Cheapest Places In Montana
When it comes to being able to afford if you can live, the two most crucial factors to consider are:
How much money do I bring in?
How much will it cost me to live there?
You must comprehend your expenses in the context of your earnings. For example, if a median household makes $100,000 and spends $40,000 on housing, it is really less expensive to live there than if the median household earns $50,000 and spends $21,000 on housing.
Using Statistics
With that in mind, we extracted many income and expense statistics from the most recent Census American Community Survey 2015-2019. They are as follows:
Median Household Income / Median Household Income (lower is better)
Median Rent / Median Income (Higher is better)
Home Values 
Medium Home Price
We included just the median home price because greater home prices are associated with higher expenses for all home-related items (heating, electricity, etc).
You may then compare these parameters in each of Montana's locations to see which is the most affordable.
Using The Cost Of Living Index
By taking the average rank of each of these criteria for each place, you can create a "Cost of Living Index."
So we utilized that cost of living index to rank all of Montana's 53 cities with more than 1,000 residents. Colstrip, according to the research, has the lowest cost of living in Montana.
Cheapest Places To Live In Montana
When moving to any new place, budget is a huge factor. Not all of us have the means to live in expensive cities. Therefore, we're bringing you some of the cheapest places to live in Montana.
1. Wolf Point
Median Home Value: $101,700
Average Monthly Rent Cost: $611
Population: 2,743
Average Income: $44,276
Owning a home in Wolf Point, Montana is the norm, and 62.3% of residents are homeowners. Houses are inexpensive and have a median value of $101,700 in Wolf Point, and that explains the high homeownership rate. Owning a house in Wolf Point comes along with low property taxes, and the average effective rate is 0.83%.
Just under 40% of Wolf Point residents choose to rent apartments and houses. Wolf Point renters pay an average of $611 per month, and the national average is $784 per month. Apartments can cost up to $825 or more per month, but they can go for as little as $450.
The average household income in Wolf Point is $44,276, and that is below the Montana average household income. Throughout the state, the average household income is $52,559, but Wolf Point's affordability makes the income go further.
2. Colstrip
Median Home Value: $126,000
Average Monthly Rent Cost: $690
Population: 2,266
Average Income: $87,188
Colstrip is made up of both renters and homeowners, and both options are affordable. The median home value in Colstrip is $126,000, and the average mortgage payment is $1,300 per month. Renting is also quite affordable and averages $690 per month for those who don't want to buy a home.
Driving costs are also below the national average in Colstrip, and you'll pay $2.45 per gallon at the pump. You could spend up to $1,607 per year in gasoline if you're a commuter and use 656 gallons per year. Affordable car insurance premiums in Colstrip cost between $1,190 and $2,205 with higher rates for new drivers and elderly residents.
Households bring in more money per year in Colstrip than many other affordable Montana cities. The typical Colstrip household averages $87,188 per year, and that allows for comfortable living and peace of mind. However, it's important to make a budget for any income because Montana has a 6.9% income tax rate.
3. Glasgow
Median Home Value: $162,821
Average Monthly Rent Cost: $524
Population: 3,319
Average Income: $61,484
In Glasgow, Montana, 60.4% of all residents are homeowners, and the low house prices make it possible. The median home value is $162,821 and buying a home in Glasgow comes with an average $1,280 mortgage payment. Housing costs are slightly higher in Glasgow than other cities on this list, but low rent makes up for it.
The average monthly rent payment is $524 in Glasgow, and roughly 40% of residents are renters. Two-bedroom apartments can cost as much as $820 or more per month, and it can also increase utility costs. Utilities average $131 in Glasgow, but you could spend up to $180 or more depending on energy usage.
You can expect to spend close to the Montana state average of $1,615 each year in car insurance premiums. Regular gasoline can go for $2.18 per gallon right now, and premium costs up to $2.68 per gallon in Glasgow. When you're at the pump in Glasgow, try to remember the $0.27 per gallon gasoline tax.
4. Malta
Median Home Value: $122,100
Average Monthly Rent Cost: $539
Population: 1,915
Average Income: $45,242
Malta, Montana is the definition of small-town living, and luckily, the small city is highly affordable. The homeownership rate in Malta is 77.6%, and that's 14% higher than the average in America. It makes sense that there are so many homeowners because the median home value in Malta is $122,100.
Monthly ownership costs in Malta are somewhat high and can get up to $1,677 in bills and mortgage payments. Luckily, renting is an affordable alternative for residents that don't want to spend that much of their budget on housing. Renters are in the minority in Malta, but it is quite cheap and averages $539 per month.
Gasoline is cheap in Malta and costs $2.24 per gallon right now, and that saves big on daily commutes. Malta is only stretched across one square mile, so residents generally have to commute to other cities and counties nearby. Due to the necessity to commute in Malta for many residents, you could spend up to $1,469 yearly on gas.
5. Scobey
Median Home Value: $116,000
Average Monthly Rent Cost: $595
Population: 1,027
Average Income: $56,389
In Scobey, Montana, you will find yourself surrounded by livestock and fields, and 1,027 lucky residents call it home. Attractions such as Cattle Town can pull people in, but low housing and living costs keep residents there and happy. You can cheaply buy homes in Scobey, and the median price is $116,000, and that's before $1,200 in ownership costs.
There are plenty of rental options for homes and apartments in Scobey, and $595 is the average monthly cost. The most expensive apartment currently listed in Scobey is $1,035 per month, and that buys you a 2 bedroom with plenty of space. However, you are more likely to spend between $500 and $900 per month on rent in Scobey, Montana.
Rent and housing costs are low in Scobey, but so are average annual wages. The average household income in Montana is $73,014, but it is only $56,389 in Scobey. Still, living expenses are 7% below the Montana state average in Scobey, and it doesn't take much to live comfortably.
6. Anaconda
Median Home Value: $122,700
Average Monthly Rent Cost: $505
Population: 9,131
Average Income: $45,387
The name Anaconda may sound a little intimidating at first, but this Montana city is friendly, comfortable, and affordable. Located in Deer Lodge County, Anaconda is slightly bigger than many of the affordable cities on this list. Anaconda living is cheap, and renters can spend less than $400 each month after paying the median $505 rent.
Monthly homeownership costs are closer to $1,700 each month once bills and mortgage payments have been made. The median home value in Anaconda is $122,700, and you can expect to pay a 1.2% property tax rate. Houses currently sell for $112 per square foot in Anaconda, and that makes buying a home attainable for most residents.
Anaconda is quite small, so many of its residents commute to surrounding areas for work. You can count on your commute being 15 minutes, and that's the average for Anaconda residents. Luckily, you can find gasoline for $2.24 per gallon right now, so you won't leave a fortune at the pump.
7. Baker
Median Home Value: $148,000
Average Monthly Rent Cost: $635
Population: 1,814
Average Income: $61,670
Housing costs are slightly high in Baker, but they make up for it with low rent. The median home value in Baker is $148,000, and houses span the spectrum in cost. Monthly ownership costs are quite low, however, and generally average $1,100 per month including mortgage payments and bills.
There are apartments available right now in Baker that cost between $300 and $2,000 or more. If you need more space, you can pay up to $2,600 and get a three-bedroom in Baker. With two incomes, the average of $61,670 is more than enough to pay rent and live comfortably in Baker.
Some groceries, such as milk and chicken, cost more than the national average in Baker. Other grocery items, such as potatoes and beef are lower at $2.90 and $3.85 per pound, respectively. Buying groceries is a great way to save in Baker, but even a meal for two at restaurant averages $30.
8. Deer Lodge
Median Home Value: $113,000
Average Monthly Rent Cost: $545
Population: 2,916
Average Income: $37,917
Living in Deer Lodge is affordable and comfortable, and the only fallback is employment problems. The majority of Deer Lodge residents are employed, but at a low income, and the average household nets $37,917 yearly. That is below the national average, but Deer Lodge is cheap, and you can get a good quality of life.
The cheapest housing option in Deer Lodge is renting, and residents pay an average of $545 each month. That is $40 more than another city in the same county, Anaconda, but houses are cheaper in Deer Lodge. Houses have a median value of $113,000 in Deer Lodge, and the eponymous county has a 74% homeownership rate.
Driving is necessary to get around Deer Lodge, and you'll pay between $2.24 and $2.39 per gallon at the pump. Deer Lodge County stretches across 741 square miles, and many Deer Lodge city residents commute throughout the county. Budget yourself between $1,469 and $1,567 each year for gasoline costs if you drive daily in Deer Lodge.
9. Conrad
Median Home Value: $107,500
Average Monthly Rent Cost: $670
Population: 2,500
Average Income: $53,500
Housing costs are exorbitantly low in Conrad, and you can see why the homeownership rate is so high. Homes carry a median value of $107,500 in Conrad and rent averages $670 per month. Monthly housing costs can total $1,700 in Conrad, so renting is a great choice for Conrad residents looking to save.
The cost of living in Conrad is low, but groceries are mostly above the national average. Potatoes, chicken, and beef are above the national average in Conrad, but milk is below average at $1.90 per gallon. Luckily, some costs, such as car maintenance, are lower in Conrad than most places, and tire balancing costs under $40.
Gasoline can cost as much as $2.50 per gallon in Conrad, but it depends on where you go. The lowest available car insurance premiums right now in Conrad starts at $1,136 per year. You could spend as much as $2,303 or more on premiums in Conrad with Progressive.
10. LewistownMedian Home Value: $104,000
Average Monthly Rent Cost: $680
Population: 5,818
Average Income: $39,322
It's understandable that the majority of Lewistown inhabitants are homeowners. After all, the median property value is only $104,000, and typical monthly ownership costs are $1,600 or less. Houses can be found for as little as $100 per square foot on the market, and mobile homes can be found for even less.
Although rent in Lewistown might be expensive at times, the average resident pays less than $700 per month. Renting is less expensive than buying an existing home and far less expensive than building a new one. Building a new home in Lewistown might cost up to $300 per square foot.
In Lewistown, Montana, low-end vehicle insurance premiums range from $1,189 to $2,308 or more. At the pump, gasoline costs between $2.25 to $2.64 per gallon in Lewistown, which is about average for Montana.
11. Chester
Median Home Value: $112,500
Average Monthly Rent Cost: $536
Population: 900
Average Income: $39,313
Chester's affordability numbers are excellent across the board. These are Montana's sixth most cheap homes, with a median price of $112,500.
With a 1% unemployment rate, you can expect that everyone in Chester will get a piece of the pie. If you want to learn more about how things were done in the Wild West, the Liberty County Museum is a terrific place to visit.
Whether you're just passing through or settling down for good, Chester's rent to income and property price to income ratios are among the top ten in the state.
12. Harlowton
Median Home Value: $85,500
Average Monthly Rent Cost: $425
Population: 932
Average Income: $34,934
Harlowton is the location to go if you want to buy a house in Montana for the lowest price possible. A home in Harlowton costs around $85,500, which is significantly less than the state's second-cheapest dwelling.
Harlowton residents also pay the second-lowest proportion of their income on housing, leaving plenty of money in the budget for a brewski or two at Gally's Brewing Co.
13. Cut Bank
Median Home Value: $108,100
Average Monthly Rent Cost: $588
Population: 2,993
Average Income: $39,722
The county seat of Glacier County in the northwestern part of the state, Cut Bank comes in as the seventh most affordable place in Montana. The unemployment rate is very low in Cut Bank, so everyone can take full advantage of how cheap things are.
The median home price in Cut Bank is the fifth-lowest in Montana at $108,100, and the median rent is among the top ten cheapest statewide at $588. When you factor in that the median household income here is $39,722, you start to appreciate just how easy it is to save in Cut Bank.
On top of that, Cut Bank has some of the shortest average commute times in Montana, so you'll save even more on gas. Not to mention that with plenty of interconnected trails, nature-lovers can get their fix without spending a dime.
If you're looking for fun things to do here, look no further than Cut Bank Creek Brewery, a local favorite that's starting to spread throughout the state. And Cut Bank residents like to party with a number of events, chief among them being the Lewis & Clark festival.
14. Hardin
Median Home Value: $107,800
Average Monthly Rent Cost: $621
Population: 3,803
Average Income: $46,154
Situated about 50 miles east of Billings, Hardin ranks as Montana's eighth least expensive place to call home. Hardin offers easy access to some of the most sought-after fly fishing destinations in the country on the Bighorn River. And Hardin is proud of its heritage, which is on full display at the Big Horn County Historical Museum.
Or wait until summer for a more interactive historical perspective at the Little Bighorn Days festival, which draws visitors from all over the country.
Homes in Hardin sell for a median price of $107,800, while your typical rental costs around $621. Hardin residents also enjoy a median household income of $46,154, making everything that much more affordable.
Overall, the low cost of living combined with a high quality of life in Hardin make for a winning combination.
15. Chinook
Median Home Value: $97,900
Average Monthly Rent Cost: $496
Population: 1,047
Average Income: $41,364
We're finishing our tour of Montana's cheapest places to live with the small city of Chinook. Sure the cost of living is low here, the commute times are short, and the schools are excellent.
But what really stands out about Chinook is just how much there is to do in this community of 1,047 residents. There's a city pool, a 9-hole golf course that's open to the public, and a wildlife museum with stunning displays of animals in their natural habitats that could rival any big city's museum.
Unemployment is relatively low, crime isn't a big issue, and folks here earn a median income of $41,364. If you want to try Chinook out to see how you like it, the barrier to entry is incredibly low – in fact, the city has the cheapest median rent in Montana at $496.
If you decide you like it here, the median home price is $97,900. That number's been climbing steadily in recent years, as more people realize you can get a high quality of life for a bargain in Chinook.
---
Related Questions
What is the cheapest place to live in Montana?
The cheapest place to live in Montana right now is Wolf Point, and several other cities are right behind it.
| | | | | |
| --- | --- | --- | --- | --- |
| Montana Cities | Median Home Value | Average Rent Cost | Average Utilities | Household Income |
| Wolf Point | $101,700 | $611 | $131 | $44,276 |
| Colstrip | $126,000 | $690 | $138 | $87,188 |
| Glasgow | $162,821 | $524 | $131 | $61,484 |
| Malta | $122,100 | $539 | $131-$170 | $45,242 |
| Scobey | $116,000 | $595 | $158 | $56,389 |
| Anaconda | $122,700 | $505 | $131-$173 | $45,387 |
| Baker | $148,000 | $635 | $137 | $61,670 |
| Deer Lodge | $113,000 | $545 | $130-$170 | $37,917 |
| Conrad | $107,500 | $670 | $145 | $53,500 |
| Lewistown | $104,000 | $680 | $131 | $39,322 |
Is Montana a good place to live?
Montana is a good place to live, and its low cost of living and beautiful vistas keep residents happy. Residents face some trouble as far as wages and income goes, and the current unemployment rate is 11.3%. You can experience busy cities and bustling metropolises in Montana, or you can take in small, charming towns amongst nature.
What is the weather like in Montana year-round?
Montana goes through the seasons, but spring and summer are short giving way to long and cold falls and winters. You can experience temperatures below freezing during the winter in Montana, but 12 degrees Fahrenheit is usually the year low. During the summertime, temperatures can soar to 85 or higher, and it goes along with clear skies and mild weather.
Does Montana have sales tax?
No, Montana does not have sales tax, and there are only four other states without sales tax. Montana makes up for the lack of sales tax by using income and property taxes to bolster the state's economy. Delaware, New Hampshire, Oregon, and Alaska are the only other states that do not have sales tax at this time.
Do You Need to Hire Movers?
Get free, zero-commitment quotes from pro contractors near you.
Summing It Up
Wolf Point, Glasgow, and Colstrip are the cheapest places to live in Montana. There are many other cities that are highly affordable in Montana as well. Wolf Point carries a median home value of $101,700, and that allows anyone to afford a house.
Rent costs between $505 and $680, on average, in all of these affordable Montana cities and towns. You can live comfortably in Montana simply by choosing one of the above cheap cities. Beautiful views, a calm environment, and a low cost of living make all of these Montana cities worth checking out.

Nick Durante
Nick Durante is a professional writer with a primary focus on home improvement. When he is not writing about home improvement or taking on projects around the house, he likes to read and create art. He is always looking towards the newest trends in home improvement.
More by Nick Durante
Published January 1st, 2021 6:00 PM