36 Views
9 Cheapest Places To Live In Arizona
June 2nd, 2022 5:28 PM
Share
We're committed to finding, researching, and recommending the best products. We earn commissions from purchases you make using links in our articles. Learn more here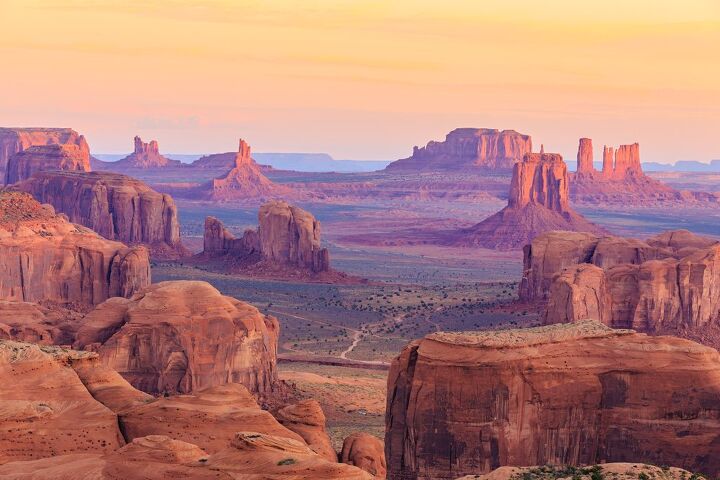 Arizona is known as one of the most affordable states to live in the US. Along with the low cost of living, it's also famous for its unique landscapes, sparkling cities, and rich cultural heritage. No wonder why more and more Americans are looking to live or retire in The Grand Canyon State.
Holbrook is the clear winner when it comes to the cheapest place to live in Arizona. Other places that made it to the list, in no particular order, are Winslow, Page, Safford, Coolidge, Florence, Globe, Douglas, and Eloy.
Whether you're a retiree or a young family, living in Arizona can provide you with a stable economic state and tranquility. Check out our list of the cheapest places to live in Arizona.
Do You Need to Hire Movers?
Get free, zero-commitment quotes from pro contractors near you.
9. Holbrook, AZ
Population: 5,159
Median Home Value: $110,238
Median Rent Price: $680
Holbrook, Arizona is located in eastern Arizona along the banks of the Little Colorado River. The location of Holbrook in Navajo County serves as the gateway to Petrified Forest National Park. There are also several Indian reservations around the area.
Along with many fun things to do, the cost of living is another thing you'll like about this city. Home affordability is a very important factor when determining where to buy real estate within Holbrook. One method you could use to know the home affordability is by calculating the home price to median household income ratio.
The city's median income is close to $43,462, while the median home value is $110,238. The median rent price in Holbrook is $680, which is 27% lower than the rest of the state.
Tourism, agriculture, and retail are keeping the city's economic state booming. When it comes to the most affordable city in the state in terms of home price to income ration, Holbrook is also in the lead.
8. Winslow, AZ
Population: 9,053
Median Home Value: $103,500
Median Rent Price: $775
Winslow is located on Route 40 on the Navajo County's western border in the high plateau country of northeastern Arizona. If you're familiar with Winslow, you know how beautiful this city is. However, what you might not know is that living here is extremely affordable.
What used to be a railroad community, a huge portion of Winslow's population work in transportation, education, and public service. While the unemployment rate is a little bit higher than the average at 8.7%, the recent job growth is slowly decreasing this number.
With the median income sitting close to $38,043, it should be easy for most families to meet the cost of living in Winslow. The cost of living in the city is 21.7% lower than the US average. Winslow's median home cost, on the other hand, is $103,500.
7. Page, AZ
Population: 7,572
Median Home Value: $152,778
Median Rent Price: $730
A city in Coconino County, Page is another place in Arizona that offers affordable costs of living. Not only affordable, but Page also offers a lot of fun activities for adults and younger people alike.
Page is a very ethnically-diverse city. The locals describe themselves as belonging to different racial and ethnic groups. The majority of Page residents report their race to be Native American, followed by Caucasian. If you're someone who enjoys the outdoors and loves seeing beautiful landscapes, then you'll love Page. From hiking to fishing, and other outdoor activities, you'll never get bored living here.
The median income for homeowners in Page is $70,741. This would allow for a maximum of $1,651 monthly to be spent on housing expenses. The median home value in Page is $152,778. If you're planning to rent, the median rent price $730.
This data is a good indicator of how affordable housing here is, along with the overall cost of living.
6. Safford, AZ
Population: 9,838
Median Home Value: $136,200
Median Rent Price: $938
Located in Graham County, Safford is another cheaper place to live in Arizona. The median income in Safford is $52,768 while the median home value, on the other hand, is $136,200.
Safford is neither largely white-collar nor blue-collar, rather, having a mixed workforce of both white-collar and blue-collar workers.
All in all, Safford is a city of retails, service providers, office workers, and professionals. There are particularly many people living in Safford who are working in the office and administrative support, sales jobs, as well as food service.
The biggest employers in Safford are working in the education and mining industry. Safford is home to the biggest gold and copper mining facility in the US. This probably explains why Safford has a high median household income. On the other hand, the median rent value is $938.
5. Coolidge, AZ
Population: 13,459
Median Home Value: $148,041
Median Rent Price: $799
Another emerging city in Arizona, Coolidge is another affordable good place to live for those who don't want to spend a lot of basic expenses. Coolidge has a relatively lower median home price in comparison to the national average. The median household income here comes in at $44,063, while the median home value is $148,041. The unemployment rate plays around 12.4%.
Aside from being one of the cheapest places to live in Arizona, Coolidge is also always on the list of some of the best places to live in the state. It's very easy to see why.
Not only for those who are on a budget, but people who love history will also love the fact that it's closely located to the Casa Grande Ruins National Monument.
Probably one of the best things about Coolidge is the schools. Coolidge High School offers its students many different study programs to work on. There's no doubt that Coolidge is a great place to start new and be part of the growing economy.
4. Florence, AZ
Population: 26,955
Median Home Value: $142,600
Median Rent Price: $975
Another city that was able to make it to our list is Florence. Not only affordable, but this city also boasts a low crime rate, which made it perfect for families who are looking for a place to start fresh.
Situated about 60 miles southeast of Phoenix in Pinal County, Florence is one of the area's oldest towns. It saw its peak during the boom of cattle and mining, which took place in the late 19th and early 20th centuries.
Data shows that Florence has to be the poster city of Arizona for affordability, safety, and housing. If you're a young family, looking to live somewhere not only affordable but also exciting, this is the place for you. You'll love how the city has ten parks nearby and how close it is to Tucson and Phoenix.
The median household income in the city of Florence comes in at $49,674. On the other hand, the median home value is $142,600.
3. Globe, AZ
Population: 7,390
Median Home Value: $129,500
Median Rent Price: $394
Located within Gila County, Globe could be a good choice for you as well. Globe is rather a small city with a population of 7,390 and three main neighborhoods.
Many people living here are so lucky to have one of the shortest regular commutes compared to the rest of the country. Averagely, they spend just 17 minutes to get to work every day. Globe does not have a public transportation system that locals could use to commute.
The economy is mainly run by tourism, mining, tourism, government, as well as the retirees that choose to live here. Compared to the rest of the country, the cost of living in the Globe is 17.4% lower. The median household income in Globe comes in at $47,086. The median home value, on the other hand, is $129,500.
However, you have to know that even though Globe is one of the cheapest places to live in the state, it's also one of the dangerous places to live in Arizona.
2. Douglas, AZPopulation: 15,140
Median Home Value: $108,623
Median Rent Price: $380
A city in Cochise County, Douglas lies in the northwest to the southeast part of the state. Douglas has a border crossing with Mexico and is known for its rich mining history.
This small, charming border community has over 100 years of rich history. The city has been recently dubbed one of the best "micropolitan" areas in the country, communities with 10,000 – 50,000 residents with great amenities, thriving economies, and low costs of living.
Douglas offers easy access to authentic Mexican dining and shopping in its neighboring city of Agua Prieta. Living here, you can easily cross the border on foot or by car. Just make sure you have your passport with you!
Compared to the rest of the US, the cost of living in Douglas is 23.5% lower. Douglas' median household income comes in at $34,154. Meanwhile, the median home value is $108,623.
1. Eloy, AZ
Population: 23,063
Median Home Value: $141,283
Median Rent Price: $583
While Eloy is not the most exciting place to live in terms of activities and excitement, its affordability and low crime rates make living here a great idea. The economy of this city has focused mainly on agriculture. Being situated in the Santa Cruz River Basin, one of Arizona's most fertile agricultural areas, this shouldn't come as surprise.
Recently, the economy of the city has expanded, with over threequarters of its businesses and almost half its employment now in the retail trade, industrial, and service sectors.
The cost of living in Eloy is 22% lower than the rest of the United States. The housing expenses in the city are 59% lower than the national average, while the utility prices are 4% lower.
The average affordable monthly apartment rent in Eloy is $583. The median gross income for households in the city is $31,033 annually or $2,586 monthly.
Rent vs. Buy in Arizona: What's Cheaper?
There's no doubt that housing is the biggest contributor to any cost of the living estimate. In Arizona, the renting cost for a home could be almost the same as buying one. However, it might still be a better option for you, depending on your situation.
Renting a Home in Arizona
First of all, renting a home in Arizona generally has fewer up-front expenses. If you don't like the idea of spending money or time upgrading or maintaining a property, then it's smarter to rent.
Utilities Are an Expense Too
Secondly, you have to remember that utilities are usually included when you're renting. This may help you reduce your housing expenses. Lastly, renting might also offer on-the-spot amenities such as pool, gym, and recreation areas that are likely to be unavailable if you were to buy a home.
Considering All Expenses
Wrapping those expenses and only paying to rent, could leave you with more savings, and thus, lower cost of living. By renting, you can have more opportunities to experience a new place and see if you want to live there. This will help you decide if you want to commit to buying a property in that certain place in Arizona later on.
In short, renting comes with many more benefits over purchasing.
Do You Need to Hire Movers?
Get free, zero-commitment quotes from pro contractors near you.
---
Related Questions
What are the Best Places to Live in Arizona?
The best place to live in Arizona is highly subjective. But for most people, this depends on your employment, safety, and/or how resistant you are to the heat. Below, we listed the winners in each category.If you're looking for a place where it's easier for you to find a job, then Phoenix, which is that state's capital city is ideal. However, prepare yourself to experience temperature that is 100°F or higher.If you'd rather live in a place with more bearable weather, then Prescott is a great place to consider. You will fall in love with its moderate, seasonal weather as well as the hiking and lakes around the area.Lastly, if safety is your concern, then you may want to move to Florence. This historic town is not only one of the cheapest, but also the safest community in the entire state. The total crime rate here is only 6.20 per 1000, which is less than half of any other communities in Arizona.
How is the Healthcare Access and Affordability in Arizona?
Unfortunately, Arizona is ranked number 41 out of all states when it comes to overall healthcare access and affordability. Keep in mind that healthcare expenses make up a substantial part of the cost of living.However, many Arizona residents qualify for financial assistance to get private medical insurance under Obamacare. It's also possible to get free or low-cost health insurance in the state of Arizona through public programs like Medicaid.
Cyril Balahadia
Coming from a family of woodcarvers, Cyril has always been fascinated with wooden interiors and home decorating. While she followed the path of writing as her career, her interests in home improvements still remain.
More by Cyril Balahadia
Published October 5th, 2020 12:57 PM