14 Views
Can You Wash Kitchen Mats? (Find Out Now!)
December 5th, 2021 5:27 PM
Share
We're committed to finding, researching, and recommending the best products. We earn commissions from purchases you make using links in our articles. Learn more here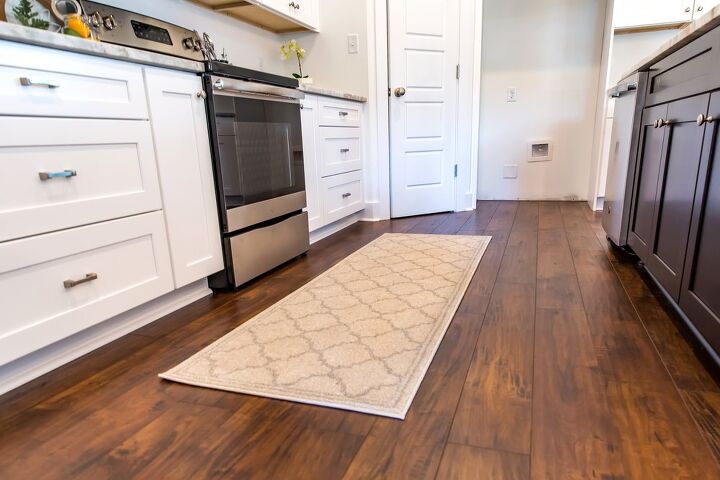 Kitchen mats sure can tie the room together. Not only that, but they also serve a functional purpose. Kitchen mats provide a comfortable surface during long dishwashing sessions. They're also good to have around in the presence of water to soak up spills and minimize slipping.
The care for each type of kitchen mat is different.
Anti-fatigue mats and bamboo mats are not machine washable. Mats in these materials require spot cleaning or a good shake to get out any debris. Some braided cotton mats and mats with rug fibers and non-slip backing are machine washable. However, if the backing is rubber, these mats cannot go in the dryer.
Kitchen Mat Materials
Kitchen mats come in a variety of materials, so it's important you pay attention when purchasing one. You want to make sure your kitchen mat can withstand your lifestyle.
Always check the care label to see what materials are in the mat and how to maintain it. If you spend lots of time cooking and cleaning in your kitchen, you'll want a kitchen mat with hardy, washable material. And not every material falls into that category.
Carpet-Style Kitchen Mats
Similar in style to a bath mat, carpet-style kitchen mats have tufted or woven rug fibers and anti-slip backing. These mats are typically made from a blend of polypropylene and nylon fibers, giving the rub durability.
The care label will tell you for sure, but often, these kitchen mats are machine washable. They usually can be spot cleaned as well.
Anti-Fatigue Kitchen Mats
These kitchen mats are a popular choice for those who spend long periods standing in their kitchen. Made with gel or foam interiors, anti-fatigue mats are like pillows for your feet. The cushioning is covered in various materials including vinyl, rubber, and sometimes leather.
As comfortable as these mats are, they are not machine washable. A hardier outer covering like vinyl can handle wipe downs and scrubbing with soap and water. But some of the more delicate material like leather is trickier to clean.
Bamboo Kitchen Mat
Beautiful and understated, bamboo kitchen mats provide an anti-slip surface in a minimalist aesthetic. Not to mention they'd go well with bamboo cabinets!
Bamboo is a hardy material to have in your kitchen as it's water-resistant. However, it's not waterproof. This is the main reason a bamboo mat is not machine washable.
In order to prevent stains, any spills need to be wiped from a bamboo mat immediately. These mats are probably best for homeowners who aren't very kitchen-savvy.
Braided Cotton Kitchen Mats
Often made from cotton blends, braided mats are usually handmade and require extra care. The care instructions should say whether or not it's machine washable. But generally, cotton blends can withstand a washing machine. Otherwise, you can hand-wash your braided rug and hang it out to dry.
Machine Washing Kitchen Mats
If the care label instructs you so, then it's safe to machine wash your kitchen mat. For the most thorough clean, first, shake out the rug to remove any debris. You can also vacuum it before putting it through a wash cycle. Check the care label for instructions on pre-treating stains.
It's best to wash a kitchen mat by itself in cold water on a gentle cycle. Washing a kitchen mat in this manner prevents shrinkage and damage to the fibers.
Rubber-Backed Mats
Kitchen mats with rubber backs can't go through the washer too often. It's best to shake out, vacuum, and, if allowed, spot treat these mats as the main cleaning method. To preserve your kitchen mat's lifespan, send it through the wash maybe once or twice a month.
Machine Drying Kitchen Mats
More often than not, kitchen mats should not be dried in a dryer. Some care labels will say otherwise. And if you're permitted to use a dryer, use the lowest heat setting when drying your kitchen mat.
It's recommended to hang dry rubber-backed kitchen mats as the heat from the dryer tends to crack the rubber. Even if the care label permits machine drying, hanging the mat is the best way to make it last.
Caring for Non-Washable Kitchen Mats
If your kitchen mat can't go in the washer, it still needs to be cleaned. You have a few options, which are dependent on your mat's material. Remember, always consult the care label.
Spot Clean. Using a simple solution of dish soap and water, treat stains as they appear. Harsh cleaning chemicals damage most kitchen mats, so a gentle soap is best.
Scrub. Certain materials, like many used in anti-fatigue mats, can take a bit more than just spot cleaning. Using the same soap and water combination, scrub in circular motions with a plastic brush. Rinse and wipe or hang dry.
Vacuum. Taking a vacuum to your kitchen mat ensures the large crumbs are taken care of. This may not be the best option for a bamboo kitchen mat.
Shake It Out. Before the invention of vacuums, the most popular rug cleaning method was to shake or beat out the dirt. Sometimes, old-fashioned methods are the only way to go.
---
Related Questions
Are braided rugs hard to clean?
For day-to-day cleaning, vacuuming a braided rug is acceptable. A deeper clean is dependent on the provided care instructions. Braided rugs are highly durable and great for high-traffic areas.If you're worried about how to clean a braided kitchen mat, check the care instructions before purchasing. Try to find a kitchen mat that's machine washable.
How thick should an anti-fatigue mat be?
Industrial strength anti-fatigue mats are typically 3/8-inch thick with special cushioning that reduces foot fatigue.
Summary
Proper cleaning of a kitchen mat requires that you look at the care label. Certain materials, like those in anti-fatigue mats and bamboo mats, cannot be washed in a washer. Others, like those with rug fibers, are machine washable. Some materials can be spot cleaned or scrubbed with soap and water.
Be sure to choose a kitchen mat that works with your needs. Highly used kitchens require durable kitchen mats.

Brigid Levi
Brigid Levi is a wife, mother, and freelance writer who enjoys a good DIY project and creating beautiful spaces within her home. From cleaning and organization hacks to home decor ideas, she loves helping people in their quest to turn a house into a home. Her hobbies include pretending to be Joanna Gaines while updating her home with her husband and performing in local theater productions.
More by Brigid Levi
Published December 5th, 2021 5:26 PM