152 Views
Can You Put Pampered Chef Pans In The Dishwasher? (Find Out Now!)
March 2nd, 2022 3:42 PM
Share
We're committed to finding, researching, and recommending the best products. We earn commissions from purchases you make using links in our articles. Learn more here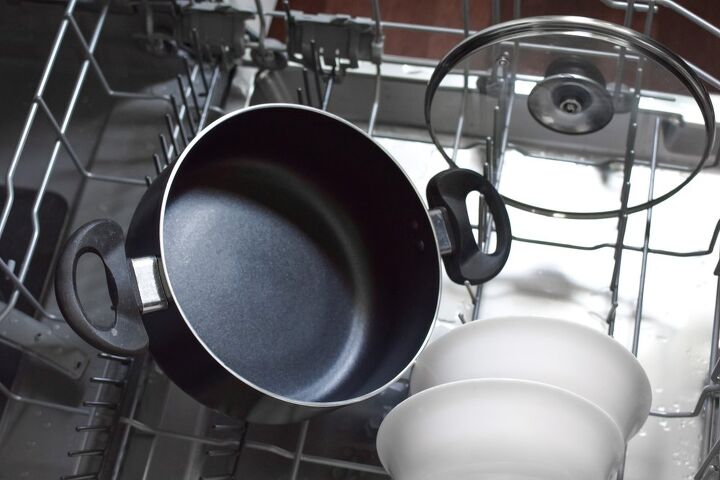 If you do a lot of cooking, then you've probably come across Pampered Chef cookware before. This cookware is ideal for those who take cooking seriously, as this cookware is built to last, versatile, easy to clean, stain-resistant, and usually offered for an affordable price.
Sure, Pampered Chef cookware is easy to clean, but are there special cleaning instructions one must follow? In this article, we'll discuss how Pampered Chef cookware should be cleaned, as we endeavor to answer the question: Can Pampered Chef cookware be cleaned in a dishwasher?
The answer here depends on what the cookware is made of. If the cookware is completely glazed, then it can go in the dishwasher. You can also put steel, glass, ceramic, and nylon cookware in the dishwasher. Any aluminum cookware, on the other hand, should stay out of the dishwasher. You should also refrain from putting stoneware in the dishwasher.
Do You Need a Maid Service?
Get free, zero-commitment quotes from pro contractors near you.
What Is Pampered Chef Cookware?
Pampered Chef has been manufacturing cookware, stoneware, and other kitchen products since the 1980s. Their specially designed tools are great for expert chefs and novices alike. As innovators, they have created dozens of multi-use kitchen tools over several decades in business, and all of their products will stand the test of time.
Why Pampered Chef Cookware Is Purchased
Pampered Chef cookware is purchased for a variety of reasons. This cookware is non-stick, and this quality is sought after these days.
Some of their cookware is heavy whereas other pieces are lightweight. While some say the skillet and frying pans are too heavy, general consensus is that these products aren't too heavy or too light. Yes, some pans require two hands to lift, but this is not the case for all of their cookware.
Most of their cookware can be used in the oven, as their products are manufactured using only high-quality materials. And if you're cooking for multiple people, having cookware by Pampered Chef will be an advantage.
These pans can last for multiple years if they're maintained well, and this is why a lot of individuals say they're worth what they cost. Many satisfied customers say they've gotten over 10 years of use out of these pans, and it's also been said that these pans distribute heat well.
They also have silicone handles for protection. Lastly, because they come in neutral colors, they are ideal for a variety of kitchen decors.
Can Pampered Chef Cookware Go In the Dishwasher?
Most pieces of Pampered Chef cookware are dishwasher safe, but there are some pieces that should be kept out of the dishwasher. The non-stick pots, lids, removable handles, frying pans, and sauce pans that this company makes can all be cleaned in the dishwasher. These products can withstand heat up to 480°F, which means they're dishwasher and oven safe.
When deciding whether or not a piece of cookware can go in the dishwasher, you need to see if the cookware is glazed, partially glaze, or not glazed it all. Stoneware that's not glazed should be kept out of the dishwasher, and this is true for Pampered Chef's unglazed stoneware. But if the stoneware is fully glazed, it can go in the dishwasher.
The pans this company manufactures are made out of top-of-the-line, non-stick titanium, which means they're ideal for everyday cooking. Best of all, you won't have to worry about their non-stick quality being reduced by cleaning.
Lastly, Pampered Chef explains in its product manuals and on packaging whether an item is dishwasher safe or not. If you're not sure, always go with what the manufacturer recommends.
How to Clean Pampered Chef Cookware
If you want to avoid putting Pampered Chef cookware in the dishwasher and instead want to do things the old-fashioned way, listed below are the items and fixtures you'll need to properly clean Pampered Chef cookware by hand:
Nonabrasive cloth or pad
Mild dish soap
Access to a sink
Drying cloth
Cleaning Process
Before you ever use a piece of Pampered Chef cookware, you should rinse it off with warm water. For cookware that has multiple components, disassemble before rinsing. Dry off with a clean towel and then the cookware will be ready for its first performance.
When a piece of Pampered Chef cookware gets dirty, it should be cleaned right away. Prompt cleaning ensures the cookware doesn't take on unnecessary damage.
Grab an abrasive cloth or pad, some mild dish soap, and a drying cloth, as it's time to start washing. And if you really want to deep clean your Pampered Chef cookware, mix a half cup of baking soda with 3 tablespoons of water and apply this paste to the cookware.
Once the paste has sat for about 10 to 15 minutes, wash it away and then dry the piece of cookware with a towel. The cookware should be spotless after that, as removing leftover food and other particles from Pampered Chef cookware is rather easy.
Do You Need a Maid Service?
Get free, zero-commitment quotes from pro contractors near you.
How to Clean Pampered Chef Stoneware
If you have Pampered Chef stoneware, you should know how to clean it properly. If you maintain this stoneware well, you'll be able to use it for a number of years. Pampered Chef makes their stoneware out of natural clay, so there's no special cleaning method or products required.
In fact, all you'll need to clean Pampered Chef stoneware is clean, hot water and a nylon scraper. You should definitely keep your stoneware away from the dishwasher. Stoneware is very porous, and it'll absorb dishwater if it's submerged in this liquid.
And as you can imagine, if your stoneware is full of dishwater, it's going to contaminate foods and liquids it comes in contact with. Here's how you can properly clean Pampered Chef stoneware:
Cleaning Process
First, grab some clean hot water and carefully pour this onto the stoneware; doing so will loosen leftover food and other particles that are stuck to the stoneware. Now grab your nylon scraper and scrape off the remaining particles.
Once all necessary scraping is done, rinse the stoneware thoroughly. When it's been thoroughly rinsed, let it dry naturally. Only put the stoneware away once it's completely dry.

Matthew Mountain
Matt loves everything DIY. He has been learning and practicing different trades since he was a kid, and he's often the first one called when a friend or family member needs a helping hand at home. Matt loves to work with wood and stone, and landscaping is by far his most favorite pastime.
More by Matthew Mountain
Published December 6th, 2021 12:01 PM