38 Views
Brickmold Vs. No Brickmold Around The Door
July 28th, 2021 2:35 PM
Share
We're committed to finding, researching, and recommending the best products. We earn commissions from purchases you make using links in our articles. Learn more here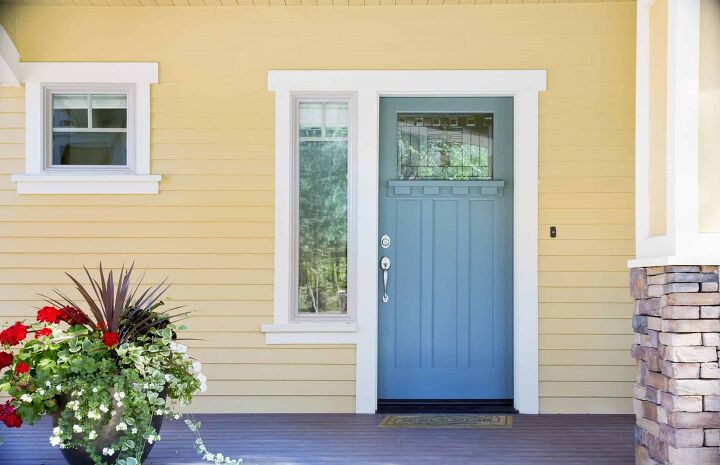 When you install a door in your home or redesign your home, you have plenty of important decisions to make. One of the most important decisions is whether to install a brickmold around your door. This can have a heavy impact on the design of your home.
If you want to have control over this aspect of your home and achieve more with your home's design, then you'll need the information to make this decision. Brickmold vs no brickmould is a classic debate that many have been going back and forth on for years.
Putting brickmold on a door generally provides the most benefits when it comes to durability and strength for your door. There are benefits to both doors with brickmold and without brickmold. If you are trying to make an informed decision, you will need to factor in considerations such as design, ease, and affordability.
However, there's a lot more to know than just that. If you want to make an informed decision that is best for your home, then read along. We'll go into the various pieces of knowledge that you'll need to make this crucial decision.
Do You Need a Window and Door Contractor?
Get free, zero-commitment quotes from pro contractors near you.
What is Brickmold?
The first step to deciding whether you need brickmold for your outdoor door or window is understanding exactly what brickmold is. Brickmold is a casing that is meant to help protect your door from the elements.
It fits between the door and the siding generally and encases the door in a protective shell. People generally use it on exterior doors and windows. However, new construction methods have sometimes made it an optional addition to your doors and windows.
Now that you know what a brickmold is and what its purpose is, you can make a more informed decision.
Brickmold Materials
Another piece of information that you will likely need to be familiar with is what materials are used for brickmold. Knowing what materials are available for your brickmold helps you decide if it will fit in with the style of your home. There are several materials available to choose from. Wooden and PVC brickmold are the most common.
Wooden Brickmold
The first type of brickmold to be familiar with is wooden brickmold. This is a very common type of brickmold with plenty of benefits. These types of brickmold are available in hardwood and softwood. It is generally accepted that hardwood is better for this purpose.
The reason that hardwood is a better option is that it is better known to stand up well to the elements. One thing that you will need to be wary of when choosing wood for brickmold is its vulnerabilities. Wood is known for being more vulnerable to weather, pests, and wear.
One way to avoid these things from taking a heavy, early toll on your brickmold is to prime and paint them. You should use a paint and primer that is designed specifically for this purpose. With proper maintenance, hardwood brickmold is reasonably durable.
PVC Brickmold
Another common type of brickmold is PVC. PVC brickmold is made from a very durable plastic material. Many people that get brickmold with modern constructions choose PVC brickmold. That is because it has many strengths that wood brickmold simply doesn't have.
The main benefit of PVC brickmold is that it is less susceptible to damage that occurs to its wooden counterpart. Since it is not vulnerable to things like weather and moisture, it can be used for longer. This creates a more affordable situation in the long-run.
If your aim is for durability in your brickmold, then PVC could very well be the right choice for you. However, you must take into account your personal design preference.
Benefits of Doors With Brickmold
There are many benefits to choosing brickmold for your exterior doors and windows. If you want to be able to make a proper decision, you need to be familiar with these benefits. Here are some of the best benefits of choosing to put brickmold on your doors and windows.
Durability
The first benefit of doors with brickmold is that they are more durable. Without brickmolding, doors are less durable and more vulnerable to wear. This is because they will be exposed to the elements more severely. There are ways to succeed without brickmold, but it will be more difficult.
The reason that this is so important to many homeowners is that doors do represent somewhat large investments. If you want to get the most out of your door, you may want to use brickmolding. This could keep the door in good condition for longer.
Implementing brickmolding also helps to shield the edges of your siding from weather and the elements. This could prevent you from having to do significant work on your siding when it comes to maintenance.
Overall, brickmolding is a great investment to make for the durability of your doors, windows, and siding.
Classic Style
Apart from durability, many people love that brickmolding represents a classic style. Brickmolding certainly adds a distinguished appearance to your home. If you are after a traditional, classic style for your doors and windows, brickmolding is a great option.
In addition, the brickmolding will bring durability to your doors and windows, acting as a double benefit.
Increased Security
A perhaps unheard-of benefit of brickmolding is that they can actually provide your home with more security. With brickmolding over the creases of your door, your home will be more secure. Since the gap is harder to access by those that would mean you and your possessions harm, you are more protected.
If you want to enjoy more security in your home, then brickmolding is a simple step that you can take to increase security.
Benefits of Doors Without Brickmold
Though there are plenty of benefits to implementing brickmold on your exterior door, there are also benefits to excluding it. If you're interested in the benefits of not using brickmold, here they are. It's important that you are familiar with these before you make your decision.
More Affordable
One of the main benefits of having doors and windows without brickmold is that they are more affordable. If you are looking to save as much money as possible when installing your doors and windows, this is an option for you.
Modern construction methods are good at making your doors and windows durable even without brickmolding. However, the situation will have to afford you this flexibility. If you want to cut some corners and save, leaving out the brickmolding is certainly an option.
Clean, Modern Look
Another benefit of skipping the brickmolding is that you can achieve a certain style. Without brickmolding, you will forego the traditional classic look. However, you will achieve a modern, sleek look for your doors and windows. Many people find this look to be very desirable.
Do You Need a Window and Door Contractor?
Get free, zero-commitment quotes from pro contractors near you.
---
Related Questions
What is brickmold used for?
Brickmold is used around exterior doors and windows. It is designed to protect the door and siding from the elements. It is generally made from wood or PVC. It is sometimes optional. 
What is a brickmold window?
Just as doors use brickmold, so do windows. Exterior windows use brickmold to protect the windows and siding from the elements. 
Can you nail PVC brickmolding?
It is generally recommended that you use appropriate screws for installing brickmold, but you can use nails in certain situations. 

Upgraded Home Team
We are a team of passionate homeowners, home improvement pros, and DIY enthusiasts who enjoy sharing home improvement, housekeeping, decorating, and more with other homeowners! Whether you're looking for a step-by-step guide on fixing an appliance or the cost of installing a fence, we've here to help.
More by Upgraded Home Team
Published September 19th, 2020 10:17 AM