1K Views
Alternatives To Birdsmouth Cuts: Ways To Hang Roof Rafters
February 10th, 2022 6:17 PM
Share
Hanging roof rafters is an art as much as it is a skill. Birdsmouth cuts have been the standard for a while, but alternatives such as VPAs are a great choice as well. Whether it be cutting studs or rafter ties, follow along as we explore the best birdsmouth cut alternatives.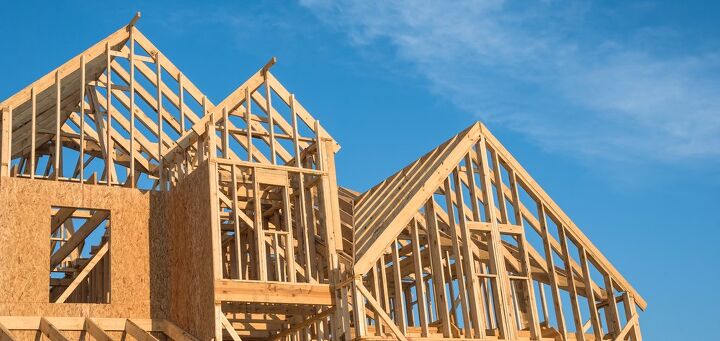 If you're familiar with framing, then you've probably worked with birdsmouth cuts. These styles of cuts allow roof joists to connect to the wall plate of a structure. Other than asking a store to cut your wood, there are some other alternatives! What are some other options for the birdsmouth cut?
The best alternatives to birdsmouth cuts are rafter ties and metal framing. Hurricane ties also allow you to secure your roof and joists without using birdsmouth cuts. You can cut your studs evenly so that you can rest beams on them to evenly distribute the load and support the roof as well.
Each alternative is unique and grants you the same benefits as a birdsmouth cut. The ideal alternative for you ultimately comes down to personal choice and what you currently have available. Follow along as we explore the best alternatives to birdsmouth cuts.
What Is The Point Of A Birdsmouth Cut?
To choose a great alternative, you need to understand how a birdsmouth cut works. That way, you can apply the same principles when opting for an alternative route. This is because the alternative will need to more or less the same job that a birdsmouth cut does.
This particular joint cut allows joists to sit on a wall plate. The fact that it connects to the wall allows the beam to be weight-bearing. You can also angle the cut to change the slope of the roof. Overall, a birdsmouth joint ensures the connectivity between the roof frame and the wall. Also, it helps disperse the load across the roof so it will not cave.
Birdsmouth Cut Alternatives
Birdsmouth cuts are classic in roofing and home construction, but sometimes you simply want an alternative. You can help transfer force to the top plate with a birdsmouth cut, but that's not the only way you can do it. Whether it be rafter ties or variable pitch connectors, let's take a look at the best alternatives to a birdsmouth cut.
1. Rafter Ties
Rafter ties are the best alternatives to birdsmouth cuts because they make it so that the joists don't stick out. You can increase your home's structural integrity with classic rafter ties and they help prevent your roof from caving in. Rafter ties are perfect for any structure with a roof with it's a home, shed, or garage.
Add metal framing and fortify your rafter ties to protect your roof and the rest of the home. The metal frame can help keep the rafter ties and joists steady and in place. This allows your joists to rest and balance on the wall plate, you should only use this method for a shed or small home.
Calculate your roof pitch before you install rafter ties so that you can position and install them properly. Sure, rafter tie beams are generally ideal at the bottom of the building, but that isn't the only way you can use them. Consider rafter ties if you want to secure the roof on a small home or shed without making birdsmouth cuts.
2. Hurricane Ties
Hurricane ties are generally made by Simpson Strong-Tie, and they are a great alternative to birdsmouth cuts. The name "hurricane tie" comes from the fact that they are strong enough to secure a roof even in extreme winds and weather conditions. They simply clip into place and work similarly to birdsmouth cuts but are more convenient.
Install hurricane ties on each rafter so that you can secure your roof all the way around. You can install them on each side of the rafter or joist to be extra safe and support the roof as much as possible.
3. VPAs
Variable pitch connectors, or VPAs, are an excellent alternative to birdsmouth cuts because of how durable they are. Made of galvanized steel, VPAs are durable and can help attach joists to the top wall plate. You simply attach a VPA when you install the rafter so that it can connect to the outside corner of the wall for stability.
Use hip corner plates, also known as HPCs, in conjunction with VPAs and attach them to corner pieces. This can help to evenly distribute weight throughout the frame and increase durability. Installing VPAs and HPCs is quick and can reduce labor costs and working time.
The only limitation to VPAs is that they are designed for slopes that range between 3:12 and 12:2. However, that can accommodate most homeowners and is often more than enough if you don't want to use a birdsmouth cut.
4. Cut the Studs
Another alternative to birdsmouth cuts is to cut the studs. You must be careful, take measurements, and cut each stud at the same angle. Otherwise, your beams or joists won't sit evenly against the studs and it will be difficult to support the weight.
You can maximize structural integrity if you use studs with variable pitch connectors for extra support. Luckily, it is easy to cut studs evenly if you use a power saw and measure an exact angle for each stud. Add HCPs to each corner to evenly distribute the load amongst the beams and they will sit perfectly on the studs.
Additional Tips And Safety Precautions
Take The Correct Measurements For Any Alternative You Choose
Always make sure that your roof frame is connecting, not just balancing. Take the time to measure each component correctly. This is very important so that your roof is stable. Not calculating correctly can set your project back. Not only that, but it can be dangerous!
Be Smart About What You're Doing
Of course, you're smart! If you weren't, you wouldn't be reading this! There are situations where specific alternatives are not feasible. For instance, you don't want to use stud cutting if building a house. This is because the weight of the roof is so vast that it will cause it to slip. Make sure that if you do stud cut, you use another alternative with it.
Check With Your Local Building Requirements
In certain states, they require you to get approval before taking on an alternative. Again, if this is for a small structure, then you should be fine. However, you need to check building requirements for larger structures. Building requirements are set forth to ensure maximum safety. To cut corners would potentially put you or someone else at risk.
The Alternatives Provide More Options
Now that you are aware of alternatives to birdsmouth, you can get creative with your project! Dome-shaped roofs on a circular shed would be neat! How are you going to get creative with your plans?
Make Sure It's Safe
Keep in mind that the goal is to find an alternative that does the same job a birdsmouth cut does. If you find an alternative that is not weight-bearing, then that choice is not going to be ideal. Even though at first, it may seem like it will hold up your structure; eventually, it will collapse, which will cause significant injuries and even death.
Your local building requirements should specify what alternatives you're able to use. Since you will be required to purchase a building permit, you will have people overseeing your project. So, keep that in mind if you're thinking about being sneaky. If you're caught, that's a hefty fine, and you'll also be forced to take your project down. You may even be required to hire a specialist for future building projects.
---
Related Questions
Do you have to use a birdsmouth cut?
You don't have to cut a birdsmouth, no. Although, this particular joint cut allows the downward weight to be dispersed. There are other alternatives. However, that will do the same thing. If you choose not to use this joint cut, make sure you choose a safe alternative.
How much can you cut out of a birdsmouth?
The cut of a birdsmouth should be no deeper than 1/2 of the width of the wood. Also, it should be no less than 1/3. This is because it needs to have adequate balance. A cut that is too shallow will not allow for enough stability. It will not be able to bear the weight properly.
On the other hand, a cut too deep will take away from the strength. If the frame is meant to hold a more massive roof, this can cause your frame to snap. Therefore, it's advised you measure and cut correctly.
Does your alternative method need to be approved?
Depending on your city or county, your alternative to birdsmouth may need to be approved. Check with your local building authorities beforehand.
Wrapping It Up
Some people prefer an alternative to the birdsmouth cut as it can be a cut that's hard to accomplish for some people. Furthermore, they're nervous that they won't be able to get it right. When choosing an alternative, it's essential that you choose one that's also weight-bearing. Furthermore, you can mix several alternatives together to get the most benefit for your building project.
Related Guides

Heather Robbins
Heather is a passionate writer who loves anything DIY. Growing up, she learned everything from home repairs to design, and wants to share her tips with you. When she's not writing, she's usually hiking or searching for her next DIY project.
More by Heather Robbins
Published July 30th, 2020 9:25 PM