161 Views
Best Wall Color With Travertine Floors
August 22nd, 2022 4:57 PM
Share
We're committed to finding, researching, and recommending the best products. We earn commissions from purchases you make using links in our articles. Learn more here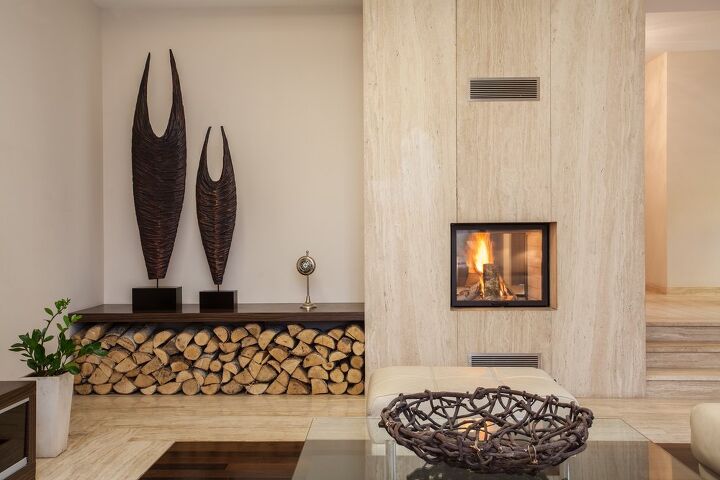 Travertine flooring is a beautiful and popular type of limestone that can come in various shades. The most common colors are ivory, beige, and gold, but you'll also find burnt orange, pink, and yellow undertones. So how do you go about deciding the best wall color with travertine floors?
White, gray, and other neutral wall colors work well with travertine floors. However, the more neutral of a shade the flooring is, the more color options you'll have for your walls. Lighter travertine with darker wall colors creates a dramatic look. Try out paint samples in different lighting and various times of day before making a final decision on your wall color.
Travertine flooring often becomes the choice of people going for a Tuscan look or an old-world vibe. But pairing it with the right wall colors can make it equally ideal for more modern and contemporary designs.
Do White Walls Go With Travertine Floors?
It's no secret that white goes with anything, so it's a go-to for a lot of design choices, including wall colors. White will work well with any shade of travertine, whether your floors have more gray undertones or tend to be earthier with more browns or ochre.
White is a good option if you're aiming for a more contemporary or modern space. It can also work well if you're going for a Mediterranean design. You'll end up with a bright, airy space that feels crisp, clean, and fresh.
You can always inject more color elsewhere if you want white walls but don't want things to get too monochromatic. Consider bringing in accent colors through your furniture, curtains, and other accessories.
Do Gray Walls Go With Travertine Floors?
Gray tends to lend a sophisticated, rich look to travertine floors, whether you go with lighter or darker shades. If your floors are lighter, you can use a darker gray for a more dramatic look. If you prefer less contrast, select a lighter gray.
Various grays will work well with most travertine flooring since gray is also a neutral color. Gray also is a good option if your design scheme is more modern or contemporary.
More Options For The Best Wall Color With Travertine Floors
Don't think you have to stop at the white and gray paint swatches. Yes, there are tons of shades of white and gray to choose from to complement your floors. But many other color options can work beautifully with travertine flooring.
1. Beige
To create a sense of openness, beige pairs well against travertine floors. The closer the wall color is to the natural stone, the airier your room can feel.
However, use caution that you don't tip the scales into being bland. Too much beige on beige without the right accents to help tie things together risks becoming boring.
2. Greige
Check out greige paint samples to add a bit of contrast while maintaining a sense of openness. These colors combine beige and gray tones.
Some have more warmth, usually those with more beige. Others tend to feel cooler, usually the ones with more gray undertones.
These colors can change drastically in different lighting. Therefore, viewing your paint samples under various light sources and at other points in the day is critical. Also, try out samples on different walls in the space since color can look differently from wall to wall.
3. Darker Colors
If you have lighter travertine floors, you can choose from several darker colors for the walls. Using darker shades against lighter stone floors will give you a more dramatic contrast.
But it's best to steer clear from dark wall colors if you have darker travertine floors, as this could make the room feel more oppressive and heavy. If you have lighter flooring, take a closer look at these darker wall colors to find the best wall color with travertine floors.
4. Deep Brown
Painting a deep brown on your walls works well if your floors have more golden or yellow undertones. It can give your room a rich, elegant look. It's also a good fit for a more traditional or Tuscan design.
5. Dark Purple Tones
Applying a deep purple to your walls, like eggplant or wine, can provide a regal, luxe feel to your space. Pairing rich purples against natural travertine floors is a dramatic and bold choice.
6. Navy Blue
Using dark blues, like navy blue, can help balance the warmth of travertine tiles. Blues can add coolness and counter shades of pink, yellow, or beige in your travertine tile.
Also, deep shades like navy blue can be a perfect fit for smaller spaces since they create a sense of depth. Using these darker shades with lighter floors can help give the illusion of a larger space.
7. Dark Green
Forest green or similar jewel tones can bring lots of drama to the space when paired with light travertine floors. Or you can go with warmer, deep greens, like olive or moss green, if you want a more old-world vibe.
8. Blue-Green Or Peacock Blue
Combinations of blues and greens together in beautiful jewel tones like peacock can also work well with travertine floors.
What Color Cabinets Work Best With Travertine Floors?
You can choose pretty much any color cabinet you want to go with your travertine floors. Like with wall colors, thanks to the more neutral undertones of most travertine tiles, they'll complement many different hues.
White or gray cabinets can work well to offer a more modern kitchen design. Deep cherry or mahogany cabinets will come together with travertine to provide an old-world, luxurious kitchen.
Even other colors like deep emerald greens or blues on the cabinets will pair nicely with lighter travertine flooring. Make sure to also bring in samples for your cabinets to see how they look against the floors.
Can You Lighten Travertine Floors?
Travertine is a natural stone, but that doesn't mean you get what you get when it comes to color. It is possible to lighten and even darken your travertine floors thanks to the limestone base.
The porous nature of the limestone allows it to soak up certain stains, including wood stains. In some cases, you can even paint or whitewash travertine floors. No matter what type of treatment you apply, it's essential to seal the floors afterward to protect the new finish and the stone.
Are Travertine Floors Outdated?
Absolutely not. In fact, many new construction homes feature travertine thanks to its proven durability. Also, it comes in so many different shades with various undertones and swirly patterns. Therefore, it provides excellent flexibility with the rest of your design scheme.
Wrapping Up The Best Wall Color With Travertine Floors
Travertine is a versatile material that goes beyond flooring. Many people seal it and use it in other applications, like showers or as a kitchen backsplash. But it undoubtedly makes a significant impact on your design when you choose it for your floors.
It's essential to pick the right wall color to go with travertine flooring so you don't end up with an awkward design. Travertine comes in many different shades, but the most popular colors are beige, ivory, and gold. Make sure to choose wall colors that work well with the undertones in your travertine.
Neutrals, like gray, white, beige, and greige, are all excellent choices for most travertine since neutrals go with anything. White and gray walls tend to provide a more modern vibe. Beiges, deep browns, and golden colors or reddish undertones in your walls can give a more Tuscan look.
Other colors that can work well with travertine are deep blues, purples (like eggplant), and greens. Always test several paint samples alongside your floor in different lighting and at various times of the day. You can see how the colors work at night, in sunlight, in artificial lighting, etc., and determine which one gives you your desired look.

Stacy Randall
Stacy Randall is a wife, mother, and freelance writer from NOLA that has always had a love for DIY projects, home organization, and making spaces beautiful. Together with her husband, she has been spending the last several years lovingly renovating her grandparent's former home, making it their own and learning a lot about life along the way.
More by Stacy Randall
Published August 22nd, 2022 4:57 PM