81 Views
5 Best & Safest Places To Live In Bucks County, Pennsylvania
December 8th, 2021 4:39 PM
Share
We're committed to finding, researching, and recommending the best products. We earn commissions from purchases you make using links in our articles. Learn more here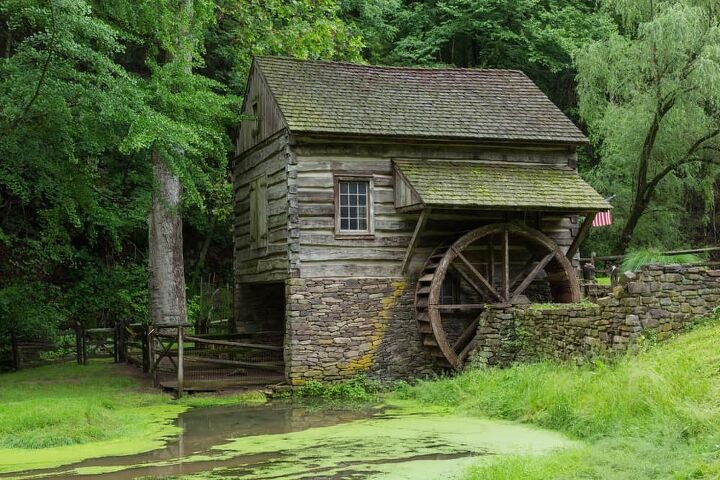 Bucks County, Pennsylvania, combines pastoral living with access to urban areas in a way that gives residents the best of both worlds, especially as workplaces become more accepting of remote work. The county is known for its covered bridges and long colonial history, but it also spans 622 square miles, so it can be challenging to choose where in the county to settle down.
The best places to live in Bucks County, PA are New Hope, Newton, and Buckingham Township. Areas like Doylestown are among the best places to live in Bucks County because of the low crime rate and affordable housing. Yardley is one of the 5 best and safest places to live in Bucks County, PA.
The population of the entire county is under 650,000, so expect small communities, usually called boroughs or townships. What they lack in size, they make up for in charm, personality, and beauty. If a move to Bucks County is in your future, consider this list that considers the cost of living, median salary, amenities and access, and educational opportunities in several municipalities.
Do You Need to Hire Movers?
Get free, zero-commitment quotes from pro contractors near you.
1. New Hope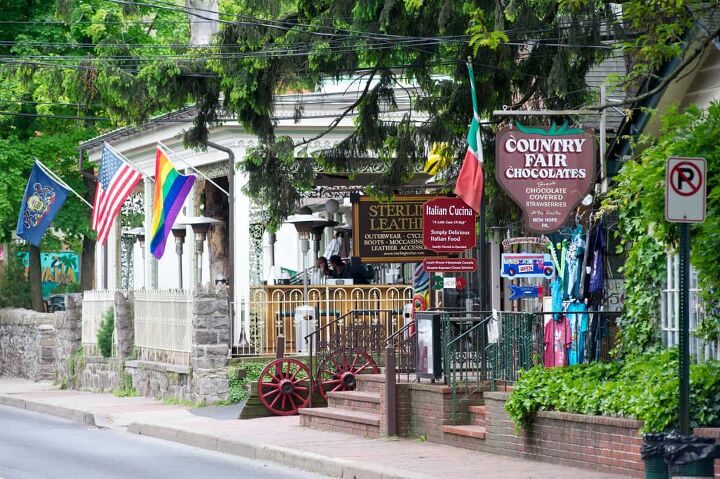 Median Household Income: $89,861
Median Home Sale Price: $1 million
Average Rental Rate (1-Bedroom): $1,575
Less than 3,000 people live in New Hope, Pennsylvania. New Hope could be mistaken for Gilmore Girls' Stars Hollow thanks to its beautiful scenery and idyllic main street filled with shops and dining.
Tourism is a major draw for New Hope and the surrounding area, and many of the nearby homes are vacation or second homes. Residents can commute across the river to Lambertville, New Jersey. Philadelphia is just under an hour away, and New York City is about an hour and a half's drive.
Parents love the highly-rated New Hope-Solesbury School District; it is astoundingly good. U.S. News and World Report gave it a 97.94 score, and the New Hope-Solesbury High School is ranked #8 in the state. This highly rated school district is a contributing factor to the expensive home prices in the area, and many actually live outside of New Hope boundaries in Solesbury.
All work and no play makes for dull children, and there is much to entertain children here. From orchards and wildflower preserves to excellent playgrounds, a very special childhood can be found in New Hope. Best of all, Peddlers' Village is nearby, which is a 40-acre open-air village with shops, food trucks, rides, and much more, all in a colonial setting. It is sure to entertain both adults and their tiny humans.
2. Newtown
Median Household Income: $112,283
Median Home Sale Price: $668,000
Average Rental Rate (1-Bedroom): $1,600
Many Bucks County municipalities reference the English homeland of William Penn, the founder of the Pennsylvania Colony, including Newtown. Newtown is no longer new, and it offers a well-established downtown with lovely small businesses as a testament to the strength of the community.
Newtown residents can stroll through the heart of their community to take advantage of taverns, dining, boutiques, and even a record store. While the shopping and village amenities are a great perk, the real draw to living in the area is the beautiful natural surroundings.
Tyler State Park is nearby, offering excellent hiking opportunities, including a paved path to a covered bridge. A pumpkin farm and winery will please children and adults alike.
The outdoors can feed the body, but the arts feed the mind, and for a town so small, Newtown has a remarkable arts menu from which to choose. The Newtown Arts Company, Newtown Chamber Orchestra, and the Newtown Theater all offer some entertainment beyond Netflix.
3. Buckingham Township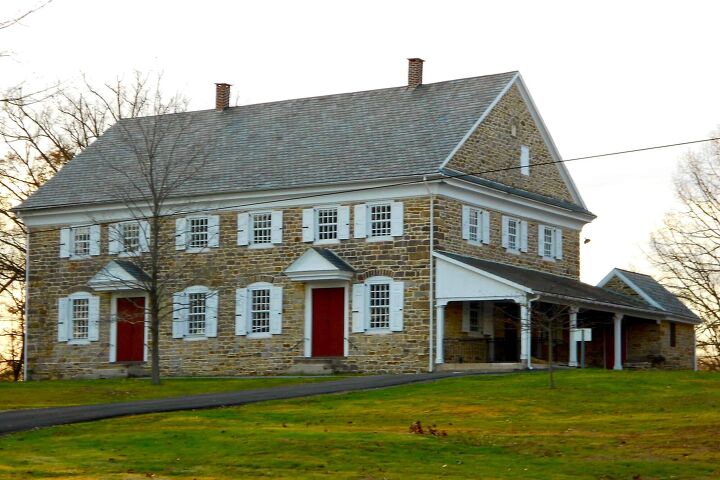 Median Household Income: $90,968
Median Home Sale Price: $512,500
Average Rental Rate (1-Bedroom): $1,438
Buckingham Township is an unincorporated area of the county that offers a big lure: another award-winning school district. The county is jam-packed with top-notch schools, and if that is a major attraction to you, give this little place a closer look.
Buckingham also offers a little something for adults in the form of a vineyard and brewery, but the real attraction is its proximity to almost everything. Its central location gives it access to the best parts of all the other communities, and many homes are available for below the median price, making it a little more accessible for more potential residents.
4. Doylestown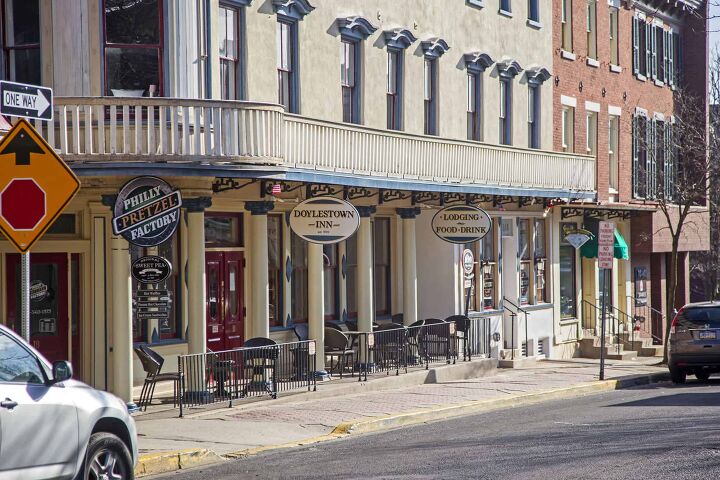 Median Household Income: $74,343
Median Home Sale Price: $475,000
Average Rental Rate (1-Bedroom): $1,593
No Bucks County list is complete without mentioning the county seat. Doylestown regularly makes lists commending its cultural scene thanks to a heavy list of historic buildings, museums, theaters, and landmarks. All of these sites give the community some character and a firm foundation.
One of the most unique landmarks in town is the Kids Castle, which is an 8-story outdoor playhouse for kids, fully equipped with slides and a toddler promenade. It is a truly epic destination for kids, and Doylestown children are beyond lucky to grow up with such a unique and exciting park for kids in their hometown – and for free!
Doylestown also sports an excellent school system, and the town appeals to young and old alike: it was previously voted one of the top places to retire in the United States!
5. Yardley
Median Household Income: $70,938
Median Home Sale Price: $510,000
Average Rental Rate (1-Bedroom): $1,548
Yardley is another river-side town in Bucks County, and a huge perk to living in Yardley is proximity to Shady Brook Farm. Shady Brook is a working farm, but it also hosts festivals and other fun events. It also gives those who do not care to garden a chance to connect with their food through pick-your-own vegetables and a year-round fresh market store. For anyone ready to take a stab at growing their own produce, Shady Brook also has a nursery so that you can purchase your own stock.
Yardley offers a suburban feel with many shops, coffee shops, and parks, and green space.
---
Related Questions
Is Bucks County, PA safe?
Bucks County, PA is safe and there are only 14.4 crimes per 1,000 residents. The county is safer than 98% of other counties in Pennsylvania. Southeast Bucks County has the highest crime rate in the area, and northeast Bucks County is the safest.
Is Bucks County expensive?
Bucks County is one of the most expensive counties in Pennsylvania. Couples with children in Bucks County must earn a combined $8,321 per month to live comfortably. Residents spend at least $1,300 per month on housing in Bucks County, Pennsylvania.
Do You Need to Hire Movers?
Get free, zero-commitment quotes from pro contractors near you.
Is Bucks County, Pennsylvania right for you?
Farm-to-table food, pastoral living, wineries, breweries, museums, quirky festivals, and unique shops are just some of the highlights of Bucks County. It is well-situated to provide those who need access to the city with a small-town, agricultural lifestyle that speaks to many people.
Bucks County offers some truly wonderful features to its residents. Highly rated educational opportunities abound in the county, both through public and private schools, and outdoors-centered recreation available in the area.
If these things sound like your ideal community, give Bucks County a closer look.

Kirbee Anderson
Kirbee is a licensed attorney and real estate broker, but DIY projects of all kinds call to her. Kirbee loves being at home with her husband, daughter, and dog and investing her time and energy into projects to make their home a unique and comfortable place for all of them. Her favorite projects include gardening, building new items, and creating solutions to manage clutter.
More by Kirbee Anderson
Published March 19th, 2021 4:16 PM