100 Views
What Are The 5 Best Neighborhoods In Eugene, Oregon?
June 2nd, 2022 4:39 PM
Share
We're committed to finding, researching, and recommending the best products. We earn commissions from purchases you make using links in our articles. Learn more here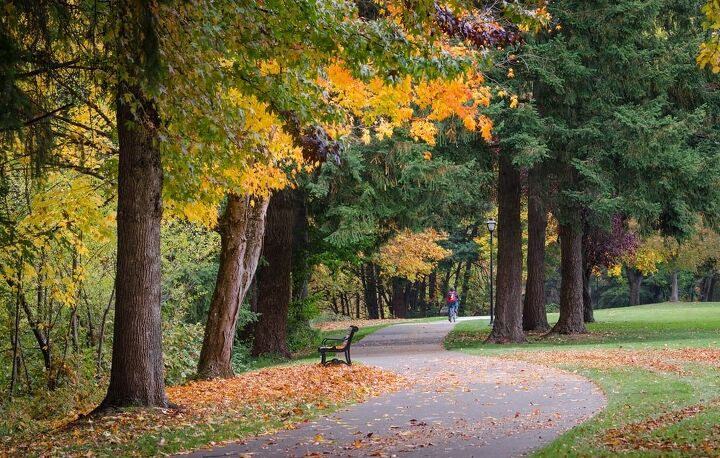 Eugene, Oregon is also known as 'Emerald City' because the whole city is focused on being environmentally friendly. Many people consider moving to Oregon when they want to be surrounded by nature and a friendly community. There is plenty to do in Eugene, and it attracts many new people to the area. Inside the city, there are some top-ranked public schools, and one of the best things about living in this city is that everyone is so spread out, there is less traffic to deal with.
Eugene, Oregon, is known to have a very suburban feel to the area and is a place you can settle down with the family. However, it has a high crime rate, and you may be wondering where to live to stay safer. We have come up with a list of five neighborhoods to look through. It includes communities like Amazon, Crest Drive, Friendly, Whiteaker, and Fairmount.
This guide will help you figure out which neighborhood is somewhere you would like to live in Eugene, Oregon. This is the best state to live in if you love the outdoors and spend time thinking about sustainable practices. There is a real opportunity here to grow and develop sustainable businesses. That idea attracts more people to the state and this particular city.
Do You Need to Hire Movers?
Get free, zero-commitment quotes from pro contractors near you.
What Should I Know About Moving To Oregon?
One of the coolest facts known up and down the West Coast is that Oregon has no sales tax. So if you live in Washington, you can drive down the coast to go shopping in Oregon state.
Another interesting thing about this state is that fungus hunting is a real hobby here. In fact, it is such a trending hobby that there is a festival based around fungus and mushrooms called "Estacada Festival of the Fungus."
This state is home to 60 major breweries and tons of microbreweries. This drives in beer lovers from all over the west coast and is one of the things that makes Oregon stand out from the other states. Now there are just a few fun facts about the entire state, but what about living in Eugene?
Crime Rates
The crime rate in Eugene is higher than in other areas. The total crime is 59% above the national average, which means your chance of becoming a victim of any crime is 1 in 26. Violent crime is only 3% above the national average, which means your chance of becoming a victim of violent crime is 1 in 257. However, Eugene is still safer than 13% of other cities in Oregon.
When ranked on the cost of living index, Eugene, Oregon ranked 105 out of a national average of 100. You will find most things like groceries are almost the exact same price as the national average. While things like utilities, transportation, and health are below the national average. The most expensive part of living in Eugene is housing which is ranked at 135.6 out of 100.
The 5 Best Neighborhoods In Eugene, Oregon
If you're thinking of moving to Oregon, it's important that you figure out the best neighborhoods to move to. Therefore, we've listed the five best below!
1. Amazon
This neighborhood is really close to the University Of Oregon. It makes a great neighborhood for recent graduates to settle down in. The median income is exceptionally close to the national average. That makes it a very affordable area to work and live in. This is also a good neighborhood for the University employees because it will be close enough to skip any traffic headed in and out.
In the middle of the neighborhood, you will see Amazon Park. This park features a massive playground for your kids to play on and many trails to explore throughout the summertime. One of the perks of this park is that there is an amazing community garden you can join.
The population of this neighborhood is smaller than others, with only 1,500 people. Everyone who lives here is very close to each other. Amazon features some beautiful homes with a median home value of $335,000, which is way above the national average. Most people in this community make enough to afford to own homes.
2. Crest Drive
This may be one of the best places to raise a family in Eugene, Oregon. This is a place where median home values are lower while the average income is much higher. This means people live rather comfortably in this neighborhood, and overall the people are happier because of it. In Crest Drive, the median home value is $305,000, and the average income is $80,000 or more a year. The houses are cheaper here than in Amazon, and the people typically make more money.
If you are a wine lover, this area has some fantastic American wines. This neighborhood has a reputation for being the heart of Oregon wine country. There are also tons of local wine clubs you can join that will deliver to this neighborhood.
One of the best things about this city is the unique homes that line the street. Most of the homes are from the 1970s, which have a very unique style that you do not find in major cities. Along with the unique homes, you will find the streets lined with trees and views that will take your breath away.
3. Friendly
This is a fitting name for an up-and-coming neighborhood that continues to grow more and more. We are seeing tons of professionals move into this neighborhood and new investors emerging too. This is a small community where the neighbors get to know each other and tend to be tight-knit.
One of the best features of this neighborhood is that there are eco-friendly townhomes for sale that bring in like-minded people. It's collecting a group of people focused on lowering their carbon footprint, living comfortably, and protecting the surrounding environment. In this neighborhood, you will find that foot traffic has picked up, and it is a very walkable neighborhood.
The home prices tend to be lower in this neighborhood. However, you should be aware that the average income is also lower in this neighborhood. This can affect the cost of living here, but most people find it to be very comfortable. This area is known to be a working-class neighborhood.
4. Whiteaker
If you are looking for a neighborhood that is full of inspiration for art this is the place for you. This is the area where Ken Kesey, an American Novelist, assembled a network of people named the Merry Pranksters. It's an area you can walk through easily and see murals painted on buildings.
The average income in this neighborhood tends to be a little lower because it is mostly students in school or artists. The average income of the area is around $24,000. However, there are tons of affordable homes in this area and most of the homes for sale are under $200,000 which makes it a good place to find a starter home.
You will find tons of eco-friendly businesses in this area, including wineries, breweries, and cannabis-based companies. You will also find affordable restaurants aimed at the local artists and young college kids who live in the area. Overall, this is a place for single people to live, or anyone who is living creatively.
5. Fairmount
Directly adjacent to the University of Oregon is Fairmount. This is one of the best places to move to when attending the local school, but it is also one of the best places to live once you've graduated as well. Many people are drawn in by the local college but fall in love with the city and plan on staying. This neighborhood is usually one of the first places students look for a new home.
Some of the homes have a median value of $400,000 that are unique and in convenient locations. The good news about this area is that the median income tends to be higher than the national average, making it affordable. This neighborhood is easily walkable, and if you like riding your bike, this can also be a good place to live.
Do You Need to Hire Movers?
Get free, zero-commitment quotes from pro contractors near you.
Takeaways About Eugene Neighborhoods
Eugene, Oregon, is one of those cities people just fall in love with. They come for a good college and stay for life. It is one of the best places to live if you care about the environment or start a sustainable business.
More houses are being remodeled with sustainable practices and in very convenient locations meant for walking and biking. Once you start touring this city, you will never look anywhere else for a home.
Related Articles Kayla Eaton
Kayla is a full-time content creator and her passion is everything green. When she's not writing city-based content at UpgradedHome, her focus is on the environment and sustainability. Kayla loves to travel and is always looking forward to her next vacation!
More by Kayla Eaton
Published May 24th, 2021 9:19 PM