1.7K Views
What Are The Standard Dimensions For A 2 Car Garage?
January 17th, 2022 5:14 PM
Share
We're committed to finding, researching, and recommending the best products. We earn commissions from purchases you make using links in our articles. Learn more here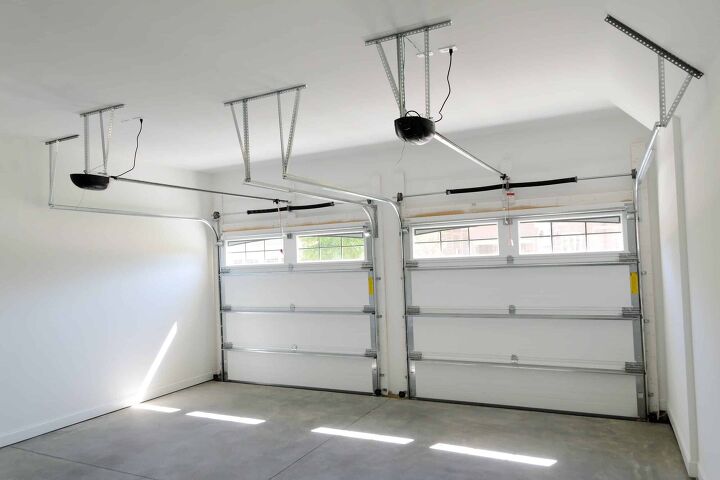 For many homeowners, a two car garage is not only highly sought after, but it is also a necessary part of their home. Not all houses come with 2 car garages, of course, so often homeowners will have one built to accommodate their needs.
Getting the right dimensions so that you get the most out of your 2 car garage can be tricky, however. So long as you don't go below the minimum requirement of 20' x 20', you have enough space for two cars.
While 20' x 20' is a good size to start out with, that is on the smaller side of two car garages. In order to leave yourself some room for extra storage or comfortability, 24' x 24' or higher is the optimal dimensions.
Let's get into the factors that determine 2 car garage dimensions.
Do You Need to Hire Garage Builders or Contractors?
Get free, zero-commitment quotes from pro contractors near you.
What is the Minimum Two Car Garage Dimensions?
The simplest and smallest two car garage layout is 20' x 20'. Many homeowners will opt for the minimum 20' x 20' 2 car garage because it is the simplest. However, there are both benefits and pitfalls that come with choosing the minimum dimensions for a 2 car garage.
Picture this: the average car is between 6' and 6.5' wide, and sometimes wider. That means that two cars parked adjacent will take up 12'-13'. Factor in an extra 10"-12" for spacing out the cars and you're looking at 14 feet at least already taken up, leaving you with very little space, if any, for storage.
Now 20' x 20' does not seem like much space for a 2 car garage, does it? And don't forget about getting in and out of the car. It is rare for a car door to open more than 3 feet wide. With that said, even if it the doors only open 1' wide, now you're up to 15' of space taken up width-wise at least. That is why going higher than 20' x 20' is a great idea.
Building the minimum requirement 20' x 20' two car garage costs between $2,100 and $3,200 for the foundation. When all is said and done, it will cost $19,000 or more. Affordability is really the best aspect of this size garage. Otherwise, if you want extra space for storage and want to keep your cars in good condition, going bigger is better.
"Oversized" 2 Car Garage Dimensions -What About a 24' x 24' Garage?
A 24' x 24' 2 car garage is a safer bet than a 20' x 20 for several reasons, including:
More room for storage
Extra space for opening doors
Added comfort
Reduce risk of damaging car
The extra space afforded by a 24' x 24' 2 car garage makes all the difference. A 20' x 20' 2 car garage is 400 sq. ft., whereas a 24' x 24' 2 car garage is 576 sq. ft. That extra 176 sq. ft. of length and width will give you more space.
One of the main benefits of a 24' x 24' 2 car garage is that you are left with room for storage. Whether it be tools, a stray piece of furniture, a kayak, or your bicycles, extra storage is a major convenience.
Cost wise, a 24' x 24' 2 car garage ranges between $3,000 and $4,700 roughly for the foundation alone. Total building costs typically cost over $28,000. Some people understandably wonder if it is worth the extra cost for an extra 4 feet length wise and 4 feet width wise.
There is no sure answer, but generally, the more space you give yourself now, the happier you will be later on when you need to use it. A 24' x 24' 2 car garage is comfortable and provides storage space.
What are the Average Two Car Garage Dimensions?
It's important to mention that there is a major difference between the minimum size of a two car garage and the average size of a two car garage. To understand the average size, we'll need to break it down further into the average width and the average length.
Width – What is The Ideal Width of a 2-Car Garage?
Consider first the average width of a car, which, as previously mentioned, is roughly between 6 and 6.5 feet. When you add some additional feet on either side for entering and exiting the vehicle, you start to hit the smallest layout of a two car garage – 20-feet wide. So long as you have the space, it's recommended to go at least 24 feet wide.
This extra width will make getting in and out of your car much easier when it's parked inside of the garage. If you can't accommodate a 24-foot width in your garage, a 22 feet wide garage will still give you a little bit more space to play around with.
Length – How Long Should a 2-Car Garage Be?
In regards to length, this all depends on the size of the vehicle that you intend to park inside the garage. Consider that the average sedan is about 17 feet long and you still want extra room around the back with the door closed. With that said, you could opt for a two car garage that is 24 feet deep. However, for additional space for a work bench or storage, consider going as long as 30 feet for your two car garage.
Overall, the average size of a two car garage is 24′ x 24′ or 24′ x 30′, depending on what you will be storing inside.
Check out our guide: How Many Square Feet Is A 2-Car Garage?
Comparing Two Car Garage Dimensions By Cost
If you are building a two car garage from the ground up, it is costly, but many find it worth it. As mentioned earlier, everything from labor and materials to permits and dimensions plays a role in the total cost.
| | | | | |
| --- | --- | --- | --- | --- |
| Dimensions | Foundation Cost | Building Cost | Sq. Feet | Cost Per Sq. Ft. |
| 18' x 20' | $2,100-$3,200 | $19,000 | 360 | $52 |
| 20' x 20' | $2,100- $3,200 | $19,000 | 400 | $47 |
| 24' x 24' | $3,000-$4,700 | $28,000 | 576 | $49 (low end) |
Of course, the numbers above refer to averages. That does not mean that every 24' x 24' 2 car garage will cost $28,000. It could cost more or less.
Cheaper alternatives such as modular garages can save you a small fortune. The word modular in building refers to parts that are constructed off-site and brought in to be installed.
A modular 20' x 20' two car garage could cost under $10,000. That is $9,000 less than what you would expect from having a 2 car garage built otherwise.
How Do I Know What Two Car Garage Dimensions to Choose?
When choosing two car garage dimensions, think about what you will need years from now, not this moment. Ultimately, as the years go on, you will accumulate more and more things. More and more things means that you could benefit from extra storage.
If you are a builder-owner raising a new house, put yourself in the perspective of 10 years down the line. Chances are that you will more storage needs than when you first moved in.
What kind of cars do you have? Most cars are 6 feet wide, but if you have big bulky trucks and SUVs, you'll need as much width clearance as possible. In that case, go for a 24' x 24' two car garage. You won't regret it when you can freely open your door without knocking the wall.
If you have yard equipment such as lawnmowers and power tools but don't have a shed, you'll also want a bigger garage. In an 18' x 20' or 20' x 20' 2 car garage, you simply won't have enough for those things.
At the most, you'll have space for shelves in a 20' x 20' garage. If you don't have things like lawnmowers or large items, then a 20' x 20' may be all you need.
Is There a Cheaper Alternative?
Technically, you can go below 20' x 20' and opt for 18' x 20' for a two car garage, which saves money but is not ideal. Here are a few quick numbers to refresh on before considering an 18' x 20' garage:
6'-6.5' car width
1-3 feet width when opening car doors
At least 10"-12" space between each car
An 18' x 20' 2 car garage simply does not have enough space to comfortably fit 2 cars. Unless you have two exceedingly small cars and no need for storage, 18' x 20' is just not enough.
Another thing to consider is that depending on your car length, the garage door clearance may not be enough. To put it simply, the only way you could fit 2 cars comfortably in an 18' x 20' is if the cars are small. That, and If there is enough space between the car and the garage door.
You need about 2' 6" of space between your car and the garage door. Otherwise, most garage doors will not shut because their sensors won't allow it without the proper spacing.
Choosing 18' x 20' over a 20' x 20' is only a few hundred dollars difference and is not worth it if you need space.
What is the Average Height of a Two Car Garage?
On average, 2 car garages have 7 or 8 feet of height. A 2 car garage with 8 feet of height leaves a good amount of room for proper clearance, but no room for storage.
Vertical storage is a common feature of many 2 car garages. Choosing a smaller 2 car garage, i.e. 20' x 20' but having added height like 10'-12' clearance is a good alternative to a bigger 2 car garage.
If the lack of storage in small plans like 20' x 20' is off-putting but you don't want to go bigger, instead go taller. Going with a loft setup that is 12' high leaves plenty of room to store tools, furniture, and gear.
In fact, some people build an apartment into their 2 car garage if they have 12'-14' of height. You don't need a loft/apartment setup necessarily, but that extra height is a huge help. Having height over 8' affords room for storage shelves and racks.
The benefits of having added vertical space in a 2 car garage include:
Extra storage
Potential space for loft/apartment
Visually appealing
Easier to fit large vehicles (trucks/SUVs)
Choosing garage height taller than 8' is well worth it.
What Affects the Cost of a Two Car Garage?
The biggest factor in the cost of a two car garage is in the construction itself. The following factors are what play into the cost of construction:
Materials
Trusses (if you have loft/vertical storage)
Siding
Insulation
Windows
Electrical wiring
Garage door
House entry door
Dimensions
Foundation
Whether it is a detached two car garage, or one attached to the house, all of these costs will factor in. There is an added cost of up to $1,500 for permits when doing a garage conversion. Permit price varies from state to state and zone to zone.
If you live in a cold area, insulated garage doors are worth the investment. For a 2 car garage, you need a double garage door which costs between $800-$1,500. To have an insulated two car garage door costs roughly $1,600.
How to Make the Most Out of the Space in Your Two Car Garage
If you have an existing two car garage and want to get the most out of the space, there are several things that you can do. It is not always worth the money in permits and construction costs to have it expanded.
However, there are some ways to increase the interior dimensions of your two-car garage. Consider adding vertical shelves provided that you have enough height clearance. You may not have enough height clearance for vertical shelves, however, and that is fine. In that case, get regular shelves that will fit along the walls.
That way, you can store tools, boxes, and whatever it is that you don't want to clutter up your house. If you don't mind spending some money on renovations, you could always add an attic to the garage.
By adding an attic or loft above your garage, you get more space without having to increase the dimensions length and width wise.
What About Detached Two Car Garages?
Detached two car garages follow the same rules as attached garages for the most part. The main difference is that if you are building one from the ground up, there be a difference in permit price. Permit prices vary regionally, and no two states or counties are alike.
The other main difference between attached and detached two car garages is the price tag. Detached 2 car garages are more expensive for several reasons, including:
Ventilation must be put in
Foundation
Building 4 walls
Insulation or insulated door needs to be added
With attached garages, you only build 3 walls. Detached garages, however, you need to build 4 walls. There is also the issue of how cold detached garages can get which means you'll want to spend the extra money for an insulated garage door.
If you are planning on building a detached two car garage, make sure that it is allowed within your neighborhood. Besides that, the cost for construction based on dimensions besides the foundation is roughly the same as an attached garage.
Do You Need to Hire Garage Builders or Contractors?
Get free, zero-commitment quotes from pro contractors near you.
What Did We Learn?
If you want wiggle room and extra space, a 24' x 24' two car garage is perfect. Maybe you don't need as much space, and in that case a 20' x 20' may just be right for you.
To be safe, going with a 24' x 24' over a 20' x 20' will at least give you space later on if you wind up needing it. Or, if you want to have even more space for storage and possible a work bench, it's best to go even longer and opt for a 24′ x 30′ two car garage.

Upgraded Home Team
We are a team of passionate homeowners, home improvement pros, and DIY enthusiasts who enjoy sharing home improvement, housekeeping, decorating, and more with other homeowners! Whether you're looking for a step-by-step guide on fixing an appliance or the cost of installing a fence, we've here to help.
More by Upgraded Home Team
Published July 28th, 2020 1:29 AM