161 Views
What Size Tablecloth Do You Need For A Picnic Table?
October 16th, 2021 1:36 PM
Share
We're committed to finding, researching, and recommending the best products. We earn commissions from purchases you make using links in our articles. Learn more here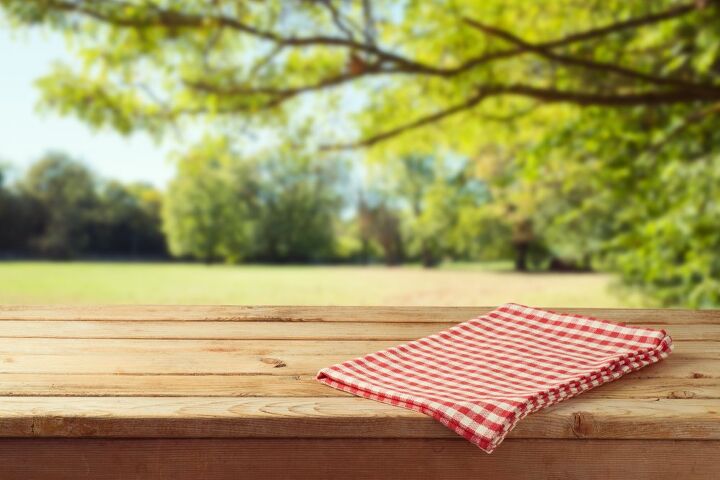 Summer is in full swing, which means it's time for picnics, barbeques, and days spent outside. A great way to take full advantage of the summertime is to go to a park. Local, city, state, and national parks have great picnic areas.
Picnics are great because you can pack your own food and have lunch with a view. What size tablecloth do you need for a typical picnic table?
Most picnic tables are six feet long and rectangular or round. You need a tablecloth that is at least 52 inches or longer. To fit on a rectangular picnic table, the best size for your tablecloth is 60 by 120 inches. To fit on a round picnic table, your tablecloth should be 60 inches all around.
Making sure your tablecloth fits is just one part of having a perfect picnic. In this guide, we're going to break down what else you should look for in the perfect tablecloth for your picnic table. We'll also discuss other picnic essentials. Let's get started.
Do You Need an Interior Decorator?
Get free, zero-commitment quotes from pro contractors near you.
Why Should You Use a Tablecloth For a Picnic Table?
Since picnics are outside, why do you need a tablecloth in the first place? We'll give you a hint: it's not just to make your picnic table look fancier, even though that is a perk.
The real reason you should use a tablecloth on a picnic table is that it's more sanitary. If you are having a picnic lunch at a public park, the table you're using has been used over and over again by other families. Putting a tablecloth on the table first saves you from those germs.
It's also easier to clean up your picnic when you use a tablecloth. If you get a waterproof one, wiping up spills is simple and efficient. Plus, you can roll it up at the end of your picnic and leave fewer crumbs behind.
Lastly, if the picnic table is made of wood, it's easy to get splinters. A tablecloth can protect everyone from pain.
What to Look For in the Perfect Picnic Tablecloth
A picnic tablecloth is not the same as the tablecloths you use in your dining room. In fact, you should avoid using fancy tablecloths for outdoor picnics. Let's look at the elements and features that every picnic tablecloth needs for the perfect outdoor meal.
The Right Size
As we said, most picnic tables are six feet long and rectangular. The perfect-sized picnic tablecloth is 60 by 120 inches to fit this type of table. However, there are other picnic tablecloth size options that can work. The standard picnic table dimensions measure 54 by 80 inches or 54 by 108 inches.
Round picnic tablecloth options include:
You can also purchase a roll of disposable table cloths that you can cut to the exact size you need. It comes in a container that looks like a foil container with a serrated edge so you can tear it wherever you need to make the right size.
Waterproof Material
Again, one of the best reasons to use a picnic tablecloth is to makes spills and messes easy to clean up. To make that possible, you need a waterproof tablecloth.
Here are waterproof fabric options for your picnic tablecloth:
Polyester
Waxed cotton
Vinyl
Pleather
Plastic
Nylon
Don't use a regular tablecloth made with an absorbent material that will stain. Instead, you want the tablecloth to have a slick surface so you can quickly wipe away liquids. Plus, if it rains during your picnic, your tablecloth won't get damaged. Find out what color chairs go with a white table.
Make Sure it's Reusable
There are tons of disposable plastic tablecloth options out there. However, the perfect picnic tablecloth is reusable.
First, you will save money with a reusable option since you only need to buy it once. It's also a more durable fabric and won't tear during your picnic.
Next, reusable fabrics look and feel better than cheap plastic tablecloths, so you will have a much better experience. They can also come in tons of fun colors and designs, and they can double as a picnic mat on the ground.
Reusable picnic tablecloths are also washable, so it's easy to throw them in the laundry after your day at the park. Plus, you will always have it handy instead of running out to buy a disposable tablecloth at the last minute.
Lastly, reusable picnic tablecloths are better for the environment because they reduce plastic waste. Since you are enjoying the outdoors all summer long, you should do your part to take care of the earth.
The Other Picnic Essentials You Need
Now that you know how to find the perfect picnic table cloth, let's talk about the other essentials you need for the perfect picnic.
First, you need a cute picnic basket to hold all of your necessities. If you're bringing a cold lunch and drinks, you may need a cooler and ice too.
There are also insulated picnic baskets available these days to keep your food cold. Some picnic baskets also have inner compartments to keep everything organized.
Next, if it's a windy day, you need something to keep your tablecloth on your picnic table. You can use some fun paperweights, picnic table clips, or bungee straps to hold it down.
Don't forget the plates, napkins, and utensils. Again, reusable options are better instead of disposable ones. You can get a whole portable picnic kit that has reusable versions of everything you need. When you get home, simply wash everything and pack it up for your next picnic.
Lastly, if your outdoor grill dimensions are the right size, you can prepare lunch right there. Just make sure you bring your own charcoal, a lighter, and some spatulas for cooking.
Do You Need an Interior Decorator?
Get free, zero-commitment quotes from pro contractors near you.
---
Related Questions
What are the best meals to take on a picnic?
The best meals for a picnic are easy to carry and eat outside. If you are making the food at home before you go, you want it to be compact.Here are some great options:
Sandwiches
Hot dogs
Pizza
Corndogs
Salad
Also, don't forget snacks. It's easy to throw in a few bags of chips, and you can also pack some fruit, string cheese, and granola. Take a look a the standard placemat size.
What can I cook on a grill for a picnic?
Many picnic areas have charcoal grills, which makes it fun to make your meal there instead of pre-packing it. Plus, everything tastes better when it's made over an open fire. You can cook any kind of burger or hotdog directly on the grill.
For a sunrise picnic, you can even cook your own breakfast on the grill. You can make eggs, skillet potatoes, bacon, and toast. Just remember to bring your own skillets since you can't make those directly on the grill. Cast iron is best for high heat levels.
How do I wash my reusable picnic tablecloth?
First, make sure it's made with a machine washable material, like polyester. If it is, you can wash it in cold water with like colors and tumble dry it on medium heat. Do not use bleach. If it isn't machine washable, hand wash it with a gentle detergent and hang it to dry.
Related Guides

Upgraded Home Team
We are a team of passionate homeowners, home improvement pros, and DIY enthusiasts who enjoy sharing home improvement, housekeeping, decorating, and more with other homeowners! Whether you're looking for a step-by-step guide on fixing an appliance or the cost of installing a fence, we've here to help.
More by Upgraded Home Team
Published July 7th, 2021 5:57 PM