34 Views
What Is The Cost Of Living In Florida? (Find Out Now!)
January 3rd, 2022 3:01 PM
Share
We're committed to finding, researching, and recommending the best products. We earn commissions from purchases you make using links in our articles. Learn more here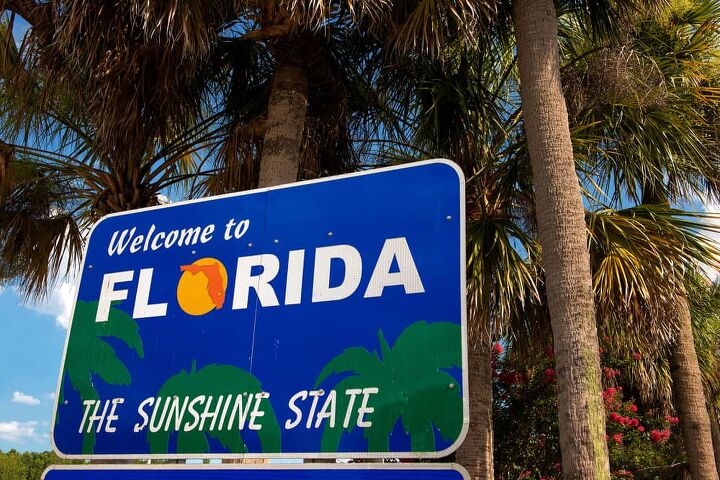 There are many reasons that people choose to move to the Sunshine State. Between Disney World and the Miami beaches, there is something fun for the whole family here. Next time you are stuck inside on a cold winter day, you may wonder what living in Florida would be like.
The cost of living in Florida is higher than the national average and you need to earn at least $26,000 per year to afford it. Residents with children need to earn $60,000 per year to afford the cost of living in Florida, and the median home value is $220,000. The average cost of rent in Florida is $1,350, and the average electric bill is $126.
Hopefully, these factors for the cost of living in Florida will help you understand the financial impact of a move to the Sunshine State.
Do You Need to Hire Movers?
Get free, zero-commitment quotes from pro contractors near you.
Housing Costs in Florida
Florida cities tend to be very affordable for prospective homeowners. The median home value in major cities ranges from $186,000 in Jacksonville to $317,000 in Miami. Other major metropolises like Tampa and Orlando are in between, coming in around the $220,000 mark.
| | | |
| --- | --- | --- |
| City in Florida | Median Home Value | Homeownership Rate |
| Jacksonville | $186k | 56% |
| Tampa | $216k | 47% |
| Orlando | $219k | 34% |
| St. Petersburg | $233k | 57% |
| Miami | $317k | 30% |
Rental Prices in Florida
As you can see from the chart above, Miami has a very low rate of homeownership. This is probably due to the median home value being over $100,000 more expensive than that in other large cities in Florida. Instead of owning their homes, most Miami residents are renters – over 70% of them!
Unfortunately, rent in this city is still on the high end for Florida cities. Florida is the eleventh most expensive state for renters, with a statewide average rent is $1,175 per month. Though, rental prices in Florida differ based on the city you live in.
Rental prices are expected to keep rising all across the state, with South Florida having the third fastest-growing rental market in the country. In this area, the average rent is currently (as of August 2021) $2,432, about a 27% increase from last year.
| | | |
| --- | --- | --- |
| City in Florida | Average Monthly Rent | Renting Rate |
| Jacksonville | $1,268 | 44% |
| Tampa | $1,319 | 53% |
| St. Petersburg | $1,378 | 43% |
| Orlando | $1,469 | 66% |
| Miami | $1,486 | 70% |
If you cannot afford to put down a down payment on a home, renting is the only other option. However, the down payment for a home would obviously be a lot more in Miami than Jacksonville. Therefore, if you are hoping to become a homeowner in Florida, check out those cheaper cities.
The Cost of Utilities in Florida
In addition to the cost of your home or apartment itself, you need to consider utilities. Utilities can be relatively expensive in Florida, maybe for all the air conditioning that you will need. The climate is also very humid, and it is important to dehumidify your home to protect it from growing mold.
The U.S. Energy Information Administration reports that Florida comes sixth in the country for energy consumption. You will probably be contributing to this when you move to Florida, so be sure to factor in these costs. Below is a chart showing the average electric bill for a Florida resident at $126.44. This is compared to a national average of $111.67 per month.
| | |
| --- | --- |
| | Monthly Electric Bill |
| Florida | $126.44 |
| National Average | $111.67 |
Additionally, Florida is the third-highest state for the residential cost of natural gas in the country. The range is from $8.19 (per thousand cubic feet) in Idaho to a staggering $38.30 in Hawaii, which makes sense. Most states fall under the $15 mark, but Florida is over $22.
| | |
| --- | --- |
| | Natural Gas Residential Cost |
| Florida | $22.07 |
| National Average | $15.85 |
Taxes in Florida
Florida is known for its low taxes. You will be happy to learn that Florida is one of seven states that do not have an income tax. If you live in Florida, you still have to pay the federal tax, but a lack of state income tax can save you thousands of dollars per year.
The six other states that do not have an income tax are Washington, Nevada, Alaska, Wyoming, Texas, and South Dakota. Florida is definitely one of the most popular states to live in out of this list. While the residents enjoy no state income tax, there are still some taxes that Floridians must pay.
Property Taxes in Florida
The average effective property tax rate in Florida is 0.83%, which is well below the national average of 1.07%. This means that Florida residents pay 0.83% of their home's value in annual property taxes. Though, since property taxes are collected at the county level, they range based on where you live.
For example, the effective rates in Miami-Dade County are 0.97% of home value, which translates to approximately $2,910 in annual property tax payments.
Sales Taxes in Florida
Florida's sales tax starts at 6%. This is the base rate for the state as a whole, and then counties are able to add their own sales tax up to 2% more. In other words, no matter where you live in Florida, your sales tax will never be more than 8%. For comparison, the lowest state sales tax in the country is Hawaii's rate of 4.44%. (This does not including Montana, Oregon, and New Hampshire, which have no sales tax at all, state or county.)
The highest state sales tax is California's, which is 7.25%. However, once you add local (county) sales taxes on top of that, the highest rates are Tennessee (at 9.53%), Louisiana (at 9.52%), and Arkansas (at 9.47%).
| | | |
| --- | --- | --- |
| State | Sales Tax Rate (State Only) | State and Local Sales Tax Max Rate |
| Alaska (lowest combined) | 0% | 1.76% |
| Hawaii (lowest state) | 4.44% | 4.44% |
| Florida | 6% | 8% |
| California (highest state) | 7.25% | 9.25% |
| Tennessee (highest combined) | 7% | 9.53% |
Additional Taxes on Goods & Services
Finally, Florida does have a number of other taxes for random goods and services that you should be aware of before you decide to move. These include communications services, alcohol, and gas. The chart below shows these different tax rates, which you can factor into your budget to figure out your total cost of living in Florida.
| | |
| --- | --- |
| Additional Tax in Florida | Cost |
| Gas | $0.4136 per gallon |
| Beer | $0.48 per gallon |
| Spirits | $6.50 per gallon |
| All Phone, Internet, and Television Services | 7.44% extra |
| Satellite Services, like DirecTV | 11.44% extra |
Food & Grocery Costs in Florida
Now that you understand the cost of shelter and associated taxes, let's go over food costs. Luckily, Florida is not a very expensive state in terms of food costs. An annual average estimate of Florida's cost of living budgets for only $3,000 to be spent on food.
Below are a few samples of costs of both groceries and dining out items in Florida. We are using prices from the cheaper Jacksonville and the more costly Miami here. Hopefully, this will give you a general range of how much you might find yourself spending on food in Florida.
| | | |
| --- | --- | --- |
| Items/Goods | Average Cost in Jacksonville, FL | Average Cost in Miami, FL |
| Eating Out | | |
| Cheap Restaurant Meal | $16 | $15 |
| Beer | $4.50 | $6 |
| Cappuccino | $4 | $4.15 |
| Groceries | | |
| Gallon of Milk | $3.50 | $3.70 |
| Dozen Egg | $2.60 | $2.80 |
| Loaf of Bread | $2.83 | $2.60 |
| Pound of Chicken | $4.25 | $4.60 |
Education Costs in Florida
If you are thinking of moving your family to Florida or moving to Florida to start a family, this section is for you. Child care in the United States is very expensive, and Florida is no exception. The cost of education for your child will differ greatly depending on where in Florida you live. This difference is possibly over $10,000 per year, so this can be a very important factor to consider.
In the below chart, we have compiled some data on the cost of preschool education and then private primary school education for one child. The preschool costs are shown by month because you may or may not choose to take some months off. This depends on your summer schedule, mostly. However, the private school costs are for one year, or two terms, for your child.
| | | |
| --- | --- | --- |
| City | Preschool per month | Private School per year |
| Jacksonville | $690 | $17k |
| Tampa | $879 | $10k |
| Orlando | $830 | $9k |
| St. Petersburg | $907 | $9k |
| Tallahassee | $616 | $9k |
| Miami | $834 | $22k |
As you can see in this chart, childcare is a lot more expensive in some cities in Florida than in others. The national average for a year of private primary schooling is $11,000. Here, Jacksonville and Miami are way over the average for private school.
The national average for the monthly costs for preschool education is a very wide range, between $400 and $1,100. All these cities in Florida do fall in that range, though St. Petersburg and Tampa are close to the top. If you are planning on raising children in Florida, the low cost of education in Tallahassee might sway you to consider the city more seriously.
Transportation Costs in Florida
Next on this list is the cost of getting around the state. Florida is a driving state, so public transportation is not the most accessible in many places. However, we will cover a couple of examples of those costs as well. When thinking about moving to Florida, you should research if your preferred areas have public transportation at all. If you will not use public transportation for whatever reason, be sure to research highway access and neighborhood walkability so you can still get around.
Driving Costs in Florida
Gas prices are obvious very volatile. They can change frequently and by large amounts. However, as a general rule, the cost of gas in Florida is just below the national average. For example, in May of 2019, the national average cost of gas was $2.89 per gallon. In Florida, gas costs were at $2.76 per gallon.
As a second example, in October of 2020, the national average gas price was $2.18. In the state of Florida, this cost was $2.15. Therefore, you can expect the cost of gas in Florida to be very reasonable and follow national trends.
Annual Car Insurance Costs in Florida
Unfortunately, the cost of car insurance in Florida is on the high end. It is definitely much more expensive than the national average. This is probably because Florida is a populous state with a lot of drivers. The national average cost of car insurance is $900 per year. In Florida, car insurance on average costs $185 per month, which is more than $2,200 per year.
| | |
| --- | --- |
| | Average Car Insurance |
| Florida | $2,200 |
| National Average | $900 |
Though the average cost of car insurance is rather high, yours does not have to be. This number is very dependent on your personal driving history, your car, and your insurance provider. Before you make the move to Florida, you can call and ask what your rates would be like. This will give you a good idea of how to factor transportation costs into your budget for living in Florida.
Public Transportation Costs in Florida
Finally, you will most likely have a car if you live in the state of Florida. However, if you live in a big city with public transportation, you may be able to get by without one. In this case, it will be helpful to research the costs of public transportation for the city you plan to move to.
Here we have a couple of sample monthly costs for public transportation. Between Miami and Jacksonville, these examples will hopefully provide a good range of the average costs across the state. A monthly pass for Miami-Dade County's public transportation network will cost $145. To provide a comparison, a monthly STAR card for public transportation usage in Jacksonville is just $50.
Airline Costs in Florida
Finally, Florida is a great vacation destination, but sometimes you just need to get out of town. Luckily, all of Florida's major cities have their own major, international airports. The Fort Lauderdale-Hollywood International Airport is the cheapest airport in the state of Florida. This airport serves over 20 million passengers per year and has an average round-trip flight cost of a mere $208.
Clothing Costs in Florida
Our second to last consideration is some average costs for clothing items for you to add to your list. If you are very into fashion, you will want to know what cities in Florida have the most affordable clothes. You may be surprised to find that these costs differ so much between any two cities, but they do.
Consumer goods are on average 11% cheaper in Jacksonville than Miami. In the chart below you will see a few sample costs for common items of clothing. The running shoes are specifically the Nike brand, which of course will be a bit more expensive than average.
| | | |
| --- | --- | --- |
| Items of Clothing | Jacksonville Sample Cost | Miami Sample Cost |
| Jeans | $40 | $46 |
| Dress | $35 | $39 |
| Running Shoes | $78 | $81 |
Entertainment & Miscellaneous Costs in Florida
Finally, the state of Florida is full of amazing opportunities for fun. Miami has gorgeous beaches and a great nightlife scene. Florida is home to Disney World and Universal Studios. Florida is also home to the Daytona 500, the Kennedy Space Center, and Busch Gardens.
Below are the costs of some a couple of items across many of Florida's big cities. These are the costs of a monthly gym membership and the cost of a single movie ticket. These will provide a bit of insight into how much you may spend to have fun in your new Florida home.
| | | |
| --- | --- | --- |
| City | Monthly Gym Membership | Movie Ticket |
| Jacksonville | $27 | $11 |
| Tampa | $27 | $13 |
| Orlando | $31 | $12 |
| St. Petersburg | $37 | $12 |
| Tallahassee | $32 | $13 |
| Miami | $48 | $14 |
Professional Sports in Florida
Last but certainly not least, Florida is home to ten (ten!) professional sports teams. This includes two baseball teams, two basketball teams, three football teams, two hockey teams, and even one soccer team. So no matter what sport you like to watch, this state has it! Below are some average costs for sports tickets to see all of Florida's teams.
| | | |
| --- | --- | --- |
| Sport | Team | Average Ticket Price |
| Baseball | Tampa Bay Rays | $22 |
| | Miami Marlins | $27 |
| Basketball | Orlando Magic | $42 |
| | Miami Heat | $78 |
| Football | Jacksonville Jaguars | $58 |
| | Tampa Bay Buccaneers | $64 |
| | Miami Dolphins | $65 |
| Hockey | Florida Panthers | $36 |
| | Tampa Bay Lightning | $44 |
| Soccer | Orlando City | $35 |
If you are into multiple sports, you can see above that Tampa Bay and Miami are great options for you. If you include the Florida panthers (who play in Sunrise, FL near Miami), Miami has four professional sports teams!
Do You Need to Hire Movers?
Get free, zero-commitment quotes from pro contractors near you.
---
Related Questions
Is Florida a safe state to live in?
Unfortunately, Florida is ranked as the third most dangerous state in the country. The state suffers from a lot of property crime and its fair share of violent crimes, as well. The most dangerous city is considered Miami, with Orlando as a close second. Of the major cities discussed here, Tallahassee is ranked lowest, at number seven.
Why are Florida homes so cheap?
Unlike other popular states to live in, like California or New York, Florida has a good amount of land. As a result, property taxes are not that high. However, Florida is trending in a liberal direction, becoming blue even though it has historically been a red state. Therefore, property taxes have been on the rise in recent years in order to expand social welfare benefits.
How much does it cost to live comfortably in Florida?
The Massachusetts Institute of Technology has a living wage calculator that estimates that just over $12 per hour is a livable wage for a single person living in Florida. To cover the living expenses discussed here, you would need $26,000 per year before taxes.For a couple (who are both working) and have one child, this livable wage is $14. With the huge cost of childcare in Florida, you would need to jointly make $60,000 to live comfortably in the state.However, Florida does not yet have a state minimum wage law. As a result, the minimum wage in Florida is $7.25, which is the federal minimum hourly rate. MIT's living wage calculator lists "poverty wage" at $6.00, which is not far below the federal minimum.

Benjamin Panico
Benjamin is a freelance writer and graphic designer. He is passionate about DIY projects and finding creative ways to upcycle things headed for the landfill. Based in Oakland, CA, Benjamin enjoys playing guitar and gardening.
More by Benjamin Panico
Published October 15th, 2020 7:20 AM