3 Views
What Color Sheer Kitchen Curtains Go With Mauve Color Countertops?
March 4th, 2022 4:00 PM
Share
We're committed to finding, researching, and recommending the best products. We earn commissions from purchases you make using links in our articles. Learn more here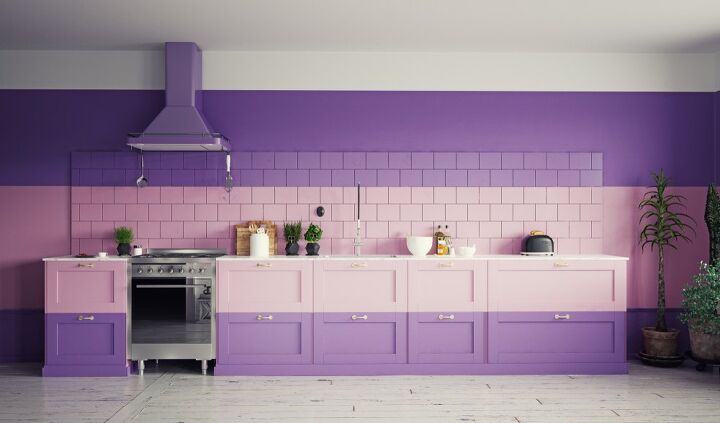 Many think that sheer kitchen curtains are an expensive and out-of-style accessory, but if you choose wisely you can create a pleasing aesthetic. If you have mauve-colored countertops, you will find that many sheer curtains are complementary and a must-have. But, it's important to choose the color sheer kitchen curtains that go with mauve color countertops and fit in with your style.
The colors of sheer kitchen curtains that go with mauve color countertops are yellow, orange, green, and several shades of blue. Using classic white, mauve, black, and gray sheer curtains can bring out all the tones in mauve countertops. Additionally, the range of patterns, fabrics, and header styles gives sheer curtains an infinite amount of versatility.
Sheer curtains are lightweight and relatively transparent. Several fabrics are available, which include polyester, organza, and georgette. The wide variety of colors, patterns, and textures add to their ability to match any combination of colors and styles.
Do You Need an Interior Decorator?
Get free, zero-commitment quotes from pro contractors near you.
Pairing Sheer Kitchen Curtains With Mauve Countertops
Mauve tends to be a little more red than blue and is more light than dark which can be overwhelming. Mauve is best when paired with colors that contrast the purplish tone. Sheer curtains go best since they are not darkening and can bring the gift of light into your kitchen.
Sheer kitchen curtains go with mauve color countertops if you can manage to balance color and light. Darker tones of mauve with off-white or lacy curtains bring in the sunlight and give a much brighter look. The lighter tones of mauve with darker curtains tend to make the room dense but sophisticated.
Tips For Selecting The Best Sheer Curtains For Your Kitchen
There are so many options available that it may be a little challenging to choose what you'd like to do. You may use a few guidelines to make the decision easier when picking sheer kitchen curtains to go with your mauve color countertops.
Pairing your sheer kitchen curtains with mauve countertops is simple enough because of the variety in colors and styles. Tips into picking your curtains may be as easy as taking sample colors to the store. Along with taking color samples, you could bring home samples of sheers from an interior designer.
You can find ready-made sheer kitchen curtains at local home improvement stores as well for your convenience. Store-bought curtains come in a variety of lengths and headers. You can choose from a large selection to get a look that complements your kitchen and mauve countertops.
Although some sheer window panels filter light, they don't provide much privacy in your home. If privacy is not an issue, then sheer curtains can be an easy product to buy for your kitchen windows. But to add privacy, you can pair them with and buy heavier drapes, blinds, or shades.
What Color Sheer Curtains Go With Mauve Color Countertops?
Finding analogous and complementary colors with mauve countertops can be a fun and experimental experience. Even though mauve looks like a color that is hard to mix with, there are various options. Having certain color sheer curtains can make your kitchen a vibrant and cohesive room.
1. Yellow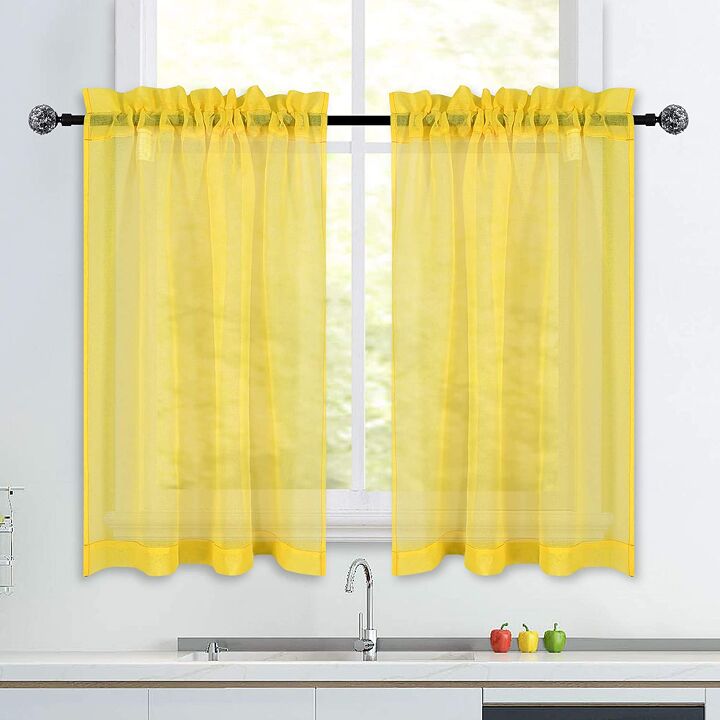 Yellow is a complementary color which means it is the opposite of mauve on the color wheel, but they go well together. Yellow is naturally vivid and an energetic color and, in contrast to mauve, adds an elegant touch. The two colors mesh well to create a unique atmosphere with natural lighting.
Using mauve countertops and yellow sheer curtains can give a bright and striking effect. Your kitchen will jump out when you use various colors and textures with yellow and mauve.
2. Orange Color Sheer Kitchen Curtains Go With Mauve Color Countertops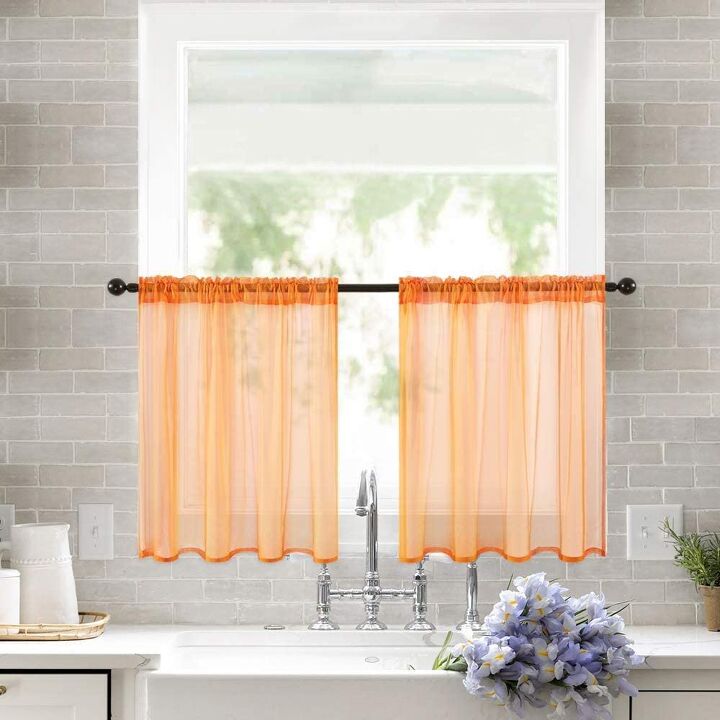 Orange and mauve is not the typical color arrangement you think of for your kitchen, but it works. With mauve countertops, orange sheers are a bright enough complementary color that can complete a sophisticated look. Orange and mauve make quite a statement, and it is a bold combination.
3. Green Color Sheer Kitchen Curtains Go With Mauve Color Countertops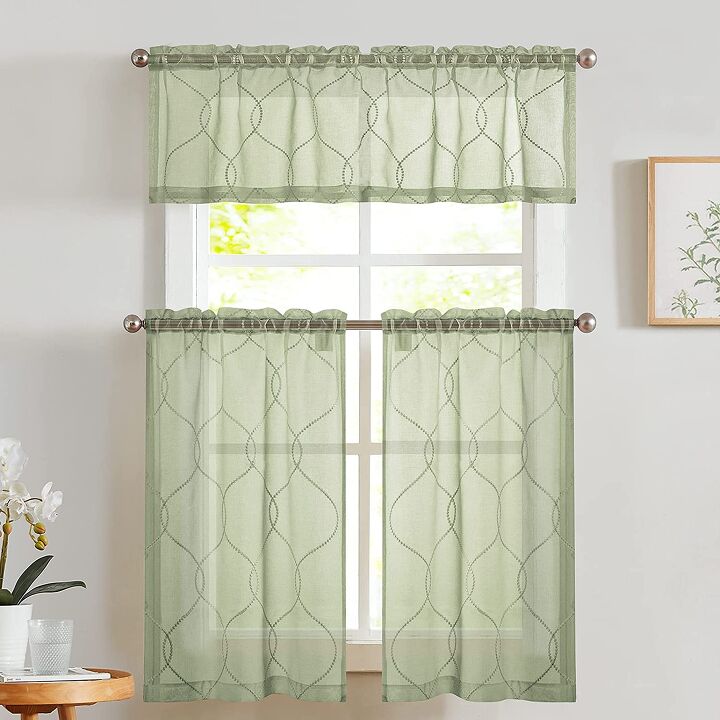 Green and purple (or mauve) is a natural color combination found throughout nature. Green is a cool color that blends well and is analogous with blue and most purple tones. Mauve countertops go with sheer curtains that are dark or light green.
From sage to pine, you can find a green that matches your kitchen style, color scheme, and theme. With a variety of green that goes with mauve, you can never go wrong.
4. Blue Color Sheer Kitchen Curtains Go With Mauve Color Countertops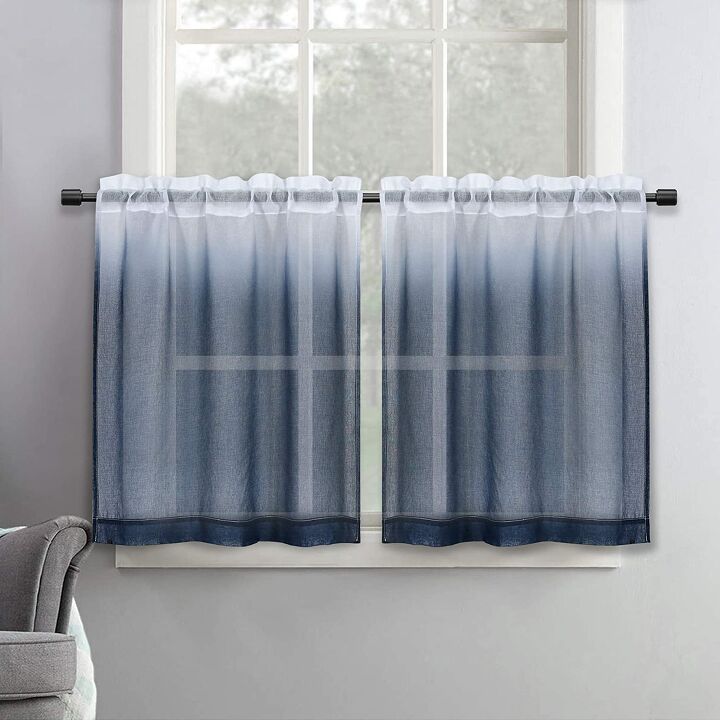 Both blue and mauve are considered cool colors and are next to each other on the color wheel. This means that they blend well together and create a cohesive look. Since mauve is a graduation color from blue, you can bet that any blue color sheer would go with your countertops.
From indigo, navy, light, and royal blues, you can find a color that completes your aesthetic. Blue is a popular color from walls to cabinets, so you can be sure to find blue-colored sheers to go with mauve countertops.
5. White
White is a neutral color that can go with any color. It is an overall complementary color and looks great with mauve. White sheer kitchen curtains go with mauve countertops by the simple fact that white is a pure color.
White is bright, and light can easily flow through sheers that line your windows. This quality gives your kitchen a natural lighting possibility along with cohesive color combinations.
6. Mauve
Monochromatic colors look good with each other. Having sheer mauve curtains with mauve countertops can be appealing to the eye. What better way to find a window sheer that matches the color of your countertops?
There are a variety of shades of mauve, and all are compatible with mauve countertops. Depending on your tone, darker or lighter, the simple truth is; mauve goes well with mauve.
7. Black
Using black sheers with mauve countertops gives your kitchen a whole new upgrade. Black is sleek, flattering, complements all colors, and creates an inspirational color combination with mauve that makes your kitchen pop.
Black sheers may not let light flow as freely but will give you the privacy you may desire. Since black is a darker tone, it will pull out the darker side of the mauve countertop to provide a rich look.
8. Gray
Having a mauve countertop can be a hard one to match colors with. Looking at the different colors, you may want your sheers and color schemes to stand out. But gray is a timeless color that goes with various colors from blue, pink, and even mauve.
Gray is an excellent color not only for sheers but also for walls and cabinets. Gray sheers, depending on the shade, can still give your kitchen light while maintaining privacy. Since gray is simply a mix of black and white, it becomes a complementary color for a broad range of hues.
Patterns, Textures, And Headers With Sheer Curtains
Pattern and texture are critical elements in finding what sheer kitchen curtains go with mauve color countertops. Whether you like the traditional patterns in lacy sheers or a bold look choosing a pattern can contribute to your design.
1. Lacy Sheers
Lace is a traditional design and pattern that can give your kitchen a sophisticated look. The lacy textures in a variety of fabrics from cotton and polyester can give your sheer curtains an upgrade. With a touch of floral designs, lace can complement mauve in an array of colors, from pink, blue, and white.
Lace sheers may give a touch of tradition or a more vintage look, but it will definitely let light in. By overlapping and having various panels, it can give you some privacy and have a variety of textures. Mauve countertops mix well with lace since mauve is a deep rich color, and lace exudes that in its intricate details.
2. Bold Patterned Sheers
Bold colored sheers go with mauve countertops, as long as the color is complementary to your countertop. Mauve is a bold color best paired with similar or like colors. By choosing a pattern with bold colors, you can give your kitchen a sense of sophistication.
From blue, green, gray, and black, these colors in patterns from zigzag and striped give a certain appeal. You can pair these colors with lighter colors to let in more natural light. Since their color is bold, light may not seep through as much.
With various fabrics from cotton to Chantilly lace, sheer kitchen curtains go with mauve color countertops flawlessly. Depending on your style and how much light you want to stream in naturally, picking your pattern is crucial.
3. Headers On Sheer Curtains
By making sure headers and sheer kitchen curtains go with mauve color countertops, you can pull together an elegant look. A classic curtain header with sheer curtains creates a tailored and elegant look. Inverted pleats run across the top of the sheers to create a flat style designed to sit on the rod.
Pairing headers that match your sheer curtains to go with your mauve countertops can give a cohesive look. Using highly patterned designs, the pleating can disrupt the pattern in sheer curtains. By using solid colors, you avoid disruption, and solid colors are popular.
For a modern look, consider grommet-top headers for your sheer curtains. Grommets are in the top of the curtain panel and create a crisp fold, especially in sheer curtains. Because this header style is decorative, it works well with a countertop color like mauve.
Do You Need an Interior Decorator?
Get free, zero-commitment quotes from pro contractors near you.
In Summary
Sheer kitchen curtain colors that go with mauve color countertops are orange, green, yellow, and various blues. You can also use neutrals like white, black, and gray.
You can easily integrate sheer curtains into any modern decorative style. Looking at the variety of colors, styles, textures, and headers, you can find sheer curtains that match your design. When you work with all these elements, the sheer curtains you choose will be uniquely your design.

Stacy Randall
Stacy Randall is a wife, mother, and freelance writer from NOLA that has always had a love for DIY projects, home organization, and making spaces beautiful. Together with her husband, she has been spending the last several years lovingly renovating her grandparent's former home, making it their own and learning a lot about life along the way.
More by Stacy Randall
Published February 1st, 2022 2:56 PM