174 Views
What Color Bar Stools Go With Dark Cabinets? (Find Out Now!)
November 27th, 2021 10:48 AM
Share
We're committed to finding, researching, and recommending the best products. We earn commissions from purchases you make using links in our articles. Learn more here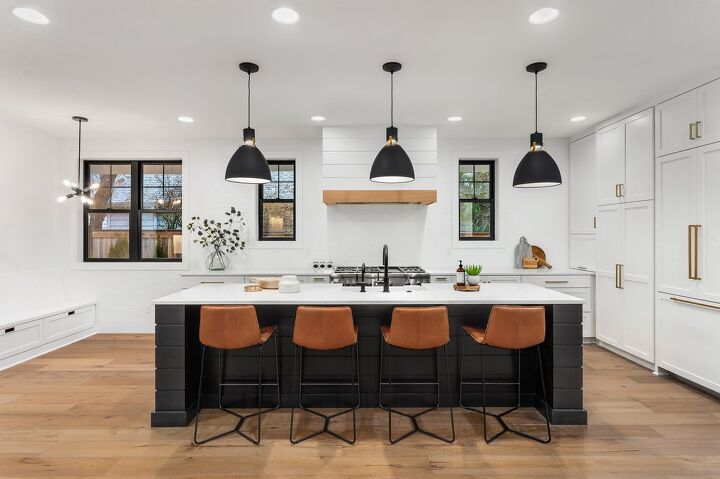 If you have been leafing through home design magazines, you probably noticed that there is a very strong trend towards dark cabinetry. It could be mahogany, dark grey lacquer, black, or even dark blue. Dark colors seem to be in these days. Accessorizing your bar stool area will prove to be hard. Like, bar stools. What color should you get?
Dark metal bar stools tend to be the universal go-to for darker cabinets, regardless of the color. If you want to opt for something a little different, brushed grey metal and weathered cream bar stools can also suffice. Bold blues, greens, and dark reds are also a good option as long as they match with your room.
There are so many little ways that you can tweak and change your home's ambiance with different bar stool colors. It's time to look at some home improvement inspo, don't you think?
Do You Need an Interior Decorator?
Get free, zero-commitment quotes from pro contractors near you.
What Are The Best Bar Stool Colors For Dark Cabinets?
As a bar bunny, I'm a huge fan of quality bar stools that also happen to look good. I also know color plays a huge role in this. It's hard to find, really. These colors can help turn your drab kitchen or bar area to a fabulous one.
1. Black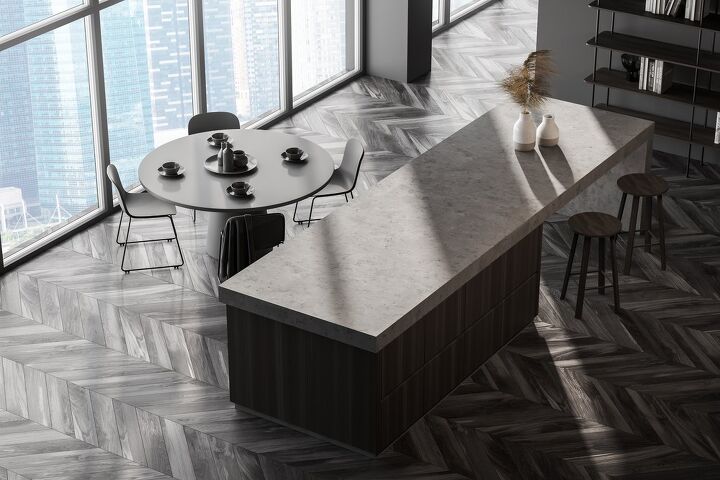 Black is a universal neutral color that can match with any color palette, or even make for a nice monochrome effect. In this illustration, we see ebony cabinets paired with ebony bar stools. It's a sleek, hypermodern, matchy look that makes for an almost sci-fi appearance.
Most people would agree that this is the safest look for people at a loss of what to do. If you don't have any idea what to pair with your bar cabinetry, then go for black or dark colors. It's the easiest way to make sure that you get a visually appealing look regardless of the style.
2. Light Grey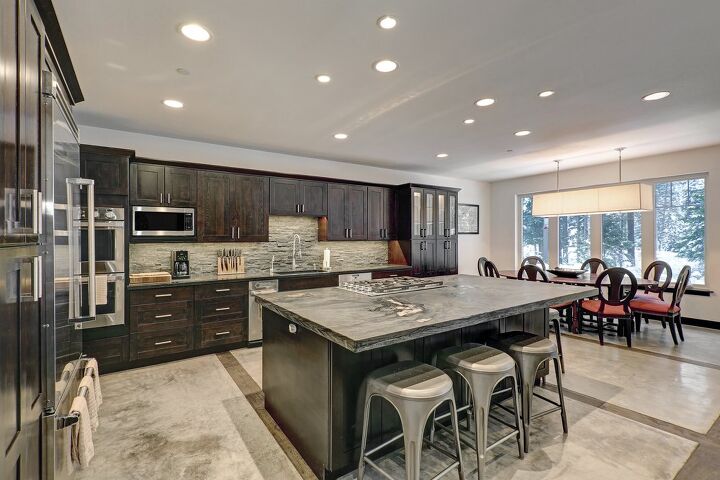 Grey is one of those colors that seems to be cropping up in every single home, just for trendiness's sake. This is a good time to point out that stools in light greys, especially ones from brushed metal, are basically screaming for a pairing with dark cabinetry. I mean, look at how sleek that pairing looks in this photo!
If you want to avoid an overly dreary look, or if you want to add a splash of dieselpunk to your world, then you might want to take a look at the distressed metal look. Besides, this is basically a shoo-in if you want to make your kitchen look a little rustic. It's country, baby!
3. Beige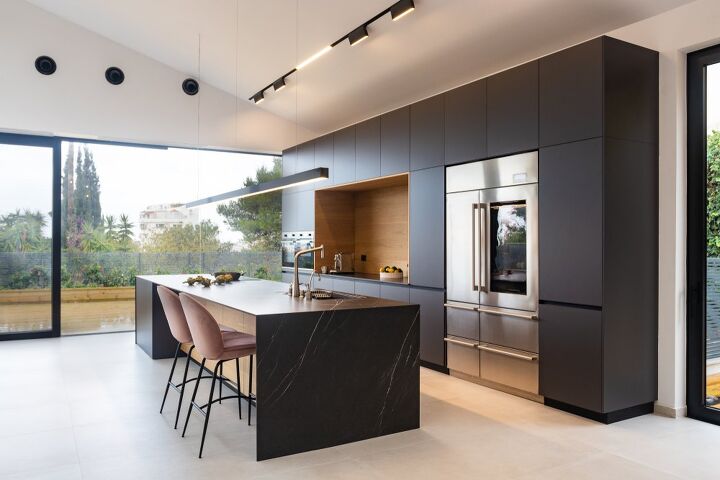 Beige is one of the colors I suggest for virtually every home design, primarily because it's a warm neutral. It gives your home a nice, welcoming tone without actually forcing a certain color scheme there. Many people also argue that it gives a modern "hotel-style" touch to a room that has tons of dark cabinetry.
I mean, you can see how it works out here. For best results, pair beige bar stools with dark cabinetry and warm yellow lights. It will give your home an understated yet luxurious ambiance that will make your kitchen feel aglow with welcoming vibes. Besides, beige goes with everything—even cool colors like blue or purple.
4. White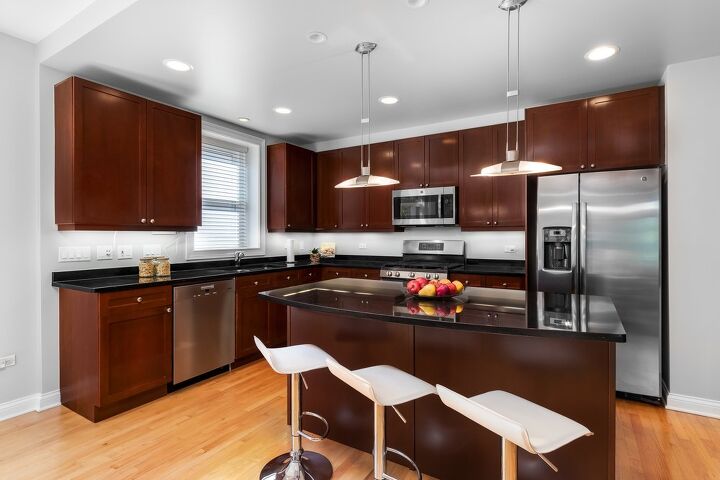 Dark cabinetry has a way of making small kitchens look smaller. This is doubly true if you have black countertops, which is why you need to have some kind of light color to make your home look open. White is brilliant for this, and not just because it helps reflect light from the rest of your home, either.
White also gives you a multidimensional look to your home. Most people don't expect to see that stark contrast of white versus dark wood stains. That makes it a powerful addition that adds a classy, subtle take on traditional decor. If you're looking for a way to make your home's kitchen or bar area stand out in a modern way, this is it.
5. Dark Green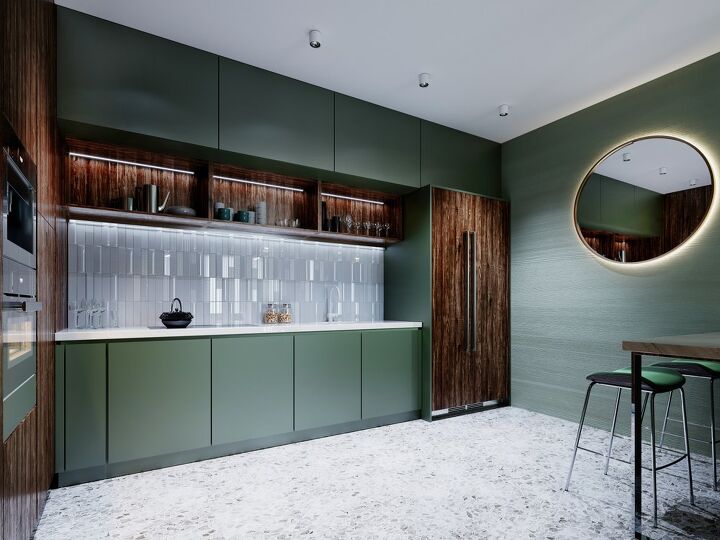 Don't ask me why, but green kitchens are a major trend in the New York City area. Though they are generally white and green, dark green cabinets are also occasionally paired with darker wood stains like walnut. If you're a fan of this foresty look, then the bar stool choices you have also can add a splash of color.
The easiest way to make your room pop and still have that unified, cohesive look is to pair dark cabinets with green bar stools. In this illustration above, you get a better idea of how this will look. Fans of the "garden cottage" vibe will enjoy this look pretty well.
6. Dark Leather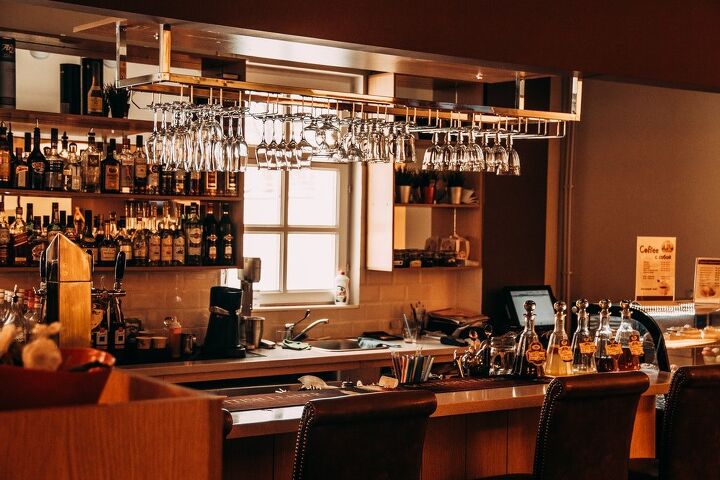 As a person who has watched more than their fair share of Cheers, I can tell you with some authority that the 1970s were a time of leather bar stools and places where everyone knows your name. Though that era is well over 20 years ago, the truth is that you can still enjoy that vibe by adding dark leather-bound bar stools to your kitchen setup.
Dark leather obviously matches dark wood stains, regardless of the actual color of the wood stain itself. It's actually one of the easiest ways to give your home a retro (or Western) touch without making things feel too heavy-handed. To get a more vintage look, try to source your bar stools from a thrift shop or a yard sale. (Waste not, want not!)
7. Deep Reds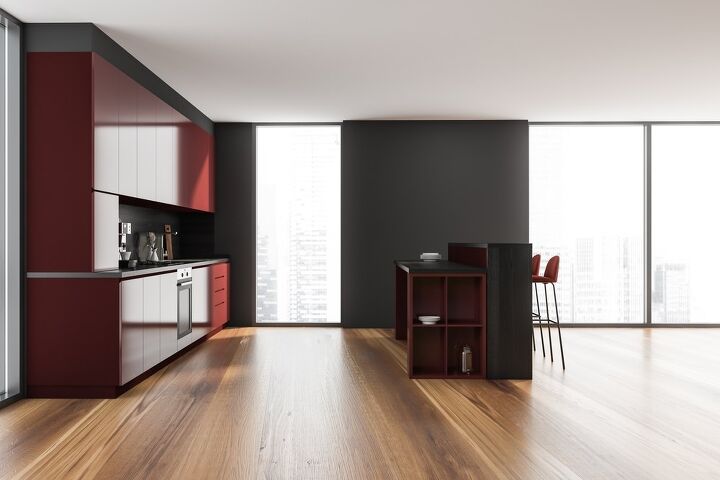 Did you know that studies showed that the color red sparks hunger? It's why many restaurants (like TGI Friday's or McDonald's) tend to use red in their cabinetry and surroundings. You can channel that warm hunger-making vibe too, just by getting some dark red cabinets like the ones pictured above.
Dark red cabinets pair very well with dark red bar stools, don't you think? It keeps in line with the color scheme the designer developed. With that said, you should not assume that you need to have red cabinets to make this look work. Most wood stains will work with red bar stools as well. Of course, red woods like cherry tend to do best here.
Do You Need an Interior Decorator?
Get free, zero-commitment quotes from pro contractors near you.
8. Bronze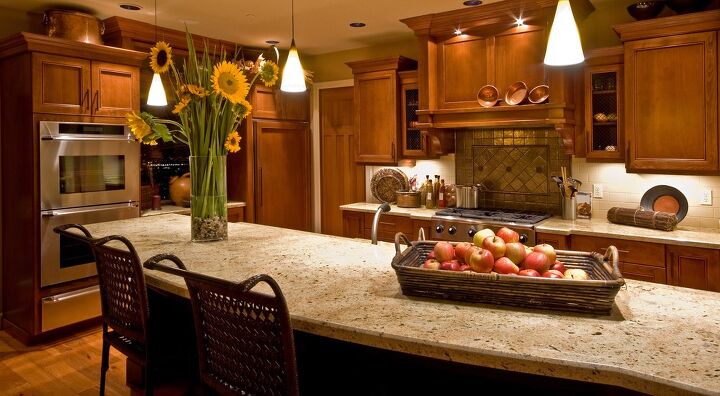 If you love the idea of bringing out a rosy hue in your kitchen design but don't necessarily want to have to go for a bold red, you might want to take a look at the chairs this homeowner bought. It's a little hard to see, but they're actually a dark bronze finish. Metal chairs always have that chic look.
The key that makes this such a popular pick for darker cabinets is the fact that you get that extra level of warmth incorporated into your home's design. Since kitchens often act as the centerpiece of a home's entertaining area, you want to have a color scheme that is inviting. Warm colors do that.
Most metallic chairs won't have that similar level of warmth to them, which can give them a sterile and clinical feel. But, don't get me wrong. Silver' cool too. It's just that bronze gives you a little more soul than a typical silver sheen would.

Ossiana Tepfenhart
Ossiana Tepfenhart is an expert writer, focusing on interior design and general home tips. Writing is her life, and it's what she does best. Her interests include art and real estate investments.
More by Ossiana Tepfenhart
Published October 5th, 2021 5:41 PM