271 Views
Valspar Vs. Behr Paint: What Are The Major Differences?
December 7th, 2021 6:45 PM
Share
We're committed to finding, researching, and recommending the best products. We earn commissions from purchases you make using links in our articles. Learn more here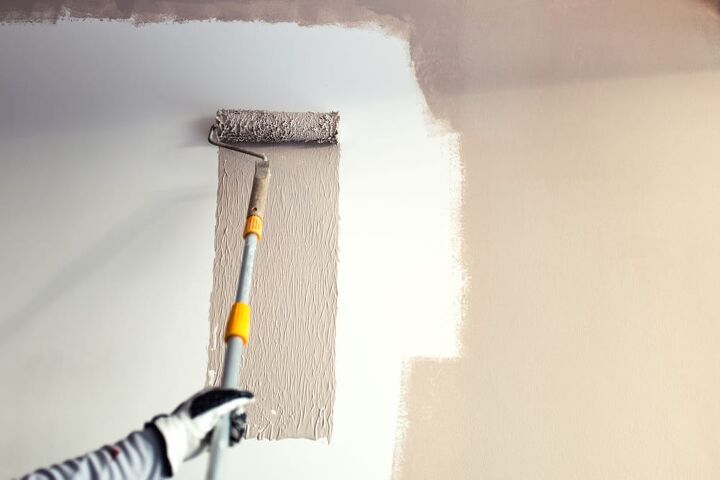 Ask any painter, and they'll give you a couple of name brands they always will trust for a quality paint job. On the top of that list is usually Valspar or Behr. Both of these major "big label" brands have their pros and cons, not to mention their loyal fans among professionals and casual DIY fans alike. But, if you had to choose just one brand, which should you pick?
Valspar is the more durable paint brand of the two and can easily give professional results in a pinch. Though Behr's been in the business longer, it's clear that Valspar has better ingredient quality and is generally considered to have an easier to use consistency.
Like with all our major brand comparisons, it's worth noting that you really can't go wrong with either brand. However, if you are looking to understand all the major differences between these two brands, this guide will be here to help you out.
Do You Need Painting or Staining Services?
Get free, zero-commitment quotes from pro contractors near you.
A Quick Introduction To Valspar And Behr
Before we begin, let's talk about a brief overview of each brand. This way, you get a better idea of the background of each and why they each have their fans.
Behr
Behr has been around since 1947 and is one of the most popular brands of its kind. It's also a brand exclusively sold at the Home Depot—you know, the same place that has affordable laminate cutting services from time to time. Behr comes with a wide range of different hues and is known for it's Premium Ultra paint series.
Valspar
Though it's now exclusive to Lowe's, Valspar has over 200 years of experience under its belt. The brand gained a lot of fame for its durable, low maintenance paint. Valspar also boasts a wide range of standard paints, as well as paint-primer blends. Like Behr, Valspar is considered to be a gold-standard paint brand. Most Valspar paints come with primer already mixed in, making them a popular brand with people who want to save on labor.
Understanding Each Brand: The Criteria
To help better grasp the entire brand impact of each, we're going to break down the reviews into several major criteria: product variety, consistency, durability, ease of use, and results. This way, you can determine which brand is right for you based on the things you're most focused on.
Product Variety
When it comes to product variety, both Behr and Valspar offer a wide range of pigments. They also both have multiple lines of paint, each with its own purpose. In terms of basic paints, they are both fairly tied. In terms of primer and paint "all in one" blends, both brands have multiple lines that cater to that need as well.
Both paint brands have paint-primer blends, thousands of colors up for grabs, as well as unique lines that are custom-tailored for special circumstances. All you have to do is choose the store you prefer to work with.
Verdict: It's a clear tie.
Consistency
While the brands might be tied when it comes to product variety, the consistency differences are pretty noteworthy. Though each brand will have outliers to the general trend in their brands, the following are generally seen to be true about consistency and how it'll play out in your painting experience:
Behr has thicker paint than Valspar. This means that you can expect Behr to dry slower and also provide better coverage. This makes it a great pick for people who don't want to have to do layer upon layer of paint.
Behr's thickness means you can use it for more problematic issues. For example, damage remediation for flooded ceilings might be a Behr project.
The thickness of Behr paint means that you are more prone to textural problems. If you've ever seen paint clump up on a paintbrush, you'll understand what this means. It can be hard to spread evenly at times.
Valspar's main weakness is the fact that it's paint is thin enough to have a drying issue. Depending on the paint line you choose, you might run into the issue of having Valspar's paint dry before you finish painting. This is pretty bad since that means your paint streaks will show once you're done drying. However, this still doesn't happen too often and can be easily prevented.
The thinness of Valspar paint can also mean you may need multiple layers for darker colors. Considering how light the coverage can be, it's a good idea to keep this in mind if you want to use a darker Valspar paint.
Behr takes longer than Valspar to dry. This is just a general trend, but it seems to hold true for most of their comparable lines.
Verdict: While thinner paint does have its upsides, Valspar loses when it comes to consistency because of the lack of coverage compared to Behr. Behr's excellent coverage wins this battle.
Durability
Durability is one of the biggest talking points with any type of hardware, tool, paint, or anything else. When it comes to paint, it's particularly important because it is the only real guarantee that you won't have to repaint your walls anytime soon. We've all heard of what happens when you have a bad paint job that just peels and scratches after one bad rent. Here's what you need to know about these two brands in this department:
Despite Valspar being the thinner paint brand, it's generally accepted to be the more durable of the two. Behr is more prone to cracking and scratching, particularly in high heats. Valspar, though it may require more coats, is typically seen as the paint brand that will last for years and years.
Most users note that Valspar is also easier to clean. While Behr does offer durable, low-maintenance paints, Valspar gained a reputation for being easier when it comes to maintenance. Cleaning is a cinch; just wipe it down when you need it to be.
There have been reports of having paint get scrubbed off with Behr. Though these reports aren't widespread, it's something we've seen fairly frequently.
Due to the better makeup of the paint, Valspar is ideal for high-traffic areas. If you have a bathroom or a kitchen that needs some sprucing up, Valspar is it.
Verdict: Valspar is the best pick if you want super long-lasting results.
Ease Of Use
Finally, there's the matter of making sure that the paint you buy will be easy enough to use. In this situation, we're going to take a look at which paint brand is generally easier to use and why.
Valspar is easier to use. The thinner paint consistency actually has a huge perk that makes it a great pick for beginners. The thin consistency makes it easy as pie to use with both rollers and paintbrushes. Most painting experts agree that Valspar is the better option for beginner painters.
The drying issue associated with Valspar can be avoided in many cases. The drying issue that we covered in our consistency section is a serious problem, but it's not an entirely regular occurrence. You can usually avoid it by choosing a cool, slightly moist day to paint and having friends help you cover the room.
Behr has a pretty bad issue with runny paint. Though Valspar can cause dry streaks, Behr has a worse problem. Many of its paints are so thick, they actually get runny and drippy even after they've been evenly applied. This can make them difficult to wield if you're new to painting.
If you go with Behr paint, you may need to spend extra time scraping away excess paint from your roller or brush before application. The consistency is to blame here, but the outcome is what makes it a bit tricky for new painters to use. If you are a perfectionist with your applications, Behr will take a long time to work with.
Valspar paints usually have primer mixed in. This means you spend less time priming and more time painting. If you're a professional, this can also reduce labor costs immensely. Always double-check to make sure you get a paint-primer mix, though!
Verdict: Valspar wins as the easier paint to apply. The fact that many (if not most) of their paints come with primer mixed in is just icing on the cake.
Results
Anecdotal evidence also matters in a quality review, so we scanned the net for what people had to say. Overall, people regularly had better results with Valspar. On the other hand, multiple complaints arose from Behr on online forums. While Valspar was not the most frequently-recommended brand (that's Benjamin Moore!) on forums, it definitely had more proponents than Behr.
With that said, every single project will have different needs. Sometimes, Behr will be the better pick. Other times, it could be Valspar. Using a little research will give you the best possible results.
Verdict: Valspar, again.
Price
Both Valspar and Behr cater to do-it-yourselfers, though Valspar paint tends to be slightly more expensive than the equivalent products from Behr. However, price vary quite a bit based on the type of paint. Overall, you can expect paint and primer combos to cost more than just paint products, and exterior paint is also commonly more expensive than interior paint because of the additives required for it to stand up to outdoor elements.
Additionally, paint that is more durable and has a high ratio of solids to liquids, such a Behr Marquee, costs more than a lower quality variety like Behr Premium plus. Though, it's important to note that better quality paint will require fewer coats – so, you get more for your money.
Price can also vary based on the finish of a paint. For instance, glossy paint usually cost more than paint with a satin or matte finish. Examine the chart below to compare the prices of Behr and Valspar's most popular paints, as of 2021:
| | |
| --- | --- |
| Paint | 2021 Price |
| Valspar Reserve Interior (1 Gallon) | $45.98 |
| Valspar Duramax Exterior (1 Gallon) | $44.98 |
| Valspar Ultra Interior (1 Gallon) | $41.98 |
| Valspar ExpressCoat Interior (1 Gallon) | $15.98 |
| Behr Ultra Scuff Defense Interior (1 Gallon) | $33.98 |
| Behr Premium Plus Interior (1 Gallon) | $33.98 |
| Behr Premium Plus Exterior (1 Gallon) | $35.98 |
| Behr Marquee Interior (1 Gallon) | $45.98 |
| Behre Marquee Exterior (1 Gallon) | $45.98 |
Verdict: Behr is slightly cheaper, but this can vary based on the type of paint.
Colors
Both Behr and Valspar have hundreds of color variations for both interior and exterior paints. While they have similar color offerings, there are minor differences. So, before you choose a particular brand, make sure you find out the exact color that you want. Though, it's important to note that Lowe's has confirmed that they will match any Behr color.
Each brand offers special tools that let you visualize what their paint will look like before you purchase. Behr has their Paint Your Place Visualizer, which allows to select a color and see how it'll look in a variety of room times, and a Color Discovery Tool that helps you pick a color based on the desired mood you're going for.
Valspar, on the other hand, has similar tools, such as their Lowe's Paint Visualizer. The benefit of this tool over Behr's version is that you can upload a picture of your own home. Valspar also offers free virtual consultations with their color experts.
Verdict: Both brands offer hundreds of colors, as well as helpful tools and resources to help you find the right shade for your space.
Which Paint Brand Should You Pick?
When you're shopping around for paint, you can't really go wrong with either brand. Both can offer some great coverage and feature world-class formulas. However, it's pretty clear from reviews that each brand seems to have its own strengths and ideal projects. Here's what we were able to deduce from all the research that we did:
Behr is best for places that need high coverage. While it's not the easiest paint to use, it covers beautifully when applied correctly. The company actually has a 1-coat guarantee with some of its lines, which just goes to show you how impressive they are in that department.
Valspar is better for high-traffic areas that are prone to messes. Bathrooms, living rooms, playrooms, and kitchens all seem to work better with this paint.
With that said, Valspar tends to be slightly higher in price. If you're on a budget, then you might still need to pick Behr if you have to choose between the two. After all, sometimes, you just have to think about money as a priority.
Do You Need Painting or Staining Services?
Get free, zero-commitment quotes from pro contractors near you.
---
Related Questions
Is Lowe's or Home Depot the better store for buying paint?
When it comes to selection, both stores are fairly even in many parts of the country. However, Consumer Reports noted that Home Depot had higher ratings when it came to customer service, return policy, as well as lower prices when it came to construction services.Most people who need to repaint a room or patch up a room need to be aware of the fact that both stores offer excellent paint matching services. So if you need a paint that can be matched to fit your wall, both stores will be perfectly capable of serving you.
Which Behr paint is considered to be the best on the market?
According to Behr's site itself, the Behr Marquee line remains one of the most technologically-advanced paint lines from the company. It's designed with high coverage, top-grade durability, and excellent color choices in mind. This is one of the few paint lines to have a one-coat hide guarantee across over 1000 different colors. That's not too shabby.
How much space does Valspar paint cover?
According to Valspar's site itself, a typical gallon bucket of Valspar paint will be able to cover 400 square feet without any issue. This means that most rooms will need at least two buckets of paint in order to fully cover the walls. To make sure you have enough paint, measure each wall's dimension and err on the side of caution. Having extra paint is better than having none at all.

Ossiana Tepfenhart
Ossiana Tepfenhart is an expert writer, focusing on interior design and general home tips. Writing is her life, and it's what she does best. Her interests include art and real estate investments.
More by Ossiana Tepfenhart
Published January 1st, 2021 6:00 PM