220 Views
Where Can I Find Used Scaffolding For Sale In My Area?
December 2nd, 2021 1:17 PM
Share
We're committed to finding, researching, and recommending the best products. We earn commissions from purchases you make using links in our articles. Learn more here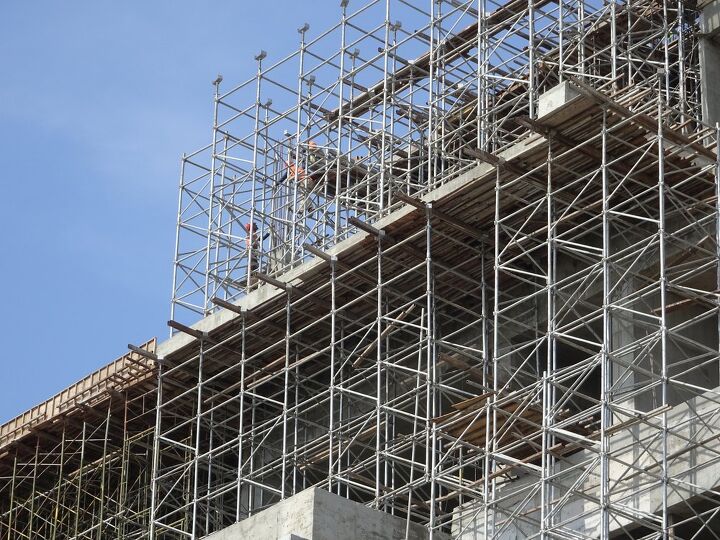 If you've ever taken a trip to New York City, the chances are high that you've seen scaffolding in action. It's advantageous when it comes to building a second story or just keeping a home's structure up during construction. Unfortunately, most of us do not live near the Big Apple, and even if we do, we don't know where to get new or used scaffolding for sale in our area.
You can find new and used scaffolding for sale in your area on Craigslist or Facebook Marketplace or local rental companies. Also, big-box companies like Home Depot and Lowe's often have scaffolding for sale, but they don't advertise it. You can order the scaffolding you need through their sites and have it delivered to your home.
Getting scaffolding isn't a "maybe" in most DIY projects that require house structuring or second-story additions; it's a must. This guide will help you learn more about where you can get new or used scaffolding for sale in your area. Plus, it will help you save some money on your project,
Where Can I Find New Or Used Scaffolding For Sale In My Area?
Getting scaffolding may seem like a significant task, but the truth is, it's not. There are plenty of ways to find scaffolding for sale near you. Some of the most common ways to find scaffolding include:
Going to a big box hardware store. Home Depot and Lowe's are both known for having scaffolding in their sections. Though you may need to order it online, it's always possible to get small-scale scaffolding for your projects at one of these stores.
Checking out your local Craigslist or Facebook marketplace. Believe it or not, many construction companies and DIYers sell used scaffolding online once they no longer have any use for it. In many cases, this can lead to getting the supplies you need at a fraction of the cost of what you would get at a big box store.
Going to a specialty company near you. If you search for scaffolding sellers near your town or in your state, you're bound to find one or two companies that offer scaffolding local to you. Though they may be slightly pricier than what you'd find elsewhere, they come with the perk of being local and also having a wider selection than other options.
Hit up equipment rental companies. Believe it or not, Hertz Equipment Rentals is known for having a pretty decent selection of scaffolding to choose from. Sometimes, they will sell older scaffolding off as they get newer models in. With that mentioned, this is a better choice for people who are looking to rent rather than buy.
If you live in a major metropolitan area, you might also have some luck if you network with fellow DIY enthusiasts or builders. In some cases, you may be able to schmooze your way into borrowing scaffolding for free.
What Should I Look For In New Or Used Scaffolding?
Good scaffolding will allow you to carry drywall and other supplies while you work at an elevated level. Depending on your project, it should also help add stability to the building you're trying to build up (or out).
Most people who are buying scaffolding know what length or size they need. However, if you need help figuring that out, talking to a home improvement salesperson can help immensely.
How Much Does New Or Used Scaffolding For Sale In My Area Cost?
This all depends on how much you need and the amount of load it's meant to carry. It's possible to get a small scaffolding package at Amazon for $150 to $300. However, most major projects will require thousands of dollars in scaffolding in order to work. That's why most people do not want to buy scaffolding outright.
No matter how you look at it, scaffolding is going to be pricey and will be difficult to store once you're done with it. Truth be told, you should only buy large-scale scaffolding if you're looking to start your own construction company. In other words, you know for a fact that you're going to be using it multiple times.
Used Scaffolding In My Area — Should You Rent Scaffolding?
If you are doing a major project, like adding a second story or doing repairs on a low-rise building, you're going to need more scaffolding than what you'd find on basic online sites. You're probably going to require large-scale, professional-grade scaffolding, much like what you'd expect to see in New York City.
This is why many companies, including venues like Home Depot, now offer scaffolding rental services. The benefit here is that you get to use the scaffolding for your project at a lower cost and then are able to return it to the store so that you don't have to worry about storing it later. It's a win-win.
How Much Do Scaffolding Rentals Cost?
Much like actually purchasing scaffolding, the price of scaffolding rentals will vary depending on the size and type of scaffolding that you want to rent. A typical scaffolding rental can cost anywhere from $15 to $50 per day. That being said, most venues will give weekly and monthly discounts, so you should be able to rent your scaffolding for around $150 per week in most situations.
Though the price may seem low, it's important to remember several things when trying to calculate scaffolding costs:
Most scaffolding rental companies will charge an additional fee for transporting the materials to your site. This typically ranges between $50 to $100. If you live far away from the facility, the charge can be over $150.
You may have to pay the company to assemble the scaffolding if you're not willing to do this yourself. The price for erection and takedown can vary significantly from company to company.
Shopping around for the best possible rental price is a smart thing to do. Most DIY experts suggest getting quotes from three different companies before you pick the one to rent from.
If you need large-scale scaffolding that can hold thousands of pounds, you will need to go to a specialty supplier, and it will cost far more than your typical estimate. Then again, that's to be expected, right?
What To Consider When Choosing New Or Used Scaffolding For Sale In My Area
The very first thing you'll want to consider when it comes to scaffolding is the height of your structure. For instance, most scaffold accidents aren't because of defects but rather by error. The right height will prevent you from overstretching and potentially falling from high up. It can quite literally save your life.
Consider Your Safety
Safety is paramount when it comes to using or buying a scaffold. There are so many materials and features that go into a scaffold. You will need to choose a brand that meets international safety requirements. Look for features that include:
Slip resistance
Comprehensive user instructions
Safety rails
A scaffolding specific platform
Determine Your Scaffolding Needs
The right scaffolding highly depends on what your requirements are. Are you rendering? Roofing? Or are you building? These projects all use different types of scaffolding. Not to mention, you will need to find scaffolding that handles your weight. For instance, if the weight limit is 250 lbs, and you're 245 lbs, it might be a good idea to find one that handles 300 lbs instead.
Also, if you're going to move the scaffold frequently, you will need one that is mobile. However, if you only need it in one place, then a fixed scaffold will help.
What Is Your Budget?
Of course, budget matters no matter what you're renting to buying. If you're looking for a cost-effective choice, then perhaps a supported scaffold is the right one for you. Most of the components on a supported scaffold are reusable, so that's a plus.
You can also choose adjustable models, but they're more expensive. However, they're faster to set up and takedown. The most expensive ones have suspended scaffolds because they are customized for the job. But, if your budget allows, this or adjustable models are among the best choices when it comes to choosing scaffolding.
Our Final Take
When it comes to scaffolding, being able to find a place to buy it isn't necessarily what you want to do. In most cases, people really just want to rent the scaffolding they need for a specific project, then return it to the company where they got it from. This makes it easier for them to afford, gives them the quality that they want, and ensures that they can get the project in question done.
If you are looking to do a series of projects or are considering starting up your own home improvement company, buying scaffolding makes a lot more sense. Should this be the case, you should expect to budget anywhere between several hundred dollars to several thousand dollars, depending on the type of work you intend to do.
When you're looking at your options, it's essential to shop around to find the best possible price. This is true when it comes to both buying scaffolding and renting it. After all, doing DIY projects can already be pretty pricey. Why add unnecessary costs if you can avoid it?
---
Related Questions
Do you need permission to put up scaffolding?
Most of the time, if the scaffolding is within your property limits, your builder or you will not need to get permission or a license. However, if any part of the scaffolding needs to touch or sit on public ground or pavement, you'll need a license.Also, in many areas, you will also need a license if your scaffolding is over 4 meters (or about 13 feet high). Or, if someone on the scaffolding could fall more than this distance. If you are unsure about the rules in your area, check with your local code office before proceeding so you don't face fines or issuesCan I put up my own scaffolding?Often, people that put up scaffolding are specially trained to do so. Since scaffolding often involves working at significant heights and includes a risk for falling, it needs to be done right. However, if you are only putting up a small scaffold, perhaps only several feet high, you can likely do it on your own.But, if you are about to undergo a large project that requires tall scaffolding or multiple scaffolding areas, you might need to hire a professional for the setup. If your scaffolding requires a license, you might also be required to hire a professional to do the job in order to get the permit.

Ossiana Tepfenhart
Ossiana Tepfenhart is an expert writer, focusing on interior design and general home tips. Writing is her life, and it's what she does best. Her interests include art and real estate investments.
More by Ossiana Tepfenhart
Published July 23rd, 2020 11:31 PM