487 Views
29 Types of Window Blinds (with Photos)
September 26th, 2022 10:18 AM
Share
We're committed to finding, researching, and recommending the best products. We earn commissions from purchases you make using links in our articles. Learn more here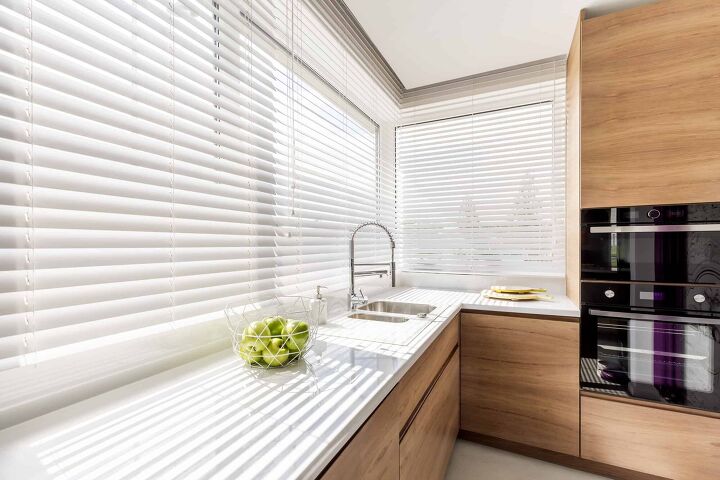 Of all the types of window treatments out there, blinds are arguably the most popular. This is largely due to their high functionality, style, and a wide variety of options. Window blinds feature many long and thin vertical or horizontal slats in various types, colors, materials, and textures. They are a necessary component to home décor, while also providing privacy, blocking out the weather, and filtering natural light into the space.
The slats of window blinds come in many materials including wood, plastic, metal, paper, as well as synthetic and natural fabrics. Meanwhile, there are a number of types of blinds you can choose from including vertical blinds, Venetian blinds, panel blinds, automatic blinds, cordless blinds, and more.
If you're looking for blinds for your windows but aren't sure where to start, you've come to the right place. You may be wondering which type of window blinds will be best suited for the specific room in your home, as what works for one area may not work for another.
We've put together a comprehensive list of 29 types of window blinds; that way you can make an informed decision on which is the ideal choice for your unique situation.
What are Window Treatments?
As you are shopping for blinds you'll likely come across the term 'window treatments,' which are essentially any type of material that is used to cover a window – whether it's partially or completely. Blinds are just one form of window treatment. Though, there are many other options out there, each serving distinct purposes.
For example, shutters offer maximum privacy, while sheers allow more natural light in. Valances, on the other hand, are largely decorative and may be used with or without another type of window covering. Regardless of the specific window treatment, there are four main benefits of installing them on your windows:
Regulate temperature. Window treatments help to insulate a space. They will limit cold air during the winter months and hot temperatures during the summer. In fact, installing window treatments can even increase the efficiency of your air conditioner or furnace (or both).
Add style. Treatments can be used to add some visual interest to your rooms. Bright colors will add some vibrancy, while neutral finishes lend more towards a cozy ambiance.
Provide privacy. The type of blinds that you use will have a major impact on how much someone can see into your home from the outside.
Control natural light. Depending on your specific preferences and needs, you can select window treatments that block light completely or opt for ones that allow you to control the light at different times throughout the day.
Blinds vs. Shades
Although there are many different kinds of window treatments available, many manufacturers use the terms 'blinds' and 'shades' interchangeably. Unfortunately, this isn't technically correct and can make shopping a bit confusing. Both blinds and shades serve the same function, but there are some chief differences between the two. So, before we proceed with diving into the different types of blinds, it's important to understand the difference between blinds and shades.
For starters, blinds come in a wide array of types, sizes, materials, and styles. They are a type of window covering that consists of either vertical or horizontal slats that can be adjusted up and down, as well as closed and open. Blinds can also be tilted from side to side, which lets you control the amount of light that enters the room.
In most cases, blinds feature a cord on one side for adjusting them up and down. On the other side of the blinds, a rode is used to alter the tilt of the blinds and allows you to open or close the slats.
Shades, on the other hand, also come in many different types, sizes, materials, and styles. However, unlike blinds, shades are typically made up of one or more pieces of fabric rather than individual slats. Their structure doesn't allow you to move them side to side, but they can be adjusted up and down.
With that said, blinds and shades differ in terms of style, operation, price, durability, and more. The table below outlines some of the features that set these two window coverings apart:
| | | |
| --- | --- | --- |
| | Blinds | Shades |
| Cleaning | Cleaning blinds tends to be more challenging, as the slats tend to collect dust and dirt. | Since shades are not slatted and don't have a flat surface for collecting grime, they are easier to clean. However, fabrics have a harder time when it comes to stains and moisture. |
| Privacy/ Light Control | Slats can be raised, lowered, tilted open and tilted closed to provide maximum privacy. | Different fabrics will allow for greater or less light control. Blackout fabrics offer full coverage, while light filtering will let some light in. |
| Insulation | Blinds offer better insulation during both winter and summer. | Shades still do offer some heat control since they can keep sunlight from entering the room. |
| Durability | Blinds are harder than shades and will last longer and also work better in high traffic areas than shades. | As a lighter fabric, shades are easier to rip and tear. |
| Child Safety | Blind cords can pose a threat to children. However, cordless blinds can eliminate this problem. | Cordless shades are the best option if you're concerned about child safety. |
| Price | Generally speaking, basic blinds are typically more inexpensive when compared to shades. | The price of your shades will depend on the type that you choose. |
Types of Window Blinds
Now that you know the differences between shades and blinds, let's take a look at your options. With so many different types and styles to choose from, navigating the trends can be a challenge. However, here are some of the most popular types of window blinds available, along with what situations they would be best suited for.
1. Cordless Blinds
With the concern of child safety among families, cordless blinds have grown in popularity. Statistics claim that about 1 in every 8 children that get injured by blinds are entangled by the cord. This is exactly why cordless blinds are the ideal choice for households with small children. They are also just great in general for those who tend to have difficulty operating the cords on blinds or get frustrated when they end up tangled.
As the name suggests, these blinds do not have a cord. Instead, cordless blinds are either operated by hand or locked in position. Due to the safety and peace of mind that these types of blinds provide, it's likely that this trend will withstand the test of time.
2. Automatic Blinds
As technology advances and we see upgrades to home appliances and products, blinds are following suit. Automatic blinds are equipped with a remote that allows you to lower or raise the blind from the other side of the room. A motor is hidden at the top of the blind, which is operated by the press of a button on the remote.
With the rise in smart products and smart home technology on the market, there are many smart blind options. Some come with voice control, automation, or can be operated from an app on your smartphone. You can control these blinds in groups or individually, and some can even be programmed to open and close at specific times during the day which can help you save on energy costs.
While automatic and smart blinds are very convenient, they come at a higher price point than their manual counterparts. However, these types of blinds are only going to increase in popularity, which will hopefully start to bring the price down to a more affordable range.
3. Manual Blinds
As you might expect, manual blinds are simply blinds that have to be adjusted by hand. These are the types of blinds that you're likely most familiar with. Classic manual blinds feature a cord on one side of the blinds, which controls their height. Tugging on the cord will raise or lower the blinds to the desired level.
Manual blinds also usually have a rod opposite the cord, or sometimes in the center, which is used to alter the orientation of the slats. Shifting the rod will control how much or how little natural light enters the space.
4. Roman Shades
Roman shades, or roman blinds, are one of the latest trends in terms of window coverings. They have a relatively traditional design and are made from fabrics or natural materials like seagrass or jute. It is a lightweight option that uses light fabrics to allow some light in, providing a natural glow in your living space.
While there are many different designs, patterns, and styles, all Roman shades have one thing in common: When it raises, it folds into itself creating a large bundle of fabric at the top of the window.
Although Roman shades offer timeless beauty, they do eliminate some of the viewable space out your window when they are completely raised. They are highly customizable, which makes Roman shades a popular choice among homeowners. These blinds come both lined and unlined to suit your unique needs. The linings also have additional features, such as thermal linings and blackout options.
5. Integral Blinds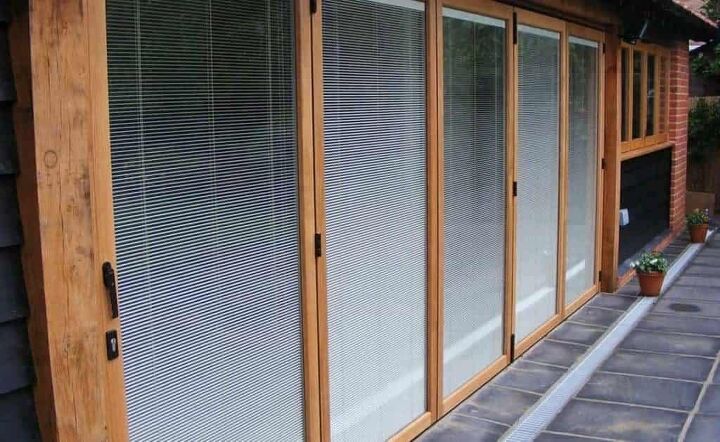 Integral blinds, or sometimes referred to as built-in blinds, are blinds that are fitted in between the panes of glass that are made of a double or triple glazed window. Although they are in between glass, the blinds can be open and closed manually or using electronic operation. This unique system can be found in windows, conservatories, and bi-folding doors. Integral blinds are ideal for controlling shade and light in both residential and commercial settings.
These blinds are operated using a securely attached cord fitted to a magnetic device, which allows the blinds to move up and down. Although a cord is used, it is held under light tension. There are cordless options available, which use a magnetic slider to effortlessly open and close the integral blinds. As far as automatic operation goes, these blinds can also come with a solar-power motorized operating system.
This system is equipped with batteries that have a long-life span and an external solar panel. A motor moves the blinds up and down, operated by remote control or another control device that is attached to the window.
6. Vertical Blinds
Although horizontal blinds are the most common, vertical blinds are intended for use with large glass doors such as patio, backyard doors, or any other door that requires coverage from the floor to just a couple inches from the ceiling. These blinds are long, covering the entire door and blocking sunlight from shining in. Although they are best suited for doors, they can also be used for large windows.
Vertical blinds are usually made from a vinyl material, though, they can also be found in fabric options. They are hung individually from a clamp at the top of the blinds. When the pole on the side of the blinds is twisted left or right, each panel will turn accordingly.
These somewhat resemble horizontal window blinds, without the ability to raise and lower them. Instead, when you want vertical blinds out of the way, simply slide them to the left. They are relatively easy to install and can often be found at an affordable price point.
7. Venetian Blinds
Venetian blinds are the most traditional type and also the most popular. This style refers to the blinds that feature horizontal slats, typically made out of plastic, wood, or metal. The slats are suspended between pieces of fabric or cord called tapes, holding each one an equal distance apart from the others. These tapes are what allow you to tilt the slats up to 180 degrees as needed.
You'll find Venetian blinds in most homes and they are well-suited for pretty much any room in the home. However, they tend to be the least convenient to adjust as you usually have to pull the string to the left in order to unlock the slats before they can be lowered or raised. As Venetian blinds are raised, the bottom slat gets pressed into the slat above it – reminiscent of an accordion.
Mini Venetian Blinds
Similar in operation to traditional Venetian blinds, mini Venetian blinds have a much smaller width. The slats are only about an inch or so in size, making them ideal for smaller windows in the home.
Micro Venetian Blinds
Micro Venetian blinds, on the other hand, are even smaller than their mini counterparts. These blinds feature ½-inch slats. As such, both mini and micro Venetian blinds are the best choice for bathrooms or any other rooms with small windows that require blinds on a much smaller scale.
10. Mini Blinds
Mini blinds, or aluminum blinds, are an incredibly popular style. They operate like Venetian blinds, are lightweight, and come in nearly any color imaginable. These blinds are very useful when you need to cover a lot of windows on a strict budget. They are made out of aluminum and the quality is measured in gauges. The higher the gauge, the less likely the slats will snap or bend.
Available in the standard ½-inch, mini blinds can also be purchased in 1-inch and 2-inch sizes for a more modern look. Since these blinds are made out of metal, they can be pretty noisy against your windows. Routeless mini blinds is a popular variety, which features cloth tape construction to raise and lower the blinds. This type of mini blind also closes tighter to create more of a blackout effect in your living space.
11. Panel Track Blinds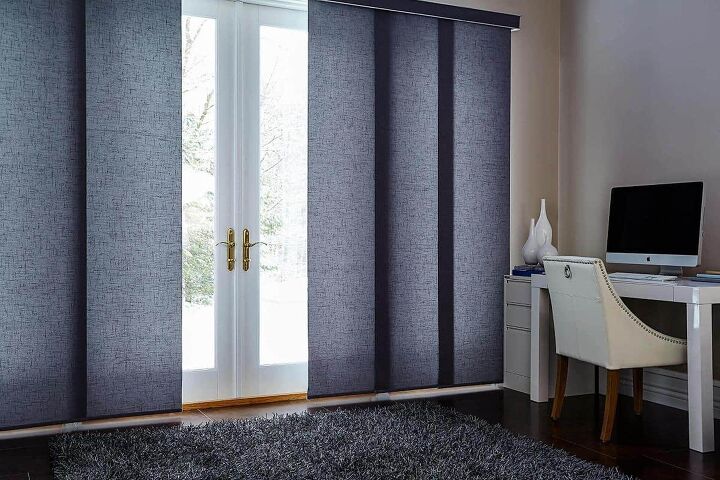 Panel blinds are constructed out of fabric in wide sections and hung vertically. Unlike vertical blinds, these types of blinds usually only have roughly four wider panels rather than numerous thin slats. They are commonly used for large glass doors, especially sliding glass backdoors or patio doors. You cannot tilt or rotate the panels, but they slide along a track to allow or limit the natural light that enters the room.
To close panel blinds, simply slide them back and they will rest one against the other to cover the entire door – reminiscent of the dominos. Panel blinds come with a range of benefits including, but not limited to:
Constructed from soft fabrics
Easy cleaning
Usually cheaper than other blind options
Ability to slide open and closed
Economical choice, as no plastic is used
12. Pleated Shades
Pleated shades, or sometimes called pleated blinds, are made out of a very thin pleated fabric material. However, less expensive models come in a paper material. When raised or lowered, these shades form an accordion-like pattern, folding together and flattening out of view. These shades are relatively inexpensive and easy to install, as they simply attach to the top of your window frame using adhesive or a standard blind mount.
When they are lowered, pleated shades allow no light in since they lack the open spaces between slats. However, they do soften the look of the window and provide a nice glow. Pleated shades are ideal for rooms where you want maximum privacy, like in bathroom windows that are near a toilet or bathtub. From both the inside and outside, there is no way to see through pleated shades.
13. Cellular Shades
Other common names for cellular shades include cellular blinds, honeycomb shades, and honeycomb blinds. These blinds appear similar to pleated shades and are also constructed using a similar soft, thin fabric. However, they feature a honeycomb shape that traps air and helps to insulate the window. Cellular shades consist of two pieces of fabric, with an opening in the middle that creates a pocket.
These shades come in a wide array of cell sizes, designed to fit the needs of various windows. They are a wonderful eco-friendly option that can save you a ton of money on your heating and cooling bills. Not to mention, they also provide sound insulation. Since they are made out of a thin fabric, cellular shades tend to be a cheap option. Installation is quick, easy, and can be done on virtually any window in your home.
Since they provide excellent insulation, cellular shades are a popular choice for bedrooms, living spaces, basements, and other rooms where occupants spend a lot of their time. That way, these spaces are kept warmer during cold months.
14. Roller Blinds/ Shades
Roller blinds are an excellent option for those who don't like how traditional Venetian blinds operate. Instead of using rotating slates, these blinds are made out of synthetic or natural fabric that rolls up when open and pulls down to close and cover the window. These blinds come in many different styles and can be mounted to your windows in a number of ways. The most economical option consists of an external system that displays all of the shade's mechanisms and mounting hardware.
The blinds are attached to the frame with a pole that the fabric material is wrapped around. There is a string at the base of the blind, which usually has a bead or a small loop on the end, that lets you pull the blinds down to cover the windows. A locking mechanism is in place to prevent the blinds from rolling up. Pulling down on the string releases this locking mechanism.
Roller blinds are a relatively affordable option and also offer easy installation. They can be found in a range of fabrics, allowing you to select from waterproof, energy-efficient, or a more standard option of your choice.
Solar Shades
Solar shades are technically a sub-type of the roller shade. They are specially designed with a unique fabric that reduces the glare from the sun, decrease heat, and offers more privacy while still letting you see outside. The fabrics used in solar shades are transparent but don't allow anyone from outside to peer in. These types of roller shades are ideal for private rooms with a view that you still want to enjoy.
The shades come in a range of color, even black, and can still provide a clear view. This is a very convenient option for those with a mountain home that might get hikers often, but you still want a view of the landscape. When compared to other types of shades and blinds, solar shades come at a higher price. This has to do with the quality of the fabric and they may cost you twice as much as traditional roller shades.
15. Tie Up Shades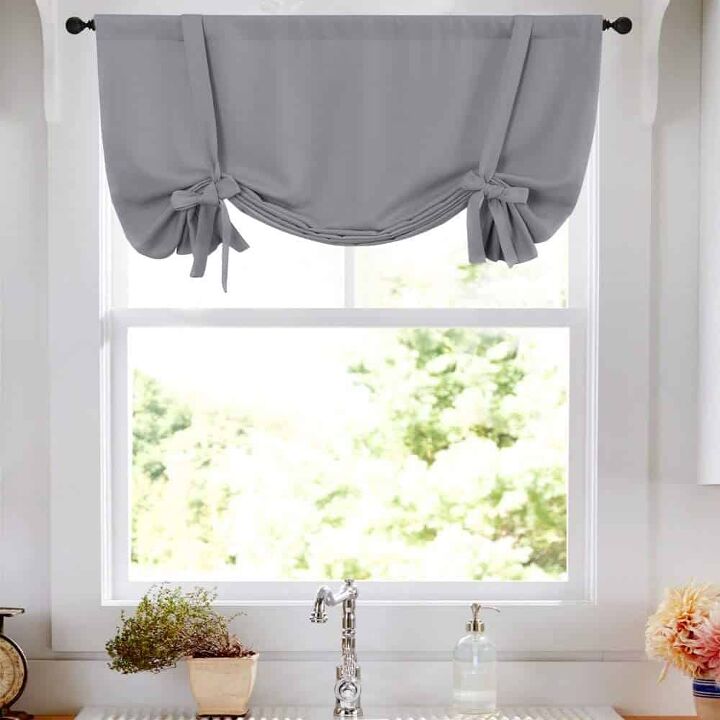 As the name suggests, tie up shades are designed to be tied up using strings or ribbons from two points in the middle of the shade. They are essentially a cross between a curtain and a window blind. By tying up the ribbon sections, the fabric is kept from falling to its full length while covering the top of the window for added privacy.
Tie up shades are usually made form light and delicate fabric materials that offer some privacy, but do not completely block out the sun when they are extended. The ties create a scalloped look at the bottom of the fabric, which can add a visually appealing design element to your window. It can provide a casual or country look in your living space, blending seamlessly into many styles of décor.
The ties are simple to install and can be found larger than the width of your windows, with a metal attachment or curtain rod to keep it in place.
16. Outdoor Blinds/ Shades
Using outdoor blinds is an excellent way to keep your patio area from getting wet during the rain. These types of blinds are typically made from heavier, more durable, and high-quality materials such as woodgrain or reed. The materials are designed to withstand a range of weather conditions.
Unlike many fabric options that are best suited for indoor use, outdoor blinds can be hung in areas that get direct sunlight all throughout the day. They can also be kept up during the rainy season and won't experience any damage. Outdoor blinds are designed with the slats closer together, almost touching, so that you get more shade when the sun is at its hottest.
17. Skylight Shades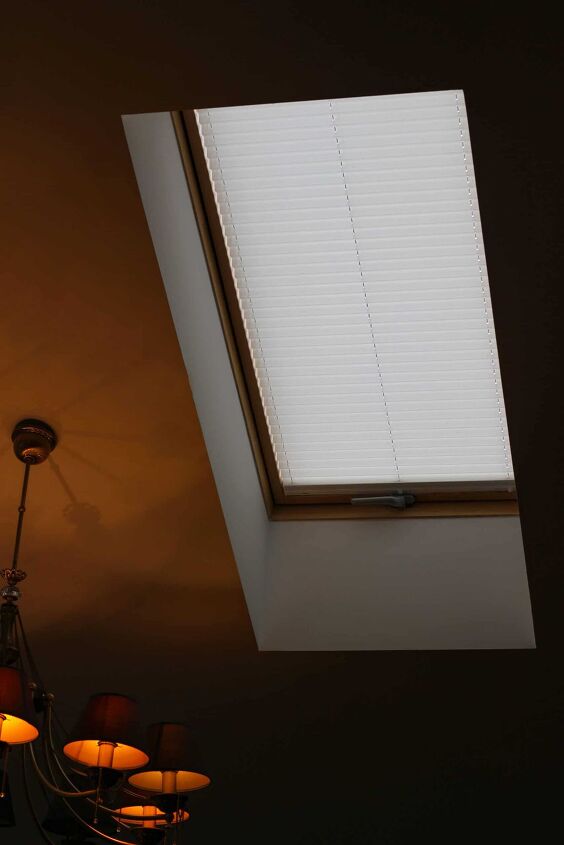 Skylight shades are specifically designed to be used on difficult-to-reach skylights. They come in a wide variety of styles including pleated, roller, and cellular. Often included in this category are conservatory blinds, which are used to cover and insulate the glass roofs on conservatories or greenhouses.
Cellular shades, or blinds, are often a popular choice for skylights due to their insulation properties. Regardless, skylight shades are typically equipped with a removable rod that raises, lowers, or adjusts the shade. In some cases, a handle is used instead of a rod. Or, automatic skylight shade models are available to enjoy maximum convenience.
18. Shutters
Although not technically a type of blind, shutters are another way to help keep the sun from filtering into your living spaces. They are one of the most classic forms of window treatments, consisting of slats in a frame. Shutters are solid, usually made out of vinyl or wood, and can be a durable alternative to fabric or traditional blind slats.
Shutters are set into the window frame's interior, with the slats connected and controlled using a vertical wooden rod. To close or open the shutters, you simply move the rod up or down and all the slats will move at the same time. This option tends to be a more expensive choice than most blinds or shades, due to the construction and the need for professional installation to ensure a perfect fit.
Blinds Materials
Not only are blinds available in a wide array of types, styles, and designs, they also come in a wide variety of materials. The importance of the material that your window coverings are made out of will depend on your personal preferences and the specific room that you plan to install them in. With that said, here are the most popular options when it comes to blinds materials:
1. Wood
Wood blinds are a great choice for a number of applications. They offer the warm, rich look of wood shutters without the weight and higher cost. Wood, in general, is a timeless choice that adds warmth and natural beauty to a room. Wood blinds are made from eco-friendly hardwood and, as such, are built to last.
These blinds can be found in a variety of wood stains, finishes, and colors. They also come in many slat sizes and can be purchased readymade or built custom. Like all other types of blinds, wood blinds work wonderfully in bedrooms, dens, home offices, living rooms, and more. However, you should avoid using wood blinds in any area of the home where moisture and humidity are a concern.
Wood is notorious for expanding and contracting over time and, when exposed to moisture, the blinds can warp, crack, split, or even break entirely. Therefore, don't use wood blinds in your bathrooms, laundry room, or basement.
2. Faux Wood
Faux wood blinds have nearly all the benefits of natural wood blinds, but at a much lower cost. Made from synthetic materials, these blinds are designed to mimic real wood. They are easy to clean, low maintenance, and resistant to scratching, warping, peeling, cracking, and rot. If you want the traditional wood look in your bathroom, or any other area of the home with high humidity, faux wood blinds are your best bet.
They won't crack, warp, peel, or break when exposed to posture or humidity. These blinds can be found in nearly every color, finish, and stain – from bright white to a deep, rich wood. They are also more flexible than regular wood blinds and can be bent without breaking. However, faux wood blinds do have a much heavier weight which can make installation a bit more difficult.
3. Plastic (Vinyl)
Of all the materials, plastic blinds are the most economical choice. They come in a range of styles, colors, and sizes and are well-suited for nearly any application. However, plastic blinds tend to work best wherever fabric or paper blinds are not suitable – like in a bathroom window. Of course, plastic isn't going to give you the same luxurious, rich look as wood blinds.
Also, it's important to mention that, in choosing plastic products, there are some environmental considerations. If you want a type of blind that is eco-friendly, plastic isn't the way to go. Plastic is also a catch-all term, which includes any other type of blinds that may be made out of plastic – such as the wildly popular vinyl blinds.
4. Metal
Metal provides a similar aesthetic to plastic binds and are also available in a large variety of finishes. These blinds are resistant to moisture, which makes them an ideal choice for bathrooms, laundry rooms, and other human environments in the home. The most common metal used in the construction of blinds is aluminum.
Metal quality is determined by the gauge, and the higher the gauge of the metal blinds, the thicker, stronger, and less likely the slats will be to bend or break. However, as previously mentioned, metal blinds tend to be a bit noisy up against your windows. This may or may not be an undesirable quality for you.
5. Natural Fabrics
Natural fabrics are an incredibly popular material used in the construction of shades. Fabric blinds usually feature a single piece without any open spaces between the slats. The most common natural fabrics are seagrass, jute, and cotton. However, natural fabrics tend to be less available than their synthetic counterparts.
You'll typically find this material as roman shades, roller shades, or tie-up shades. Natural fabric is easy to clean and durable. Though, these types of blinds are susceptible to fading and will take a bounding from the sun over time.
6. Synthetic Fabrics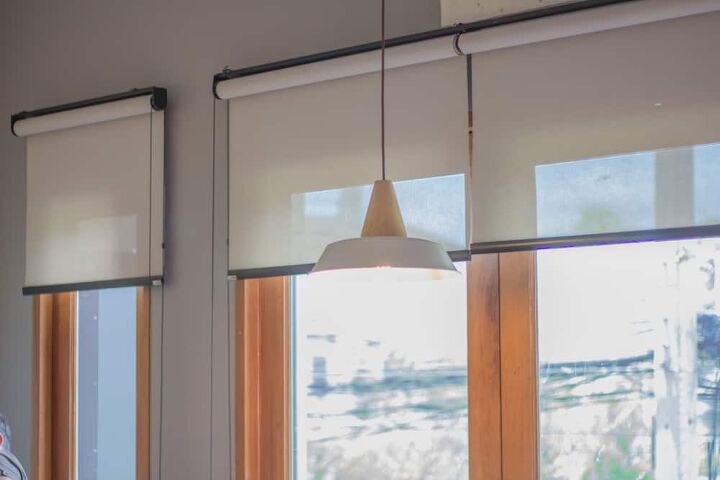 Synthetic fabrics tend to be the most popular choice for types of shades like Roman, roller, and tie-up. Like natural fabrics, they are easy to clean and strong. However, synthetic fabrics are much more resistant to fading and will hold their look for longer than natural fabric varieties. Whether it's synthetic or natural, fabric blinds are best suited for homes with minimalist décor or a bit of an artistic flair.
7. Bamboo
If you're looking for an environmentally friendly option, bamboo is an excellent choice. Since bamboo has a very quick growth rate it is considered both a renewable and sustainable material. To create bamboo blinds, the slats are woven together to yield durable, but lightweight blinds.
Bamboo is especially ideal for warm climates, as the slats are close enough to block out direct sunlight but have enough of a gap to allow a nice breeze. For more privacy, bamboo blinds can be outfitted with blackout privacy liners.
8. Leather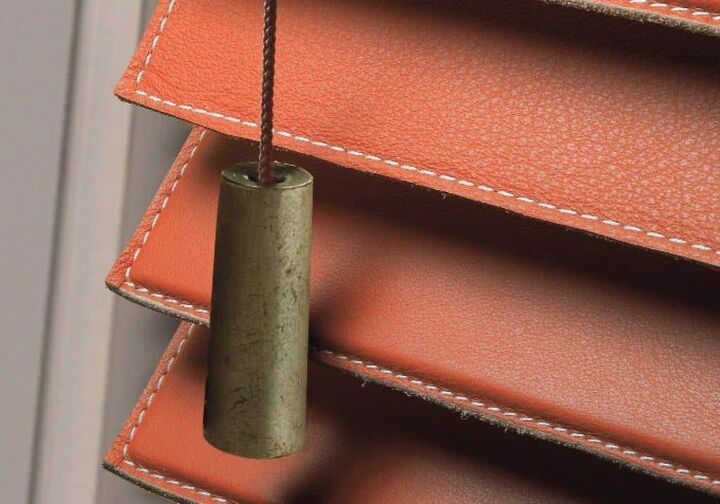 Although an uncommon choice, leather is typically only found in the Venetian blind style. Binding each slat together with leather is a very labor-intensive process. With that said, you can expect to spend a hefty price on leather blinds. However, if it's in your budget, this material can give a very unique look to your interiors.
Leather blinds consist of solid-core slats that are tightly covered in stitched premium leather. As such, this material displays expensive taste reminiscent of luxury vehicles and extensive yachts.
Additional Important Features to Consider
Before you head out to your local home improvement center to purchase some new blinds for your home, you should consider exactly what you want and what purpose you want them to serve. When you're deciding on blinds, it's important that you consider whether you want them for privacy, to darken your room for a better night's rest, or to help insulate your rooms.
With that said, here are a couple of things you should keep in mind before you make the final decision regarding your window blinds.
Thermal Insulation
The issue of keeping the heat in during the winter keeping it out during the summer months is a problem that plagues many homeowners. When you're considering which blinds to purchase for your home, you want to think about the thermal insulation that the specific model you choose provides. While shades block the entire window and keep the heat out during the summer, that doesn't mean they are the best choice year-round.
Generally speaking, blinds provide more versatility as they can be tilted downwards to let more light in when the weather is cooler. Or, they can be tilted the opposite way to block the sun when it's too hot outside. On the other hand, shades offer more insulation in the winter by creating a barrier and keeping the heat indoors. Since blinds are usually thinner and have more gaps, they aren't as suitable for this purpose.
As far as energy efficiency goes, the best blinds will help you conserve energy in your home and also save you money on your heating and air conditioning bills. In the absence of energy-efficient window treatments, as much as 50% of your home's heating and cooling energy escapes through your windows. Your blinds can conserve energy through insulation, daylighting, and solar heat control.
Privacy and Light Control
If you want your blinds to allow you to control the light and amount of privacy that your room gets throughout the day, this is all dependent on the opacity of your window treatments. The opacity is affected by how the blinds are mounted, the type of material used, and the thickness and weight of the material. Window fabrics and materials will range from completely sheer to total blackout.
Sheer fabrics are designed to diffuse harsh light, illuminating your home naturally. They are best suited for moderate privacy needs.
Semi-opaque and opaque materials are better for room darkening. If you want your blinds to block out light, opt for materials that have fewer gaps and seams. While wood is considered an opaque material, it will always have light seepage – whether it's closed or open.
Blackout fabrics are engineered to block out all light.
Child Safety
For those who want the safest blinds for their children or their pets, there are many options available. Window treatments come in a variety of operating systems for enhanced safety and peace of mind. The safest options typically include the following:
Cordless operation
Retractable lift cords
Wand controls
Motorized systems
Cord tensioners
Fortunately, when you want to prioritize safety, you won't have to sacrifice style. These safety features come with many different types of blinds in a broad array of colors and materials.
Manual vs. Automatic
While there are many standard manual operation options to adjust blinds, they now come with automatic systems. If you want the convenience of closing all your blinds in the same room at the same time without even getting up off the couch, consider automatic blinds. With the use of a remote, the slats can be lowered, lifted, and adjusted without having to do so manually. This is a wonderful feature for modern style homes, but can work in virtually any home that desires this level of convenience.
More Related Guides

Jessica Stone
Jessica considers herself a home improvement and design enthusiast. She grew up surrounded by constant home improvement projects and owes most of what she knows to helping her dad renovate her childhood home. Being a Los Angeles resident, Jessica spends a lot of her time looking for her next DIY project and sharing her love for home design.
More by Jessica Stone
Published May 9th, 2021 11:19 PM