313 Views
Should Vanity Lights Hang Over the Mirror?
October 29th, 2022 11:09 AM
Share
We're committed to finding, researching, and recommending the best products. We earn commissions from purchases you make using links in our articles. Learn more here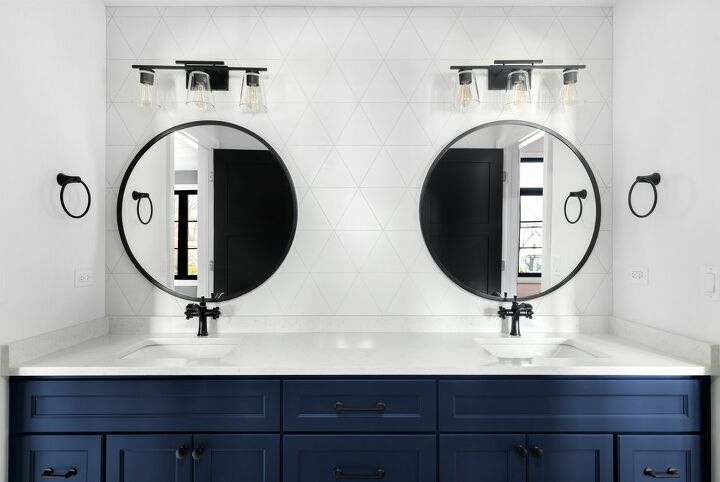 Proper lighting in a bathroom is essential since it's the principal place you get ready for the day. Between fixing your hair, doing make-up, and taking care of your skin, your bathroom mirror needs to give you an accurate picture. But if your vanity lights hang over the mirror, it could negatively affect what you see.
You should avoid lighting that hangs over the mirror because it can create shadows on the face. Hang vanity lights on the sides of a mirror or above it. If above, mount lights at least 75 to 80 inches from the floor to the fixture's center. The light should be at least two inches from the mirror's top.
Sometimes, depending on your available space, you might not get much choice about where you can hang your vanity lights. But, ideally, you will be able to hang them in just the right spot to give you the best lighting possible in your bathroom.
Should Vanity Lights Be Above Or Beside A Mirror?
Hanging vanity lights above your bathroom mirror is a popular choice for many. Mounting lights on the sides of your mirror is also a common choice. You can do either successfully, but there are a few things to consider.
The ideal choice for your vanity lighting is sconces on each side of the mirror. This placement provides adequate lighting without casting any unflattering shadows. Hang the sconces roughly 60 inches from the floor or approximately at eye level.
However, not every bathroom has space for lighting on the sides of a mirror. (You need at least four inches on each side.) Therefore, hanging vanity lights above a mirror is also a popular option for many bathrooms.
But if mounting lights above your mirror, avoid using bare bulbs. Instead, look for fixtures with opaque shades to help prevent dark shadows on your face. Otherwise, it can hinder the overall functionality of the space and negatively impact the bathroom's design.
How Do You Space A Bathroom Mirror And Sconces?
According to the American Lighting Association, the best place for bathroom vanity lighting is on the sides of the mirror. Place sconces at least one inch from each side of the mirror.
The sconces should also be level with each other, approximately hanging at eye level or 60 to 66 inches from the floor. The 60 to 66-inch mark is from the floor to the center of the fixture.
According to Janice Costa, President and Founder of KB Designers Network, it's best if the sconces are 36 to 40 inches apart. This distance maximizes the illumination of the face and helps you avoid dark patches and shadows. Therefore, keep this in mind when planning your overall bathroom design.
If you have an overly large mirror (say, over 38 inches wide), mounting sconces on the side might not provide balanced lighting. You may need to consider using two mirrors so you can fit an additional sconce in between.
If hanging sconces alongside your bathroom mirror, appropriate spacing is critical. You want things to look symmetrical and proportionate; otherwise, your whole bathroom can appear unbalanced.
What Is The Most Flattering Lighting For A Bathroom?
To achieve the most appealing lighting in your bathroom, consider using a variety of sources. For example, you might have overhead ambient lighting from a ceiling fixture, vanity lights, task lighting, and accent lighting in your shower or tub area.
The Illuminating Engineering Society (IES) suggests a brightness of 20-50 lumens per square foot. However, you also need to consider any natural lighting in the space and the proximity of your vanity to the window.
In areas where you need the most light, aim closer to 40-50 lumens per square foot. Ambient lighting should be closer to 20 lumens, and 30 lumens per square foot is a good target for accent lighting.
Larger bathrooms can handle 75 to 100 watt bulbs. However, in smaller bathrooms and powder rooms, you can likely stick to 45 to 60 watts. But consider natural lighting when choosing the brightness of your fixtures.
Dimmable lights might be a good solution when lots of natural light is present. You won't get washed out during the day, but can still have adequate lighting as the sun sets and at night.
Can A Light Fixture Hang Over A Mirror?
Many people hang lights above their bathroom vanity, especially if there isn't enough room on the sides of the mirror. You can mount sconces on the wall above the mirror or might hang pendants from the ceiling. However, to avoid unattractive lighting, follow these pointers.
Avoid bare bulbs and recessed lighting that can create shadows on your face and body.
Make sure to mount the light at the appropriate height above the mirror (at least two inches, see more below).
Center the light fixture above the mirror.
If using multiple lights above the mirror, space them appropriately to achieve an overall symmetrical and balanced look.
How High Should A Bathroom Light Be Above A Mirror?
The ideal height for lights above a bathroom mirror is 75 to 80 inches from the floor to the fixture's center. The most common placement is 78 inches from the floor. Measuring from the floor keeps things consistent, regardless of vanity height.
Additionally, the bottom of the bulb or shade should be two to five inches from the top of the mirror. However, don't forget to consider the people in your household.
If you have anyone very tall living in your home, the standard height might be too short. Overall, your bathroom lighting has to work for you and others living in the house. Therefore, always be prepared to adapt and adjust accordingly.
How Long Should A Vanity Light Be Over A Mirror?
A general rule of thumb for the size of a vanity light bar is about three-fourths the size of the mirror. Therefore, if you have a 36-inch mirror, a 26 to 28-inch long fixture would work. If using a 24-inch mirror, a bar roughly 18-inches long is ideal.
You can also follow this general principle when you're hanging separate fixtures above the mirror. Make sure all the lights and the space between them equal 75 percent of the width of your mirror.
For example, you have a 48-inch wide mirror and want to mount 4 separate sconces above it. From the outer edge to the outer edge of the two end sconces should be roughly 36 inches. If each sconce is 5 inches wide, you would space them roughly 5.3 inches apart.
What Happens When Vanity Lights Overhang A Mirror?
If vanity lights extend past the mirror, it increases the chance of shadows. The downlighting will cast shadows over your face and make it difficult for things like putting on makeup.
It could also cause more light reflection to bounce back at you from the mirror. Additionally, you'll see the back of your light fixture in the mirror, so keep this in mind when choosing the style.
If you have a framed mirror, depending on how far the lights come out from the wall, the fixture may not fit. The shades or bulbs could rub against the frame or be unable to extend beyond it.
Can You Mount Vanity Lights In Front Of A Mirror?
When wall space around a bathroom mirror is limited, you might consider mounting the vanity lights in front of the mirror. Some people even mount lights onto the mirror.
You should consider the same potential drawbacks as allowing lights to overhang your mirror. It can cause too much light reflection, cast shadows, or look strange to have the entire fixture reflected in the glass.
However, depending on the other lighting in your bathroom and your personal preferences, the look can work. But make sure the overall design looks balanced and proportionate, and you end up with functional lighting.
Should Vanity Lights Face Up Or Down?
Most vanity lights are capable of pointing up or down, so you can choose which works best in your space. Typically, if your goal is ambient lighting, aim the lights upward. However, for task lighting, pointing down is best.
Before you choose to hang a light in a particular direction, make sure it is capable of doing so. Always follow the manufacturer's installation instructions or consult a qualified electrician when installing your vanity lights.
How Many Lights Do You Need For A Vanity?
The amount of lighting necessary depends on the bathroom size, mirror and vanity size, and other lighting in the space. For example, one single sconce could be enough, centered over a 24-inch mirror in a small bathroom.
However, if you have a large double vanity with an oversized mirror, you'll need a lot more light. You might choose a 50 to 55-inch light bar or opt for two multi-light fixtures spaced evenly above the mirror.
If you have a 72-inch vanity you might use double mirrors above and three lights. You would place one sconce between and one on either side. Always make sure that the spacing between the sconces and between the sconces and mirror is equal.
The bottom line is you need enough light to properly illuminate the space without creating shadows. Plus, your final look should be proportionate to be both aesthetically pleasing and functional.
A Final Look At Bathroom Lighting Over A Mirror
You can hang vanity lights above the mirror but should avoid letting them extend beyond it. When lights overhang the mirror it can create unsightly shadows and unwanted design effects.
Instead, hang lights so that the bottom of the bulb or shade is at least two inches from the top of the mirror. The most flattering option is hanging lights on either side of the mirror, but space doesn't always make this possible.
If hanging lights on the side, place them at roughly eye level or 60 to 66 inches from the floor. Lights above the mirror should be 75 to 80 inches from the floor to the fixture's center. Ideally, you'll have an assortment of ambient, task, and accent lighting in your bathroom, including vanity lights.
Bathroom lighting is one of the most important elements in your home's design. You not only want it to look good, but it has to function well so you can actually use your bathroom as intended. Whether it's unwinding after a long day, getting ready in the morning, or prepping for date night, proper lighting is a must.

Stacy Randall
Stacy Randall is a wife, mother, and freelance writer from NOLA that has always had a love for DIY projects, home organization, and making spaces beautiful. Together with her husband, she has been spending the last several years lovingly renovating her grandparent's former home, making it their own and learning a lot about life along the way.
More by Stacy Randall
Published October 24th, 2022 3:30 PM