179 Views
The Safest Neighborhoods In Virginia Beach: 2022's Ultimate List
June 3rd, 2022 4:17 PM
Share
We're committed to finding, researching, and recommending the best products. We earn commissions from purchases you make using links in our articles. Learn more here
Virginia Beach offers the best of both worlds between a fun city and a relaxing beach town. Luckily, the city also offers 10 neighborhoods that you can live in without fear of crime, such as Green Run and Kempsville. Whether it be Oceanfront or Pungo, let's look at the 10 safest neighborhoods in Virginia Beach.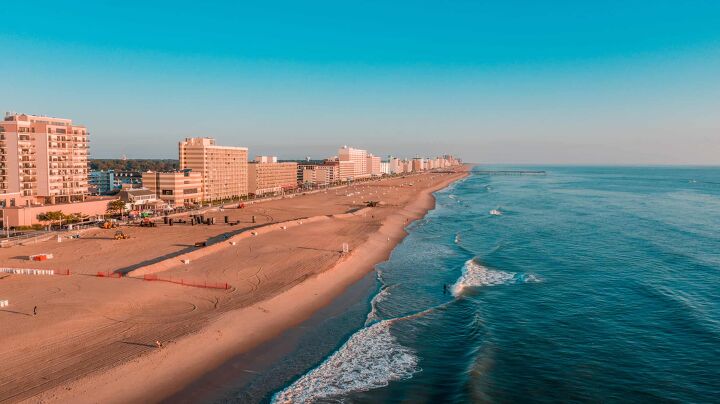 While Virginia Beach is best known for white sand and endless waterways, this place has a lot more to offer. Aside from having multiple beaches, Virginia Beach is composed of seven beautiful districts, each with its unique features and personality.
Another amazing thing about Virginia Beach is the high level of safety it offers to both visitors and locals. In fact, it ranks as one of the safest cities in the United States.
Do You Need to Hire Movers?
Get free, zero-commitment quotes from pro contractors near you.
Top 10 Best Neighborhoods In Virginia Beach
| | |
| --- | --- |
| Rank | Neighborhood |
| 1 | Chesapeake Beach |
| 2 | Green Run |
| 3 | Kempsville |
| 4 | Pembroke Manor |
| 5 | Princess Anne |
| 6 | Pungo |
| 7 | Oceanfront |
| 8 | Northeast Virginia Beach |
| 9 | Sandbridge |
| 10 | North End |
If you're planning to visit or even relocate to Virginia Beach, it pays to know which areas are better than the others. Below are 10 of the safest neighborhoods in Virginia Beach.
1. Chesapeake Beach
Population: 244,835
Median Household Income: $72,214
Median Home Value: $428,222
The first neighborhood on the list is Chesapeake Beach. This is a neighborhood that extends about 2 miles just west of the Chesapeake Bay Bridge-Tunnel. This was originally built to be a lookout post during the war.
Today, however, it is known as the most desirable real estate in the Virginia area. Because this area is more of an off-the-beaten-path, there's less public traffic here. With subtropical weather that stays almost all year round, residents here have good access to sand beaches and fun watersports.
This is especially ideal for families with small kids because the beaches here are kid-friendly. There are no big waves or an undercurrent to be concerned about. So, if you're a surfer, look somewhere else.
There is not a boardwalk in this area, but rather residential areas with pathways leading up to the beach. The two most popular areas among locals are Chick's Beach and Shore Drive.
Another good thing about this area is the schools, which makes it even ideal for families with kids. People residing in this neighborhood is a good combination of singles, families, and retirees.
2. Green Run
Population: 4,305
Median Household Income: $78,877.14
Median Home Value: $231,086
Green Run is a neighborhood as well as a commercial community that extends 6 square miles in the center of Virginia Beach. Within this neighborhood, you'll find a lot of single-family homes, townhouses, large apartment complexes, and condominiums.
Green Run neighborhood offers a lot of amenities and facilities that every resident can enjoy. These amenities include swimming pools, tennis courts, 14 parks with playgrounds, and big green spaces with roughly 5 miles of canals and 11 or so miles of beachfront.
Another good thing about this neighborhood is that it offers access to great school systems and annual festivals and events. So, as you can expect, living here will provide you with a good, friendly community that you can rely on in times of need.
3. Kempsville
Population: 76,716
Median Household Income: $79,020.11
Median Home Value: $257,590
Kempsville is a neighborhood that boasts the urbanized part of Virginia Beach. Situated in Princess Anne County, this neighborhood takes the price of its golf course, community center, and community college campus.
Kemps Lake, located within the boundaries of this well-developed neighborhood, offers residents a lot of water sporting activities. It also has the Fairfield Shopping Centers and Providence Square that offer residents different casual to fine dining restaurants and shopping areas to explore.
If you're moving here with kids, then you'll be pleased to know that Kempsville has several public and private schools you can enroll your kids in. This neighborhood offers so much suburban convenience and amenities.
On top of the internal convenience, Kempsville is also located near the I-264 interchange, which is a huge deal in an area where surface streets are usually more dangerous for a rush-hour than the interstate.
And even though Kempsville sounds luxurious based on this description, that's not exactly the case. Kempsville actually is full of affordable real estate.
4. Pembroke Manor
Population: 63,659
Median Household Income: $39,773
Median Home Value: $269,900
Another safe neighborhood in Virginia Beach is Pembroke Manor. This neighborhood is situated in the center of Virginia Beach and is a neighborhood that has one of the core business districts of the city.
Pembroke Manor is home to a variety of high-end restaurants and boutiques, as well as luxury apartment buildings. This is also where Pembroke Mall is located, an expansive retail development that matches the best the state has to offer.
People living in Pembroke have access to great schools, both private and public. And even if Pembroke is an urban community, it's still not too far from t the beaches.
5. Princess Anne
Population: 79,702
Median Household Income: $102,616
Median Home Value: $318,500
Even though Princess Anne was a rural area for most of its history, much bigger and fancier houses were built here since 2000. It's also becoming more and more popular area in Virginia Beach among homebuyers, and the reasons are so obvious.
Aside from having one of the lowest crime rates in the state, the Princess Anne neighborhood also has an incredible location. Having beachfront access to the residents makes this neighborhood a very sought-after area in the city.
Several celebrities have lived and currently living in this area. Princess Anne also has some of the best schools in the state.
This neighborhood stands out nationally for having a bigger proportion of its residents active in the military than 97.7% of other U.S. neighborhoods. By visiting this place, you'll notice military people active in their jobs, going to and from work, and in plain clothes out and about the neighborhood.
6. Pungo
Population: 4,263
Median Household Income: $82,471
Median Home Value: $455,000
The neighborhood of Pungo is located approximately 10 miles south of the heart of Virginia Beach. Pungo is a rural community bordered by farmland.
If you're craving a rural lifestyle, Pungo has a lot to offer. Farm stands are on almost every corner, which is not surprising because Pungo is home to the annual Strawberry Festival.
While Pungo is a reprieve from metropolitan lifestyle, it's still very convenient to the Red Mill, Strawbridge, and Damn Neck/Oceana areas where you can find restaurants, shops, movie theaters, and a lot more.
Another amazing thing about Pungo is that it's only a few minutes away from Sandbridge. With its miles of wide sandy beaches speckled with remarkable beach houses and dotted with the Back Bay National Wildlife Refuge, this is one of the best places in the city to go for a hike or ride your bike.
Aside from its charm, Pungo also has a rich history. Grace Sherwood is a local legend in this area and was believed to be a witch. She endured every effort they made to torment her and her resiliency in that situation has kept her story to be alive to this day.
7. Oceanfront
Population: 42,776
Median Household Income: $92,741
Median Home Value: $566,400
If you don't know already, Virginia Beach is surrounded by water on two sides. The Atlantic Ocean offers a typical beachy area with a boardwalk lined with bars and restaurants – this is where Oceanfront is.
The boardwalk in Oceanfront has been in transition for the past decade. Some of its parts are a little shabby while other parts, closer to 32nd street, have been cleaned up and more boutique shops and restaurants were built.
This area can be very crowded with tourists and tend to be overpriced. And regardless of what some may think, there are incredibly quiet residential areas here that aren't impacted by the influx of tourists during the peak season months.
All of the communities in this area is a bike ride away from the ocean. Furthermore, parts of the area are also riverfront, so this can give you the best of both worlds.
Unsurprisingly, this is also where some of the most expensive homes in the city are located. So, if you choose to buy a property here, you're paying for the location, which is worth it.
8. Northeast Virginia Beach
Population: 49,974
Median Household Income: $75,258
Median Home Value: $363,458
If you prefer to live closer to the water, then Northeast Virginia Beach is the place to be. This neighborhood includes both a huge residential zone and First Landing State Park, a big coastal area of cypress marsh, freshwater wetlands, as well as dunes.
A lot of houses in this area are riverfront properties, while the more affordable homes are on the interior. The area is also 5 to 10 minutes from both the neighborhoods of Oceanfront and the Chesapeake Bay.
If you stay here and want to go shopping, the closest place to go is the Hilltop area. The high schools in this neighborhood are ranked highly and are considered by a lot to be the best in the region.
But with such convenience comes a heavy price tag. As expected, this neighborhood also has some of the most expensive real estate in the city.
9. Sandbridge
Population: 405
Median Household Income: $120,823.00
Median Home Value: $656,015
Sandbridge is a coastal community located along the coastline on the Currituck Banks Peninsula at the northern end of the Outer Banks. This neighborhood is only a short drive away from Oceanfront District by the south.
Sandbridge is a barrier island snuggled between the Atlantic Ocean and the picturesque Back Bay National Wildlife Refuge, known as the "Outer Banks of Virginia."
This neighborhood is a secluded beach hideaway of unspoiled dunes and dancing sea oats. It's a soothing and peaceful community where you are truly able to slow down and relax on your vacation or daily life.
Its pristine white sand coastline will draw you into a simpler way of life, ideal for a slow-paced vacation while being only 20 minutes away from the lively strip of Virginia Beach, where plenty of attractions and activities lie ahead.
10. North End
Population: 7,994
Median Household Income: $77,059
Median Home Value: $690,042
The last on the list is the North End neighborhood. The North End refers to the area of Atlantic Avenue north of 38th Street to the bottom of Shore Drive.
This is a narrow slice of Virginia and sought-after by many homebuyers. Most homes here are only a short walk away from the beach, or on the dunes. The styles of the houses also range from older to modern and from cottages to gigantic mansions.
North End has some of the most beautiful beaches in the city. However, it can get really crowded during the summer, which is expected anyway.
At the very top of this neighborhood is First Landing State Park where the Colonists first landed in 1607. The most-visited state park in the state, First Landing, has 20 miles of trails for biking, running, or walking and a mile and a half of beach frontage throughout the Chesapeake Bay.
Crime Rate in Virginia Beach
As mentioned earlier, Virginia Beach is one of the safest cities in the United States, followed by Henderson, NV, San Diego, CA, and New York, NY. The city's violent crime rate was only 1.3 per 1000 persons and the city had a total crime score of 35.8.
The most common types of crimes that take place in Virginia Beach, if they even ever happen, are theft and assault. To get a better idea of how Virginia Beach is safer than most places in the country, check out the tabled data below.
Population in Virginia Beach: 450,189
Population in the United States: 328.2 million
| | | |
| --- | --- | --- |
| Crime | Virginia Beach (per 1000 persons) | National Average (per 1000 persons) |
| Murder | 0.02 | 0.05 |
| Rape | 0.18 | 0.43 |
| Robbery | 0.39 | 0.86 |
| Assault | 0.61 | 2.47 |
| Burglary | 1.30 | 3.76 |
| Theft | 14.69 | 15.95 |
| Motor Vehicle Theft | 1.30 | 2.29 |
| Total Crime Rate per 1000 People | 18.48 | 41.29 |
Most Dangerous Neighborhoods in Virginia Beach, VA
While Virginia Beach is generally safe, it still has some parts that have to be watched out for. Below is the list of 4 neighborhoods with the highest crime rates.
This ranking is calculated based on the number of violent crimes per 100,000 people for each neighborhood, compared to the violent crime average in the city. Violent crimes include rape, murder, robbery, and assault.
| | | |
| --- | --- | --- |
| Neighborhood | Crime Rate vs. Virginia Beach | Crimes per 100k |
| Northeast | 189% more | 374 |
| North Central | 164% more | 341 |
| Northwest | 142% more | 313 |
| Dam Neck Naval Air Station | 118% more | 282 |
Do You Need to Hire Movers?
Get free, zero-commitment quotes from pro contractors near you.
Final Thoughts
It's no coincidence that a lot of young professionals, families, and retirees have turned Virginia Beach their home. Virginia Beach is more than just a popular coastal holiday destination – it's also a safe, economically stable, and family-friendly city!
Compared to other US cities, the housing in Virginia Beach is a bit steep in that mid-range market. But if it's something within your forte, there's no reason not to consider living in this paradise city.
Related Guides
Cyril Balahadia
Coming from a family of woodcarvers, Cyril has always been fascinated with wooden interiors and home decorating. While she followed the path of writing as her career, her interests in home improvements still remain.
More by Cyril Balahadia
Published February 28th, 2021 8:23 AM