60 Views
What Are The 7 Safest Neighborhoods In Shreveport, LA?
December 1st, 2021 12:38 PM
Share
We're committed to finding, researching, and recommending the best products. We earn commissions from purchases you make using links in our articles. Learn more here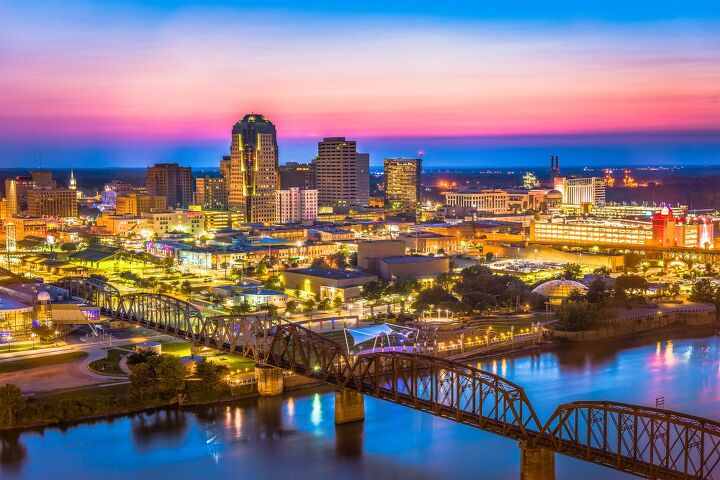 Located in the northwestern part of Louisiana, Shreveport is a mid-sized city with a population of roughly 200,000 people. It is the third-largest community in Louisiana and is known for its blended Southern culture.
Shreveport, Louisiana is a city that represents a diverse culture conducive for someone who is looking for a new place to live within a reasonable budget. The state of Louisiana can have some areas that pose strong safety risks with crime rates significantly higher than the national average. Shreveport offers a mix of very safe places coupled with areas to be more aware of as you move through the city.
The safest neighborhoods in Shreveport, Louisiana are Hyde Park Brookwood, Airport Pines Road, and Jenkins-Pinecroft. While the city of Shreveport has a fairly high crime rate generally, these communities offer crime rates lower than 2% which is better than both the city and state average. They are each known for their focus and attention on community safety.
One of the best aspects of living in Shreveport is the city's excellent housing market and low cost of living. Homes for sale in the city are often listed at much lower prices than what you'd find in other parts of the country.
Do You Need to Hire Movers?
Get free, zero-commitment quotes from pro contractors near you.
The 7 Safest Neighborhoods in Shreveport, Louisiana
Living in Shreveport offers a sparse suburban feel which makes it one of Louisiana's best cities for new residents. With weather perfect for getting out for leisure activities, this city avoids most of the hurricane hazards that other regions of Louisiana face. The downside of this city lies in its crime rate, which is 53% higher than the Louisiana average. However, the latest year over year crime reports in Shreveport have decreased by 6% and there are many wonderful neighborhoods that offer a space haven from the city.
1. Hyde Park Brookwood
Population: 17,375
Median income: $46,846
Property crime per 100K: 1,469 (1.5%)
Violent crime per 100K: 83 (0.083%)
Unemployment rate: 4.5%
Hyde Park Brookwood is a homey neighborhood that is safer than 97% of the neighborhoods in Louisiana. It is a great location for those who enjoy a quiet atmosphere, as there isn't a lot of street noise or city clamor – although that is not the case closer to the railway line. Residents living here pretty much have access to basic necessities such as going to the grocery and restaurants and attending nearby schools.
The predominance of single detached homes in the housing stock of this neighborhood is an important part of its character. This neighborhood is primarily composed of two-bedroom and three-bedroom homes. If you plan on buying a property in Hyde Park Brookwood, the average home value ranges from $107,763 to $204,510.
As a community, this neighborhood boasts some of the lowest crime rates around and a virtually non-existent violent crime occurent of .083%. If safety is high on your priorities, Hyde Park Brookwood is a fantastic choice.
2. Airport Pines Road
Population: 8,608
Median income: $45,494
Property crime per 100K: 1,483 (1.5%)
Violent crime per 100K: 336 (0.34%)
Unemployment rate: 5.2%
The community remains relatively serene in Airport Pines Road due to the presence of very few pedestrians. It is located near the regional airport and it is very car-friendly with easy to access parking lots. Families also enjoy its proximity to the Splash Kingdom Waterpark.
About half of the dwellings in this neighborhood are single detached homes, with some large apartment buildings, small apartment buildings, and mobile homes also present in the housing stock. This part of the city has a good choice of housing sizes, ranging from lofts to four or more bedrooms. About one-third of homes in this neighborhood were built in the 1980s, while many of the remaining buildings were built in the 1960s and the 1990s.
3. Jenkins-Pinecroft
Population: 11,124
Median income $46,329
Property crime per 100K: 1,721 (1.7%)
Violent crime per 100K: 130 (0.13%)
Unemployment rate: 3.1%
Jenkins-Pinecroft lies in the northwestern part of Hyde Park Brookwood. It is a popular neighborhood for home buyers who can afford to buy a home in the median price range of $155,000. For those who are considering renting a place, rents usually cost within the range of $550 to $1,400 per month. It has a livability rating that is considered exceptional and its crime rate is 67% lower than the Shreveport average.
Jenkins-Pinecroft is known for its cleanliness and pet-friendly environment. It also houses a bowling alley and a swimming pool for those who are looking for some recreational activities nearby. Residents living in this area recommend this place as a great place to raise kids, as it houses 22 public schools and 2 private and charter schools.
With a violent crime rate less just over a tenth of a percent, families of all ages can feel completely safe in Jenkins-Pinecroft.
4. Western Hills
Population: 5,738
Median income: $53,695
Property crime per 100K: 1,112 (1.1%)
Violent crime per 100K: 757 (0.76%)
Unemployment rate: 3.5%
This neighborhood provides a wonderful atmosphere and natural amenities that can be described as resort-like. It has a number of areas for recreational purposes that involve water activities as it is right beside Cross Lake. People who love the outdoors would also definitely enjoy the Ford Park alongside its Disc Golf Course, and if you are into biking, you would certainly appreciate the Lakeshore Mountain Bike Trail.
Homeowners in Western Hills occupy around three-quarters of the properties in the neighborhood while the rest are rented. The predominant housing types in this area are single detached homes and row houses. Roughly 40% of properties were constructed in the 1960s and 1970s, while most of the remaining buildings were built pre-1960 and in the 1980s.
5. Broadmoor
Population: 18,886
Median income: $60,108
Property crime per 100K: 1,689 (1.7%)
Violent crime per 100K: 307 (0.31%)
Unemployment rate: 3.5%
Broadmoor lies in the eastern outskirts of Shreveport. The cost of living in this area is low, and both the cost of renting or buying a house are lower compared to other neighborhoods. Its typical home value is $154,137. Due to this, Broadmoor favors married, retired, and single residents. It is ranked as the second best neighborhood in Shreveport.
Broadmoor offers multiple social amenities. There are restaurants, parks and other entertainment facilities like the cinema where residents can relax or bond with family and friends. Although there are virtually no public schools in this area, there are schools that cater to students with special needs. These schools, like the Caddo Parish special school, are very affordable and can easily be accessed
6. Ellerbe Woods
Population: 2,861
Median income: $96,068
Property crime per 100K: 1,960 (2%)
Violent crime per 100K: 312 (0.31%)
Unemployment rate: 2.2%
Buying property in Ellerbe Woods could be quite costly as its real estate prices are 111% higher than the Shreveport average. However, renting could be more fitting as rental prices here are 7% lower than the usual rates in Shreveport.
The buildings in this area are quite new, since about one quarter of its buildings were built following the year 2000, while the majority of the remaining buildings were constructed in the 1960s and the 1980s. Residents of Ellerbe Woods are usually in education, health & social services. People describe this neighborhood as a place that expresses a feeling of community.
There is no public transportation in the area but house buyers in this part of Shreveport will live within walking distance of the nearest grocery store. As far as education is concerned, this area does not have any high schools or primary schools.
7. Springlake
Population: 22,682
Median income: $ 64,977
Property crime per 100K: 1,969 (2%)
Violent crime per 100K: 383 (0.38%)
Unemployment rate: 2.9%
Springlake is located in the southeastern part of Shreveport. It is the largest neighborhood by population and is widely regarded as one of the best locations to live in Shreveport, Louisiana because of its access to a variety of basic necessities. It is a great neighborhood with beautiful brick homes in a safe, clean environment that is conveniently located near major nearby shopping areas and interstate access.
This region enjoys various amenities and favors all kinds of people as it is a commercial district that caters to a variety of professionals. It is close to Willis-Knighton Pierremont Hospital and Christus Highland Medical Center. Although there are no public schools in Springlake, some institutions offer tertiary education. These institutions are mostly colleges except for Louisiana State University.
Do You Need to Hire Movers?
Get free, zero-commitment quotes from pro contractors near you.
What's The Verdict?
Shreveport has a lot to offer its residents but crime and safety can be a concern. Although its crime rate is higher than the national average, Shreveport is safer than 4% of the cities in the United States. Relocating here is a good choice for those who are looking for new opportunities and for those who like many attractions that can keep the whole family entertained. The neighborhoods listed in this article give residents safe havens from other parts of the city that have significantly higher crime rates. They are each known for their focus on community safety and as such, make fantastic areas to settle in to.

Paige Hanawalt
Paige is an elementary school librarian with a passion for writing. Her hobbies include reading an exorbitant amount of fantasy, slowly teaching herself to draw, and home decor. While she isn't the most talented artist or interior designer, what she lacks in skill she more than makes up for in enthusiasm. When she's not curled up with a book, you can certainly find her curled over the keyboard.
More by Paige Hanawalt
Published November 3rd, 2021 8:51 AM