199 Views
What Are The 7 Safest Neighborhoods In Newport News, Virginia?
June 3rd, 2022 3:37 PM
Share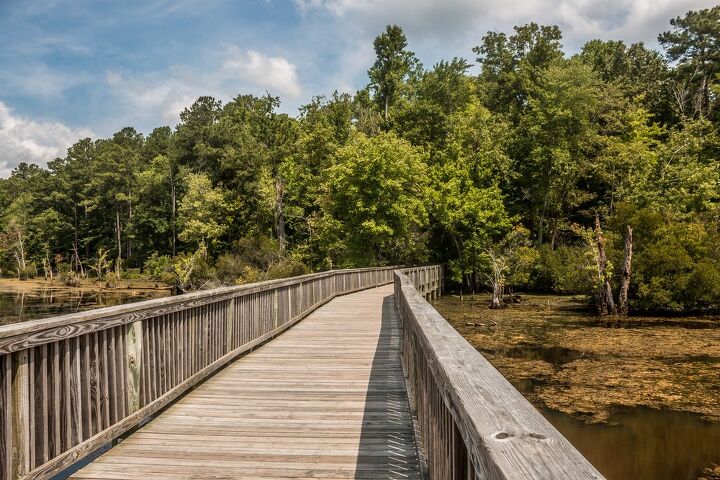 Located along the northern shore of the James River is Newport News, Virginia. Nearly 200,000 residents call this townhome, making it the fifth-most-populous city in the state. This area has a lot of history, with Warwick County being of the eight original shires of Virginia, formed by an order from King Charles I in 1634.
Newport News has some incredible neighborhoods right on the water, including Menchville, Deep Creek, and Hilton Village. These neighborhoods don't just offer a high quality of living or good amenities for residents – they are also some of the safest neighborhoods in all of the city. Newport News offers great river beaches and plenty of history, including the Virginia Living Museum, Virginia War Museum, and the Ferguson Center for the Arts.
The biggest industry, by far, in Newport News is the military, and shipbuilding in particular. Many residents of the town are employed at the Newport News Shipbuilding, a joint Air Force-Army installation at Joint Base Langley-Eustis. Newport News Shipbuilding is the largest industrial employer in all of the state, is the sole designer and builder for the US Navy aircraft carriers.
Yet more residents choose to commute to Norfolk each day for work, choosing to live in Newport News for the lower cost of living and a greater sense of community. It's less hustle-and-bustle in Newport News, more smaller town living, and community awareness.
Do You Need to Hire Movers?
Get free, zero-commitment quotes from pro contractors near you.
The 7 Safest Neighborhoods in Newport News
The crime index in Newport News is 14, with 100 being the safest – that means the city is just 14% safer than all US cities. That's not ideal! But don't fret – while some areas of Newport News certainly aren't the safest, there are a variety of neighborhoods, especially on the water, that boasts a high quality of life, lower cost of living, and yes, plenty of safety.
These neighborhoods below are determined using statistics from the FBI and include calculations of violent crime and property crime.
Our top 7 neighborhoods for Newport News include:
Menchville
Deep Creek
Hilton Village
Shore Park/Old Orchard
Beechwood
Carriage Hill
Hidenwood
If you're thinking about moving to this historic area on the water, make sure you read this first. There are plenty of wonderful areas to choose from, so don't make a mistake. These seven neighborhoods are the top places to live in all of Newport News, both for safety as well as overall happiness.
1. Menchville
Located along the Warwick river just next to Deep Creek is Menchville, a thriving on-the-water neighborhood in Newport News. The Menchville area is great for those who want to live that aquatic life, or love green spaces. The Riverview Farm Park is directly in the middle of the neighborhood, giving residents plenty of access to beaches, walking trails, playgrounds, and even a skatepark. This is one of the biggest reasons Menchville is considered one of the most desirable neighborhoods to live in.
A big downside to the Menchville neighborhood is the lack of shopping. There are not a ton of options for groceries, dining, or coffee – most residents need to leave the area to find what they are looking for in their daily lives. However, most consider this a more than acceptable trade considering the ideal location otherwise, and all of the amenities available to them.
Menchville is also considered a military neighborhood, with many residents choosing to commute from Menchville to Norfolk or the Naval Shipyard. If they aren't commuting, many are working at the Newport News Shipbuilding facility. The median household income in Menchville is a generous $81,333, significantly higher than the national average.
2. Deep Creek
With a median housing price of over $288,000, Deep Creek is a popular – and safe! – choice for many residents looking to relocate to Newport News without the big price tag involved. Deep Creek is positioned alongside the James River, and it actually shares a border with Menchville – it's just north, right across Deep Creek. (Like the name!)
Unlike Menchville, Deep Creek has a larger variety of shopping and dining options for residents to choose from. Homes still feel very suburban, with the majority of homes being single-family residences. There are not many apartment complexes in Deep Creek, and there are not many sidewalks in Deep Creep, which can be a concern for some families.
The Deep Creek neighborhood truly is one of the best in Newport News, not just for safety – though obviously, it ranks highly! But also for the quality of life, amenities, and more.
3. Hilton Village
Hilton Village in Newport News is considered one of the pioneering neighborhoods in all of urban planning. Why? Because it is one of the first planned communities in all of the United States! Many people take for granted the idea of urban planning, and planned communities, but Hilton Village paved the way.
Built between 1918 and 1921 as a response to the rising need for housing during World War I, it was the country's very first Federal war-housing project. The government raced to put up quality homes and has become the best example of early urban planning. In the late 1920s and early 1930s, homes started to sell to private owners, and it is now not a government-owned housing development, but privately owned.
Hilton Village has continued to thrive since then as well, with residents of the area enjoying a huge variety of shopping and dining. Along Warwick Boulevard and Jefferson Avenue, there are dozens of locally-owned shops and restaurants. It is located on the James River, which makes it perfect for those who love fishing.
Understandably, the vast majority of homes in Hilton Village are single-family homes, most on the older side. Much of the area is considered historic, and it is a highly sought-after area.
4. Shore Park/Old Orchard
The Shore Park/Old Orchard neighborhood is located along Warwick River and comes in as one of the best areas in Newport News to live and work in. Homes are slightly cheaper in this area than the national average, coming in at just over $300,000 on average, though the average rental cost is quite high. Residents pay just over $1,800 on average each month, as there are not nearly as many rental choices as single-family owner-occupied homes.
Despite the lower price of homes, single-family residences in this area are generally larger, running 3-4 bedrooms on average. Located just north of Menchville, there is lots of shopping and dining within this neighborhood. Residents rarely have to leave if they don't want to, which is a big appeal to many looking to relocate. Not having to leave your neighborhood to get groceries, gas, or dinner is huge!
5. Beechwood
North of Shore Park/Old Orchard sits the neighborhood of Beechwood, a relatively small community with a focus on neighborhood safety and small-town feels. Beechwood is surrounded by water on nearly every side, with Warwick River to the west and Stony Run river to the east. This is a great neighborhood for those who like to fish or want to spend a lot of time outside.
There are a few shopping and dining options within the neighborhood, but most residents will have to leave Beechwood to find what they are looking for. Schools here are generally rated highly, though, and the vast majority of residences are single-family homes. Lots here run a little smaller than in Shore Park/Old Orchard, but that also means that home prices are generally lower.
With lots of parks and plenty of neighbors, Beechwood is considered a great place to raise a family.
6. Carriage Hill
Just a few blocks west of the Newport News/Williamsburg International Airport is Carriage Hill, a small but incredibly popular neighborhood. Unlike several of our previous neighborhoods, Carriage Hill does not have direct access to James River or Warwick River. It does, however, have Lucas Creek running through it. Warwick River is just a short drive away.
There is plenty of shopping and dining in the area for residents of Carriage Hill. Just like our previous neighborhoods, there are not a lot of apartment complexes to choose from – much of the homes in the area are single-family dwellings. There are some complexes in the neighborhood, but usually have a high fill rate. The median real estate price, however, is just $223,607, significantly lower than the national average.
Despite this being a more 'urban' feel than many of the neighborhoods we've touched on previously, this is a safe area to live in, and many residents love a little more city life compared to a pure suburban feel.
Do You Need to Hire Movers?
Get free, zero-commitment quotes from pro contractors near you.
7. Hidenwood
South of Menchville and southwest of the downtown area is Hidenwood, located along the James River. Hidenwood has a great balance of apartments and single-family homes, making it perfect for a temporary resident, or someone who isn't able to purchase a home yet but wants to live in a safe neighborhood.
Like many neighborhoods in the area, Hidenwood has a residential feel, with plenty of water – including Fisher's Creek, Lake Queen Anne, and Indigo Lake – to swim in, fish, or just enjoy. Many homes are on the water or close enough to walk, which is a huge selling point for residents. Views are spectacular, and residents take pride in their neighborhood, one of the many reasons Hidenwood ranks as one of the safest neighborhoods in Newport News.
There are only a handful of rental opportunities within Hidenwood itself. It is located just minutes from the Christopher Newport University. While there are not many dining or shopping options within Hidenwood itself, if you're willing to drive just a few minutes to the Christopher Newport neighborhood, just outside of campus there are many options for groceries, dining, and more. Even if it's not inside the neighborhood, residents don't have to travel far.
Related Guides

Mary Newman
Mary Newman thought that home improvement was all painting and putting down throw rugs... until she bought a fixer upper, and realized it's so much more. With a passion for helping others NOT make the mistakes she did, Mary seeks to always improve her home - and yours, too!
More by Mary Newman
Published March 23rd, 2021 3:12 PM