109 Views
What Are The Pros And Cons Of Living In Pennsylvania?
December 9th, 2021 3:22 PM
Share
We're committed to finding, researching, and recommending the best products. We earn commissions from purchases you make using links in our articles. Learn more here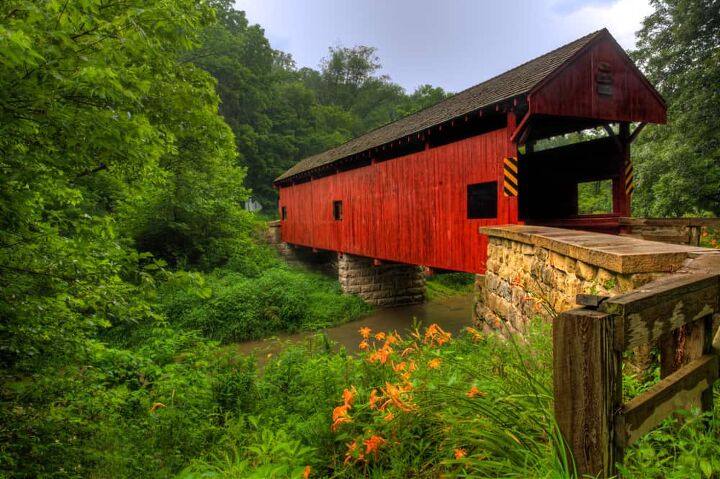 There are few states that have as much history to it as Pennsylvania. Once home to the original capital of the United States, this area still remains a major stronghold when it comes to our political process. Living in Pennsylvania means you have a lot of territory. Two peoples' experiences might be totally different. So, what can you expect from moving to this state?
Pennsylvania has tons of history and features a wide array of different cultures that you can click with. World-class restaurants, fun-filled cities, and awesome hunting opportunities await you here. However, the heavy snow, high tax rates, difficult-to-navigate streets, and proclivity towards culture clashes can be a bit much for people.
Pennsylvania has so many different sides to it, it's actually going to be hard to explain what life is like here without generalizing too much. Either way, we're going to explain it as best we can.
Do You Need to Hire Movers?
Get free, zero-commitment quotes from pro contractors near you.
The Perks Of Pennsylvania Living
If you are looking for a place to call home, we're willing to bet that Pennsylvania has something that piques your interest. Here's why people adore living in this extremely varied state…
1. Tons Of Things To Do
Obviously, this isn't always true. Some parts of Pennsylvania are going to be little more than miles upon miles of outstretched road. Yet, it's impossible to ignore how many attractions the state has overall. In Pittsburgh, you have plenty of sports venues and nightclubs to enjoy. In Philadelphia, you get to enjoy major concert venues and historic sites.
In fact, the National Parks Service recognizes 169 official landmarks in the Commonwealth of Pennsylvania. If you move to Pennsylvania, definitely check out Gettysburg National Military Park, Valley Forge, and the Fulton Theatre in Lancaster.
Or, if you're a fan of amusement parks, you've got your fair share. Along with several zoos, locals get to enjoy places like Sesame Place, Busch Gardens, and Hershey Park. Oh, and camping? That's all about the Poconos area.
2. Great Education
As far as educational standards go, it's hard to beat Pennsylvania. The state has excellent school ratings throughout most of the region, though there are some outliers. A bigger draw for people who want to boost their brainpower is the selection of in-state colleges you can choose from. You can pick an Ivy League like Penn State, or you can go for a more modern pick like Drexel.
3. A Unique Type Of Diversity
This is one of the only states where diversity numbers can be misleading. Pennsylvania's diversity comes in both racial and cultural differences. Along with a robust Hispanic population in and around cities, the state also happens to feature a very high percentage of Pennsylvania Dutch.
The cultures here are very pronounced. It's not unusual to hear languages that are almost entirely specific to Pennsylvania while you're in-state. If you want to take a look at the lives of Mennonites, find out cool things about Native American tribes, or just find out about America's cultural roots, this is a majorly awesome place to live.
| | |
| --- | --- |
| Race | Percentage Of Population |
| White | 80.53 |
| Black | 11.18 |
| Asian | 3.41 |
| Other | 4.88 |
5. A Moderate Economy
When it comes to employment, Pennsylvanians get to enjoy a fairly stable, average economy. The current unemployment rate is 6.9 percent, while the average individual salary is $31,409. Most households will earn an average of $61,000. This puts them in a good place financially. With that said, it is worth noting that around 11 percent of this state lives in poverty. So, it's not exactly an even distribution.
6. Amazing Food
Pennsylvania is a foodie's dream come true, and not just because it's the birthplace of Philly cheesesteaks. In the Southeast part of Pennsylvania, you can enjoy tomato pies—a pizza alternative that is treasured by South Jerseyans. Pittsburgh, on the other hand, has a number of steak-making styles that are hard to find elsewhere.
Oh, and the diversity of restaurants you'll find here? It's tied with New York, California, and Texas. You will find what you love here, somewhere in the state, and maybe even at a convenience store.In most other states you'll usually find fast food and prepackaged snacks at convenience stores, however, this is not the case in Pennsylvania.
In fact, gas stations all over the state are a popular place to have dinner. You'll find everything from fried appetizers and homemade burgers, to customized sandwiches, and more at convenience stores like Sheetz and Wawa. Plus, they even offer beer pairing suggests to go with your food!
7. Good Public Transit
Need help going from place to place? There are enough major cities in Pennsylvania to account for a pretty rich public transportation system. Amtrak, a rich bus system, as well as area-specific trains make this place a goldmine for people who don't own a car. This is particularly true when it comes to the state's many major cities.
Philadelphia, in particular, is known for having excellent public transit. You might not even bother to get a driver's license if you are here.
8. Central Location
Living in Pennsylvania, you will enjoy convenient access to many of the major cities along the eastern seaboard of the United States. For instance, it's only about an hour to Atlantic City from Philadelphia, two hours to New York City, and two hours to Baltimore. Plus, you can reach Washington DC in under three hours, and Boston in six.
If you choose to settle in Pittsburgh, however, you'll be centrally located to some of the most unique destinations in the country. In the same amount of time it takes you to reach DC or Baltimore, you can hit up Niagara Falls. Or, drive just another hour and you can make your way to Toronto. The options are endless in Pennsylvania!
9. Snow Lover's Paradise
If you choose to move to Pennsylvania, be prepared to experience heavy snowfall in the winter. Though, if you love snow, you'll love living here. Some areas of Pennsylvania get more than 30 inches every year. State College sees over 45 inches of snow in the average year, while Pittsburgh gets more than 40 inches.
The Problems With Living In Pennsylvania
While Pennsylvania has a ton of attractions that make it a hot tourist spot, it's also not exactly perfect. Like all other states, there are problems that can make it hard to adjust…
1. High Rent Prices
This is another moment where the statewide average rent prices don't tell the full story. When rent's cheap, it's cheap. When it's high? Well, it can almost rival Bergen County. If you want to live in a city in this state, expect rents to be far higher than what you see as a statewide average.
| | |
| --- | --- |
| Apartment Size | Rent |
| Studio | $613 |
| 1 BR | $683 |
| 2 BR | $852 |
| 3 BR | $1102 |
In areas like Philadelphia, it's not unusual to see a studio apartment get rented for $1100 or more. Roommates are increasingly common among both college students and young professionals who need to see an increase in affordability. The average income, though, doesn't always scale up. So don't be surprised if the rents you see don't match up with local paychecks.
2. Lots Of Taxes
Along with having a ridiculous amount of toll roads, Pennsylvania also happens to have more taxes than the average state. We don't just mean tax burdens, either. We mean there are several state-specific taxes that you need to pay, such as a service tax. Each city also has its own educational tax burden, so you will need to look this up just to see how much you have to budget for each month.
The actual taxes alone can be troublesome, but that's not the only issue you might have. Even driving from place to place can be hard. Toll roads are a dime a dozen here, but they definitely don't cost a dime. (They cost more.)
3. Lost In Translation
People are often floored at how thick some of the accents can be here, and how hard it can be to understand certain dialects. In most parts of the country, you can always count on hearing people speak English or Spanish. If you get lost in a different part of Pennsylvania, you won't have that luxury. There's always a chance that people might be too hard to understand, or that you will be stuck hearing Dutch.
Even pronouncing certain city names can be a little funky when you first move in. For example, Lancaster is Lan-KISS-tur.
4. Difficult Towns
While there is a striking amount of diversity, there still are areas of Pennsylvania that are not really very safe for minorities. There are still a handful of small towns that are known unofficially " sundown towns" and are prone to hate crimes towards people of color. While some of the sundown towns have changed greatly, it's still important to keep that in mind when you are passing through certain areas.
I want to emphasize that the vast majority of towns are highly accepting of others in Pennsylvania. And if you live in a Pennsy city? You can bet it'll be incredibly accepting.
5. Nuclear Sirens
Pennsylvania is one of the few states in the Union to have not one, but multiple nuclear power facilities. This is great for the local energy sources, but there is a rather…alarming side effect of living near a nuclear facility. Every so often, you will need to tolerate nuclear siren tests. The sirens are loud, and many say that it's a little spooky.
The concern about safety with these nuclear facilities is real, for both the people working at them and the locals. While there haven't been any major accidents since Three Mile Island, many people still have a hard time feeling chill about living near nukes. (Hint: Don't watch Chernobyl.)
6. Challenging Roads
Driving in Pennsylvania can be quite the challenge, especially if you frequent the Turnpike. Some of the on-ramps are exceptionally long, eventually transitioning into a temporary lane that is used as a lengthy zipper-style merge. Then, there are others that are too short, dumping drivers almost directly into high-speed traffic.
If you find yourself on I-376, you'll notice that some on-ramps even have a stop sign at the end. Unfortunately, this is only a portion of the headache. Many drivers like to drive to the very end of the on-ramp before merging, even if someone makes space for them. Or, if there's a solid line, the other care will stay put. Regardless, the driving situation in Pennsylvania can be very unpredictable.
Do You Need to Hire Movers?
Get free, zero-commitment quotes from pro contractors near you.
---
Related Questions
Is Pennsylvania a cold state?
It depends on where you go, but for the most part, the answer is yes. Philadelphia only gets around 23 inches of snow a year, which is actually below the national average. Most other places have anywhere from 30 to 44 inches of snow per year, and also tend to face below-average temperatures during the winter and spring. The bottom line? If you love the cold, you are going to love living in Pennsy.
Is Pittsburgh a good place to live?
While Pittsburgh was often seen as a city that has a problem keeping its steel industry intact, the truth is that the city that was built on metalworking is undergoing a renaissance. Many young professionals are starting to flock to Pittsburgh in an effort to get in on the booming startup culture there.Multiple serial entrepreneurs have invested in the city in hopes of breathing fresh air into it. This has led to a very youthful culture and a rapidly-changing reputation. Pittsburgh isn't the "near-ghost town" people often believe it to be. It's doing better than ever, and there's no sign of that stopping anytime soon.
What is the best city to move to in Pennsylvania?
According to statistics as well as the current polls from residents, Harrisburg is considered to be the best place to live in Pennsylvania. Harrisburg locals get to enjoy a low cost of living, with a current household income under $35,000. It was recently ranked #51 in the top 150 best places to live in America.However, Harrisburg isn't without problems. Though the city is remarkably youthful and has an attainable comfort level for most families, the area is currently plagued with a high crime rate. Harrisburg is more dangerous than 94 percent of cities its size.

Ossiana Tepfenhart
Ossiana Tepfenhart is an expert writer, focusing on interior design and general home tips. Writing is her life, and it's what she does best. Her interests include art and real estate investments.
More by Ossiana Tepfenhart
Published March 23rd, 2021 4:47 PM