297 Views
What Are The Pros And Cons Of Living In Des Moines, Iowa?
December 19th, 2021 10:12 AM
Share
We're committed to finding, researching, and recommending the best products. We earn commissions from purchases you make using links in our articles. Learn more here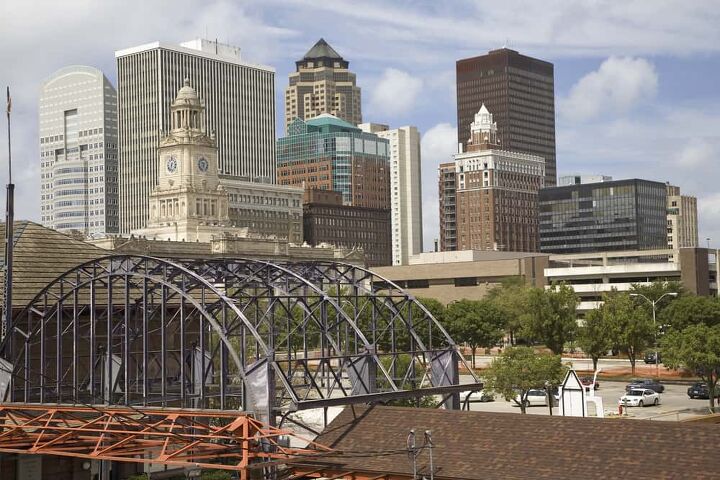 Iowa's capital city, Des Moines, is fairly overlooked. As one of the largest cities in the Midwest "flyover states," it's one of those places few people tend to think of as a moving destination. While it's not exactly New York, it still has quite a few perks and pitfalls that make it a good place to live. However, you still need to know whether it's the right town for you.
Des Moines has a very low cost of living compared to most other cities within the USA and also boasts the lowest commuting time. Affordable tax rates and outdoor amenities make it great. On the other hand, unfortunately, the school systems have low ratings and there is little public transit available.
Living in Des Moines is something that suits a specific type of person. Whether or not this is a city that will work with you depends on the stats…which we just so happen to have researched.
Do You Need to Hire Movers?
Get free, zero-commitment quotes from pro contractors near you.
The Benefits Of Living In Des Moines
Though it's not the type of city that most people immediately think of when they want to move somewhere, that doesn't mean it's a bad place to live. Des Moines has many benefits that make it a great place to live…
1. Des Moines Has Low Living Prices
Compared to most other cities, Des Moines boasts one of the lowest costs of living in any city in the United States.
For example, the home prices here are remarkably low, at a very reasonable $50,000 less than the average cost for a home nationwide. This puts the average home price at a very reasonable $140,000.
Everything from food to transportation is going to be lower here, so if you are looking for a place that has a very affordable cost of living, Des Moines is it.
| | |
| --- | --- |
| Apartment Size | Price |
| Studio | $769 |
| 1 BR | $878 |
| 2 BR/1BA | $850 |
| 2 BR/2BA | $1000 |
2. Plenty Of Jobs Available In Des Moines
It's no secret that many parts of the US struggle with employment, but this is not the case in Des Moines. This city features above-average job growth (37.5 percent expected over the next 10 years!) as well as one of the lowest unemployment rates in the country. The current unemployment rate is a scant 3.0 percent.
With that said, there's plenty of job diversity here, too.
| | |
| --- | --- |
| Industry | Percentage of Employment |
| Trade, Transportation, Utilities | 18 |
| Manufacturing | 12 |
| Healthcare | 12 |
| Teaching And Educational Services | 10 |
| Leisure And Hospitality | 8 |
3. Outdoor Living + Tons Of Nature-Oriented Activities
There are oh, so many things to do in Des Moines as an avid outdoorsman. There are amazing trails in a slew of major parks, gorgeous views of the Iowan landscape, and tons of places to go camping nearby.
If you're a fan of animals, you can check out the Des Moines Zoo or you could drive to Coffee Cats Cafe for plenty of time to spend with some adorable furry friends.
Anyone who wants city amenities but still wants to keep their tabs on mother nature will enjoy Des Moines. If you are a fan of archeology, then you are going to enjoy this area. The Palace, a 7,000-year-old site, was recently discovered within city limits.
4. Decent Arts And Nightlife
A good measuring stick for a city's happiness is seeing how much they invest in the arts. The good news here is that Des Moines has a pretty impressive arts sector, complete with both modern and historic attractions. If you're a fan of nightlife, it's worth noting that Des Moines boasts excellent concert venues.
Foodies, too, will find their little niche in Des Moines. Along with a great farmer's market, Des Moines has a fairly active restaurant scene that's still being built. You can enjoy food trucks, French cuisine, Mexican fare, as well as restaurants that have a fully vegan menu here.
5. Friendly People
If you're like me and are used to the rough, gritty attitude of New Yorkers and New Jerseyans, Des Moines might be a bit of a culture shock.
This is a city that is known for being remarkably friendly, with many people choosing to start talking to others without any real reason to. People who want that small-town charm in a big city is going to find Des Moines to be a perfect place to be.
With that said, it's also good to know that you will probably meet friends at work. Around 80,000 people go to work downtown every day, making it one of the most common ways adults meet one another. The dating scene in Des Moines is also fairly popular.
The Cons Of Living In Des Moines
While Des Moines has a lot going for it as far as being a flyover state goes, it's still not perfect. If you are worried about the pitfalls, don't worry. We're covering them too.
1. Poor Schools
In terms of education, there are no mincing words here. Des Moines has a problem. Most of Des Moines's students score a 5.7 out of 10 for college readiness, which is somewhat below average.
While the school system here is the largest in Iowa, it also happens to have a large majority of schools that score 6 or lower out of 10. Education underfunding is also a major issue, according to parents.
2. Crime Is Above Average
Crime is kind of a problem in Des Moines, but it's not out of control. Both violent and property crimes are above average in terms of frequency. It's been on the rise despite the low unemployment rates.
The crime rate is 1.5 times the national average for violent crimes. Meanwhile, the property crime rate is 61 for every 100,000 people per year, with the national average being only 32.
3. Little Public Transit
It's important to remember that Des Moines isn't exactly a high-density city, especially when you compare it to places like New York City or Washington DC. Most people here have cars, or have friends who drive them from Point A to Point B,
Public transit, as a result, is pretty limited compared to most other cities. Even getting busses can be hard. As far as subways go? There are none.
Due to the noticeable lack of public transit options, we strongly suggest buying a car and learning how to drive before you move to Des Moines.
4. The Winters
Are you a fan of warm, balmy winters with minimal snowfall? If so, then Des Moines is not for you. Winters in the area are harsh.
It's not uncommon to see the entire city almost entirely shut down because of the sheer amount of snow that they get. On average, Des Moines receives around 36.5 inches of snow per year, with the most common month for snow being February.
In terms of the temperatures, the wintery lows are what most people would call "bitter cold." Typical highs during winter months are in the 30s, while the lows can range from the high teens to the low 20s. Due to the location of Iowa, this area is also pretty prone to major winter storms.
5. Not Much Diversity
When it comes to diversity, this is a double-edged sword. On one hand, Des Moines is one of the most diverse parts of Iowa.
So many people might find this to be pretty diverse compared to other parts of the country, especially if you compare it to a place like Utah. On the other hand, if you're coming from a place like Philadelphia or Los Angeles, it will look undiverse.
The average demographics of Iowa currently clocks in at 90 percent white, which means that it's not a diverse state. We're going to let you make your conclusions.
| | |
| --- | --- |
| Racial Demographics | Percent |
| White | 75.75 |
| Black | 11.38 |
| Asian | 6.17 |
| Other/Mixed | 6.71 |
6. Health Insurance Prices
Oddly enough, the one thing that might be more expensive if you choose to live in Des Moines is healthcare. Health insurance premiums are slightly above the national average.
The national average for health insurance premiums is $374, while it remains a higher $429 for people who live in Iowa.
Though insurance is higher, it's not that bad. Since Des Moines has a relatively low cost of living in almost every other department, you don't have to worry about it eating up too much of your budget.
Do You Need to Hire Movers?
Get free, zero-commitment quotes from pro contractors near you.
---
Related Questions
Why do people move to Des Moines?
Des Moines is a great city for everybody, but according to recent studies, it's one of the greatest places for millennials.
When ranking Des Moines as the #2 city for young house buyers, one source took into account criteria such as job prospects, housing affordability, and livability.
Why you should live in Iowa?
Iowa has the highest literacy rate in the US, at 99 percent, and the highest graduation rate, at 90 percent. Iowa also consistently has the highest SAT and ACT exam scores in the country.
According to Movoto.com, Iowa is the sixth safest state to live in, with a low overall crime rate and the second-lowest murder rate.
Does Iowa have natural disasters?
Floods, severe storms, tornadoes, winter storms, landslides, and power outages are among Iowa's most prevalent natural catastrophes. Heatwaves and droughts are less dangerous dangers.
Between 1953 and 2019, Iowa saw 67 catastrophic disasters, the majority of which were floods and severe storms, according to FEMA.

Ossiana Tepfenhart
Ossiana Tepfenhart is an expert writer, focusing on interior design and general home tips. Writing is her life, and it's what she does best. Her interests include art and real estate investments.
More by Ossiana Tepfenhart
Published March 21st, 2021 8:56 AM