102 Views
What Are The Pros and Cons of Living In Wyoming?
December 14th, 2021 6:41 PM
Share
We're committed to finding, researching, and recommending the best products. We earn commissions from purchases you make using links in our articles. Learn more here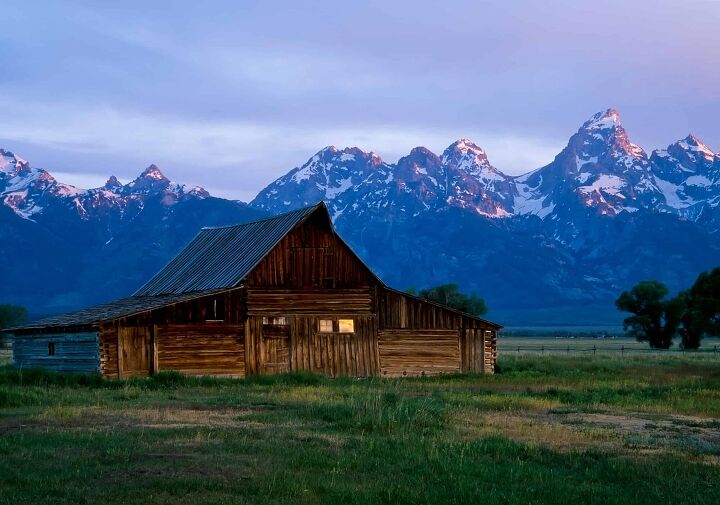 No matter where you live, you have to take the good with the bad, and Wyoming is no exception. Dubbed the Cowboy State, Wyoming holds 578,759 residents that enjoy simple living and a charming lifestyle. You won't find big cities in Wyoming, but you will find of pros and cons unique to the state.
The 0% state income tax rate is a huge benefit of living in Wyoming. Also, the 4% sales tax rate is a plus, which is considerably lower than other states. Low transportation costs, short commutes, and a virtual lack of traffic is another huge plus for Wyoming residents. Inclement weather, a lack of entertainment options, and high crime rates in some areas are some of the downsides of Wyoming.
Follow along as we take a close look at the pros and cons of living in Wyoming.
Do You Need to Hire Movers?
Get free, zero-commitment quotes from pro contractors near you.
What Are the Benefits of Living In Wyoming?
From affordability, job availability, varied weather, and the scenery, there are many benefits of living in Wyoming. The air quality in Wyoming is better than you'll find in many states in America, and there's many national parks to boot. Let's take a look at all of the things that keep Wyoming residents in the state and make it worth calling home.
1. Affordable Housing
Currently, 73.3% of Wyoming's 578,759 residents are homeowners, and the affordable prices make it that way. The median home value in the state is $140,200, and that's significantly lower than the $284,600 national average. Renting is equally affordable in Wyoming, and it averages $843 per month with prices all over the board.
| | | |
| --- | --- | --- |
| Location | Average Rent Price | Median Home Value |
| Wyoming | $843 | $140,200 |
| Cheyenne, WY | $915 | $200,200 |
| Jackson, WY | $1,427 | $655,300 |
| United States | $1,062 | $284,600 |
Some cities, like Jackson and Cheyenne, are less affordable than the state average, but there are countless options in Wyoming. For example, a city like Worland, WY has the lowest housing costs in the state with an average rent of $610 per month. You have 184 cities to choose from in Wyoming, and luckily, affordable housing can be found in all of them.
If you're a builder-owner, count yourself lucky, as building a home in Wyoming can cost $120 per square foot. The national average cost is $154 per square foot, and that $34 difference makes a huge difference in construction costs. All in all, buying, renting, and building are all affordable and excellent options in Wyoming.
2. Great Food
Wyoming is known for many things, and great food is one of the most prominent amongst them. If you enjoy western style food, then you will have no problem finding something on the menu for you. Bison burgers, prime rib, chicken fried steak, steak, and truffles can be found at many restaurants at a reasonable price.
Seafood, such as trout, or simple sports bar classics like nachos and chili are staples at many of Wyoming's eateries. Wild game food, such as elk and bison, and are quite popular in Wyoming and can help broaden your pallet. With that said, most residents aren't going to dine out every day, and groceries are a good investment.
Your food budget will hover around $300 per month if your primarily stick to groceries. Otherwise, families with multiple children can easily spend up to $500 per month on food. Whether you stock up or groceries or head to the local wild game restaurant in Wyoming, you'll have good food on your plate.
3. Low Tax Rates
Taxes bite a chunk out of your budget in most states, but that is not the case for Wyoming residents. Investment income is taxed in Wyoming, but that general income and retirement income is untouched. Sales taxes are low with an average of 4%, and a maximum of 6% in some counties.
Wyoming is also a low property tax state with a rate of 0.61% of assessed property value. The average property tax payment in Wyoming is $1,256, but it can be much lower in counties like Hot Springs. Wyoming's gasoline tax rate is above the national average by $0.05 cents, and it sits at $0.23 Per Gallon.
| | |
| --- | --- |
| Wyoming Tax Rates | Rate & Cost |
| State Income Tax | 0% |
| Property Tax | 0.61% |
| Gasoline Tax | $0.23 Per Gallon |
| Sales Tax | 4%-6% |
The combination of low tax rates and nonexistent state income tax in Wyoming makes it perfect for retirees. If you're looking to live in a low tax state where you can hold onto your cash, look no further than Wyoming.
4. Low Transportation Costs
Whether you drive to work or take public transportation, getting around town is affordable in Wyoming. Driving is a breeze for many Wyoming residents due to quick commutes and comfortable drives. Your average commuter in Wyoming only spends 17 minutes in the car, and you can easily work within your city.
Gasoline itself is relatively cheap at $2.76 per gallon, and the low gas tax doesn't add much to the bill. Of course, drivers must maintain and insure their car, the latter of which averages $1,338 each year.
Public transportation is available in Wyoming, but it is primarily limited to urban areas. Cities such as Casper and Cheyenne have public transportation for residents looking to save money. Luckily, driving costs are low enough that if your area doesn't have public transit in Wyoming, you will be fine.
5. All Four Seasons
For those that prefer four seasons living, the state of Wyoming offers just that. Living in Wyoming means you will experience some of the windiest, driest climates in the entire country. With its semi-arid climate and varying topography, it is possible to experience all four seasons every year in Wyoming.
Spring brings the seasonal rains and thunderstorms, which bring the flowers to life. Summers are generally warm and humid, with highs in the 80s. When the leaves arrive in the Fall it's a spectacular sight. You'll see beautiful colors in the state parks and along scenic highways and byways. Then, winter brings about world-class skiing and outdoor adventure opportunities thanks to the Rocky Mountains.
Despite the storms, wind, and long winters, some parts of Wyoming see between 200 and 300 days of sunshine each year!
6. Wyoming's National Parks
Do you enjoy the great outdoors? If so, then you could easily make yourself at home in Wyoming with its 6 national parks. Yellowstone National Park is a classic American destination, and one of the three states it runs through is Wyoming.
There are 12 total state parks that are just as breathtaking as the national parks in the Cowboy State. Enjoying a day at one of Wyoming's many parks is a cost effective way to enjoy the beauty around you. Besides the gorgeous and memorable parks, there are 28 different historical sites spread throughout the state that provide a different type of fun.
Cons of Living In Wyoming
Wyoming is a great state to live, but that doesn't mean that it is without some minor flaws. If the big city is where you see yourself living, then Wyoming may not be the right place for you. It's a state full of charm and character, but let's look at some of the downsides to living in Wyoming.
1. Extreme Weather
Wyoming is not as dangerous as other states that experience extreme weather, but it is a possibility each year. The good news is that there are very few fatalities or extreme property destructions due to weather in Wyoming. Severe weather in Wyoming is more of a nuisance and inconvenience than a threat, but it is still a downside.
You can expect between 30 and 50 total storm days per year in Wyoming, depending on where you live. The most severe storm days are the average 6 tornado days per year in Wyoming. Even if a tornado does not touch down, high winds and heavy rainfall generally occurs on those days.
| | |
| --- | --- |
| Wyoming Weather | Average |
| Tornadoes Per Year | 6 |
| Low Temperature | 10 Degrees Fahrenheit |
| High Temperature | 85 Degrees Fahrenheit |
| Rain | 13" |
| Snow | 55" |
Wyoming boasts all four seasons, and that means summers will be warm, and winters will be cold. Sub-freezing temperatures are common in the winter, and it rarely pushes 90 degrees Fahrenheit in the summer. Weather is not a serious concern, but extreme conditions sometimes occur and being prepared never hurts.
2. Wyoming Education Is Expensive
Public schooling is the cheapest option anywhere, but private education runs high in Wyoming. If you want to send your kids to private high school, you'll pay close to Wyoming's $15,417 per year average. Private elementary school, however, is much cheaper in Wyoming and averages $3,644 per year.
Between high school and elementary school, private education will cost you $8,689 in yearly tuition. Only 27% of Wyoming residents have earned a bachelor's degree or beyond, and college options are somewhat limited living in Wyoming. College tuition is affordable for locals, but non-residents spend up to $13,000 more per year at the University of Wyoming.
3. No Professional Sports
Do you enjoy professional sports? Many Wyoming residents do, but you'll have to drive to nearby states like Colorado to catch it live. Unfortunately, Wyoming is such a slimly populated state that it's not enough to draw professional teams.
You could make the nearly 5-hour drive from Wyoming to Denver and see the Broncos play. Besides that, you'll have to enjoy the many minor league and college sports teams in Wyoming.
4. Crime Rates
Crime is not widespread in Wyoming, but it does occur throughout the state. The most dangerous cities in Wyoming are Cheyenne, Riverton, Casper, and Thermopolis. Most of the crime in Wyoming is relegated to the aforementioned states.
| | | | |
| --- | --- | --- | --- |
| Wyoming Cities | Violent Crime Rate | Property Crime Rate | Total Crimes |
| Riverton | 4 Per 1,000 | 22 Per 1,000 | 27 Per 1,000 |
| Casper | 2 Per 1,000 | 28 Per 1,000 | 30 Per 1,000 |
| Cheyenne | 3 Per 1,000 | 40 Per 1,000 | 43 Per 1,000 |
| Thermopolis | 4 Per 1,000 | 22 Per 1,000 | 27 Per 1,000 |
Throughout the state, only 1 in 471 residents suffer a violent crime. Sadly, property crime is much more common and affects 1 out of 56 residents in Wyoming. Theft is the most common crime throughout the state, and safety precautions are always worth taking for Wyoming residents.
5. No Large Cities
Cheyenne, the capital city, is the largest city in Wyoming and even it only has approximately 64,000 residents. There are only four other cities in the state with a population higher than 20,000 people: Rock Springs, Gillette, Laramie, and Casper. Whether you're used to more urban environments with tons of big-city amenities or you simply prefer that lifestyle, you may be disappointed with what Wyoming has to offer.
While there are still tons of activities to keep yourself busy, they all center around being more rural in nature.
6. Lack of Diversity
With such a low population, Wyoming simply does not see a lot of migration into the state from other geographies. So, unfortunately, this has resulted in less overall diversity that you would find pretty much anywhere else in the United States. Most Wyomingites are white and of European descent.
In fact, 1 in 4 people in Wyoming hail from German ancestry, while English and Irish ancestry accounts for 16% and 13% respectively. If you're looking to settle somewhere that has a melting pot of different cultures and ethnicities, Wyoming is not the place for you.
Do You Need to Hire Movers?
Get free, zero-commitment quotes from pro contractors near you.
What Did We Learn?
Wyoming boasts both pros and cons, but it is ultimately a state worth living in. The cost of living is mostly low, and that is largely due to the low tax rates. For some residents, the biggest draw to Wyoming is the lack of state income tax, as well as the average 4% sales tax rate.
Housing costs are also low, with the median home value at $140,200, and rent averages $843 per month. There are some cons as well, such as severe weather and intense low temperatures during the winter. Much of the entertainment in Wyoming comes from outdoor activities, and the lack of big cities can be dull for some people.
All in all, Wyoming is affordable, comfortable, and full of free entertainment opportunities. The 6 national parks and 12 state parks are a mark of the simple beauties of the state. Wyoming's pros far outweigh the cons.

Nick Durante
Nick Durante is a professional writer with a primary focus on home improvement. When he is not writing about home improvement or taking on projects around the house, he likes to read and create art. He is always looking towards the newest trends in home improvement.
More by Nick Durante
Published December 11th, 2020 2:25 PM