59 Views
Cost Of Living In Pittsburgh (Taxes, Housing & More)
August 21st, 2021 7:01 PM
Share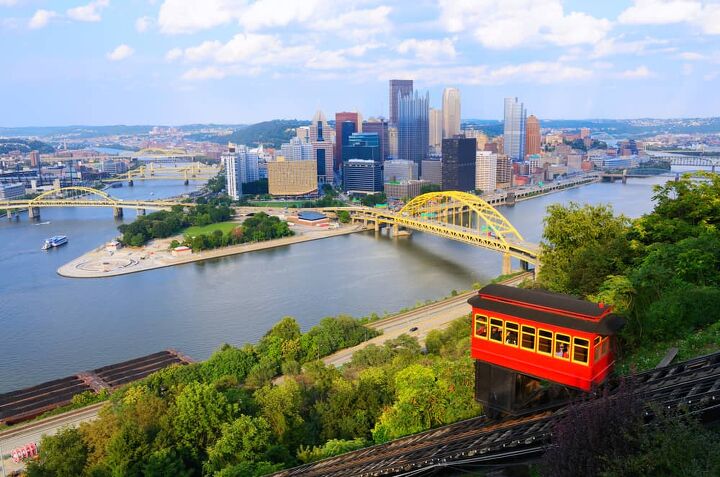 Pennsylvania has 56 cities, and many of them end with the suffix "burgh". The most notable of these cities in Pennsylvania is an old steel town by the name of Pittsburgh. Between the history, cultural significance, professional sports, and overall energy, Pittsburgh is a great place to live.
The cost of living in Pittsburgh is low, and the median home value is $116,300. You can expect to spend $171 per month on basic utilities and $922 per month as a renter in Pittsburgh. Property taxes can cost $3,492 per year, and you need to earn $78,769 each year as a homeowner with children in Pittsburgh.
Pittsburgh is mostly tax-friendly, and you only pay 3.07% in income taxes, so you can keep your cash. Living in Pittsburgh is a luxury, and luckily, it is one that almost anyone can afford. Let's take a look at how much it costs to live in Pittsburgh, Pennsylvania.
Do You Need to Hire Movers?
Get free, zero-commitment quotes from pro contractors near you.
Housing Prices Pittsburgh
Pittsburgh is a classic American city, and it's a great one to call home for over 300,000 people. Housing costs are quite low in this busy town, and the median home value is $116,300. Both median home values and monthly ownership costs are below the national average in Pittsburgh, and it's an affordable city.
| | | |
| --- | --- | --- |
| Location | Median Home Value | Homeownership Rate |
| Pittsburgh | $116,300 | 47.8% |
| Pennsylvania | $174,100 | 69.0% |
| United States | $284,600 | 67.9% |
Despite low housing costs in Pittsburgh, most residents are not owners and instead choose to rent. Only 47.8% of Pittsburgh residents own their homes, and they spend an average of $1,161 per month in ownership costs. Pennsylvania's state average ownership costs are $1,474 per month, and home values are nearly $60,000 more than Pittsburgh.
Before you get to your mortgage payments, you will spend between $450 and $500 per month in bills. Mortgage payments generally total $800-$1,000 per month, but it varies based on your plan. You can build your own home in Pittsburgh, Pennsylvania for between $100 and $200 per square foot, depending on materials.
Pittsburgh Property Taxes
Pittsburgh is a part of Allegheny County, Pennsylvania, and the property tax rate is 1.92%. That is higher than the national average effective property tax rate of 1.08%, but it is still fairly low. Households in Pittsburgh and all of Allegheny County spend an average of $3,492 per year in property taxes.
Compared to the rest of Pennsylvania, Pittsburgh's property tax rate is actually above the state average. Pennsylvania carries an average effective property tax rate of 1.58%, and tax rates vary from county to county. Allegheny County's property tax rate may seem high, but compared to other Pennsylvania counties, it is not that high.
| | | |
| --- | --- | --- |
| Pennsylvania Counties | Property Tax Rate | Average Property Tax Payment |
| Allegheny County | 1.92% | $3,492 |
| Cameron | 1.79% | $1,324 |
| Dauphin | 1.64% | $2,682 |
| Jefferson | 1.36% | $1,318 |
| Lackawanna | 1.60% | $2,386 |
| Delaware | 2.09% | $4,915 |
Senior citizens can qualify for property tax exemptions if they are over 60 years of age. Disabled Pittsburgh, PA residents are also eligible for property tax exemptions between the ages of 18 and 60.
Pittsburgh Rent Prices
Renting an apartment in Pittsburgh is an affordable alternative to the regular costs of owning a home in the city. Your average Pittsburgh resident spends $922 per month on rent, and renters make up the majority of the city's residents. How much you spend on your apartment rental in Pittsburgh, PA is mostly based on floor plans and the number of bedrooms.
| | |
| --- | --- |
| Pittsburgh PA Apartments | Average Rent Price |
| 1 Bedroom | $1,100 |
| 2 Bedroom | $1,320 |
| 3 Bedroom | $1,600 |
| 4 Bedroom | $2,000+ |
Rent prices vary widely in Pittsburgh, and you can find apartments for as little as $800 per month. Over 50% of Pittsburgh's residents are renters, and the wide availability of apartments makes it possible for any resident. The closer that your apartment is in relation to the city's center, the higher that your monthly rent will be, on average.
For example, a one-bedroom apartment in central Pittsburgh could cost up to $1,275, but the same floorplan outside of the city center only costs $900. There is also a big difference in average rent costs between neighborhoods in Pittsburgh, and some are quite expensive.
| | |
| --- | --- |
| Pittsburgh Neighborhoods | Average Rent Price |
| Bon Air | $860 Per Month |
| Perry North | $740 Per Month |
| Carrick | $650 Per Month |
| Homewood North | $915 Per Month |
| Southside Slopes | $1,680 Per Month |
Average Cost of Utilities In Pittsburgh PA
The average renter in Pittsburgh spends $171 on basic utilities like gas, electric, and water bills. However, for homeowners, utility bills can climb to $400 or more with heavy energy consumption and multiple plumbing fixtures. Apartments with two or more bedrooms and multiple bathrooms can cost $200 or more per month in utilities in Pittsburgh.
Electrical bills are lower in Pittsburgh than the Pennsylvania state average. You are charged a rate of 11.44 cents per kilowatt-hour for your electricity, and that's below the national average. Cable plans are available in Pittsburgh for between $40 and $125 per month, depending on the provider that you pick.
Basic internet plans start at $20 per month in Pittsburgh, but high-speed plans generally start at $50 each month. You could spend as much as $75 per month on trash collection services in Pittsburgh, Pennsylvania as a homeowner. Renters may be charged less as trash pickup is often included with basic utilities, depending on your rental agreement.
Pittsburgh, PA Taxes
Pennsylvania is a low tax state, and one of its crown jewel cities, Pittsburgh, is no exception. Tax rates are important to know no matter where you live, and luckily, Pittsburgh keeps the costs low. Let's take a look at each of Pittsburgh's tax rates and see how much it will cost you on average.
Pennsylvania State Income Tax
Pittsburgh residents are subject to Pennsylvania's 3.07% state income tax, and that is quite low compared to other states. That state income tax rate doesn't apply to retirement income, and that means Pittsburgh is a great place to retire. Only one other east coast state provides exemptions on pensions, so count yourself lucky if you retire in Pittsburgh, Pennsylvania.
There are inheritance and estate taxes that apply to executors and recipients of inheritance money and property. You will pay a 4.5% tax on inheritance for familial descendants, and transfers between siblings carry a 12% tax.
Pittsburgh, PA Sales Tax
The combined sales tax rate in Pittsburgh, Pennsylvania is 7%, and that applies to most purchases. Goods such as alcohol and tobacco and necessities such as gasoline carry their own tax rates. Gasoline tax is quite high in Pittsburgh, and you will spend $0.58 for every gallon at the pump.
| | |
| --- | --- |
| Pittsburgh Tax Rates | Rates & Cost |
| Property Tax | 1.92% |
| State Income Tax | 3.07% |
| Inheritance Tax | 4.5% |
| Sales Tax | 7% |
| Liquor Tax | 18% |
| Tobacco Tax | $2.60 Per Pack |
| Gasoline Tax | $0.58 Per Gallon |
Pennsylvania's sales tax rate is 6%, but Allegheny County and Pittsburgh impose an extra 1% for local sale tax. Interestingly enough, clothing is generally exempt from the state and local sales tax in Pennsylvania. Non-ready to eat food items are also often exempt from sales tax, and that saves you money.
Cost of Education In Pittsburgh
The average cost of sending your kids to private school in Pittsburgh, PA is $9,579 per year for elementary school. Private high school tuition is much more expensive, and it costs an average of $15,463 per year in Pittsburgh. The most cost-effective form of education in Pittsburgh, and the rest of the country, is public schooling.
There are also several options for college education in Pittsburgh. One of the most popular colleges is the University of Pittsburgh, and in-state residents only pay $19,718 per year. Compared to the $33,746 per year that non-residents pay for the same education, that is a steal.
| | |
| --- | --- |
| Pittsburgh Education | Average Tuition Cost |
| Private Elementary School | $9,579 |
| Private High School | $15,463 |
| University of Pittsburgh | $19,718 (In-State) $33,746 (Out of State) |
| Carnegie Mellon University | $57,119 |
| Duquesne University | $39,992 |
Other prestigious colleges in Pittsburgh include Duquesne University and Carnegie Mellon University, but they are fairly expensive. Duquesne University costs $39,992 per year, and there is no discounted tuition rate for state residents. You can also attend the world-famous Carnegie Mellon University, but at the high cost of $57,119 per year for tuition.
Pittsburgh Transportation
Pittsburgh is a commuting town, if ever there was one, and the average commute is 24 minutes. Over 62% of Pittsburgh residents are in the workforce, and that means roads and buses are full of commuters. Whether you take advantage of public transit or drive your own car to work, transportation costs add up.
Public Transportation Pittsburgh
Public transportation through Port Authority in Pittsburgh is an everyday part of life for much of the city's workforce. The cost of public transit in Pittsburgh is higher than in other major cities, and daily bus passes cost $7. Weekly bus passes are a better deal for regular commuters, and they cost between $12.50 and $25 per person.
If you book up your bus passes for a full year in Pittsburgh, it can cost you $1,072. Otherwise, you could spend between $48 and $97 for one-month passes that grant you unlimited transit in the city. If you want to save time, you could invest in a ConnecTix card that cost $25 for 10 trips.
| | |
| --- | --- |
| Pittsburgh Public Transportation | Average Price |
| Bus Day Fare | $7 |
| Bus Week Pass | $12.50-$25 |
| Monthly Bus Pass | $48-$97 |
| ConnecTix Card | $2.50 (1 Trip) $7 (Day Pass) $25 (10 Trips) |
| Light Rail Single Ride | $2.75 |
Pittsburgh also has a light rail system set up, and for some, it is more convenient than the bus. When you pay cash, single light rail rides only cost $2.75 per person. You could also catch a train from Monroeville, Pennsylvania to Pittsburgh for only $8.25, and that is the best deal.
Driving Costs In Pittsburgh
Right now, the average cost of gasoline in Pittsburgh is $2.23 per gallon, and that is $0.12 above the national average. However, you must not forget that there is a $0.58 per gallon gasoline tax in Pittsburgh, and it adds up. For example, if you purchase 10 gallons of gasoline, it will cost you $28.10, and that's only half a tank for many cars.
If you drive each day in Pittsburgh, your total gasoline consumption would cost you as much as $1,462 per year. You could save over $400 per year by choosing to do a yearly unlimited bus pass in Pittsburgh. Luckily, car insurance premiums are generally inexpensive in Pittsburgh, but personal driving history makes a difference.
The two cheapest car insurance options in Pittsburgh are USAA and Geico, but there are many choices. Your average Pittsburgh resident spends $1,486 per year on car insurance, and the national average is $1,548. Pittsburgh residents with Geico coverage pay $840 per year, on average, and Progressive carriers pay $1,974 per year.
Pittsburgh Entertainment Cost
Pittsburgh is a proud sports town, and residents rally around the Pittsburgh Steelers. Tickets to a Steelers game cost an average of $114 per ticket, but the cheapest option available is $50. If baseball is more your thing, you can support the Pittsburgh Pirates and buy tickets for $35, on average.
You can enjoy educational fun in Pittsburgh at the Carnegie Museum of Natural History for $11.95-$19.95 per person. The Andy Warhol Museum is one of the most fun and unique things to do in Pittsburgh. You can purchase tickets to the museum for $10-$20, and experience one of a kind art that you won't forget.
| | |
| --- | --- |
| Pittsburgh Entertainment | Average Cost |
| Pittsburgh Steelers Ticket | $114 (Average) $50 (Low) |
| Pittsburgh Pirates Ticket | $35 (Average) $14 (Low) |
| Carnegie Museum of Natural History | $11.95 (Students) $19.95 (Adults) |
| Andy Warhol Museum | $10 (Student) $20 (Adult) |
| Movie Theater Ticket | $8-$12 |
| Gym Membership | $10-$40 Per Month |
Free fun is a great option in Pittsburgh, and solo walking tours through the historical streets are a blast. If you are in the mood for a memorable view and fun time, check out The Allegheny Observatory. While not entirely free if you buy things, the farmer's markets in Pittsburgh are fun to explore and peruse.
---
Related Questions
Is Pittsburgh safe?
Not only is Pittsburgh safe, but it is one of the safest cities in America right now. Pittsburgh is ranked right behind Grand Rapids, Michigan on the list of safest American cities, and it's also affordable. Violent crime is rare and only affects 1 in 169 Pittsburgh residents, and property crime affects 1 in 32.
What does food cost in Pittsburgh?
Food costs are low in Pittsburgh, and you can get by on $320 per month as a single resident. You could easily spend much less, especially if you stick mostly to buying groceries. All essential groceries are on par with national averages, and food often costs $10 or less per day.
Is Pittsburgh a good place to live?
Yes, Pittsburgh is a good place to live, and it is one of the best cities in Pennsylvania. Pittsburgh is over 20% less expensive than other east coast cities, such as New York, and it is also safer. There are plenty of grocery stores, restaurants, parks, and Pittsburgh has great nightlife and bars.
Where should I live in Pittsburgh?
The best places to live in Pittsburgh are Squirrel Hill North, Downtown, Swisshelm Park, Shadyside, and Point Breeze. Areas that are worth avoiding in Pittsburgh due to high crime rates include The Hill District, Homewood, and Brushton. You can comfortably live in most neighborhoods in Pittsburgh with a yearly income of $78,769 per year.
What type of climate does Pittsburgh have?
It is warm and sometimes muggy in the spring and summer, and it gets cold and snowy in the winter. Below freezing temperatures are common during the winter season, and it can get down to 7 degrees Fahrenheit. The average high temperature in the peak of the summer season is 91 degrees Fahrenheit.
Do You Need to Hire Movers?
Get free, zero-commitment quotes from pro contractors near you.
Summing It Up
Pittsburgh has a relatively inexpensive cost of living, and that's especially compared to other east coast cities. There are more renters than homeowners in Pittsburgh, and they pay an average of $922 per month. Otherwise, the median home value in Pittsburgh is $116,300, and homeowners spend an average of $1,161 each month on ownership costs.
Property taxes can be quite expensive in Pittsburgh, and the typical resident spends $3,492 per year. The property tax rate is 1.92%, and that is more than the 1.08% national average tax rate in America. You can comfortably own a home and pay the bills with an income of $78,769 each year.
Public transportation is not as cheap an alternative to driving as in other cities, a monthly bus fares cost $97. Driving can cost up to $1,462 per year due to high gasoline costs, and the $0.58 per gallon tax rate. Luckily, living in Pittsburgh has benefits that far outweigh the cons, and the cost of living is not unreasonable.
Related Articles

Nick Durante
Nick Durante is a professional writer with a primary focus on home improvement. When he is not writing about home improvement or taking on projects around the house, he likes to read and create art. He is always looking towards the newest trends in home improvement.
More by Nick Durante
Published January 1st, 2021 6:00 PM