444 Views
Mudroom Bench Dimensions and Guidelines (with Photos)
August 23rd, 2022 8:55 AM
Share
We're committed to finding, researching, and recommending the best products. We earn commissions from purchases you make using links in our articles. Learn more here
Mudrooms are a great addition to any house, and homeowners looking to add value to their property should definitely consider adding this room to their lot. However, they are only as good as the space that you allow for your mudroom. Follow along as we explore the ideal dimensions and guidelines for a mudroom.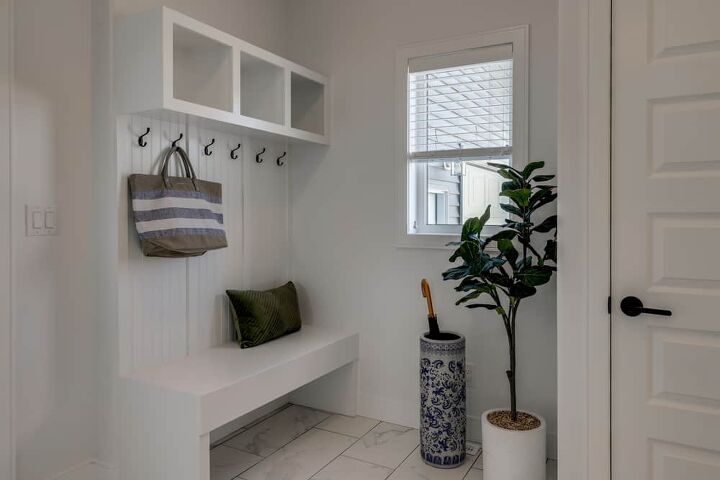 If you're like most people, you unload quite a bit of stuff when you return home from work or school. You probably drop your wallet or purse, plunk down keys, take off shoes, and have a handful of mail. Plus, during colder weather, you likely can add a coat and other winter accessories to this hodgepodge of items.
Mudroom bench dimensions are on average, 18 inches tall and they range between 35 to 48 inches wide, and 14 to 17 inches deep. The size of your mudroom bench depends on how you want to utilize the space, as well as exactly how big your mudroom is. Is it a room, or a closet?
Mudroom benches help create a command center of sorts for coming and going. Additionally, they can help keep families organized with specific areas for backpacks, sports equipment, homework, and other essential items. The size of your mudroom bench will depend highly on your available space and how many people will use it.
Do You Need Handyman Services?
Get free, zero-commitment quotes from pro contractors near you.
A Designated Mudroom
If you have a separate mudroom as an entryway, then you have lots of options. These hardworking stopping points can be designed with storage and efficiency in mind. You can create a cubby space for each member of the household, a family calendar, and use multiple benches.
For example, you can place two 3-foot benches together for one extended seating area or position benches on opposite walls. Many mudroom benches feature storage, specifically for shoes. Although the average bench height is 18-inches, some storage benches can be slightly taller.
A shoe-storage bench, for example, can stand closer to 19 or 20 inches tall. These extra inches allow you to fit an ample amount of items inside it but still sit comfortably.
Typically, a mudroom bench is about 14 to 17 inches deep. You can sit on it without feeling like you're going to fall. You can also find benches in various widths, but between 3 and 4 feet is the most common.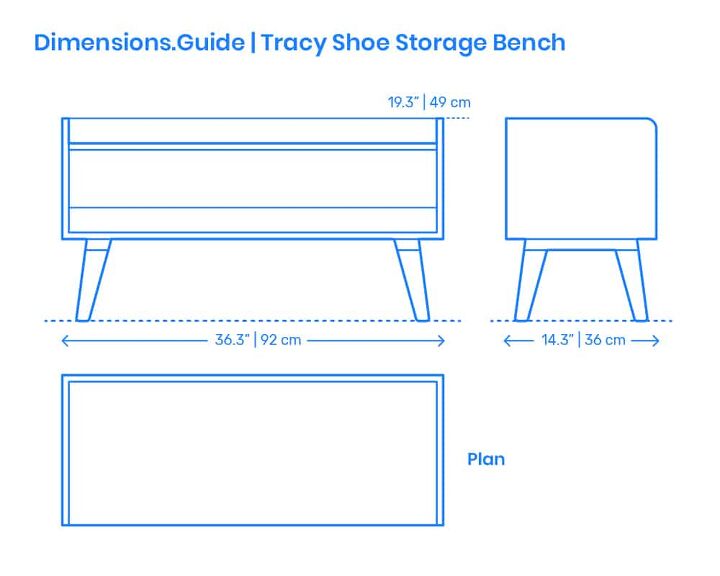 Double-Duty Mudroom Benches
You can position a mudroom bench along a wall and hang various shelves or hooks above it. However, you can also go the all-in-one route with a hall tree. These versatile units provide storage, hanging space, and seating in one piece of furniture.
You can use them in a designated mudroom or create an entry space where there is none.
A hall tree is typically similar in size to a mudroom bench, with the addition of a tall back.
This back piece usually has hooks for hanging coats, hats, and other odds and ends. This extra back normally stands about 5.5 to 6.5-feet tall.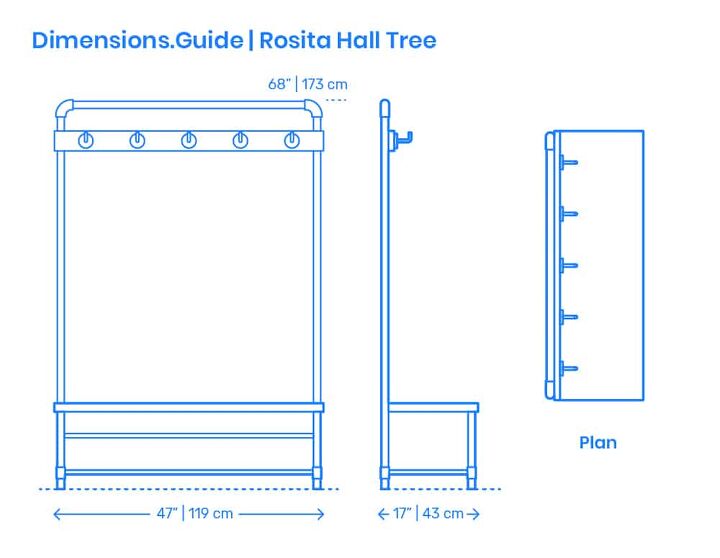 Many hall trees feature benches that contain deep built-in storage, making them perfect for a mudroom. Shoes can go into the bench, and coats and backpacks can go on the hooks. Since it's an all-in-one piece, the hooks are typically positioned at a good height to not interfere with people sitting.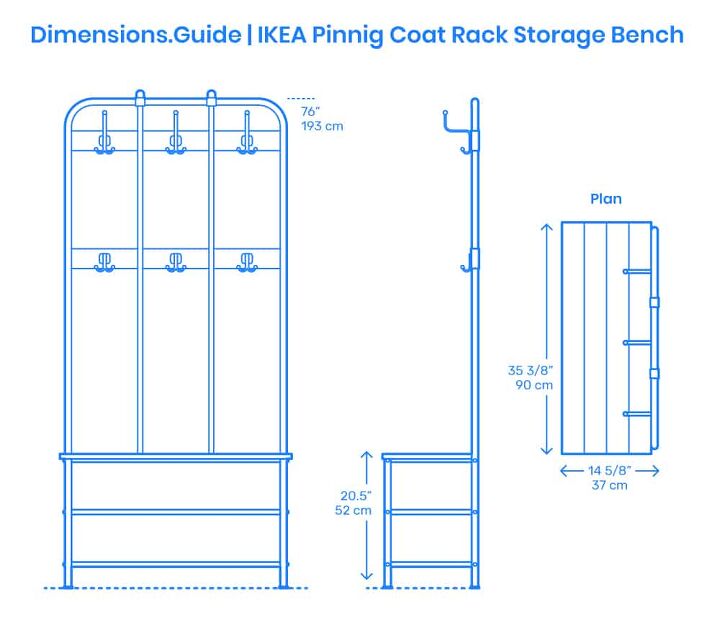 Using Mudroom Benches to Create a Mudroom Space
It's very likely that you don't have an actual mudroom in your home. However, you can create a space that acts as a mudroom with just a few key pieces. The easiest way to create the illusion of a mudroom is by using a bench.
Keep in mind; a mudroom bench can really be any size you need it to be. So, start by measuring the entryway area and find a bench that fits without overpowering the space.
You can opt for a bench with built-in storage in the seat, but that is open on the bottom. This space between the bench bottom and floor allows you to place larger baskets for bulky items like backpacks. Or you can place a roll-out shoe rack or tray for muddy shoes and boots.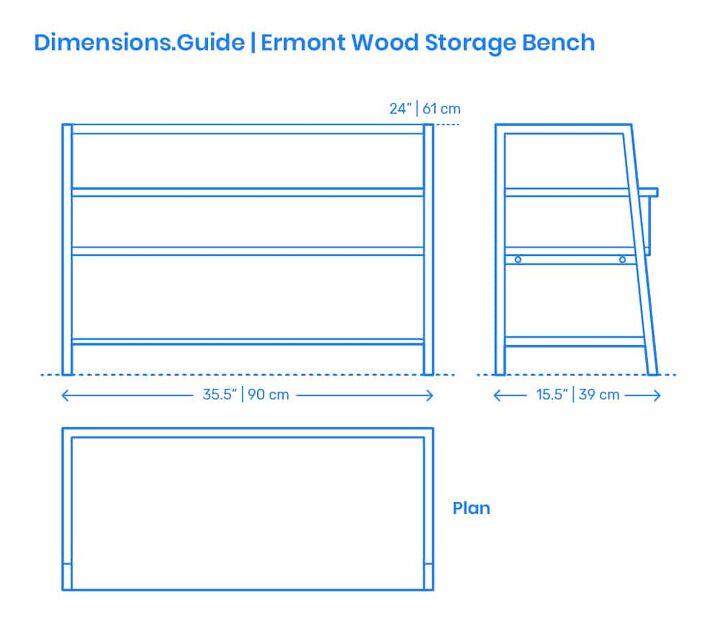 If the space is small and you don't want to overwhelm it with bulky furniture, opt for an open bench. The slim lines might not offer built-in storage, but they create a sense of airiness. Plus, you can still hang hooks and a shelf above the bench and place a shoe rack beneath it.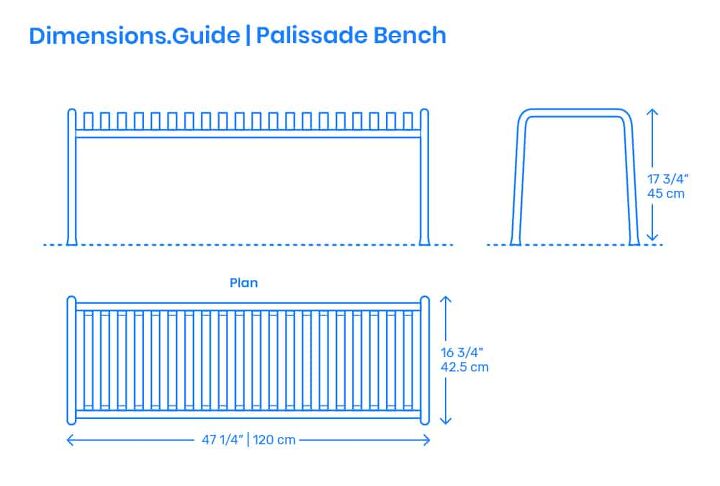 Extra Considerations When Placing a Mudroom Bench
In addition to the actual bench size, it's vital to consider the clearance around it. Leave ample space in front of the bench for sitting and moving around. Plus, keep in mind you're likely storing items in or near the bench.
Clearance in Front of the Bench
Ensure you have enough space to access your items comfortably and put them away. A minimum of 20 inches is best in front of the mudroom bench. This distance accounts for someone who is sitting and putting on or taking off shoes.
A minimum of 20 inches is also workable for someone bending over to get something out of the bench. If you can leave even more space, the better, especially for things like taking off and putting on coats.
Clearance Below the Bench
In many cases, you can use the area beneath mudroom benches for storage, especially shoes. The average sizes for a boot tray are 20 x 15 inches, 34 x 16, or 30 x 16. The dimensions can vary, but basically, they are usually narrow enough to fit under a bench.
However, before purchasing a boot tray, make sure to measure the depth from the wall to the front of your bench. This way, you can ensure you can hide away the entire tray. Remember to account for any baseboard molding or trim.
It's also important to consider how much room is available from the floor to the bottom of the bench seat. If you have more storage in the seat, you'll have less space beneath for your boots and shoes.
A typical tennis shoe is about 5 inches tall, a work boot about 8 inches tall, and cowboy boots about 12 inches tall. As silly as it may seem, before you pick out your mudroom bench, measure your shoes.
Clearance Above the Bench
You might often hang a shelf or series of hooks above your mudroom bench for keys, coats, or purses. This is a great way to increase your storage space and create an efficient entryway.
When the average person sits, from the seat to the top of the head is about 3 feet. Sitting in front of a soft, hanging coat is no big deal. However, you and your guests probably don't want car keys hitting you in the head.
Therefore, when hanging a shelf or hooks above your bench, shoot for a space of 4 feet. So, from the top of the seat to the bottom of the shelf or hook, leave 4 feet of space. Four feet is also ample hanging space for short and three-quarter length coats.
If you plan to hang long coats in this area, position a couple of hooks slightly higher. Alternatively, you can hang a couple of hooks on the wall next to the bench. The idea is to keep coats from puddling on the bench and taking up the seating area.
Think About the Big Picture
In any space, and with any design, it's vital to consider what the space will be used for when planning your layout. Therefore, remember that the dimensions of the bench are only part of the puzzle.
Your bench won't do you much good if it can't accommodate your items. Therefore, always factor in everything you want to keep in, under, and near your mudroom bench.
Do You Need Handyman Services?
Get free, zero-commitment quotes from pro contractors near you.
---
Related Questions
Can I use a mudroom bench with a hall closet to create a mudroom effect?
If you have a hall closet or coat closet near your entryway, you can certainly convert it to a mini-mudroom. Remove the closet door, patch up any holes in the trim and give it a fresh coat of paint. Depending on the size of the closet, likely three to four feet, place a bench inside. You can utilize the same clothing rod that is already in the closet or remove it and hang hooks.  You can also keep existing shelving or replace it with something that works better for your needs. The important thing is to keep the same clearance dimensions in mind that were discussed above. You can slide a shoe tray under the bench; just remember to account for the door frame. You want to ensure you get a tray the proper width that allows you to slide it in and out easily.
How big is a typical mudroom?
A designated mudroom is usually roughly 6 x 6-feet or 7 x 9 feet. However, mudrooms can vary from small to extra-large, depending on your home. You can really carve out space for a mudroom anywhere. The main factor is for it to be near an entryway so you can create a drop zone that makes sense. Whether your mudroom is a simple bench or a full-blown room, you can make it work. Just remember to consider your lifestyle and the things you have with you when you come and go from home. These bits of info, along with the space considerations in this article, can help you create a functional mudroom space. 
Related Guides

Stacy Randall
Stacy Randall is a wife, mother, and freelance writer from NOLA that has always had a love for DIY projects, home organization, and making spaces beautiful. Together with her husband, she has been spending the last several years lovingly renovating her grandparent's former home, making it their own and learning a lot about life along the way.
More by Stacy Randall
Published October 23rd, 2020 12:42 PM