41 Views
How To Match A Backsplash To A Countertop
November 10th, 2022 6:32 PM
Share
We're committed to finding, researching, and recommending the best products. We earn commissions from purchases you make using links in our articles. Learn more here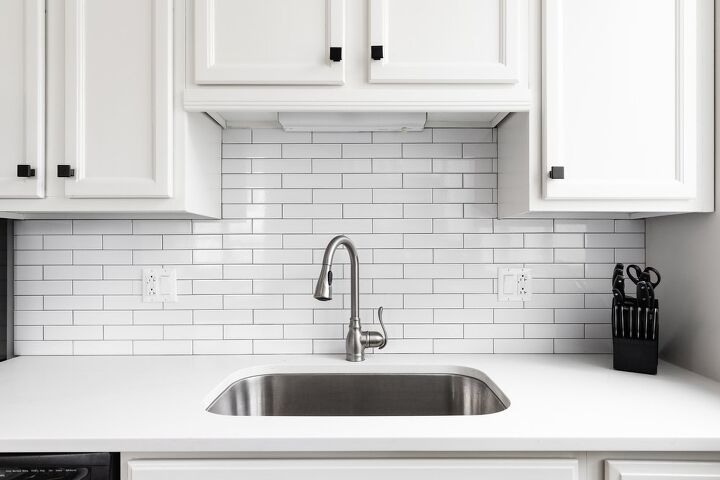 Designing the perfect kitchen involves considering many elements. From light fixtures to appliances and cabinets to countertops, there are all sorts of decisions to make in order to have a balanced cohesive kitchen design. One major kitchen design decision you will have to make is what type of countertops and backsplash you want. As you make this decision you need to find the best backsplash to match your countertops.
When matching your backsplash to your countertops you need to consider the color, sheen, design and movement of the materials. One way to match the backsplash to the countertops is to use the same slab of material for both the countertops and backsplash. You can also work to match colors and textures closely to your backsplash and countertops. If you have busy countertops, consider balancing them with a subtle backsplash.
When it comes to matching your countertops with a backsplash, there are many directions you can take. Just as there are many ways to pair a countertop and backsplash, there are also many factors that you need to think about. Color is not the only aspect of the two kitchen elements that should complement each other. You also need to think about patterns, sheen, and the movement of the materials. As you start to look into the perfect backsplash and countertop pairing, you first need to ask yourself a few questions to ensure you make the best decision.
Questions You Should Answer Before Choosing Backsplash
How Often Do You Use Your Kitchen?
One of the first questions you need to ask yourself as you begin shopping for a backsplash and countertop combination is how often you plan to use the kitchen. Some countertops and backsplashes look absolutely stunning, but are not as practical. They may be difficult to clean, or not as functional for those who cook all the time.
Alternatively, there are some backsplashes and countertops that may look a bit lackluster, but are highly functional. They might be easy to clean, scratch and stain resistant and resistant to wear and tear. Know your priorities, and determine whether function or fashion is the priority. Then find the perfect balance.
What Is Your Budget?
Perhaps the most important question you need to ask yourself is your budget. The larger your budget, the more options and matching opportunities you have when picking out your backsplash and countertops. Most professionals recommend spending the majority of your budget on the countertops. That is because they are a functional space, and an opportunity to make a statement with their large surface areas.
Once you determine that budget, you then have the remaining budget to select your backsplash. This number will determine what materials will be available to you, and whether or not you can afford the help of a contractor, or if you will need to DIY the project.
What Is Your Aesthetic Goal?
If you have a general idea of what you want your kitchen to look like it will save you a lot of time and energy. While it is a good idea to keep options open, you can at least narrow down what kind of "vibe" you are going after. Will you opt for earth tones, minimalism, or bold colors and bright sheen? Getting your head around the general design aesthetic will help point you in the right direction faster.
How Much Space Will The Backsplash Occupy?
You also need to determine exactly how much space your backsplash will occupy. After all, a backsplash is not mandatory. Therefore it can be as small or grand as you desire. Knowing exactly how much space your backsplash will occupy will help you determine several things.
For one, it will help you determine how much the project will cost. Additionally, it will help you know what materials are best suited for the space. Lastly, the amount of space the backsplash will occupy might affect the materials you choose. If you plan to make your backsplash grand, it will make a more bold impact. Therefore you might want to tone down the hues and glass, so it does not appear overwhelming.
How Much Maintenance And Upkeep Are You Willing To Do?
Different countertops and backsplashes require different levels of care and maintenance. You should know what is most important to you. Also, consider how much time you are willing to dedicate to countertop and backsplash upkeep. If you are busy and don't want to worry about polishing natural stone, you may want to opt for materials that are resilient and require little care or attention.
Which Element Do You Want To Stand Out (Or Hide)?
One last question to ponder is which element you want to emphasize, or which element you might want to hide. If, for example, you have countertops that are laminate and a bit bland and lackluster, a bright and elegant backsplash and really elevate the room. If, however, you have marble countertops that are the regal highlight of the kitchen, you may want to choose a very subtle backsplash, to further highlight the countertops.
Five Popular Ways To Match Backsplash To Countertop
1. Choose One Uniform Slab For Countertop And Backsplash
One popular and simple way to match your countertops and backsplash is to use the same material for both. This method can be done with many materials. Perhaps the most popular and eye-popping material to use is marble. You can purchase one large slab of marble, and have it cut precisely to fit your countertops and then face upwards to create a seamless extension of the marble to form the backsplash.
This looks great as it draws in the eye, and it matches perfectly, sometimes even matching the grain lines and movement perfectly. You can also use this method if you have a quartz, other stone, or even tile countertop. The idea here is that the backsplash is simply an extension of the countertop. If you opt for this approach, just make sure you are in love with the countertops, as by extending them into the backsplash this will no doubt be the main design element of the kitchen.
2. Choose Complementary Colors And Patterns
You do not need to use the exact same material in order to match your backsplash and countertops. In fact, you can use completely different materials, as long as they match and complement each other.
The goal with this method is to make sure you not only match the colors, but also the sheen and the movement. So, if you have a white marble countertop with black veins, you may want to opt for a white backsplash using tile with white grout. This way you have white throughout, and by using white grout, the tile will not compete with the movement of the marble veining.
You don't want to choose colors that will clash or compete with each other. The same goes for competing and clashing designs. When you combine clashing colors and designs it can be disorienting to the eye and look awkward and out of place.
3. Match Busy Countertops With Subtle Backsplash (Or Vice Versa)
If you have busy and bold countertops, you might wonder how on Earth you will find a backsplash to match them. The good news is, just because your countertops are busy does not mean your backsplash needs to be the same busy bold pattern. In fact, the opposite is almost always true.
If you have busy countertops, you can opt for a subtle and simple backsplash. If, for example, you have glossy granite countertops, opt for a neutral colored subway tile backsplash. This way you have glossy tiles that match the glossy granite, but the subtle earth toned (or white) tiles don't compete with the busy granite. In fact, having a simple backsplash allows your busy countertops to pop.
The opposite can also be true. If you have very simple countertops, consider opting for a busy and exciting backsplash. This is a great way to add pops of color, texture and design into an otherwise bland kitchen.
4. Opt For Simplicity And Functionality
One option that works great for the home chef is to highlight simplicity and functionality when matching the countertop and backsplash. A large working countertop can pair with a water-resistant and durable backsplash.
The good news is you can take this functional kitchen concept in all sorts of directions. From polished concrete, to stainless steel, to durable tile, there are all sorts of backsplash and countertops that stand the test of time. The best way to match functional countertops and backsplashes is to opt for simple clean colors. Think white tile or polished gray cement backsplash with a quartz countertop and stainless steel appliances.
When opting for functionality, opt for quality materials and simple clean color palettes, or even a pop of color (as long as it's durable and easy to clean).
5. Make The Backsplash Or Countertop The Focal Point
Another way to pair a backsplash and countertop is to make either the countertops or backsplash the main focal point of the room. This is achieved by having either the countertops or backsplash a more neutral tone while the other is a bold, bright design. The goal here is that either the backsplash or countertops will contrast almost everything else in the kitchen and pop out. This works great when the cabinetry also matches.
Think a kitchen with white cabinets and countertops, and then a colorful Spanish tile as a backsplash. Or perhaps gray cabinets and backsplash with emerald-looking soapstone countertops.
Matching A Backsplash With Granite Countertops
Granite is a busy, luxurious, and non-symmetrical stone. Therefore when you opt to match your granite countertops with a backsplash, you don't want to opt for anything too busy or with too much design.
The best backsplash options for granite will be single-color backsplashes that compliment one color in the granite, or are a clean white. You can also opt to use one large granite slab, and use the same granite as a backsplash as you use for the countertops. Granite countertops are often glossy and shiny, so try and make the backsplash, regardless of its color, the same sheen.
Matching A Backsplash With Laminate Countertops
Laminate countertops can be many colors and sheens. They are, however, often lackluster, as they are relatively cheap looking compared to stone countertops. When matching a backsplash to laminate countertops, consider opting for something a bit eye-popping and luxurious like hand-cut and glazed tile, or glass tile. This will make the elegant backsplash catch the eye, rather than the lackluster countertops.
Closing Thoughts On Matching Countertop With Backsplash
When you start thinking of how to match a backsplash with your countertops, there are several directions you can go. You can match the color, shine and design or even opt to use one slab of stone for both the countertops and backsplash. It's also possible to match a bold countertop with a more subtle, subdued backsplash. You can even make your backsplash or countertops the focal point of the room by allowing one to stand out, while the other blends in.

Tom Gaffey
Tom Gaffey is an expert writer who currently resides in Washington D.C. Tom has a passion for real estate and home improvement writing, as well as travel and lifestyle writing. He lived the last twelve years in Hawaii where he worked closely with luxury resorts and event planners, mastering his knowledge of aesthetics and luxury products. This is where he found his passion for home improvement and a keen interest in DIY projects. Currently, Tom resides in Washington D.C, and also working on his debut fiction novel.
More by Tom Gaffey
Published November 10th, 2022 6:32 PM