31 Views
How To Light A Bedroom Without Overhead Lighting
August 5th, 2022 6:31 PM
Share
We're committed to finding, researching, and recommending the best products. We earn commissions from purchases you make using links in our articles. Learn more here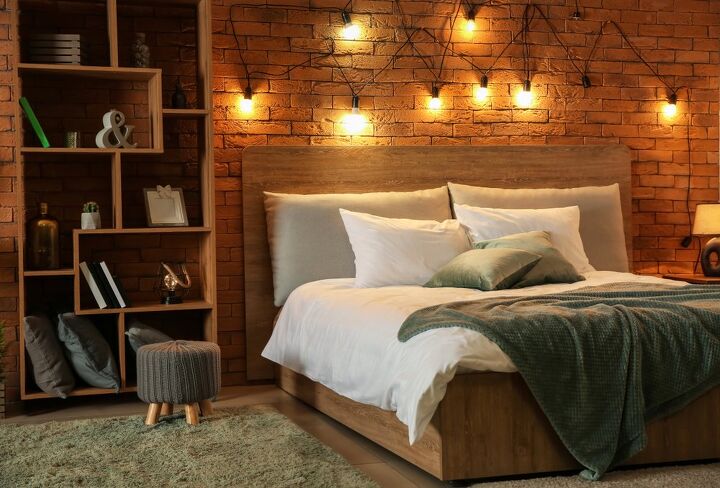 Sometimes the perfect location and a ton of facilities combine to make your dream apartment a reality. But you notice that something is strange because there is no overhead lighting. That could make your new house feel a little gloomy and lifeless. Should you continue looking for an apartment?
You can add lighting in your room without ceiling lights by adding accessories or string lights. You can open curtains, use wall scones, or add mirrors to a room. However, natural light is the best way to allow more light in without using ceiling lights.
If you break your lease by installing your own fixtures, overhead lighting won't be a problem. That can result in you losing your security deposit or having electrical safety issues. With the correct lighting, you can still make your flat more lively.
How Can I Add More Lighting Without Using Ceiling Lights?
Below are a few ideas you can use to add lighting to your home without installing lights above the space.
Add More Accessories
There are more ways than just a few lights to bring lighting to your home. Organize the room by capturing and reflecting the light.
You can do it by including glass bowls with bright stones or shells, hanging crystals over your windows, and flower vases. Every room in your home will appear brighter the more light is allowed to enter your flat.
Hanging String Lights
Currently, string lights are in style. Even better, you may purchase them for a low price.
To set the mood and brighten up any space in your residence, use a variety of colors. For your bedroom, create a dreamy, boho look. Your living room can be transformed into a livelier entertaining space.
Bring in All of the Natural Light
Utilizing the windows you already have in your apartment is the simplest way to overcome the lack of overhead lighting. Replace your curtains with light, airy options to let in as much light as possible.
Additionally, you may let in more sunlight and fresh air by opening your windows and balcony door. Giving your glass windows a thorough cleaning is another option.
Plug-in Wall Sconces
How beautiful are those wall sconces in the picture above? Without the need for electrical installation, it is simple to replicate the appearance of elaborate wall sconces. Wall sconces that plug in are inexpensive, simple to install, and don't need electrical wiring.
Your residence can look opulent and decorative thanks to the wide variety of styles available. Depending on the distinctive design of your flat, it might also appear chic and contemporary.
To enhance your apartment, place your favorite sconces above the sides of your bed in the hallways.
Add More Light with Mirrors
Are your floor lamps not illuminating the room adequately? The light should be directed at a decorative mirror. The room will then receive more light at that point.
Another option is to hang a mirror opposite a window. That will provide the appearance of more windows and natural light.
Place your favorite ornamental, antique, ornate, or vintage mirrors all about your apartment. Your house will become a spectacular dance of natural light if you do that.
Plug-in Pendant Light
Do you miss the hanging pendant lights at your stylish friend's apartment? You can hang a fashionable pendant light from your ceiling if your landlord permits a straightforward hook. To get the same effect, plug the cord into a wall outlet.
To make a romantic bedroom, pick a chandelier. Additionally, it can produce a stylish and vivacious solution for your living area to enhance the party atmosphere. Simply try your best to conceal the cord!
Floor Lamps
Large arc floor lamps look stunning as accent pieces. Any floor lamps, nevertheless, will improve the illumination in your space.
You can choose to go large and dramatic or choose subtle, beautiful ones that fit in. Over a chair, position your preferred floor lamp. That will provide a chic and inviting reading nook.
Table Lamps
Utilize such surfaces and side tables with a beautiful lamp to enhance the space. To brighten your living space, place lamps on your favorite end tables next to your couch.
If you don't have access to convenient outlets, pick battery-powered devices. After that, replace them with decorative elements that go with your attitude.
Flameless Candles
Electric flameless candles can still create the atmosphere even if flame candles are forbidden in your apartment building.
Once the sun has set, scattering electrical candles over a mantle, fake fireplace, or your dresser will produce a beautiful lighting scene. Although they won't light up the entire space, the additional light will be a nice addition.
Use Smart Bulbs
A fun and inexpensive option to update the technology in your apartment's lighting is using smart bulbs. You can create any aesthetic you choose with a smart bulb or lighting hub, from a beachside sunset to a sparkling metropolitan vibe.
Take it a step further by including intelligent LED strip lighting. Around your workstation or TV stand, create a futuristic, lit boundary.
---
Related Questions
How Do You Light a Room with Floor Lamps?
A large mirror or a group of mirrors mounted on a wall can create a lovely focal point for the space. In the meanwhile, placing a mirror across a doorway can reflect light from adjacent rooms into the area. Try hanging a sizable mirror above the fireplace or on a focal wall in a living or dining area.
How Do You Get Natural Light into a Room Without a Window?
Place numerous floor lamps at regular intervals, for example, in various corners of the room, to ensure adequate ambient lighting, especially in bigger spaces.
Any parts that are darker should have floor lamps to help even out the lighting and unify the environment.
Final Thoughts
You shouldn't be prevented from renting your dream apartment because of the difficulties associated with illuminating a room without overhead lighting.
Instead, seize the chance to design your own original lighting scheme without the use of difficult wiring or pricey accessories.

Heather Robbins
Heather is a passionate writer who loves anything DIY. Growing up, she learned everything from home repairs to design, and wants to share her tips with you. When she's not writing, she's usually hiking or searching for her next DIY project.
More by Heather Robbins
Published August 5th, 2022 6:31 PM