635 Views
What Flooring Goes With Knotty Pine Walls?
November 2nd, 2021 6:49 PM
Share
We're committed to finding, researching, and recommending the best products. We earn commissions from purchases you make using links in our articles. Learn more here
Knotty pine walls are classically used in home décor, but for those not familiar, it may be difficult to pair the pine walls properly. Whether it be bold or neutral carpeting, let's take a look at the best flooring to go with knotty pine walls.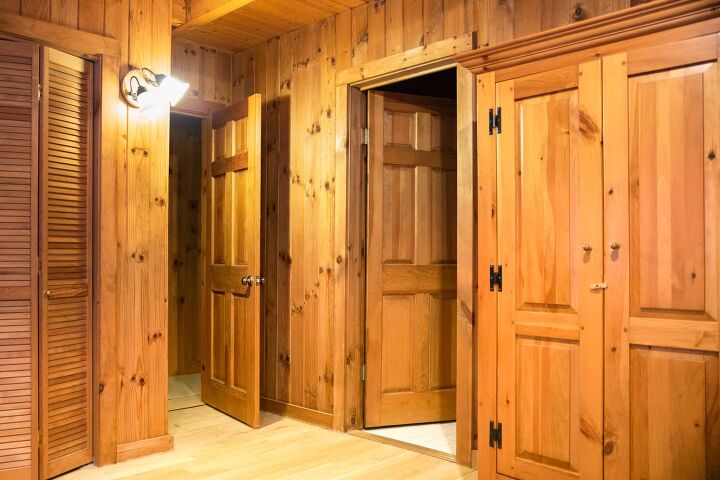 Knotty pine is one of the most classic natural materials used in home decor, lending itself easily to several styles. That often makes it hard to decide exactly how to design a room around it.
Depending on what style you're aiming for, many different flooring styles complement knotty pine walls. You can try carpets in neutral or bold tones. Or, try wood in a subdued version of the same color family, so it doesn't compete with your walls.
From French farmhouse to mid-century cottage to hunting and fishing lodge, knotty pine walls inspire various style motifs. Before you pick furniture and decor for the room, the right floor choice ensures you're starting off on the right foot.
Do You Need to Hire a Flooring Contractor?
Get free, zero-commitment quotes from pro contractors near you.
What Is Knotty Pine?
The History
Knotty pine is a relatively inexpensive and elegant wood with endless home decor applications. A warm-toned wood with many small, distinctive knots in each plank, it's used for walls, ceilings, and even floors.
This material was made popular in the 1950s when it was most commonly used in rec rooms, dens, and basements. A whole generation finds this wood nostalgic as something present in their parents' or grandparents' homes.
The Specifications
This material is more DIY-friendly than most. Knotty pine planks come as a series of tongue-and-groove panels, making them extremely user-friendly for a DIY installation. Even if a contractor installs the panels, the ease of use saves time and money in labor costs.
Knotty pine is also a very affordable and attractive finish for your walls. For example, for an 8 x 12-foot wall covered with 1 x 8-inch tongue-and-groove prefinished paneling, the knotty pine costs only about $200. For a room that's 10 x 8-foot, the material cost is less than $680.
When measuring for the amount of material to order, take into account any doors, windows, or fireplaces. These areas are included in your wall square footage, but will not be covered by the knotty pine material.
The Style
A knotty pine wall or room can be the inspiration for a home's entire style. Most commonly associated with warmth and coziness, a shabby chic or rustic cabin vibe is an easy sell. This material can even help bring warmth to spaces in the coldest of urban environments.
Based on knotty pine's popularity in suburban homes in the 1950s, it also lends itself to a mid-century vibe. Decked out with modern furniture and the right color palette, knotty pine walls can add a twist to the popular mid-century modern look.
Of course, you could stay true to this wood's roots by imagining yourself in a log cabin, hunting lodge, or fishing camp. On the other hand, a French countryside motif borrows from the same working-class roots but adds an international flair.
What Floors Complement Knotty Pine Walls?
The Basics of Design
Knotty pine is already such an interesting and dominant visual component in a room. Therefore, it's best to find floor finishes that complement but don't compete with the walls. Too many eye-catching features can be disorienting, and you want to let the knotty pine shine.
On the other hand, you don't want your floors to be anything too similar to the walls. This similarity would be overwhelming in a different way. There should be a strong visual separation between the walls and the floor, meaning that contrast of color or pattern is key.
Carpet
A carpet can lend a cozy feel to any space, breaking up hard-edged surfaces with a soft textile landscape. If you have an existing wood floor showing signs of wear, consider getting an area rug. Area rugs can strategically cover sad spots on an otherwise lovely floor.
If wall-to-wall carpeting appeals to you because of kids or other practical concerns, you have some color options. Just make sure you give the carpet plenty of time to breathe before enjoying your cozy room.
Most original knotty pine is a pale yellow to reddish-brown with orange undertones. Stay away from warm colors, as this will wash out the room. Contrasting colors will really feature the walls and make them pop.
Either way, avoid strong patterns that will clash with the natural geometry of the walls. Use warm colors like red and orange sparingly, so the room doesn't become washed out or monotone. To play it safe, pick a warm neutral like a beige, off-white, or taupe.
To make a bolder statement, use a blue or green carpet to provide a nice contrast to the warm-toned walls. You can repeat this colorway in curtains, cushions, and other accessories throughout the space.
Hardwood Flooring
Hardwood flooring can be an attractive option to play up the natural wood tones in the room. Just like carpet, keeping your choices simple, and finding a balance of contrast is vital.
One common mistake people make is trying to match their wood floors to the knotty pine walls. It's unlikely you'll find a wood that matches perfectly, and visual separation between the floor and walls helps the space take shape. Baseboard and shoe molding can help create this same concept.
While matching the color may not be possible, matching the tone will help create a cohesive look among different wood types. Find something in the same warm color family but a different shade. A cool grey, for example, would look out of place with traditional knotty pine.
A flooring material lighter in color than the knotty pine walls gives more of a contemporary look. On the other hand, a darker color inspires more cozy, traditional vibes. Try black cherry or hickory for a dark yet neutral effect.
The wood grain is also a significant factor in making sure the floor doesn't clash with the walls. Knotty pine has a relatively busy texture with its ribbed paneling and plentiful knots. Therefore, try wood flooring with a subtle grain like birch or maple.
Keep in mind that the optics of color and grain intersect. A lighter color will show a busier grain, while a darker floor will hide it. A busier grain may compete with the walls, upstaging (and therefore dulling) the knotty pine you've worked so hard to showcase.
How Do You Know What Floor To Choose?
The only way to truly know how a new floor will look next to your knotty pine walls is to try a sample. Many showrooms and flooring stores offer decent sized samples of the real product. You can take these samples home and look at them in your own space.
Hold the samples up to the walls and see what you think. Verify that the color, tone, and texture are the right mix of contrast and compliment for the knotty pine.
Then, observe the samples on the floor in a variety of light. Watch how the light in the room changes the look throughout the day. Plus, see how the samples look under the artificial light fixtures in the room.
Also, consider what furniture, textiles, and other decor you already have or plan to put in the room. And follow your gut: if you love it, it's probably right. If you immediately don't want to look at it anymore, move on to the next option.
---
Related Questions
What Furniture Goes Best In Rooms With Knotty Pine?
Furniture can introduce yet another type of wood into this already complicated woodsy mix. Like the flooring, try to find wooden furniture with the same warmth of tones. Again, a cool tone will look out of place here.How you choose to furnish the room can really illustrate your intended style for the space. Mid-century modern silhouettes can evoke a '50s feel, while wrought iron headboards and mismatched nightstands can bring in a shabby chic influence.Allow items like bedding, throw pillows, curtains, vintage suitcases, lampshades, and more to provide a pop of color. These items also add a soft texture to the hard edges of the wood. Avoid excessive patterns though: solids or subtle patterns will do best against the knotty pine's busy backdrop.
How Can You Modernize Knotty Pine Walls?
If you've decided to go in a different style direction altogether, it is possible to paint your knotty pine walls. If they've been stained and sealed, you'll need an oil-based primer to start. A latex primer won't stick to a varnished surface.There are also more contemporary styles of knotty pine. The shade of wood is fairer and cooler, lightened by bleaching or whitewashing. Often these panels are installed horizontally instead of the traditional vertical presentation.If you have contemporary knotty pine walls, adjust your color temperature and color family accordingly. Cool neutrals and darker colors like greys and blacks will look right at home here.
What Other Colors Or Finishes Look Good With Knotty Pine Walls?
Depending on what style you choose to use as your motif, you have options!  There are several colorful choices for paint and decor in your knotty pine room.Lemon yellow accents can evoke a country kitchen feel. You can use icy blue hues to inspire a smooth mid-century or contemporary-cool vibe. Deep greens can call in natural elements of a cabin or lodge-inspired look.
Do You Need to Hire a Flooring Contractor?
Get free, zero-commitment quotes from pro contractors near you.
Get To Work!
No matter what flooring you choose to go with your knotty pine walls, there are several great ways to achieve your desired style. Find colors and textures in flooring and decor that complement but don't overwhelm your knotty pine walls' natural beauty. Happy flooring!
Related Guides

Stacy Randall
Stacy Randall is a wife, mother, and freelance writer from NOLA that has always had a love for DIY projects, home organization, and making spaces beautiful. Together with her husband, she has been spending the last several years lovingly renovating her grandparent's former home, making it their own and learning a lot about life along the way.
More by Stacy Randall
Published September 2nd, 2020 8:18 AM