115 Views
Fiber Cement Siding Vs. Brick: What Are The Major Differences?
October 22nd, 2021 8:04 PM
Share
We're committed to finding, researching, and recommending the best products. We earn commissions from purchases you make using links in our articles. Learn more here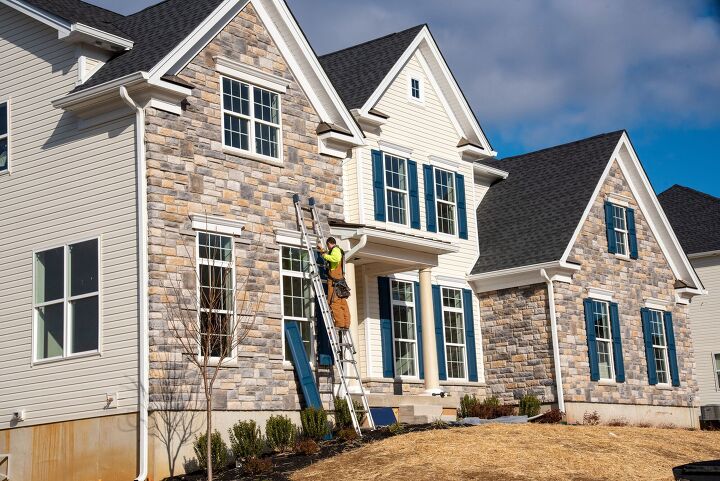 The exterior cladding that you choose for your home serves as the protective barrier against dramatic changes in temperature and inclement weather conditions. Though, depending on the type that you choose, it can also impact the value of your home. Choosing a siding for your home is an important decision that requires careful consideration, as it's going to last for many years.
There are many different materials to select from, including stone, metal, vinyl, wood, stucco, brick, fiber cement, and more. What you choose to cover your home's exterior with plays a major role in the property's curb appeal adding visual interest, color, and even beauty. Of the various materials, fiber cement siding and brick share the benefit of exceptional durability and insulation.
When compared to lightweight, more cost-effective siding options like vinyl and aluminum, both fiber cement and brick are strong and offer good insulation against the elements and noise. While brick is known for delivering an appealing exterior to structures, fiber cement siding offers more versatility to enhance curb appeal. Fiber cement siding also tends to be the more affordable option between the two.
With that said, let's explore all of the differences between these two exterior cladding options to make an informed decision about which is best for your home – fiber cement or brick?
Do You Need Concrete, Brick, or Stone Pros?
Get free, zero-commitment quotes from pro contractors near you.
Understanding Brick Siding
Brick is a traditional building material that is typically made of clay, cement, and gravel. When it comes to exterior cladding, there are two main options: solid brick, or solid masonry construction, and brick veneer. Solid brick construction is, as the name suggests, a technique that uses solid bricks. These homes are most often built using two layers of brick, or a concrete block layer with an additional brick layer for the exterior.
Nowadays, most brick homes are actually brick veneer construction. Contrary to popular belief, this type of brick construction does still use full-size bricks. However, the biggest difference is that with solid masonry, brick is holding up the structure and with brick veneer, the structure is holding up the brick. Brick veneer is installed in front of a wood frame wall, which holds up the home. Therefore, in this situation, the brick is essentially siding!
For our purposes, we are going to focus our attention on brick veneer siding, as the alternative is seldom used in construction nowadays. Some of the pros and cons that you can expect when opting for brick veneer siding include:
Pros of Brick Siding
Exceptional ROI
Durability
Fire resistance
Termite and rot proof
Withstands strong winds and cold temperatures
Cons of Brick Siding
High installation costs
Requires professional-level skill to install and repair
Limited color options
What is Fiber Cement Siding?
Fiber cement siding, on the other hand, is a durable, low-maintenance, and long-lasting material that is made of a combination of Portland cement, water, wood pulp, and fly ash or silica sand. It is the only siding option that combines the performance of masonry – including minimal maintenance, and rot, termite, wind, and cold resistance – with the appearance of painted wood shingles, clapboards, stone, and even brick.
The major advantage of opting for fiber cement is that this siding material is available at a fraction of the cost of other options. Nowadays, nearly 15 percent of new constructions use fiber cement siding. Here's a breakdown of the pros and cons you can expect from fiber cement siding:
Pros of Fiber Cement Siding
Many color and style options
Affordable repairs
Durability
Low maintenance
Pest and rot resistance
Cons of Fiber Cement Siding
Absorbs moisture
Not very environmentally friendly
Requires more maintenance
Can be challenging to install for average DIYer
Fiber Cement Siding vs. Brick
When it comes to your home, nothing is going to make the greatest impression like an appealing exterior. Of course, décor and landscaping can add to the curb appeal of your property and enhance the appearance, the siding that you choose will have the biggest impact on completing the design style of your home. That said, here are the major points you should consider when you're deciding between fiber cement siding and brick siding.
1. Durability
Both brick and fiber cement are durable options for your home's siding. In fact, many homeowners choose brick over any other material because of its durability. Though, while it may insect and moisture repellant, the mortar that holds the bricks together may be the first to go. Over time, if the bricks aren't installed properly, the mortar joints will need to be replaced.
Fiber cement siding, on the other hand, is also naturally moisture resistant and impervious to pests. With little to no maintenance, studies suggest that fiber cement siding lasts longer than the time that most homeowners live in their home. Whereas, while brick is durable, most brick homes require considerable maintenance over the years to keep them in good condition.
2. Appearance
Brick has a very traditional, distinct look that many homeowners consider attractive, whether they own a historic home or are building a new construction. However, unlike fiber cement siding, brick does not have universal appeal. Fiber cement is considerably more versatile, as it is available many different styles and can be painted and repainted as desired.
Some of the style options you have with fiber cement siding include shakes, vertical planks, lap, wood shingle, and even brick and stone. Not to mention, since this siding is made in a mold that includes real wood, it has a natural wood look to it. Therefore, fiber cement siding can complement a wider variety of architectural styles when compared to brick – with nearly limitless customization options.
4. Installation
Again, most modern brick homes are installed with a brick veneer over the existing frame of the home – like fiber cement siding. Though, even as a "veneer," brick is still exceptionally heavy. For this reason, the installation process can be challenging, time-consuming, and expensive – especially when performed by a professional. When brick is the chosen siding material for remodels, it often adds both time and money delays to the entire project.
Meanwhile, fiber cement siding is generally easier to install and more affordable. It is applied in a similar method to wood siding and can be installed pretty fast. As such, fiber cement siding is an excellent choice for remodels or other situations that require the home to be updated within an establishing timeframe or budget.
5. Cost
Cost always plays a key role in materials that you choose to install on your home. On average, the cost to install brick veneer ranges from $7 to $12 per square foot. Though, costs can vary based on the thickness, insulation, and nature of the installation. Of course, fiber cement siding is the more affordable option – ranging from $5 to $7 a square foot installed. Variations for fiber cement include brand, insulation, and the location of the installation.
Depending on the size of your home, opting for fiber cement siding over brick could mean significant savings. When you consider the fact that fiber cement also requires far less maintenance, you'll likely find that it is the more cost-effective option for your home overall.
Do You Need Concrete, Brick, or Stone Pros?
Get free, zero-commitment quotes from pro contractors near you.
Final Thoughts
Although brick is a classic, gorgeous, and durable exterior cladding, it does not have the versatility and options that are available with fiber cement siding. If you're looking for an appealing, low-maintenance, and low-cost siding for your home, fiber cement siding may be the choice for you!

Jessica Stone
Jessica considers herself a home improvement and design enthusiast. She grew up surrounded by constant home improvement projects and owes most of what she knows to helping her dad renovate her childhood home. Being a Los Angeles resident, Jessica spends a lot of her time looking for her next DIY project and sharing her love for home design.
More by Jessica Stone
Published August 12th, 2021 5:29 PM