23 Views
How Much Does It Cost To Get Lead Certified?
June 23rd, 2021 10:59 AM
Share
We're committed to finding, researching, and recommending the best products. We earn commissions from purchases you make using links in our articles. Learn more here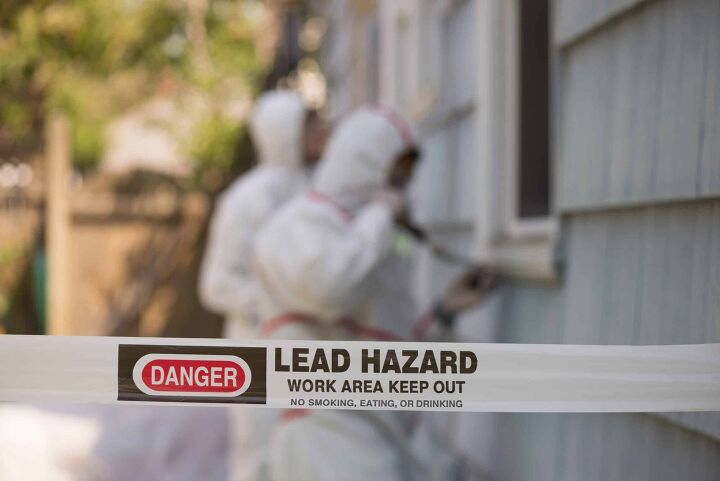 If you plan to work with old lead, remove it, or paint over it, you need certification. The EPA has strict lead renovation, repair, and painting (RRP) standards, and you need to comply. Of course, getting lead certified comes at a cost, but how much should you expect to pay?
The average cost to get lead certified is between $300 and $550. The price will depend on the purposes of the certification and whether you are going to do abatement. If it is just for repairs or renovations, the price will be closer to $300. The total price includes all EPA administered jurisdictions.
If you do not become lead certified and choose to disturb lead anyway, you can be charged over $37,000 each day.
There wouldn't be such harsh penalties for failing to get certification if it weren't for the danger of lead. Luckily, however, the Environmental Protection Agency makes it easy to be lead certified and avoid further fees.
Let's take a look at how much it costs to get lead certified, and why it is so important.
Do You Need Lead Abatement Services?
Get free, zero-commitment quotes from pro contractors near you.
What Is Lead Certification?
Lead certification is a requirement if you are going to do work that would unsettle previously painted or installed lead. Working with and even painting over old lead can unsettle the dangerous material and make it airborne. Lead is known to cause brain problems and anemia, and it is poisonous.
You have to take courses provided by the Environmental Protection Agency, and they take must be taught by accredited officials. The classes themselves only take up to a few days, and you generally have to take a small test at the end of it.
Anyone that is going to work with old lead must be lead certified, and failure to do so results in fines. Each day that you work with old lead and you are not certified, you are fined over $37,000.
How Much Does Lead Certification Cost?
Lead certification costs between $300 and $550. The total cost can vary by state and is determined by several cost factors, such as:
What kind of firm it is
Renovation
Painting
Abatement
Inspection
There is a cost difference depending on the firm, and tribal firms only pay $20 for certification and recertification. A tribal firm is defined as a firm that is 51% owned by Native Americans. Any other firm, however, spends $300 for certification, and $550 for certification for painting, renovation, abatement, and inspection.
Certification application fees are refundable, and you can get one by contacting the Environmental Protection Agency directly. However, if you already received the certification, the EPA cannot give you a refund.
Lead Abatement Certification
One of the ways that many lead certified contractors make money is through lead abatement. Lead abatement is when a professional removes and eliminates existing lead. There are many dangers to both humans and the environment when it comes to lead.
If a contractor fails to get lead certification, they miss out on opportunities and profit from lead abatement jobs. The full $550 lead certification cost includes inspection and abatement certification, and it is a must for builders and contractors.
Lead abatement costs between $1,000 and $10,000. If you don't have lead certification as a contractor, that is a lot of profit to lose out on. Simple lead reduction costs $1,000-$5,000, and full removal costs between $5,000 and $10,000.
Lead Inspection Certification
If you pay the full $550, you also receive lead inspection certification. Lead inspection is in high demand, and that is why it is well worth paying the extra $250 for certification.
Homeowners and business owners pay good money for lead inspection and the repairs that follow.
| | |
| --- | --- |
| Lead Inspection Factor | Cost |
| Paint Test | $300-$700 |
| Interior Inspection | $300-$400 |
| Exterior Inspection | $300-$400 |
| Risk Assessment | $700-$1,600+ |
In demand costs like the ones above are why every builder and contractor needs lead certification. All homeowners and property owners must disclose if there is lead present in the building. If it is unknown, then a lead inspection is necessary, and many contractors profit from the expensive inspection costs.
How To Get Lead Certification
It is not that hard to get lead certification, and anyone can do it. You can apply for either individual or firm lead certification through the EPA's website.
The lead certification process involves training courses, and they must be taught by an accredited professional. A firm must ensure that a lead certified professional is on each job site and that the employees are well trained.
Once you apply and take the courses, the EPA sends you a certificate verifying the completion and certification.
How Long Does It Take To Get Lead Certified?
It can take as little as one day to get lead certified, but it can take longer. The short one-day certification typically applies to simple painting and renovation.
However, if you are trying to get lead certified for the purpose of risk assessment and abatement, it takes longer. Depending on where you are and what the course requirements are, it could take a few days to get certified.
Lead certification is worth the wait and the fee if your jobs or projects qualify. The qualifying measurements that require lead certification are 6 square feet inside, and 20 square feet outdoors. Those dimensions apply to just about any spot of a house that would need lead abatement, so apply online.
Can Homeowners Remove Lead Paint?
Technically, homeowners can remove lead paint, but it is not advised. The Environmental Protection Agency's RRP guidelines do not specify rules for individual homeowners, and it does not affect them.
With that said, removing or painting over lead paint is quite dangerous. No homeowners should remove lead of any kind on their own without consulting the EPA's recommendations that are online.
Each aspect of removing paint from scraping to sanding can release lead particles. As long as they wear face, eye, and skin protection, and minimize risk according to EPA recommendations, a homeowner can safely remove lead paint.
---
Related Questions
How long does lead certification last?
Lead certification is good for 5 years, and when that time is up, you need to reapply. Recertification fees are the exact same as certification fees, which is $300-$550, or $20 for tribal firms. When you get lead certified once the old one expires, you'll need to take the course and pass again.
What do you do if you have lead paint?
Clean up any visible paint debris that you can see without making contact with it. If you found what you believe to be lead paint, call a contractor and they will conduct an inspection. Once they inspect it, you will likely spend $1,000-$3,000 for removal, and up to $3,000 on repainting.
Can you get lead poisoning from scraping paint?
Yes, you can, because scraping and agitating the lead paint releases lead into the air. When lead is in the air, it is easy to breathe into the lungs, and it can cause serious illness. That is part of why lead certification is strictly required, and it involves courses that teach safety.
What is lead RRP?
Lead RRP stands for renovation, repair, and painting rule. The Environmental Protection Agency requires that renovation on anything built pre-1978 must be done by lead certified firms. It does not mean that a specific homeowner or business owner needs lead certification, but that they must hire lead certified contractors.
When is lead abatement required?
If a child has a high blood content of lead, or there is lead found in the home, abatement is required. Sometimes, property owners are fined for lead violations or failure to remove, and then abatement is imposed on them. Abatement is also necessary for any homes with residents that have financial assistance and support.
Do You Need Lead Abatement Services?
Get free, zero-commitment quotes from pro contractors near you.
What Did We Learn?
It costs between $300 and $550 to get lead certified. Tribal firms with Native American ownership pay as little as $20 for certification.
Firms that only plan on renovating and painting can get by with a $300 lead certification. However, if a firm wants to do risk assessment and lead abatement, certification costs $550.
You must get lead certification if you want to remove, inspect, or paint over lead. Otherwise, you will have to pay over $37,000 for each day that you work without lead certification. That is why getting lead certified is a no brainer, and you should look up or contact the EPA to get started.

Nick Durante
Nick Durante is a professional writer with a primary focus on home improvement. When he is not writing about home improvement or taking on projects around the house, he likes to read and create art. He is always looking towards the newest trends in home improvement.
More by Nick Durante
Published September 29th, 2020 7:50 AM