20 Views
What Is The Cost Of Living In Reno, NV?
April 27th, 2021 5:26 PM
Share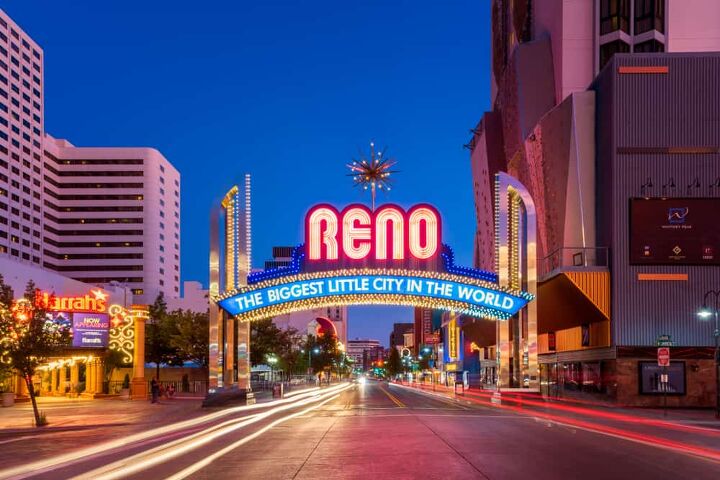 In the past few years, and especially in the past year, mid-size cities have become the go-to for people who want to relocate. Mid-sized cities are becoming preferable over larger urban areas thanks to new business opportunities, quality of life, and affordable housing. In general, mid-sized cities tend to offer a lower cost-of-living than their larger counterparts, and Reno is no exception.
With that being said, Reno does still have a cost-of-living index that is higher than the national average at 116. Anything above 100 is considered higher than the national average. However, it's lower than many other cities.
Reno is home to Tesla's first Gigafactory, which employs more than 5,000 people. Companies including Apple, Intuit, and Patagonia also have facilities in the Reno area. The area, along with work and business opportunities, is also known for nearby recreation and natural beauty.
Reno's minimum wage is $8.25 an hour, while the livable wage is $13.57 an hour. Many people will have a range of pay bases that will help them to afford living in Reno. The cost of living in Reno is less than living in San Francisco or New York City, but costs do add up.
Here's a breakdown of exactly what you might spend to live monthly in Reno, Nevada.
Do You Need to Hire Movers?
Get free, zero-commitment quotes from pro contractors near you.
Reno, NV Housing Prices
The Reno housing market is moderately competitive, which some homes on the market getting multiple offers, although that's fairly rare. The average home sells for around list price, and it's usually on the market for 53 days on average before it sells.
Over the past year, Reno home values have gone up 12.2%. The median property value is higher than the national average at $299,700. The homeownership rate in Reno is around 48%. This is lower than the national average of 63.9%.
| | | |
| --- | --- | --- |
| Location | Median Home Value | Homeownership Rate |
| Reno | $299,700 | 48% |
| Las Vegas | $345,000 | 58.2% |
| United States | $269,039 | 65.8% |
For renters, you might expect to pay an average of $1,322 in Reno, which represents a 3% year-over-year increase. The average apartment size is just over 850 square feet.
Property Taxes in Reno, Nevada
One of the many perks of living in Nevada is that property taxes are among the lowest in the United States, with an average effective property tax rate of 0.53%. In Washoe County, specifically, where Reno is located, there is an average effective property tax rate of 0.62%. The national average is around 1.07%.
The median annual property tax payment in Washoe County is $1,850. It should be noted that, in general, Nevada has low property taxes, but relatively speaking, Washoe County residents pay among the highest amounts in the state, behind only Douglas County.
All the property taxes in Nevada are stated in assessed value amounts. Assessed value means around 35% of the taxable value of something. There are property tax exemptions in the state for disabled veterans and their surviving spouses.
Reno, NV Rent Prices
As was touched on, the average rent price in Reno is $1,322, and the average apartment size is slightly larger than 850 square feet. Around 44% of households in the city are renters. Around 57% of Reno renters pay between $1,001 and $1,500 in monthly rent. Twenty-two percent pay between $1,501 and $2,000, but less than 3% pay more than $2,000 a month.
The most expensive Reno neighborhoods for renters include Ambrose Park, Carriage House, and Coughlin Creek. The least expensive neighborhoods include Academy Manor, Brookside Lakes, and Donner Springs.
| | |
| --- | --- |
| Nevada Cities | Average Monthly Rent |
| Reno | $1,322 |
| Las Vegas | $1,152 |
| Henderson | $1,361 |
| Sparks | $1,441 |
| Incline Village | $1,555 |
| Carson City | $1,136 |
| Sun Valley | $1,069 |
Average Cost of Utilities in Reno, NV
The cost of utilities is somewhat lower in Reno than the national average. The rating index is 95.6, while the national average is 100. The cost of basic utilities each month is $126 on average and ranges from $75 a month to $200.
Basic utilities include electricity, water, garbage, heating, and cooling. The average is based on estimates for an apartment around 900 square feet. Internet costs on average almost $59, with a range of anywhere from $45 to $75 a month.
Taxes in Reno, NV
Nevada doesn't have a state income tax. However, there is a state sales tax rate of 4.6%. The Washoe County sales tax rate is 3.67%, for a combined sales tax rate of 8.27% if you live in Reno. The city of Reno doesn't have a sales tax. Nevada sales taxes are among the highest in the country, which is common in states without an income tax.
The property tax rate in the state is 0.53% on average.
There is a gas tax of 23 cents per gallon of regular gas and 27 cents per gallon of diesel.
| | | |
| --- | --- | --- |
| Reno, NV Taxes | Cost and Rate | National Average |
| Sales Tax | 8.27% | 7.12% |
| Gas | 23 cents per gallon of regular gas/27 cents per gallon of diesel | 52.64 cents per gallon |
| Property Taxes | 0.62% | 1.1% |
Reno, NV Food Prices
If you were to go to a meal in an inexpensive restaurant in Reno, you might expect to pay $15 per person on average, with a range between $10 and $25. If you were to get a combo meal at a fast-food restaurant, it could be on average anywhere from $8 to $10.
For a mid-range restaurant meal for two with three courses, the average price in Reno is $52, with a range between $40 and $75.
While you're at the grocery store, you may pay around $3.25 on average for a gallon of milk and just over $2.70 for a loaf of bread. The national average for a gallon of milk is around $3.61, so food in Reno is probably pretty similar to national averages.
| | |
| --- | --- |
| Reno, Nevada Food | Average Price Range |
| Fast Food meal | $8-$10 |
| Mid-range meal | $40-$75 |
| Regular cappuccino | $3.50-$6 |
| Milk | $2.29-$4 |
| Eggs | $1.42-$4 |
| 1 pound beef round | $2-8.99 |
| 1 pound of bananas | $0.45-$2 |
| Bottle of wine | $7-$9.99 |
Reno, NV Cost of Education
There are a few post-secondary schools in Reno, including the University of Nevada, Reno, and Truckee Meadows Community College. The average tuition and fees for colleges in Reno are $5,475 in-state and $23,032 for out-of-state. This is higher than the national average, which is $6,768 for in-state and $17,690 for out-of-state students.
Carrington College is the most expensive in Reno, with tuition and fees totaling $49,898.
The average private school tuition in Nevada is around $10,500 a year. The private elementary school average for the state is $9,621 per year, and the average is $11,571 for high school students.
The cost of preschool or kindergarten full-day childcare for one child per month in Reno is on average $712.
Transportation Costs in Reno, NV
Reno isn't known for a vast public transportation system, so most people have private vehicles in the city. However, there is a public bus system operated by the Regional Transportation Commission of Washoe County. A one-way ticket on public transportation costs between $2 and $3 on average. A monthly bus pass may be around $40 in Reno.
If you were going to take a taxi, plan to pay more than $3 a mile. A gallon of gas costs around $2.77 in Reno. The average cost of car insurance in Nevada is $985.39 a year, compared to the national average of $889.01 a year.
Reno, NV Flights
Reno is served by Reno-Tahoe International Airport, with non-stop service to locations like Los Angeles, Las Vegas, Chicago, Dallas, and Salt Lake City. Some of the airlines that fly out of Reno-Tahoe International include Alaska Airlines, American Airlines, Delta, Delta Connection, Frontier, Jet Blue, and Southwest.
The average price of a ticket from Reno to California is around $693. The average price of a flight from Reno to Chicago is $341. The average price of a flight to Las Vegas is $119.
Entertainment in Reno, NV
Reno has some of the bright lights and casinos that Las Vegas is also known for. For example, there's the popular, classic casino The Eldorado. There's the Reno Riverwalk, which is in Downtown Reno and features galleries and restaurants set along the Truckee River.
Lake Tahoe is only a short drive from Reno, so people flock there for skiing and winter sports, as well as the lake's natural beauty.
The Great Reno Balloon Race is held every September, and it attracts more than 120,000 attendees.
| | |
| --- | --- |
| Reno, NV Entertainment | Average Cost |
| Day Pass at Northstar Ski Resort | $104 |
| Average cost for one night Eldorado Casino | $65 a night |
| Average movie ticket price | $8-$15 |
| Fitness club membership for a month | $10-$50 |
| Ticket to National Automobile Museum | $12 |
---
Related Questions
Is Reno, NV Safe?
Reno has a crime index of 18, meaning it's estimated to be safer than 18% of U.S. cities. There are a total of 6,874 crimes each year in Reno on average, which means a crime rate of 26.89.The violent crime rate in Reno is 5.57 compared to the Nevada rate of 4.894 and the national median of 4. The rate of violent crimes in Reno is similar to national rates, as are property crime rates.
Are There Any Natural Disasters Common in Reno, NV?
In Reno, the biggest natural disaster risks are earthquakes, wildfires, and floods. Sometimes there can be droughts and high winds, but those are less common.
What Are Typical Healthcare Costs in Reno?
In Nevada, the average hospital cost per inpatient day before insurance is $1,887. The average annual employer premium in an employee-sponsored plan in Nevada, after employer contribution, is $1,235. The health care cost rating is below the national average at 92 versus the U.S. average of 100.
What is the Average Income in Reno?
The average income of a Reno resident is around $26,352, compared to a U.S. average of $28,555. The median household income of someone in Reno is $46,489, compared to a U.S. average of $53,482 a year. The Reno job market in the next decade is predicted to be just over 51%, significantly higher than the national average of 33.5%.
Do You Need to Hire Movers?
Get free, zero-commitment quotes from pro contractors near you.
Final Takeaways
Reno, Nevada, is somewhat higher in terms of cost of living than the national average, but at the same time is significantly less expensive than nearby places, such as cities in California. Home prices and rent are relatively affordable, and the job market forecast is strong.
To live comfortably in Reno as a family of four, you would need around $3,000 a month, not including rent. A single person living in Reno, excluding the price of rent, might need around $833 to cover their expenses.
Related Articles

Ashley Sutphin
Ashley Sutphin Watkins studied journalism at the University of North Carolina. She now works as a full-time writer with an interest in all things real estate and interior design. She lives in East Tennessee and enjoys the nearby Smoky Mountains with her family.
More by Ashley Sutphin
Published February 26th, 2021 4:01 PM