338 Views
What Is The Cost Of Living In Arkansas? (Taxes, Housing, & More)
January 7th, 2022 5:34 PM
Share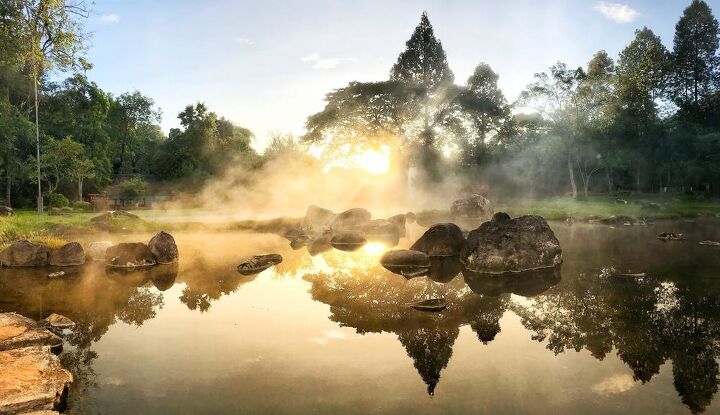 Arkansas is known for its breathtaking scenery, outdoor adventure opportunities, and abundant wildlife. It also features over 600,000 acres of natural lakes and the only active diamond mine in the United States. These are a few reasons, along with a low cost of living, 3 million people call "The Natural State" home.
Overall, Arkansas has a low cost of living throughout most of the state, with some cities more affordable than others. On a cost of living index that places the US average at 100, Arkansas holds a score of 79. Fayetteville, the state's most expensive city, has a score of 92.9.
Here's a look at some of the most essential costs when it comes to your budget. Factors like taxes, utilities, groceries, education, transportation, and more all influence your bottom line when it comes to personal finances. Therefore, make sure to know what it could cost you to live in Arkansas before deciding to make the move.
Do You Need to Hire Movers?
Get free, zero-commitment quotes from pro contractors near you.
Housing Costs in Arkansas
Often, housing costs take the biggest bite out of your budget, whether you decide to own or rent. On the cost of living index, Arkansas's overall housing costs score a 55.7, putting it significantly lower than the national average.
However, where you decide to hang your hat in Arkansas makes a big difference. For example, Fayetteville's housing costs come in at 95.4, yet the state capital of Little Rock boasts a low 61.9. Therefore, if you have some flexibility of city choice, it can make a big difference in your bank account.
About 63.8% of Arkansas residents own their homes, while roughly 36.2% rent. Like anything else, home prices vary from city to city, but the state's median home price is $133,100.
The Cost to Own a Home in Arkansas
Over the past five years, Arkansas's home appreciation rates of 3.64% are about on par with the national average. However, over the last quarter, that rate has almost doubled.
The majority of homes in Arkansas fall within the $118,000 to $230,000 range. However, roughly 15% of homes are below $60,000, and about 1% top one million. As with any state, some cities offer more affordable housing than others.
Additionally, in many cases, cities with more expensive homes might offer a higher median income (and vice versa). However, sometimes you can find the perfect blend of a higher median income with a lower median home price.
The median income for the state is $47,062, but this number can swing broadly from city to city. Here's a snapshot of the median home price and income for popular cities in Arkansas.
Median Home Prices and Income in Popular Arkansas Cities

City
Median Home Price
Median Income
Hot Springs
$117,200
$34,120
Little Rock
$162,800
$49,957
Bentonville
$221,400
$81,934
Conway
$167,000
$46,972
Fayetteville
$202,700
$42,101
Fort Smith
$120,300
$40,004
Springdale
$146,400
$50,192
Jonesboro
$152,200
$44,780
Pine Bluff
$75,900
$32,917
Rogers
$168,600
$57,079
Rental Costs in Arkansas
If you choose to rent, the average rent cost per month in Arkansas is $900. However, once again, rent prices depend on the city and apartment size. Here's a look at the overall average rent for different size apartments in Arkansas.
Average Rent by Bedroom Size in Arkansas Compared to the United States

Bedroom Size
Arkansas Cost Per Month
United States Cost Per Month
Studio
$537
$821
One-Bedroom
$586
$930
Two-Bedroom
$736
$1,148
Three-Bedroom
$991
$1,537
Four-Bedroom
$1,167
$1,791
Some cities are more affordable than others when it comes to renting. Here's a glance at the median rent for a two-bedroom apartment in the most popular Arkansas cities.
Median Rent for a Two-Bedroom in Popular Arkansas Cities

City
Median Rent Per Month
Hot Springs
$760
Little Rock
$881
Bentonville
$840
Conway
$800
Fayetteville
$790
Fort Smith
$800
Springdale
$740
Jonesboro
$760
Pine Bluff
$730
Rogers
$795
Utility in Arkansas
On the cost of living index, Arkansas's overall utilities are 95.6, coming in slightly below the US average of 100. This chart provides an overview of the average costs of basic utilities in the state, including cable and internet.
Average Utility Costs in Arkansas

Utility
Average Cost Per Month
Electric
$106
Basic Internet
$30
Natural Gas
$65
Cable
$40
Water
$22
Overall Utilities
$263
Tax Rates in Arkansas
Taxpayers in Arkansas are subject to some of the highest sales tax rates in the nation, but also enjoy some of the lowest property tax rates. The state has a progressive income tax system, with the top marginal rate being about average.
Sales Tax in Arkansas
The sales taxes in Arkansas are among some of the highest in the country. The statewide base rate is 6.5%, however, counties and cities collect their own local sales taxes on top of this rate. These can total up to 6.125%, meaning the total sales tax you may come across in Arkansas is as high as 12.625%.
That said, the table below outlines some of the most popular cities in Arkansas, along with their applicable sales tax rate:
Arkansas Sales Tax by City
City
Total Tax Rate
Hot Springs, Arkansas
9.5%
Little Rock, Arkansas
9.0%
Bentonville, Arkansas
9.5%
Conway, Arkansas
9.125%
Fayetteville, Arkansas
10.0%
Fort Smith, Arkansas
9.75%
Springdale, Arkansas
10.0%
Jonesboro, Arkansas
8.5%
Pine Bluff, Arkansas
10.0%
Rogers, Arkansas
9.5%
For some food, the statewide tax rate is decreased to just 0.125%. In most cases, this lower rate applies to food items that you can purchase from a grocery store and are meant for home consumption. Whereas, things like prescription medication and medical equipment are completely exempt from any sales tax in the state of Arkansas.
Property Taxes in Arkansas
In Arkansas, property taxes are relatively low. In fact, Arkansas residents enjoy some of the lowest taxes in the country, especially in certain counties where they are less than $500 for the year. In other areas, property taxes can creep closer to $950.
Overall, the average effective property tax rate in Arkansas is 0.61%, compared to a national average of 1.07%. This means that homeowners in Arkansas pay only 0.61% of their home's assessed value in annual property taxes.
A Closer Look at Arkansas Property Tax Rates

County
Average Property Tax
Percent of Home Value
Benton County
$929
0.60%
Hot Springs County
$437
0.56%
Washington County
$909
0.59%
Faulkner County
$706
0.55%
Pulaski County
$915
0.68%
Craighead County
$572
0.53%
Sebastian County
$639
0.59%
Arkansas Income Tax
The income tax rate and the number of brackets in Arkansas have gone down consistently since 2016. This trend seems like it will continue, with the top marginal tax rate currently set at 5.90%.
There are six income tax brackets in total, ranging from as low as little as 0% to as much as 5.90%. Though, the interesting thing to note is that your tax rate is the same no matter your filing status. Here is a look at what your tax burden would be based on income and filing status.
Income Tax Brackets for All Filers
Arkansas Taxable Income
Rate
$0 – $4,700
0.00%
$4,700 – $9,200
2.00%
$9,200 – $13,900
3.00%
$13,900 – $22,900
3.40%
$22,900 – $38,500
5.00%
$38,500+
5.90%
Food & Grocery Costs in Arkansas
Overall, Arkansas has lower food costs than the national average. On the cost of living index, Arkansas has a rank of 92.7, compared to the US average of 100.
In general, your food budget should be 11% of your annual income, 6% for groceries, and 5% for dining out. Arkansas's median income is $47,062, so your food budget should be about $5,176 per year.
Here's a look at what you could expect to pay for food items in some of Arkansas's most popular cities.
Costs of Popular Food Items in Various Arkansas Cities

Food Item
Fayetteville
Little Rock
Jonesboro
A Dozen Eggs
$1.53
$1.90
$.94
1 Gallon Milk
$2.66
$3.49
$3.09
Fast-Food Combo Meal
$8
$7
$7
1 Loaf of Bread
$2.26
$2.31
$1.75
1 Pint Domestic Beer
$4
$4.50
$2.25
Basic Meal Out
$9.75
$15
$6
Education Costs in Arkansas
If you plan to attend college in Arkansas or have children, education costs are a significant factor. For colleges, tuition and fees average about $4,673 for in-state students. Out-of-state students pay an average of $12,235.
One of the most expensive universities in the state is Hendrix College, with annual tuition of $45,790. Crowley's Ridge Technical Institute has some of the lowest tuition rates, with a yearly cost of $1,350.
Average Arkansas Private School Tuition Costs by Grade Level

Grade Level
Average Tuition Costs Per Year
Preschool/Elementary School
$4,929
High School
$6,611
Childcare costs about $574 a month for an infant to a young toddler. For older toddlers to roughly four-years-old, daycare costs average about $457 per month.
Transportation Costs in Arkansas
After housing, transportation often takes up the next largest part of your budget. Transportation costs are another important factor that you must consider in order to determine the overall cost of living in a particular location. These include expenses such as gas prices, public transportation costs, and car insurance premiums.
Fortunately, Arkansas has relatively low transportation costs, coming in at 81.6 on the cost of living index. Gas prices average about $2.13 a gallon, and the average commute is roughly 20.9 minutes. Drivers pay an average of $1,551.37 a year on gas and $383.78 on car repairs.
Whereas, the average car insurance premium for full-coverage in Arkansas is about $1,763. However, if you opt for a bare-bones policy, you could pay as low as $449.
---
Related Questions
What are healthcare costs in Arkansas?
Arkansas features reasonably low healthcare costs. On the cost of living index, Arkansas is 86.5 for healthcare. Insurance rates vary significantly based on coverage and age. For example, a bronze plan would cost a 40-year-old about $329 per month. Alternatively, that same plan would cost a 21-year-old roughly $257 a month and a 60-year-old $698 per month.A more comprehensive plan could cost a 40-year-old about $541 a month. However, a 60-year-old will pay about $1,150 for the same plan, and a 20-year-old about $424.
What is the crime rate like in Arkansas?
Arkansas has a relatively high crime rate compared to the national average. Your chances of becoming a victim of a violent crime in the state are 1 in 171. Additionally, your chances of becoming a victim of a property crime are about 1 in 35. There are approximately 17,643 violent crimes in a year and about 86,250 property crimes reported annually in Arkansas.
Do You Need to Hire Movers?
Get free, zero-commitment quotes from pro contractors near you.
Is Arkansas Expensive to Live in?
Arkansas is relatively inexpensive, with big-ticket items like housing transportation, and healthcare coming in under the national average. The state also offers beautiful views and opportunities for outdoor adventures. However, consider your choice of city carefully, as where you live can make a big difference on your wallet.
Related Articles

Stacy Randall
Stacy Randall is a wife, mother, and freelance writer from NOLA that has always had a love for DIY projects, home organization, and making spaces beautiful. Together with her husband, she has been spending the last several years lovingly renovating her grandparent's former home, making it their own and learning a lot about life along the way.
More by Stacy Randall
Published February 17th, 2021 12:47 PM