209 Views
Colorado Vs. California: Which State Is Better To Live In?
June 12th, 2021 7:19 PM
Share
We're committed to finding, researching, and recommending the best products. We earn commissions from purchases you make using links in our articles. Learn more here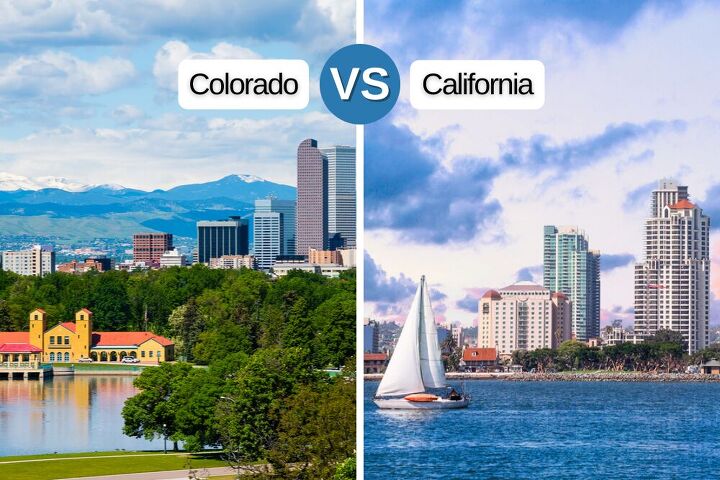 Choosing between California and Colorado is difficult, especially because both of these states have so much to offer the outdoor enthusiast. While California boasts impressive National Parks, Colorado has countless ski resorts for winter adventurers. But, ultimately, only one state can win.
Colorado is the better state to live in because there are more opportunities for the average person. Not only is the quality of life on par with California, but the median income is comparable with a much higher job growth potential in the next ten years. Couple these factors with exceptional schools and low crime rates, and Colorado is the clear winner.
Of course, California has plenty to offer residents as well. This state has terrific year-round weather, excellent infrastructure, and countless outdoor activities. If you are considering a move, reach out to the respective chamber of commerce for each state to learn more about the benefits and pitfalls of living in each.
Which State Is Better: Colorado or California?
The battle between two states is tough to determine, especially with so many individual cities essentially dictating the overall culture and quality of life for the entire state. When comparing states, we try to get a broad picture of what it is like to live in the state, pulling statistics from urban areas and rural areas. We want to know what it is like for the typical person to live and work in these states to give you the best portrayal of everyday life in California and Colorado.
Quality of Life
The overall quality of life is an essential metric to consider before relocating to a new state. Between California and Colorado, the quality of life metric is exceptionally close. It is also worth noting that both of these states rank much higher than the national average. Ultimately, this race is too close to call. While California has better health care and a better climate, it also has a much higher living cost. Colorado, though, has less pollution and less traffic.
Winner: Tie
Cost of Living
In general, Colorado will be about 20% less compared to California when considering the cost of living. Much of this cost savings is due to the more affordable housing, which is about 34% cheaper than California. Further, food will be about 7% cheaper, utilities 6.4% more inexpensive, and transportation about 3.4% more affordable. In California, residents will experience better healthcare that is cheaper than Colorado by about 3.9%
Winner: Colorado
Housing Costs
One of the biggest differentiators between these two cities is the massive difference in housing prices. California is much more expensive to buy a home, but surprisingly, cheaper to rent an apartment when compared to Colorado. On average, expect to pay about 34% more for housing in California than in Colorado, especially when rental properties are factored into the housing cost equation.
| | | |
| --- | --- | --- |
| | Colorado | California |
| Median House Price | $390,000 | $633,900 |
| Average Rent 1 Bedroom | $1,670 | $1,420 |
Job Market
Looking at the job market between these two cities, there is very clearly a front runner in Colorado. Not only are the unemployment rates much lower in Colorado, but the projected job growth for the next ten years is robust. Surprisingly, Colorado has a higher median income for families.
The major industries in Colorado include agriculture, manufacturing, mining, and tourism. Manufacturing makes up 5.8% of all jobs in the state. California's industries include healthcare, construction, technology, hospitality, and agriculture.
| | | |
| --- | --- | --- |
| | Colorado | California |
| Unemployment | 7% | 8.2% |
| Projected 10-Year Growth | 45% | 23.4% |
| Median Household Income | $68,592 | $64,840 |
| Median Personal Income | $39,806 | $39,700 |
Culture
Colorado's culture is free-willed and primarily focused on outdoor activity. This state has a relaxed vibe and focuses a great deal of attention and importance on hiking, biking, and generally being outdoors. There is a great cultural mix in Colorado, and residents will find a fun fusion of cultures that influence art and cuisine in the area. Colorado has a strong Native American heritage which is evident in art and environmental practices in the state.
Comparatively, California is a diverse and exciting state. Much of the culture will change depending on your city and location. Bay Area cities, like San Francisco, will have a frenetic pace and be more business-minded, while southern cities, like San Diego, will be more laid back and relaxed. Similar to Colorado, California is focused on outdoor activity and adventure.
Winner: Tie
Leisure/Entertainment
Much of Colorado's leisure and entertainment revolves around the wonderful outdoors. This state has so much to offer for outdoor adventure during any season. Residents can enjoy an outdoor concert at Red Rocks Amphitheater or spend time hiking through the endless trail systems throughout the state in the summer. Winter enthusiasts will be pleased to find countless ski resorts. There is also a great craft beer scene and hot springs to visit.
California has so much to offer for residents, and like Colorado, much of the activity is based outdoors. Enjoy visiting one of several National Parks, including Yosemite National Park, Sequoia National Park, or Joshua Tree National Park. Visitors can tour the Golden Gate Bridge, go to iconic zoos, visit Disneyland, or go to Hollywood.
Winner: California
Transportation
Although Colorado is a large state, residents have plenty of options when it comes to public transportation. There is a commuter light rail system and bus system managed by RTD. A train to plane connection brings residents from the Denver Airport to the city and outlying residential areas. Often, mass transit is much faster than driving in a personal vehicle.
California is home to some of the worst congestion and traffic, despite the well-developed highway system. Public transit is a must for many people in California, and commuters will rely heavily on the light rail and bus system throughout the state. Like San Francisco, San Diego, and Los Angeles, most major cities in California have access to light rail and buses. Rural and suburban areas in California may still have to rely on personal transit to get around.
Winner: Colorado
Demographics
Colorado is a varied state that is skewed toward a young adult population. Most of the people that live in Colorado are between the ages of 25 and 54. Although there is a solid ethnic blend in the major cities in Colorado, diversity is somewhat lacking when the entire state is examined as a whole. In Colorado, 86% of the population is White, 4% is Black, 3.5% is Asian, and .6% is Native American.
Painting a much different demographic picture, California offers more diversity in the major cities and statewide. In California, about 59% of the population is White, 14% Asian, 5.8% Black, and .8% Native American. This area is also a very young state, and the median age for California is 33.3.
Winner: California
Education
Public and private schools in Colorado are in the upper-ranked schools throughout the country. Overall, public schools are ranked 17th in the nation. There are plenty of higher education opportunities for residents. The University of Colorado, Colorado College, and Colorado State University are all located in this wonderful state.
Despite some stellar public schools in the major cities in California, the overall public school system is not great. Overall, California schools are ranked only 37th in the nation. Despite the struggling public school system, higher education is phenomenal in this state. California is home to the University of California schools, Stanford, and the University of Southern California.
Winner: Colorado
Weather
Colorado is home to some diverse weather patterns. In the summer, residents will be able to enjoy a cool, 70 degrees F day, with temperatures rarely reaching 80 degrees F. Winters are frigid and can drop to an average of 16 degrees F. This state sees plenty of snow with a normal yearly accumulation of as much as 100 inches.
The weather doesn't get much better than in the state of California. The summers are cool and breezy, and they routinely stay in the mid-70s. Winters are equally warm, reaching the mid-50s. There is very little precipitation in this state and really no major weather patterns or systems to be worried about.
Winner: California
Crime Rates
Colorado is a relatively safe state, and many crime statistics are well below the national averages. Colorado experiences just 381 violent crimes per every 100,000 people. Property crimes like theft and burglary are on par with the national average as well, and the state has about 2,972 property crimes for every 100,000 people.
Comparatively, California has much higher crime rates. Violent crimes account for 551 cases for every 100,000 people, while property crimes are as high as 3,449 per every 100,000. But, there is good news on the horizon. In the last year, criminal cases decreased about 2% throughout the state.
Winner: Colorado
---
Related Questions
What are the best California neighborhoods?
When it comes time to relocate to a new city, you want to be sure you are finding the best possible options for you and your family. Part of the move is determining where the best neighborhood is to live. In California, there are several great areas to live in. Santa Monica is widely sought-after because of the phenomenal schools. Hermosa Beach, Berkeley, and Mountain View are also highly desirable.While these are popular cities to move to, be aware that high housing prices and competitive real estate markets can make finding a new home in these towns costly and difficult.
Does Colorado have a problem with gun violence?
Compared to other states, it would seem that Colorado has a severe problem with ongoing gun violence. This state has been the site of several mass shootings beginning in 1993. Aurora, Columbine, and Colorado Springs have all gone through several mass shooting events just in recent history.
Verdict
Choosing between these two outdoorsy states is challenging, especially with so much to offer in the ways of entertainment and leisure, but ultimately there can only be one winner. Colorado edges out California when it comes to a better place to live. Not only are Colorado school systems better, but the state is safer, and there is a much higher projected job growth in the coming years. Plus, the lower housing costs and lower cost of living are desirable for new residents looking to establish themselves in a new state.

Upgraded Home Team
We are a team of passionate homeowners, home improvement pros, and DIY enthusiasts who enjoy sharing home improvement, housekeeping, decorating, and more with other homeowners! Whether you're looking for a step-by-step guide on fixing an appliance or the cost of installing a fence, we've here to help.
More by Upgraded Home Team
Published June 12th, 2021 7:19 PM