278 Views
Standard Card Table Dimensions (with Photos)
December 21st, 2021 2:43 PM
Share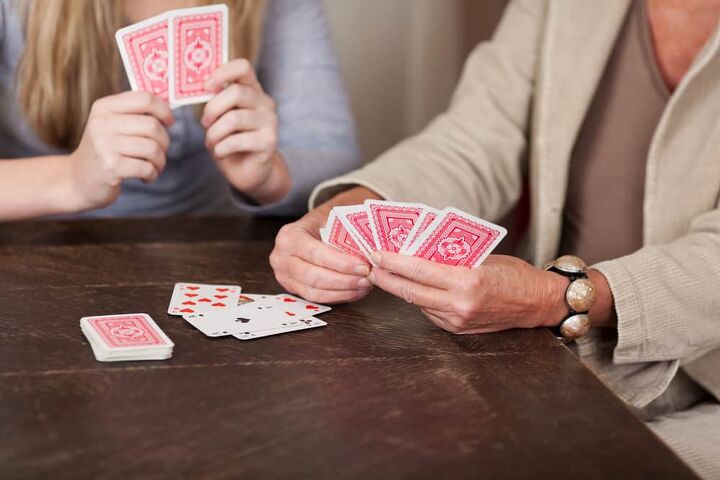 If you enjoy playing cards or board games with friends and family, then you're probably considering getting a card table. These handy folding tables are designed with game playing in mind. Therefore, they seat people closer together than most standard tables, making it easier to reach game boards and cards.
The standard card table dimensions are 34"x34", but sizes vary based on the shape of the table. A standard round card table's diameter measures between 36" and 60" and can fit 6-10 people. Rectangular card tables measure 48"x92" and can fit 8 people comfortably.
If you play games often, a card table can be well worth it. These tables make it a lot easier to reach the center of the table, no matter what side you are sitting on. Plus, they can fold up easily, so you can store them away when not in use.
Card Table Basics
Sure, if you're an avid fan of family game night you can just gather around the dining room table. But, this isn't always easy to do if you have a large table. It's likely at some point every player will have to really stretch to reach the game board.
Card tables first surfaced in England in the early 18th-century, as a table specifically for, you guessed it, playing cards. Many of these early tables featured a top that folded in half and legs that swung out for support. Some also included holes for money and specific places for drinks.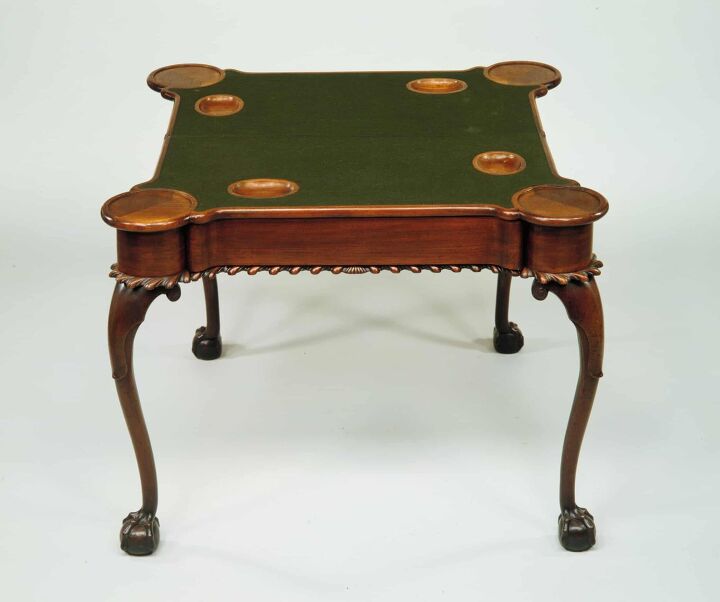 These ornate tables were often a sign of wealth. Over the years, card tables have changed from these statement pieces to encompass a variety of styles. You can still find some intricate designs, but you can also opt for simple, plastic folding tables.
While most card tables feature a height of 28 to 30 inches, they come in several widths and lengths. These sizes are based on the table's shape.
Square Card Tables
Square card tables are certainly the most common, measuring 34 inches by 34 inches. This size allows for ample playing space for all the players, plus a roughly 5 to 6-inch perimeter. This perimeter is often used as a player's personal space, for example, to set down a drink.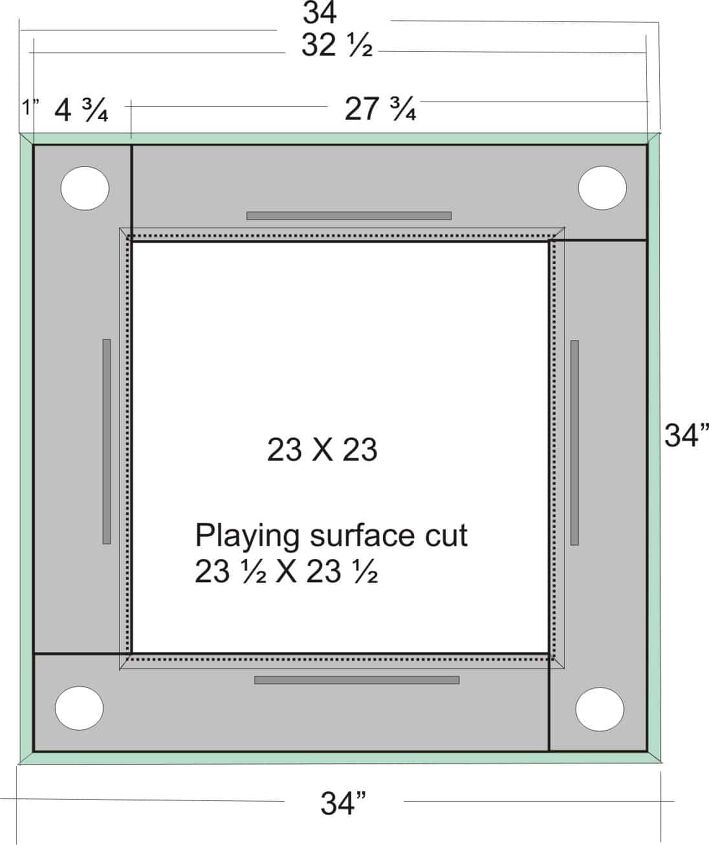 Although 34 inches is the standard, 36-inch square card tables are also fairly common. Smaller card tables can be 32 inches, and an extra-large square card table is 38 inches.
For maximum comfort, each person at a standard dining table should have about 18 to 24 inches of room. You can fit four people very comfortably at a square card table. However, seating around a card table can be a bit more intimate.
Therefore, you can possibly stretch that number out to 6. Although, you would have to really like who you're playing cards with. Keep in mind, if you cram too many people around your card table, you won't have much playing room.
Therefore, think first about what exactly you are using the table for and the type of game. If you insist on fitting 6 or 8 people around a square card table, opt for the 38-inch extra-large size. Or, you might want to consider a different shape of the card table.
Rectangular Card Tables
The typical size of a rectangular card table is 48 inches by 92 inches. This size might not be ideal for games that involve needing to reach the center of the table. The people on the ends will have to stretch quite a bit.
However, if a few players don't mind reaching somewhat, it's an excellent option for larger game gatherings. You can fit about 8 people comfortably around this size card table. If necessary, you could squeeze in ten, but again, consider what you are using the table for first.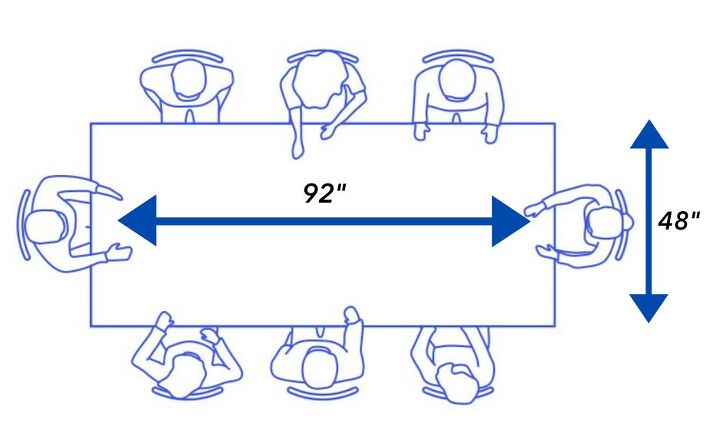 Round Card Tables
Round card tables usually range from 36 inches to 60 inches in diameter. You can fit about 4 to 6 people around a 36-inch round table. At a 60-inch table, you can accommodate from 6 up to 10 players, if you don't mind sitting close together.
A 60-inch round table is an excellent option for a large game night. You can fit many people, yet it enables everyone to reach the center fairly easily. Still, consider the items that will be on the table before you squeeze in too many people.
If there will be multiple game pieces, drinks, snacks, etc., staying closer to 6 or 8 people might be best.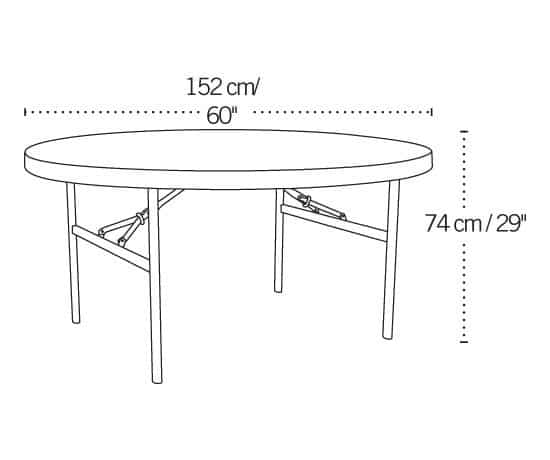 Round card tables offer a nice flow. However, depending on how many people sit at one, the table legs might get in some people's way. This is more of an issue when you have the maximum amount of bodies around the table.
Oval Card Tables
Oval card tables are typically 48 inches from end to end. They can fit about 6 people comfortably, or you can squeeze in 8. Although when you add extra people, someone will likely have to contend with the table legs.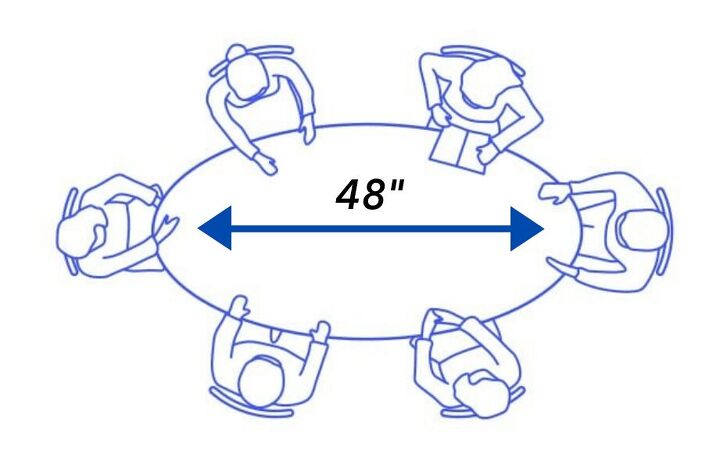 This size card table provides a comfortable reach to the center for everyone sitting around it.
How Much Space Is Needed For A Card Table?
A poker table should have at least 3 feet of clearance space around it to allow for proper sitting and movement.
If you have a tiny space, for example, an octagon or round-shaped card table will work best. If your room is rectangular, an oval-shaped table will provide ample space for movement around the table.
Things To Consider When Choosing Your Card Table Size
Of course, even though people usually use card tables for games, you can also use them for other things. People often use card tables as extra table-seating for large dinners, like Thanksgiving or other special events. You can even place a card table in a cozy corner to create a makeshift breakfast nook.
If sitting around a card table, it's best to place it somewhere with enough room for people to maneuver around.
You should allow at least 30 inches around the perimeter of the table to account for chairs and walk space. This provides at least 18 inches between each person and the table and 12 inches minimum behind the chairs.
Multi-Purpose Use
Card tables can also function as buffet tables, banquet tables, or to set up items at your next garage sale. Their portability and folding design make them a no-brainer for various events.
Of course, you can also use larger folding tables for these purposes if you need something bigger. But, card tables work very well. You can always place multiple card tables together if you need something longer or wider.
The Differences Between Card Tables And Poker Tables
You can certainly use a card table as a poker table, but these game tables are not the same. Modern poker tables are typically oval or round, but hexagonal-shaped tables are also typical.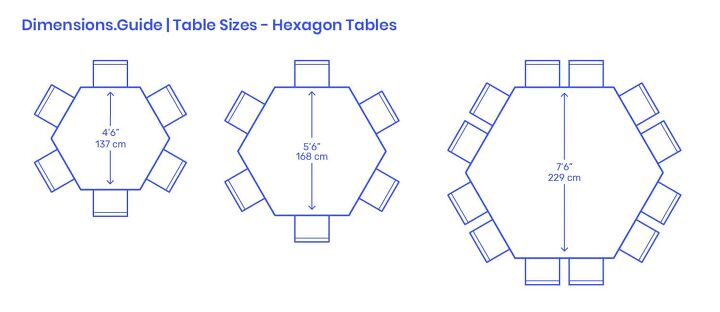 Poker tables are typically on a pedestal, instead of four legs like a card table. Another difference is poker tables generally do not fold up like card tables. However, many poker tables are convertible, meaning the top flips over to become a dining surface.
If you want to replicate a Vegas casino, you can go for an 8 or 9-foot oval poker table. This is a great size for 12 players. But, if you don't have the room, you can opt for a smaller table.
A round 54-inch table can fit about 5 to 6 people, while a 60-inch table can fit about 8. You want to leave some extra space between people around a poker table (no peeking at anyone's cards)
Determining The Size Of Tablecloth For Your Card Table
You might think choosing a tablecloth is no big deal, but there are a few considerations. First, if using your table for playing cards, you probably don't want to use a tablecloth. This could make it hard for the cards to slide across the table when dealing.
Of course, if you don't take your card game this seriously, you're probably not worried about that. So, how do you pick a tablecloth?
Hanging Table Cloth
First, you have to consider how much you want the tablecloth to hang down around the table. This can vary based on what you are using the table for. For example, you probably don't want much of a drop if using the table for games or eating at home.
However, if using the table for a fancy party, you might want the cloth to reach the floor. This helps give the card table a more elegant look. To determine what size tablecloth you need, first, measure your table.
Double Your Drop
Next, decide on the drop you want, double it, and add it to your table measurements. For example, a 60-inch round table with a 10-inch drop would need an 80-inch round tablecloth.
How Much Does A Card Table Cost?
Card tables vary widely in price based on the shape and style. You can find them at furniture stores, home improvement stores, or order them online.
A regular, basic square card table can be anywhere from $35 to $100. However, modern, sleek designs can run closer to $300 to $400 or more.
A basic, extra-large 38-inch card table costs about $100 to $150. Some card tables will come as a set with the appropriate number of chairs. These sets can run anywhere from $80 to $300 or more depending on the design and retailer.

Stacy Randall
Stacy Randall is a wife, mother, and freelance writer from NOLA that has always had a love for DIY projects, home organization, and making spaces beautiful. Together with her husband, she has been spending the last several years lovingly renovating her grandparent's former home, making it their own and learning a lot about life along the way.
More by Stacy Randall
Published November 8th, 2020 4:35 PM