497 Views
Standard Foosball Table Dimensions (with Pictures)
November 19th, 2021 4:04 PM
Share
We're committed to finding, researching, and recommending the best products. We earn commissions from purchases you make using links in our articles. Learn more here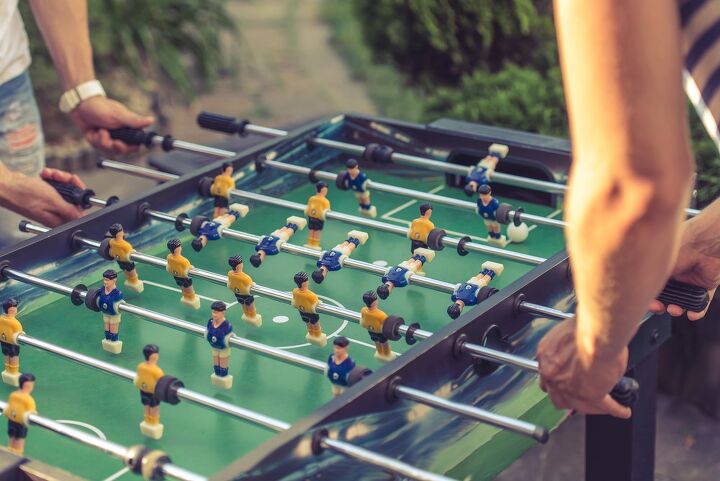 Foosball is a popular game in many arcades, bars, and pubs. It's also a common addition to a family game room, and you can also find smaller versions in kid's rooms. Whether you're a skilled player, or just like to pass the time, a foosball table can provide lots of entertainment.
A typical regulation foosball table in tournaments is roughly 56 inches long, 30 inches wide, and 36 inches tall. The models you often find in homes are closer to 48 inches long, 23 inches wide, and 32.5 inches tall. There are also smaller versions that are shorter and can be 27 inches long and only 14 to 20 inches wide.
If you're thinking about adding a foosball table to your family room or even a kid's playspace, consider the size. You want to ensure there's enough room for the table itself as well as ample space around it.
Regulation Foosball Table Dimensions
If you were to play in a foosball tournament, then you would play on a regulation foosball table. A regulation table measures 56 inches long by roughly 30 inches wide and stands 36 inches tall. The International Table Soccer Federation (ITSF) requires this standard size table.
The table features 8 metal rods with attached foosmen, which are either carbon-fiber, plastic, or metal. The foosball doesn't have a standard size and can come in multiple weights and sizes.
But the ball size people most frequently use is about 1.35 to 1.4 inches in diameter.
Typically, on a table of this size, it's either one vs. one or two vs. two playing in teams. You'll often find tables close to this size at arcades and pubs. As an example, the Rally and Roar Foosball Table from Amazon stands approximately 34.5 inches tall. It measures 56 inches long by 29.6 inches wide.
These measurements are for the overall foosball table; however, the playing field is slightly smaller. The Rally and Roar playing field is 46.75 inches by 26.4 inches. The rods are ⅜-inches in diameter, and the table is sturdily constructed from metal and wood.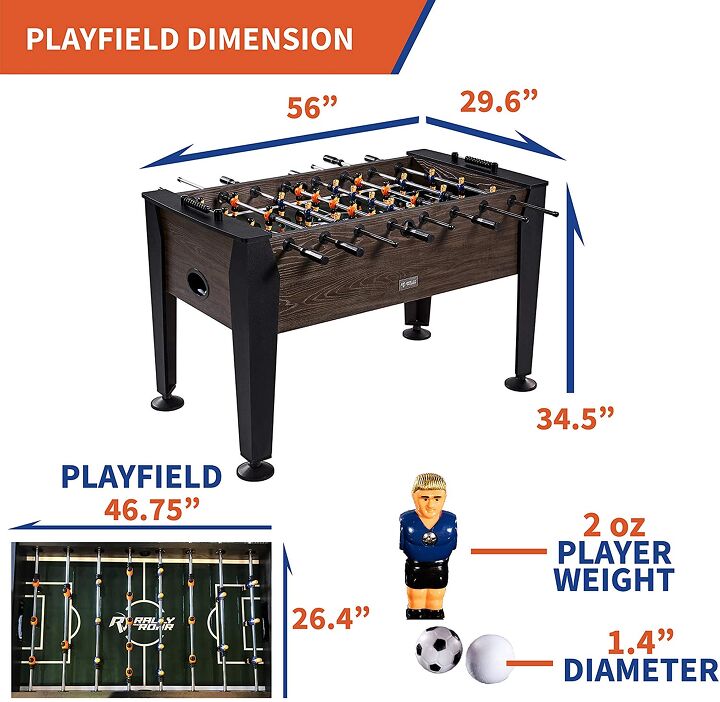 Extended Foosball Table Dimensions
If you're using your foosball table for entertainment purposes, like barbecues, picnics, and parties, consider getting an extended table. This allows up to 6 people to play foosball at the same time.
The Rene Pierre Outdoor Tahiti 6-Player Foosball Table is weatherproof and highly durable.
The height is the same as a regulation table, standing at 36 inches, but it is wider at 41 inches. Plus, it is significantly longer, measuring 88 inches in length.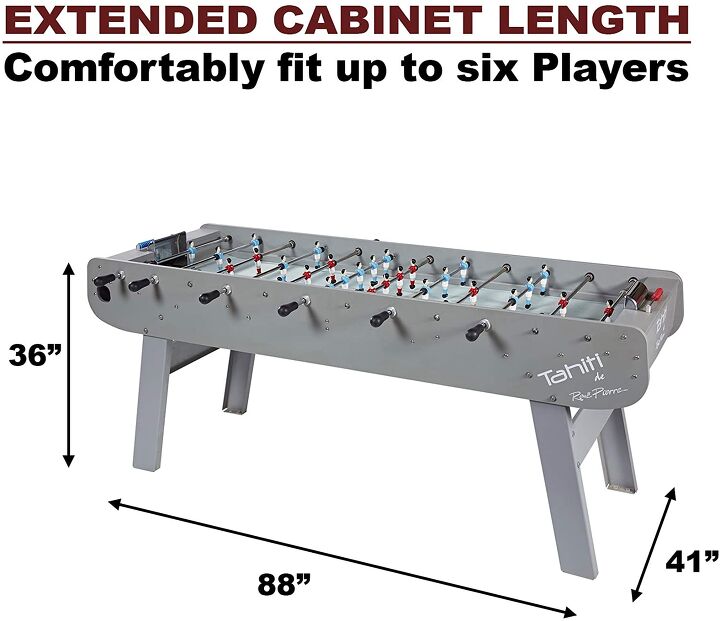 Foosball Table for At Home
Once upon a time, you might only have found foosball tables in public settings. But nowadays, it's more common to have them in your home. People purchase foosball tables for family game rooms, garage bars, kid's birthday presents, and more.
However, unless you're a diehard foosball player, the table you have at home is likely a bit smaller than regulation. This is so it doesn't take up so much room and can fit better within smaller spaces. Plus, with a lower height, it becomes more family-friendly, allowing both adults and kids to play.
The Giantex Multi-Game Table from Amazon measures 48 inches long, 23 inches wide, and 32.5 inches tall. For the smaller playing field of 41.4 inches by 22 inches, there's a smaller ball with a 1-inch diameter. This recreational table also holds a few surprises, containing both a billiard top and a slide-hockey table.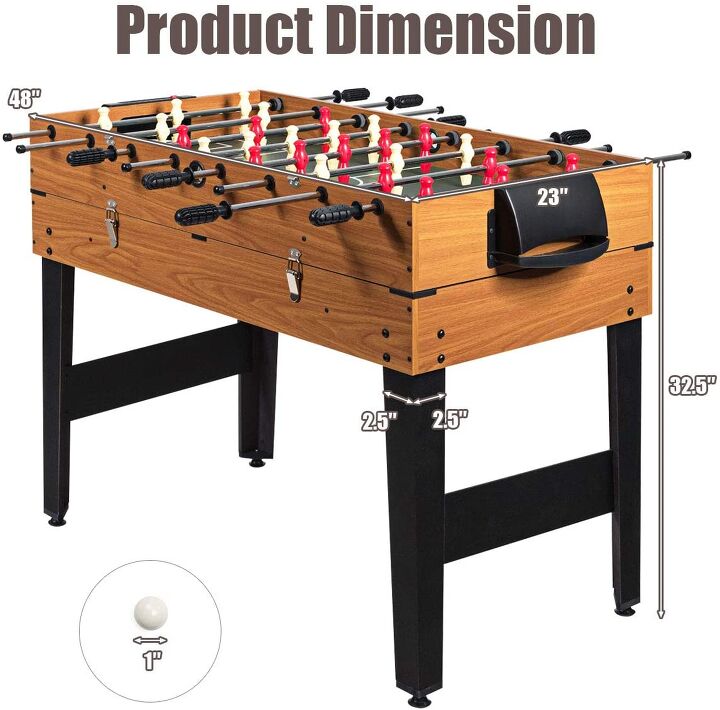 Smaller Foosball Tables
If you're working with a small space or need a more portable option, there are smaller foosball tables available. These are definitely more for just play and fun, such as for kids, date night, or just hanging out with friends.
The small nature of the playing field isn't suitable for serious competitions. Plus, there are typically fewer rods than a regulation or standard table.
Mini Foosball Table
A mini foosball table is an excellent option for kids, thanks to its shorter stature. It's also fun for adults that just want to unwind. This portable table from I-IHAYNER on Amazon is easy to move around and only weighs about 12 pounds. It measures 24.4 inches tall, 27.1 inches long, and only 14.5 inches wide.
The mini table only has 6 telescoping rods to allow for enough playing room.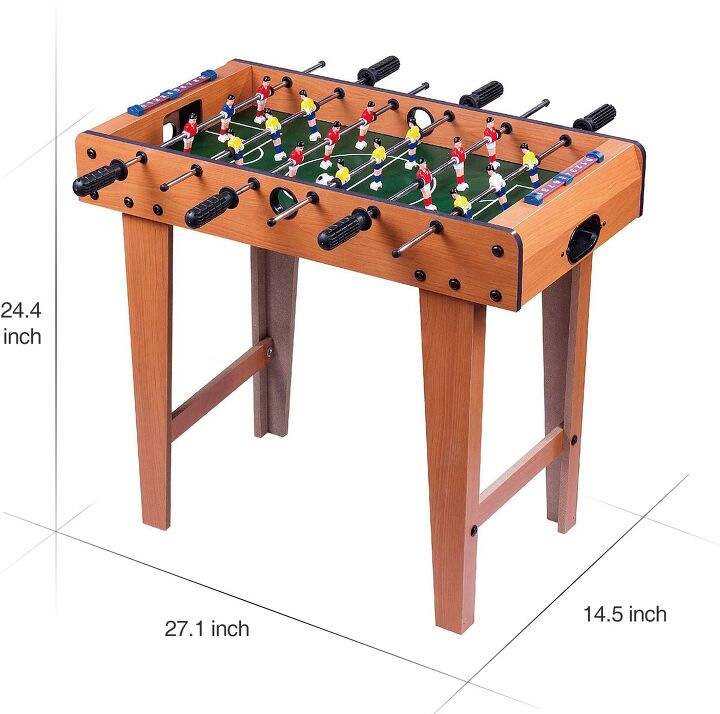 Tabletop Foosball Table
For a little bit more playing space but a lot of portability, consider a tabletop foosball table. These tables don't have long legs, so that you can position them atop a table or desk. They can come in various sizes but are usually roughly 8 to 9 inches tall.
The Kick Squire Compact Foosball Table from Amazon is 33 inches long, 22 inches wide, and 8 inches tall. Like the mini table, the tabletop version also only has 6 telescoping rods to compensate for the smaller playing field.
It's also a great option for kids or adults that just want to kick back and have a little fun. And, you can easily move it around since it only weighs 15 pounds.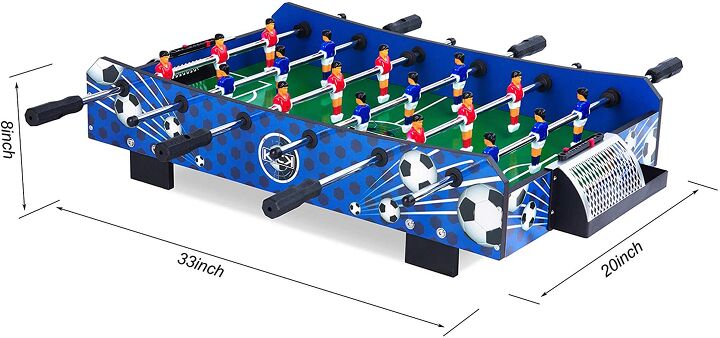 How Much Space Do You Need for a Foosball Table?
In addition to the space for the actual foosball table, you'll also need to allow enough playing room. Players should be able to stand on either side of the table and move their arms comfortably. For a standard table that is 56 inches long, you ideally need a space that is roughly 10 feet wide by 9 feet long.
This amount of room ensures every player can move and play the game without bumping into things. However, if space is limited, you can get away with closer to 8.5 feet wide and 7 feet long. Note the space must be wider since players stand to the sides of the foosball table.
Of course, smaller tables require less room, while larger tables require more space. As a general rule of thumb, add approximately four feet around the table. Although, it's best to have slightly more than this on the playing sides.
Extra Considerations When Choosing a Foosball Table
In addition to the size of your foosball table and the space required, there are a few other things to consider. Regulation foosball tables can get pretty heavy, up to 360 pounds or more. Make sure you think about this when selecting your table.
If you plan to keep your table in a permanent position, you might prefer a table with lots of weight. However, if you plan to move it around often, a lighter version would be better.
If your foosball table will be on a hard surface, ensure the legs have non-slip pads on the bottom. Also, think about who will be playing on the foosball table. If it's more for kids and beginners, don't invest a ton of money.
However, if it's for serious players, look for high-quality materials and construction that can withstand multiple intense games.
Caring for Your Foosball Table
Ensure you can keep your foosball table in a cool, dry place, preferably away from any windows. This will help maintain the table's look and reduce fading of the paint and wood. Plus, if exposed to a lot of moisture, the wood can warp, affecting gameplay.
If the table will be outside, keep it covered when not in use. Also, make sure you get a table suitable for outdoor use. Be prepared to clean your foosball table regularly to ensure optimal game performance. You want to make sure to remove all dust and debris; this includes the balls as well.
It's also advisable to keep food and drinks away from the table. Some good cleaning supplies to have on hand are an air duster, rubbing alcohol, a clean cloth, and silicone oil. The oil is for lubricating the telescoping rods.
---
Related Questions
When and where did foosball tables first become popular?
Games and tables similar to foosball date all the way back to the 1800s. But as we know it today, the first patented table was from the United Kingdom in 1921. In Europe, football (or soccer in the US) was extremely popular.Harold Searles Thronton decided to create the table as a way for people to enjoy football in their homes. In 1962, Larry Patterson brought the idea to America. Over time, the game became more popular, showing up in bars, pubs, arcades, and homes. Eventually, in 2002, the International Table Soccer Federation became a regulator of table-soccer rules. Today, there are foosball tournaments and professional players.
How much is a foosball table?
Since foosball tables vary greatly, so does the price. You can purchase an inexpensive, plastic small table-top version for about $15 to $20. Of course, it's likely not to last very long, especially at the hands of eager young children. You can find sturdier, table-top versions that will hold u well for about $50 to $75. A decent quality standard-size table can cost about $350 to $500. But you can also find regulation tables made from luxurious materials that top $5,000 or more. Extended tables can cost $3,500 or more, especially if they include special features like weatherproofing. Therefore, when shopping for a foosball table, consider how you will use it, how often, and who will use it. Opt for sturdy materials and ergonomic features that will help your table endure lots of use.
Related Guides

Stacy Randall
Stacy Randall is a wife, mother, and freelance writer from NOLA that has always had a love for DIY projects, home organization, and making spaces beautiful. Together with her husband, she has been spending the last several years lovingly renovating her grandparent's former home, making it their own and learning a lot about life along the way.
More by Stacy Randall
Published July 16th, 2021 11:16 AM