59 Views
8 Best & Safest Neighborhoods In Dallas
June 2nd, 2022 5:22 PM
Share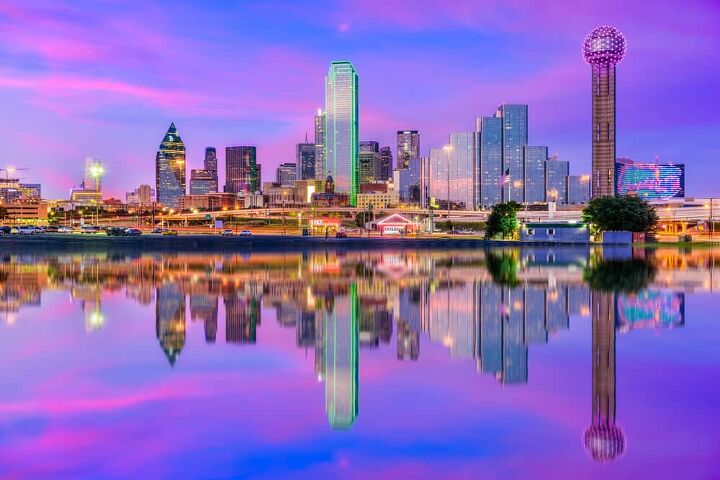 Over the past few years, Dallas has been attracting new residents from every part of the USA. According to U.S. News, it's not only one of the most rapidly-growing cities, but it's also considered to offer fantastic lifestyle opportunities. An attractive mixture of tranquil, suburban areas, combined with the buzz of big-city life, the whole area provides the traditions that Texas is famous for, and laid-back almost-cosmopolitan charm.
Although Dallas welcomes the growing community of young professionals, young families looking to rediscover a sense of community within easy access to the city's amenities are also drawn here. If you're thinking about finding a home in Dallas, you're not alone: more than 2000 people move to the city every week!
So, when moving to a new city or even just visiting a city, it's essential to know the best neighborhoods in the area. Therefore, we've put together a list of the top eight best neighborhoods in Dallas.
Do You Need to Hire Movers?
Get free, zero-commitment quotes from pro contractors near you.
Why Are So Many People Moving To Dallas?
By the start of the 20th century, Dallas had established a reputation as the southwest's leading center for jewelry, liquor, publishing, and pharmaceuticals. It was also the most critical cotton manufacturing center in the world.
Business remains at the heart of the city's prosperity. However, Dallas has also earned a reputation as a hub for the arts, education, sport, and culture. That traditional cowboy lifestyle is still hard to miss – it's everywhere, from the retails stores to the themed bars. There's also a great love for sports, celebrated in suburban backyard gatherings and football games on Friday nights.
The southwest culture is always evident, from the local Tex-Mex cuisine served in the cities numerous eateries to the enjoyment of the great outdoors with running, hiking and biking, and of course, horse-riding. The golden rule is that Dallas residents always treat their neighbors with typical Texan warmth and the south's hospitality.
What Are The Best Neighborhoods In Dallas?
If you're looking to move to Dallas or visit, it's vital for you to know the best neighborhoods in Dallas. With every city, there are good and bad neighborhoods. Knowing the best areas in Dallas will let you know where the best opportunities are for you, whether it's for moving, your career, or a nice Texan vacation.
What it comes down to is there is an excellent side of Dallas, and then there's the not so great side. Safety is the most essential aspect when it comes to moving or traveling. While this gorgeous city is thriving, that doesn't necessarily mean it's the best place, considering it's one of America's top 10 most dangerous cities. However, that's not to say that you can't be safe.
We've looked at official crime stats to compare the different neighborhoods to figure out the safest neighborhoods in the city. We also looked at the opportunities within each community, the income margins, and reviews from both visitors and residents. The neighborhoods that made our Top 8 best neighborhoods are:
Preston Highlands
Highland Park
Uptown
University Park
Oak Lawn
Downtown Dallas
Richardson
M Streets
Best Neighborhoods In Dallas
Below, we've included some information about each neighborhood, as well as a little story to tell you about them. That way, you can understand a bit more about each area.
1. Preston Highlands
Violent Crimes Per 100K: 200.1
Property Crime Per 100K: 1,756.4
Population: 7,874
Preston Highlands is a great place to raise a family if you're looking for a tranquil neighborhood with a suburban atmosphere. It benefits from highly-rated schools and plenty of room to breathe. When you want to be surrounded by other upwardly-mobile professionals, it's an ideal choice.
You're within easy reach of downtown Dallas, so commuting is easy, and you'll still be able to enjoy the vibrant life of the city. While there are plenty of sports and exercise opportunities, when you need a little relaxation, nothing beats a good window shopping session. The Preston Royal Shopping Centre is the perfect place to start. And when it's time for a coffee or lunch with friends, the Neuhaus Café is a favorite spot for those in the know.
2. Highland Park
Violent Crimes Per 100K: 97.2
Property Crime Per 100K: 2,075.4
Population: 9,168
Large elegant homes combined with a small-town atmosphere. Highland Park is an upmarket area with some of the best schools in the region. It tends to attract families looking for a long-term home, so the neighborhood is considered one of the most stable in Dallas.
It's not only families who are attracted to this area. Famous as the 'Rodeo Drive of Dallas,' it's home to the country's first contained shopping center and many upscale boutiques. As you'd expect, there are also plenty of elegant restaurants and cafes.
An additional attraction of Highland Park is the natural beauty of the area, making it a pleasure to walk around. Home to mature trees and abundant local vegetation, Turtle Creek in Lakeside Park is an ideal place to relax and soak up the beauty of the area. Although Highland Park can seem like an oasis of calm, it's still within easy reach of Uptown and Downtown Dallas.
3. Uptown
Violent Crimes Per 100K: 353.3
Property Crime Per 100K: 4,917.7
Population: 29,958
Uptown is an eclectic and vibrant neighborhood, close to Downtown and the upmarket enclave of Highland Park. McKinney Avenue in the heart of It's the most popular area in Dallas for young professionals to live, work, and generally enjoy all that city life has to offer. There's plenty to do here, and at night the West Village district comes to life.
It's a great place to shop in quirky boutiques or enjoy dining in one of the area's many outdoor restaurants. If you're a cinema buff, there's no need to travel too far- the award-winning Magnolia Theater offers five screens and a cocktail bar. The area is also dog-friendly, so when it's time for some exercise in the tranquility of natural surroundings, take your pooch for a run or bike ride in Cole park or along the Katy Trail.
4. University Park
Violent Crimes Per 100K: 23.6
Property Crime Per 100K: 743.1
Population: 10,884
As it's home to the Southern Methodist University, it has a youthful vibe. Whenever there's a football match, the area around University Park fills with students, and locals join and enjoy "boulevarding" before the game. From here, it's easy to access the rest of the city, using Highway 85 and the Northwest Highway. However, once you know your way around, it's easy to get downtown without resorting to the highway.
It's less expensive to live in University Park than in the more affluent environs, but it still offers excellent amenities and an enjoyable lifestyle. With its fascinating shops, restaurants, and spas, the central Snider Plaza is a hub for residents. And when the heat of the summer kicks in, the nearby Holmes Aquatic Center is the perfect place to cool off.
5. Oak Lawn
Violent Crimes Per 100K: 393.6
Property Crime Per 100K: 3,571.4
Population: 44,730
Oak Lawn… Sounds sleepy and suburban, right? Maybe the perfect for retirees wanting to spend their golden years in peace. Actually, wrong. There may be some oaks, there may be some lawns, but they're not the attraction. This is a neighborhood that's the exact opposite of tranquil, conservative, and dull.
Oak Lawn happens to be the center of Dallas's LGBTQ+ universe. As you might expect, the vibrant nightlife is an eclectic mix of DJ, country and western, drag shows, karaoke, and more. It's home to Dallas's annual Pride event, Halloween Block Party, and the Purple Party weekend, when the dancing goes on until the morning.
Cedar Spring Taphouse is a popular meeting point, Station 4, to sample the area's throbbing nightlife. For some country dancing with a western vibe, the Round-Up Saloon, with a range of bars, games room, and of course a dance floor, is a great place to start.
6. Downtown Dallas
Violent Crimes Per 100K: 632.8
Property Crime Per 100K: 4,216.1
Population: 3,531
Downtown Dallas is being transformed. Mixed-use developments are attracting residents who live, work, and enjoy their leisure time in the area. Lively shops, bars, and high-quality restaurants cater to this young and upwardly mobile population determined to enjoy life and want facilities within easy walking distance.
There are plenty of green spaces to enjoy, and food trucks are waiting to provide you with delicious lunches and snacks while you relax and enjoy the natural oasis. There's no large grocery store at the time of writing, but a wholly overhauled Dallas Farmer's Market is there to supply residents with fresh produce and home-baked treats.
With its museums and theatres, the arts district means that there are plenty of options for culture-lovers, and attractions such as the Dallas World Aquarium offer fascinating leisure options for residents and visitors alike.
6. Richardson
Violent Crimes Per 100K: 143.7
Property Crime Per 100K: 1,839.6
Population: 116,432
If you love ethnic food and a cosmopolitan atmosphere, Richardson, home to the University of Texas at Dallas, with its culturally diverse population, could be the ideal place for you. There's a vast range of cuisines on offer at the area's many restaurants. Shops and entertainment venues reflect the interests of the many communities that call Richardson home.
Cottonwood Park is a great place to spend a few lazy hours enjoying a picnic, feeding the ducks, or attending a seasonal art festival. Crowley Park and Prairie Creek Park are also fantastic natural oases. In the peak of the summer heat, there's the opportunity to cool down with an ice-skating session at the Dr.Pepper StarCenter. If cars are your hobby, the North Texas Automotive Museum will provide endless fascination with its classic cars and interactive exhibits.
7. M Streets
Violent Crimes Per 100K: 298
Property Crime Per 100K: 1,054
Population: 7,141
If you're looking for the best of all worlds, M Streets – Vickery Place, could be the ideal location. It's a place where people, who still want to be close to the buzz of the city while enjoying a tranquil suburban atmosphere, come to settle. It's within a few minutes walk to the bars, restaurants, and shops along Greenville and Henderson.
Yet, with its quiet streets lined with pecan trees, it can seem a world away from the bustle. Neighbors still greet each other when they meet, and kids play freely in the open air. Although there are some apartment buildings around Greenville and Henderson, M Streets is famous for its traditional Tudor-style homes, many over 100 years old.
There are plenty of parks, and the Katy Trail and Glencoe Park is a stone's throw away. So there's no shortage of opportunities for daily runs, strolls, and soaking up the Dallas sunshine.
Neighborhoods To Avoid In Dallas
When you're planning to visit or relocate to the city, it's essential to avoid the city's most unsafe neighborhoods. Those that chiefly account for those worrying statistics include:
South Dallas
West Dallas
Some parts of East Dallas
South Boulevard-Park Row
Cedar Crest
South Dallas
Convention Center District
Cockrell Hill
Northwest Dallas
Wolf Creek
Fair Park has high rates of break-ins and thefts, while, according to the website SiteAround, Greenville and Mesquite are less safe than surrounding districts.
Staying Safe In Dallas
Pickpocketing (also known as distraction theft) is a problem in major cities worldwide, especially those that attract large numbers of visitors. Pickpockets will steal wallets and, within minutes, use debit or credit cards to make high-value purchases. A few years ago, a pickpocketing ring was found to be forcing small children to steal wallets from carelessly stored purses in restaurants and cafes.
So, when moving around Dallas, it makes sense to take a few precautions, just as you would in any other city. Use a hotel safe for your valuables, or keep them out of sight. Take extra care in crowded places, primarily if they're frequented by tourists. On public transport, keep your valuables in front of your body so that you can see them clearly. Don't walk in known high-crime areas and never walk alone at night.
Getting Around Safely
Take the DART instead of walking. Although it's possible to walk between neighborhoods, most people use cars to get around the city. Although there are buses and the Dallas Area Rapid Transit (DART) around the downtown areas, they're not always reliable.  When traveling on public transport, be aware of what those around you are doing, and keep your valuables close.
As an alternative, use taxis or call an Uber/ Lyft.  However, ridesharing is not totally without risks. Over 100 Uber drivers in the U.S. have been accused of passenger assault. Uber now has a 911 button and a facility that shows a friend or family member the trip's progress.
Be smart and play it safe. If you're waiting for a taxi-service pick-up, stay in a busy, well-lit area. Before you get into the vehicle, confirm that it's the driver and the car you were expecting – check the license plate. Never tell the driver your name –instead, ask the driver to confirm the name the ride was booked under.
Do You Need to Hire Movers?
Get free, zero-commitment quotes from pro contractors near you.
Our Takeaway
While Dallas has so much to offer, it goes without saying that the crime rates tend to be high for the city as a whole. However, specific neighborhoods within Dallas are wonderful. If you're thinking of moving to Dallas, use this guide and do your research so that you can ensure you are safe, with great neighbors and wonderful job opportunities.

Heather Robbins
Heather is a passionate writer who loves anything DIY. Growing up, she learned everything from home repairs to design, and wants to share her tips with you. When she's not writing, she's usually hiking or searching for her next DIY project.
More by Heather Robbins
Published January 1st, 2021 6:00 PM