66 Views
The 5 Best 3/4 HP Garbage Disposals
December 21st, 2021 2:36 PM
Share
We're committed to finding, researching, and recommending the best products. We earn commissions from purchases you make using links in our articles. Learn more here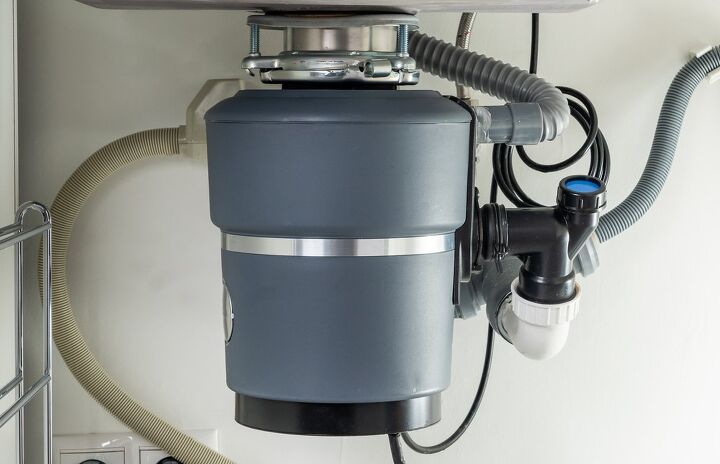 Garbage disposals have become an essential piece of kitchen equipment, especially in more recent years. They are convenient for reducing food scraps and leftovers that get sent to our landfills. The ¾ HP garbage disposals are one of the most preferred because they're suitable for daily use.
The best 3/4 HP garbage disposal units will offer ample power, capacity, and durability. After our extensive research, we found that the InSinkErator Evolution Garbage disposal is the best one. This unit also fits in tighter spaces, is resistant to rust, and includes a safeguard that ensures it only operates when the magnetic guard is in place.
We will describe the benefits of the best 5 3/4 HP garbage disposals and answer some questions you may have about them. The buyer's guide that's included will guide you along the way as you search for the best 3/4 HP garbage disposal.
Our Top 5 Choices For The Best 3/4 HP Garbage Disposals
Here is a carefully selected list of our choices for the best 3/4 HP Garbage Disposals:
Below, we will give you an in-depth look at each of the units listed above to allow you to see precisely why we chose these to share with you.
How Powerful Is A 3/4 HP Garbage Disposal?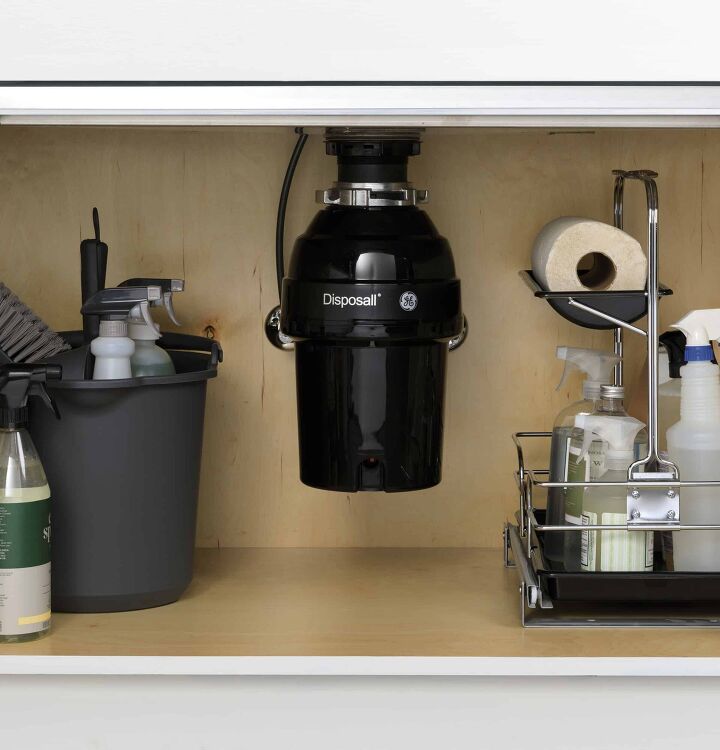 When it comes to a garbage disposal's HP, it lets you know how much waste it can handle, as well as whether or not it grinds your food waste well. The weakest garbage disposals are 1/3 HP and are appropriate for those with one or two people in the family.
The 3/4 HP garbage disposals have a strong motor and great technology, so they can better handle hard vegetables and even chicken bones. This strength of disposal runs a lesser risk for clogs and jams. Also, it can serve a family of up to six people!
Features Of A 3/4 HP Garbage Disposal
This strength of 3/4 HP garbage disposal gives you real power. It can grind pretty much any food that you throw in there without causing any issues. The higher the horsepower, the stronger the components. Not to mention, stronger disposals last longer.
Moreover, most ¾ HP disposals have great sound-dampening features to reduce the noise throughout your home. The lower strength disposals can be extremely loud, which is very inconvenient if you're a midnight snacker, and you need to use the disposal to throw out your scraps.
¾ HP garbage disposals are known to:
Jam less
Have less risk of clogs
Grind chicken bones
Operate quietly
The 5 Best 3/4 HP Garbage Disposals
Kicking our list off with the InSinkErator Evolution Compact unit, we dive into the details of each disposal and share information that we think you should know about each selection.
InSinkErator is rated as America's #1 brand because it is known for its fantastic durability and unwavering power, which is why it makes up three out of five of our top picks. However, this particular model is our number one, best overall pick for several different reasons.
The InSinkErator Evolution Compact 3/4 HP Disposal is the best overall because of its compact design, sound level, and durability. This model is smaller yet has the power and durability necessary to grind tough food waste without the obnoxious noise level.
NOTE: Item do not come with a power cord attached, it is a separate add-on accessory
Compact
This garbage disposal is space-efficient, perfect for smaller households or homes with limited cabinet space. When installed under the sink, it takes up 30% less space, giving you more room for storage.
Don't let this smaller sized garbage disposal fool you. It may be small, but it packs some power. It contains a dura drive motor with more grinding force than most of the other types on the market.
Quiet Yet Powerful
The evolution compact has a two-stage grinding technology, and thanks to its SoundSeal technology, you can use this appliance any time of the day or night, without disrupting others. You can even grind melon rind or chicken bones, and it won't cause an obnoxious level of noise.
Durability
Featuring alloy stainless steel for its grinding components, as well as a LeakGuard Liner, it's safe to say this disposal is one of the best choices if durability is your priority.
This particular model will last you for the years to come. The blades stay sharp, so five years from now, you'll still have a garbage disposal that works as it did when it was brand new. It also comes with an 8-year in-home warranty in the event that there's a manufacturer malfunction.
Specifications
Weight: 19.21 pounds
Dimensions: 8 x 8 x 12.13 inches
Grind: Two-Stage Multigrind Technology
Material: Galvanized Steel
Included Components: Garbage Disposal
We understand that there are times when the budget may be a priority. That's why we've chosen the Waste King L-3200 as our best budget garbage disposal. For around $100, you can have a durable and powerful unit that is easy to install, saving you even more on cost.
DIY Friendly Installation
The only supplies you will need to install this garbage disposal are:
Adjustable pliers
Screwdriver
A Hammer
Dowel/Punch
Plumbers putty
The twist and lock design for this EZ mount system makes it easier to install it in your kitchen sink, whether you are replacing an old disposal or not. All of the hardware is provided, including a 32-inch power cord. Installation instructions are included, so there's no need to pay extra money for a professional.
COMPACT SIZE: Smaller and lighter ¾ HP design is 7-3/4 inches in diameter, 13-3/4 inches long and weighs 8.6 lbs
Durability
Not only is this disposal budget-friendly, but it's also extremely durable. The chamber is made from a high-grade polymer that is resistant to corrosion.
Also, the stainless steel grinding components are rust-resistant, which extends the life of your disposal. By ensuring proper monthly maintenance, it will last you even longer.
Power With High Speed
This compact, budget-friendly disposal runs at 3/4 HP with 2700 RPMs. It grinds most kitchen scraps in less than a few seconds.
Since the magnetic motor sets the disposal off at full speed almost instantly, you won't have to deal with the hassle of fixing clogs or jams.
Specifications:
Weight: 8.6 pounds
Dimension: 7.75 x 7.75 x 13.75 inches
Feed Type: Continuous
Material: Stainless Steel
Included Components:

DisposalSplash guardPower Cord8-year warranty
You may have said no to a garbage disposal before because of the lack of safety features. Maybe you have children in the home or maybe you're worried about destroying your disposal with cutlery that has fallen into the grinding chamber. That's where the InSinkErator with Cover Control Plus comes in.
Safety Feature
What sets this apart from the others is the safety feature that comes with it. If you have young children in the house, or anyone else who is prone to accidents (I know I am!), this is the perfect disposal for you.
With this model comes a magnetic safety cover. To activate the garbage disposal, you need to push the stopper into the drain and turn it until it locks into place. If the cover is not in place, the garbage disposal won't turn on.
SoundSeal Technology which delivers ultra-quiet performance versus a standard disposer
Multigrind Technology
Like all of the other InSinkErator models, this one comes with two-stage multi grind technology. This allows you to grind tougher scraps of food quicker, without running the risk of clogging or jamming.
In addition, the grinding components are made with durable material. This ensures that your grinding won't wear down the blades or chamber, and it will continue to last you over an extended time.
Easy Installation
If you already have an InSinkErator disposal, installation is effortless. When you install this model in place of your old one, you unlock and twist to swap them out. To put the new one in, twist it into place with the Quick-Lock mount, and you're all set!
If you don't have an InSinkErator garbage disposal, that's okay too. This model comes with everything you need for installation.
Specifications
Weight: 5 pounds
Dimension: 10 x 10 x 16.25 inches
Feed Type: Batch Feed
Warranty: 7 years in home
Included Components:

Garbage DisposalInstallation mountManual
Number four on our list is the InSink Erator that comes with an air switch. Although, if you prefer, you can still hook it up to your wall switch instead. This disposal is also quiet and contains easy swap installation, so if you have an older InSinkErator model, you can install this quicker.
Air Switch
An air switch allows you to active your disposal with air pressure rather than electricity. This will reduce the risk of electrical shock because, as everyone knows, water and electricity don't mix.
In addition, the button installs into the top of your counter, so instead of having to reach or walk across the room, you have the convenience of hitting the switch to start your disposal.
QUIET BUT POWERFUL: This innovative food waste disposal features advanced noise reducing SoundSeal Technology, our exclusive, long lasting 3/4 hp Dura-Drive Induction Motor, and 2-Stage Multigrind Technology to handle the toughest food scraps.
Quiet and Powerful
This unit contains a dura-drive motor and 2 stage multi grind technology, which will eat up almost anything you put into it. It grinds quicker and therefore stays cleaner to reduce the risk of clogs and jams.
However, the power behind the model doesn't raise the noise level. So, you get all of this power with less noise. Nobody wants an obnoxiously loud garbage disposal; this one is nearly whisper-quiet, allowing you to chop up food without disturbing the peace.
Easy Swap Installation
Installation is easier if you already have an InkSinkErator model that you want to change out. The Quick-Lock mount is compatible with all of the InkSinkErator models.
However, this garbage disposal includes a Quick-Lock mount, so if you don't already have one, you can take the time to install it now. That way, when you're ready for a new disposal, or an upgrade, you already have it in place for next time.
Specifications
Weight: 19 pounds
Dimension: 8.75 x 8.75 x 12.6 inches
Feed Type: Continuous
Included Components

Power cordSink top switchInstallation manual
Finally, the Waste King 9940 is an excellent choice if you are looking for a powerful yet quiet disposal. This model's sleek design gives you more cabinet space under your sink for storage, but that doesn't take away from its ability to grind tougher food scraps.
Sound Insulated
This model runs at 2700 RPMs with a 3/4 HP permanent magnet motor with an insulated barrier so that it doesn't disturb the peace within your home.
The quiet motor, in addition to the amount of power this disposal has, is impressive. You don't have to give up one to gain the other.
High-Speed Power
The high speed of the motor ensures that your disposal will chop up your food waste quickly, which means that the residual food won't stick to your blades. You don't need to worry about clogs or jams, as it's a continuous feed model and designed to grind food as soon as you feed it into the mechanism.
Coupled with the stainless steel grinding components and the rust-free feature, the high-speed power works with the durability to help your unit last even longer.
Sleek Design
The sleek design of the Waste King 9940 allows you more space under your sink. In addition, it's great if you have restricted counter space. With this model, you can have a compact disposal that packs a punch and lasts you a long time.
Specifications
Weight: 9.5 pounds
Dimensions: 8 x 8 x 13.5 inches
Material: Steel
Included Components: Garbage Disposal
What You Need To Know To Choose The Best Disposal
The installation and use of waste disposals are regulated by some municipalities or localities. Towns without public wastewater treatment plants, where homeowners have their own "septic systems," may not allow disposal use in particular instances.
Some types, however, are built expressly for use with septic systems. To ensure that all trash entering their treatment system is pulverized into small enough particles to be treated efficiently, some cities may require disposal units in kitchen sinks. In any event, before purchasing and installing a disposal, make sure to verify your local ordinances.
Disposals Can Be Stinky
A standard disposal can handle everything from fresh supper scraps to unidentified leftovers that have been hiding in the back of the fridge for weeks without being discovered. It should come as no surprise if you occasionally notice a persistent, foul odor coming from the sink drain.
There are a number of treatments for this problem, but we've found that mixing equal parts baking soda and distilled vinegar is the most effective.
Take about half a cup of baking soda and dump it into the disposal while the water and disposal are turned off. Then, over top of that, add about a half cup of vinegar.
Allow the mixture to sit for about five minutes before turning on the water, then the disposal for a few seconds before turning everything off as usual.
Difference Between Continuous vs. Batch Feed Disposals
As the name implies, continuous feed disposals can accept food waste that has passed through the drain and into the grinding chamber on a constant basis.
A remote switch is all that controls their operation. Only with the drain cover in place will batch-feed disposals work. You can't put more waste in the disposal until the drain cover is removed and the disposal is turned off.
While these are inconvenient and time-consuming, the safety benefits of not being able to reach in while the disposal is running are obvious.
Gauging Sound Levels
Disposals' attraction is influenced by how loud (or not) they are. If you're grinding up leftovers from a huge meal, having one spinning on and off for an extended period of time can be inconvenient.
So, while disposing of half ears of raw corn, we recorded the sound levels of the first four models (which we examined in our most recent round of testing; the other three are holdovers, for which we only got peak sound levels) over time.
Considerations About Noise
Garbage disposals cause grinding noise and vibration, which are two of the most common complaints. A strong rubber gasket or union connects the appliances to the sink, which helps to decrease vibration. Sound-deadening insulation may be encased in a cover on more expensive devices.
Electrical Connections
New disposals may come pre-wired with a power cable and a plug, with a cord and a plug that must be wired yourself, or with no cord at all—the latter two being alternatives for replacing an older, hardwired device.
The disposal will need to be controlled by a remote switch that is within reach of the sink. If you're installing a disposal where one wasn't previously installed, you'll need to power both the switch and the disposal's plug outlet in the sink cabinet.
About Horsepower
1/4-, 1/2-, 3/4-, and 1-horsepower motors are commonly used in disposals. More horsepower usually means more powerful grinding.
Some manufacturers recommend a power level based on the number of persons in the household and the amount of activity the disposal will see.
Smaller families (one to three people) with rare disposal usage should choose something in the lower price range, while bigger families with regular disposal use should choose something in the higher price range.
Regardless of family size, the number is important to remember because higher-horsepower disposals have stronger components and may last longer.
Best Way To Maintain Your Garbage Disposal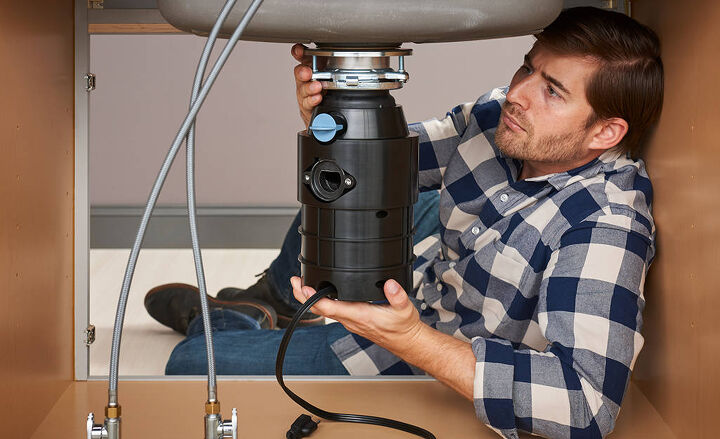 Maintenance of your garbage disposal generally starts with using it correctly. Usually, you don't have to provide genuine care to the unit as long as you're following the manufacturer's guidelines. With that said, here are a few things that you can do to ensure your garbage disposal is running the way that it should, at all times.
Always Check The Chamber
Before you run it, it's always a good idea to take a spoon and stir around to feel for any cutlery that may have dropped into the blade chamber. This is especially important if you have little kids running around or if you just did a load of dishes on that side of the sink.
Making sure there's nothing there before running the unit will help avoid any costly repairs due to an accidental break.
Don't Grind Steak Bones
While chicken bones can usually be ground with a 3/4 HP disposal, you cannot throw in a beef-bone. This is because chicken bones are generally softer and more fragile. Therefore they're easily ground by the blades of your disposal.
This is the same reason why dogs can chew beef bones, but not chicken bones. The chicken bones easily splinter, whereas the steak bones do not. A steak bone would most definitely destroy your disposal.
Clean Your Blade Chamber
If you use your garbage disposal every day, all day, you should take the time to clean out the blade chamber at least once a month. You can do this by using a good garbage disposal cleaner and running hot water to melt any residual grease stuck on the blades.
The more build-up you have on your blades, the less efficient they will be at breaking any food up. So make sure you take the time to clean it. However, if you find yourself using your disposal only once a week, then you could deep clean it once every 4 to 6 months.
Make Repairs Right Away
If you find that your disposal is leaking, take the time to repair it immediately. This will help it run more efficiently, and it will keep a small problem from turning into a larger one.
---
Related Questions
How many amps does a 3/4 HP garbage disposal use?
A 3/4 HP garbage disposal uses 13.8 amps. This is the full load current that the motor takes when operating. Keep this in mind when installing.
Does a garbage disposal need to be on its own breaker?
It is recommended to have a garbage disposal on its own breaker. However, a circuit shared with a dishwasher should be fine as well. Make sure that your garbage disposal is connected to an outlet that's grounded or that it's hardwired.
Do ice cubes sharpen garbage disposal blades?
Ice cubes are great for sharpening the blades of your garbage disposal. Additionally, they'll break up grease build up as well. Throw a few cubes in and run it to sharpen the blades.
Wrapping It Up
We don't need to explain why you deserve to have the best garbage disposal installed in your kitchen. Although, you should invest in one that can adequately meet your needs.
Make sure you know how much waste you dispose of so you can get the proper model to handle your food waste.
Each model has different features, so it's also essential to look for a garbage disposal that's user friendly to you and gives you the benefits you're looking for. This way, you'll purchase a unit that's guaranteed to be the best according to your own standards.

Heather Robbins
Heather is a passionate writer who loves anything DIY. Growing up, she learned everything from home repairs to design, and wants to share her tips with you. When she's not writing, she's usually hiking or searching for her next DIY project.
More by Heather Robbins
Published October 23rd, 2020 11:50 AM