1.4K Views
Bali Vs. Levolor Blinds: What Are The Major Differences?
August 18th, 2022 12:16 PM
Share
We're committed to finding, researching, and recommending the best products. We earn commissions from purchases you make using links in our articles. Learn more here
Bali and Levolor are two of the best options for blinds, but choosing between them is tough. Levolor blinds look great and come with an excellent warranty, and Bali has a wide variety of options. Whether it be style or selection, follow along as we compare Bali and Levolor blinds.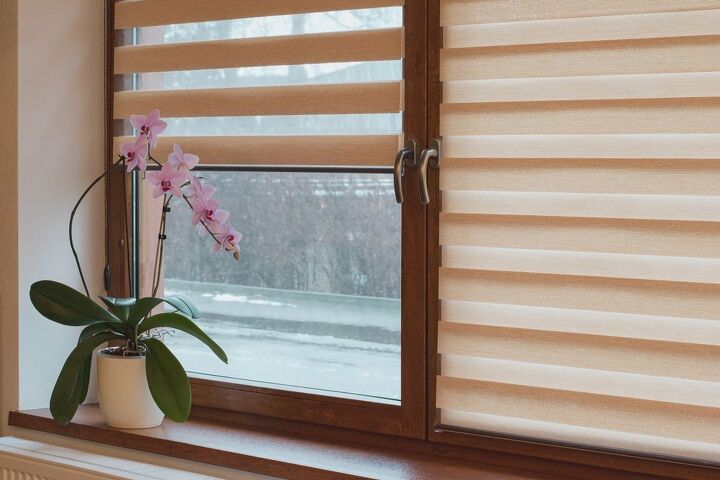 When thinking of ways to accessorize your windows, don't discount the idea of adding blinds. Aside from adding a new dimension of style to your home décor, blinds also offer other benefits. These include promoting privacy, energy-efficiency, and better control over your home's lighting.
The question is: Which blinds should you choose? Are you better off purchasing Bali blinds or are Levolor blinds the superior option?
Bali blinds give you more to consider in terms of style and design options. However, Levolor blinds offer you more coverage thanks to their friendlier warranty terms. If you're curious about installation, repair, and maintenance, the blinds from both brands are pretty equal.
There is no clearly superior option between the Bali and Levolor blinds. Still, you may find that one company's blinds fit better inside your home. Check out how Bali and Levolor's blinds differ from one another by reading on.
Related Content: Types of Window Blinds | Pros And Cons Of Cordless Blinds | How Much Do Blinds Cost
Do You Need Window Blind and Shade Installers?
Get free, zero-commitment quotes from pro contractors near you.
Product Variety
As a shopper, you always want to have a wealth of options available to you. It's worth noting that both brands are not lacking when it comes to variety.
Bali's Offerings
Beginning with Bali, they give you 16 different types of blinds and shades to choose from. Timeless options such as wooden blinds, horizontal blinds, vertical blinds are available. You can also take advantage of the natural lighting available in your area by using some Bali shades. The natural and exterior solar shades are great in that regard.
We also want to highlight the pleated shades that Bali is currently offering. These are among their newest offerings and they present a different look that works great in all kinds of home settings.
If you're a fan of Roman shades, you'll also appreciate the fact that Bali offers both the classic and tailored variety.
Levolor's Offerings
While Bali's range of products is impressive, what you're getting from Levolor is nothing to scoff at either. As you would expect, you're getting the same classics from Levolor that you would from Bali. The wooden, horizontal, and vertical blinds are available and they excel at rounding out a classic design scheme.
If you're interested in vertical blinds, then you may find Levolor's collection more to your liking. Aside from the classic vertical shades, they have options made from lighter fabric. These blinds are great for adding height to a room without interfering with the natural lighting.
You can also pick up some metal blinds from Levolor. Those metal blinds feature a distinctive look that doesn't work in all homes. Still, if you want something different, they are worth checking out.
Bang for Your Buck
Prices always have to be a primary consideration whenever you're shopping for new home accessories. So how do Bali and Levolor compare to one another in terms of pricing? The two brands are actually quite close to one another in that department.
We did find that Bali's most affordable blinds were slightly cheaper than what Levolor offered. Time your purchase right and you could end up taking home some blinds for less than $30. Levolor's offerings are not too shabby in terms of value. You should still find some good options sold at $36.
Homeowners looking to splurge can also find some terrific options from both brands. They have blinds and shades that are priced at well over $300. Those are their premium offerings obviously and they are well worth the money if you want to pursue a particular look.
Warranty Terms
Bali and Levolor approach warranty provision quite differently and it's best to know about their terms as a consumer. You want your purchase to be adequately covered after all and friendly warranty conditions help with that.
How Levolor Handles Warranties
This time around, let's start by looking at Levolor. The now Hunter Douglas-owned brand gives consumers a limited lifetime warranty on their purchases.
Now, here's the thing to note about limited lifetime warranties. Although the inclusion of the word "lifetime" may lead you to believe you're covered for many years, that's not always true. The length of time your purchase is covered can still be dictated by the manufacturer.
That brings us back to Levolor's warranties. They're actually quite generous in terms of coverage length. The majority of their blinds and shades are covered for 10 years from the date of manufacturing.
The only exceptions are their vertical vinyl vanes and their shutters. You're getting 25 years of coverage on the shutters, but only three years for the vinyl vanes.
Homeowners should also know that the warranty only takes effect under certain conditions. More specifically, the blinds and/or shades must have been properly installed and they should still be on the original windows.
For those planning to take advantage of Levolor's warranty terms, it's also important to note that some costs aren't covered. You will specifically have to pay for removing and re-installing the blinds or shades yourself. If the blinds or shades have to be transported, you're paying for that as well.
How Bali Handles Warranties
Bali also provides a limited lifetime warranty for their products, but as you've likely guessed, it doesn't span decades.
If the items you want replaced or repaired include tailored shades and their accessories, you're getting five years of coverage. The motorized components of those items are also covered under the five-year warranty.
Three-year coverage is offered for vertical blind vanes, the 2-inch horizontal vinyl blind slats, and the pleated shades without looped tape. The operating cords are covered for that same length of time too.
You'll also have to pay extra if you want to take advantage of Bali's warranty offerings. The additional costs of transporting the items, removing them, and re-installing them are coming out of your pocket.
Also note that your purchase may not qualify for a warranty if it is wasn't installed according to the manufacturer's instructions. Failing to abide by their guidelines when it comes to cleaning and maintenance could also void the warranty.
Ease of Measurement and Installation
Something we've come to appreciate from both Bali and Levolor is that they do offer plenty of guidance regarding their products. When it comes to instructions regarding measuring and installation, the two companies offer extensive guides.
They also detail the instructions for specific products, thus making the aforementioned processes way easier. Bali and Levolor also provide some detailed instructions regarding maintenance. Make sure to follow those to prolong the life of your purchases.
Which Brand Has the More Stylish Blinds?
It's difficult to comment on which brand is more stylish considering how subjective that is. However, we do think there are noticeable differences between how the two brands style their products.
From what we've seen, Bali tends to be trendier when it comes to designing their products. They are more open to integrating interesting textures into their blinds and they also don't shy away from featuring distinctive patterns. You can see that especially in their layered, pleated, and tailored Roman shades.
Does that mean that Bali's brands are more stylish? We don't necessarily think so. If you prefer more classically styled blinds, you could find Levolor's catalog to be more appealing. We like the simplicity of their design philosophy too.
While you may want a definitive answer to the question of which brand's blinds are more stylish, that answer is unavailable. You will simply have to lean on your own style sensibilities to figure out which one fits better into your home.
Do You Need Window Blind and Shade Installers?
Get free, zero-commitment quotes from pro contractors near you.
---
Related Questions
Is There Any Difference between How Bali and Levolor Blinds Are Operated?
A while back, there were some more distinct dissimilarities between how the blinds from Bali and Levolor could be used. These days though, they are pretty much the same in terms of how you open them or close them.Even if you find yourself confused when you first switch from one brand to the other, that can change quickly. Going to the instruction manual should help clear up any confusion.
How Do You Clean Bali and Levolor Blinds?
Cleaning Bali and/or Levolor blinds is a relatively easy undertaking for the most part.The first thing you'll want to do is to check the manual for your purchase. If there are any special cleaning instructions you need to follow, they will be included in the manual. It's best to follow those instructions as best you can so that you don't accidentally void the warranty.Most of the time, you will also only need some basic items to clean your blinds. A duster, a piece of cloth, soapy water, and vinegar will likely be enough to clean the blinds properly.
Should You Install Your New Blinds Yourself?
Upon purchasing your new blinds, you'll have to decide whether to install them yourself or hire a professional. The main advantage to installing the blinds yourself is obvious. You're saving money on a task that is presumably not that complicated and that's very appealing.Before attempting the installation yourself, it's important to remember how the warranty may void. The manufacturer can cite improper installation as the reason why they're not covering your blinds.You could end up costing yourself more in the long run by handling the installation yourself. If you have the money to spare, relying on the professionals for installation is a smart move.
Related Guides

Upgraded Home Team
We are a team of passionate homeowners, home improvement pros, and DIY enthusiasts who enjoy sharing home improvement, housekeeping, decorating, and more with other homeowners! Whether you're looking for a step-by-step guide on fixing an appliance or the cost of installing a fence, we've here to help.
More by Upgraded Home Team
Published October 8th, 2020 10:36 AM