59 Views
What Colors Do Gutters Come In?
April 16th, 2021 3:17 PM
Share
We're committed to finding, researching, and recommending the best products. We earn commissions from purchases you make using links in our articles. Learn more here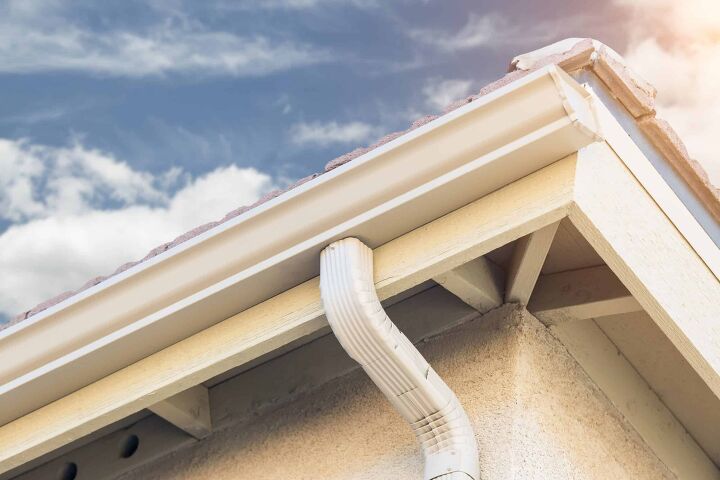 Gutters serve the important function of directing water away from your house, and they are a fixture of every house. Every builder-owner knows the importance of good gutters and the trouble that having them can save.
Function and convenience aside, gutters can also compliment the exterior of your home and add character based on which color a builder-owner chooses.
Gutters come in every color from white, clay, cream, ivory, and grey, to dark green, brown, red, and wicker. In fact, there is no limit to what colors gutters can come in, and it varies from manufacturer to manufacturer.
However, many gutter services and manufacturers offer 20 to 30 colors or more, with a selection of different tones for several colors.
Some builder-owners want their gutters to match their roof exactly, while others go for a bolder look with gutters that stick out. The options for colors are endless, but there are several things to consider before choosing your gutters.
Let's get into the colors that gutters come in, and when it is best to use which one.
Do You Need Roofing, Siding, or Gutter Installers?
Get free, zero-commitment quotes from pro contractors near you.
Do Colored Gutters Cost More?
When choosing your gutter color, your budget is likely at the top of your list of priorities. Generally, colored gutters cost more than off-white gutters, as they tend to be the factory-finish. However, this is not always the case and prices can shift based on the material.
An Amerimax 6" x 16 ft. white aluminum gutter is $24.56, but the same gutter in dark bronze is $49.97. For cheaper gutter materials, like vinyl, the cost does not always vary, or at least doesn't double in price.
Gutters fluctuate in price based on the material that they are made out of. The example below uses a roof needing 150 linear feet of gutters as an example.
| | | |
| --- | --- | --- |
| Material | Cost | Total Materials Cost |
| Copper | $20-$40 per linear foot | $3,000-$6,000 |
| Vinyl | $3-$7 per linear foot | $450-$1,050 |
| Steel | $15-$20 per linear foot | $2,250-$3,000 |
| Aluminum | $5-$15 per linear foot | $750-$2,250 |
The above total materials cost only refers to builder-owners that are installing gutters themselves. Hiring roofers to install your gutters for you adds a lot to the total price tag, and depending on the size of the job, it can add as much as $500 more. The difference in cost between colored and white gutters mostly refers to aluminum gutters.
Some tones, such as red, for example, cost more than others, such as bronze. Red aluminum gutters can cost as much as $90.56 for a 5" x 10 ft., whereas the same size bronze gutters cost $81.50.
How to Choose the Right Color For Your Gutters
Choosing the right color for your gutters is not as easy as picking one out from the crowd. Instead, think about what kind of curb appeal you want to bring to your house. Do you want your gutters to match, or do you want to draw eyes to your house with bold, contrasting gutters?
Many homeowners are unaware of the difference that gutter color can make in a home's appearance. The following are some options to help you choose a gutter color that will complement your home:
Match your home's exterior paint color. Choosing a gutter color that is the same as your siding is a great way to conceal and blend them in. However, since there are an extensive number of exterior paint colors and customizable options, it may be difficult to find the right color to match.
Contrast the color of your home. Although choosing a contrasting gutter color isn't as popular, it's an excellent way to add visual appeal to your home. If you decide to choose a contrasting color, you'll still want to work within your color palette. For example, consider matching your gutters to your front door, or install black gutters to juxtapose a white brick home.
Match your roof. If you want your gutters to look as seamless as the shingling on your roof, match it to the shingles, or the roof itself. Most roofs are a darker brown tone, and brown tones are among the most common color options for gutters. Matching your gutter color to your roof is very popular for homes with a more modern, contemporary, or art deco style.
Match your trim. Matching your gutters to your trim is another great way to blend them into your home's exterior. You'll want to keep in mind that there may be instances where your downspouts are next to your siding, as opposed to your trim. However, this only presents challenges if you want your gutter system to be completely hidden. In this case, as a solution, you can try matching your downspouts to your siding and your gutters to your trim.
For builder owners that want to be more adventurous with the addition of new gutters, a bold color option is a great choice. Ultimately, each color has a different effect and brings a unique look to the house.
Red
Red is a great choice if you are looking to do something bold with your roof. The curb appeal that red gutters bring is usually if it is in contrast to the roof, or the trim. More often than not, roofs are brown, or at least a dark color, and a touch of red brightens up the space and compliments the backdrop.
Putting red gutters against a dark roof creates a great contrast that can be seen from the sidewalk. Not to mention, red gutters compliment houses with brick walls, accentuating them further.
Black
Homeowners and builders generally choose black gutters if and when they match the roof. With that said, many roofs and trims are black, making it a widely chosen color for gutters. If you want to get the most of your black gutters, choose a white trim to go with it.
Especially if you have a black roof, which will make both the trim and gutters stand out.
Brown
There are so many different tones of brown, that there are endless possibilities within the one color. Darker, earthier browns can help create a natural look that is especially suited for homes with foliage in or around the yard.
Brown is not often used as a contrasting color gutter, but instead as a complementary or even matching color to the roof and or shingles.
White/Ivory
White and ivory gutters are staples of many homes for one reason alone: they look great. Not only that, but white, cream, ivory, and other lighter-colored gutters are often cheaper than alternatives, like green.
Builder-owners that are interested in using their trim and gutters to stand out against the house often choose white or ivory.
If your house is painted a dark blue, grey, black, or brown, for example, a combination of white trim and white gutters will stand out.
Gutter Colors Cost Comparison
| | |
| --- | --- |
| Color of Gutters | 5" x 10 ft. Aluminum Gutter |
| Ivory | $80-$90 |
| White | $50-$95 |
| Brown | $35-$65 |
| Red | $80-$90 |
| Black | $90-$100 |
| Bronze | $70-$90 |
What is the Best Material For Gutters?
Aluminum is considered the best material for gutters because of its durability, affordability, and functionality. Besides that, vinyl is another great option because is strong and looks great, but it also only costs $3-$7 per linear ft.
Higher-end materials, such as copper and steel, are also quite durable, but cost an extra $15-$25 per linear ft.
However, many builder owners find copper a worthy investment because of the quality of the material, and how its appearance changes over time.
You may not be able to buy copper gutters in multiple colors, but copper gutters develop a patina over time. When copper gutters are exposed to the elements, over time, they will slowly develop a green coating that creates a classic look.
---
Related Questions
Do colored gutters fade eventually?
Yes, however, the severity of the fading as well as how long it takes varies greatly. Gutters with more sun exposure, intense heat, and heavy rainfall will fade color more quickly. The same can be said for darker colored gutters, like dark brown, black, or red, which can fade within 10 years or less as well.
How long does it take for copper to turn green?
It varies based on the elements, copper usually turns green or brown within 5-7 years. The green or brown patina gradually becomes more and more noticeable.
Can you repaint gutters?
Yes, you can, but you must carefully go about it. Chances are that you will need to remove the gutters before you can paint them. If so, have the help of at least one person, or at least a spotter while you are using the ladder.Besides that, painting gutters yourself is quite easy and takes little time at all.
Do You Need Roofing, Siding, or Gutter Installers?
Get free, zero-commitment quotes from pro contractors near you.
Summing it Up
Gutters come in many colors, such as red, black, gray, ivory, cream, green, and more. Ultimately, it is up to the builder-owner whether or not their new gutters are going to be bold and noticeable from the street, or simply blend in and match the roof and/or trim.
When it comes down to it, the color that you choose for your gutters should be what matches your desired aesthetic most. Expect to spend at least $5-$15 per linear ft. on your colored gutters. Best wishes on making your final choice, and hopefully increasing your home's curb appeal.

Nick Durante
Nick Durante is a professional writer with a primary focus on home improvement. When he is not writing about home improvement or taking on projects around the house, he likes to read and create art. He is always looking towards the newest trends in home improvement.
More by Nick Durante
Published August 25th, 2020 5:37 PM