81 Views
What Are The 10 Wealthiest Cities In Arizona?
December 19th, 2021 3:22 PM
Share
We're committed to finding, researching, and recommending the best products. We earn commissions from purchases you make using links in our articles. Learn more here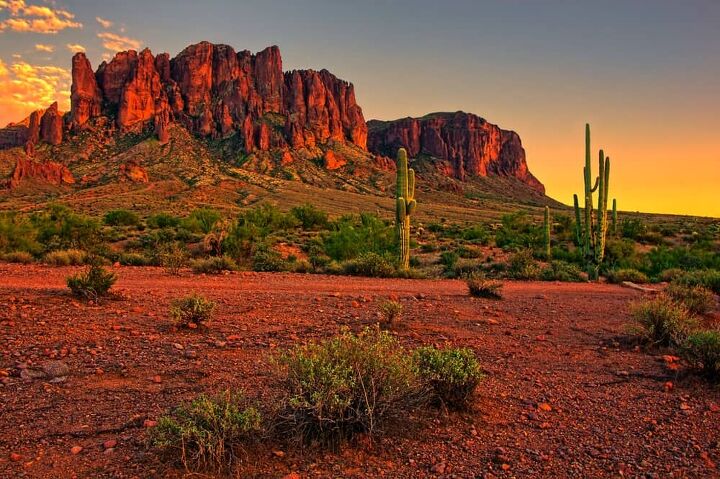 The Grand Canyon, Cathedral Rocks, and Monument Valley are a few landmarks that attract many people to the southwest corner of the United States. Arizona is known for its beautiful desert landscapes and the abundance of outdoor activities available.
It is one thing to visit there, but what if you could live there? According to the United States Census Bureau, Arizona can have some of the country's highest real estate costs. That begs the question, what are some of the wealthiest cities in Arizona?
The 10 most wealthiest cities in Arizona include:
Paradise Valley
Queen Creek
Carefree
Catalina Foothills
Litchfield Park
Scottsdale
Rio Verde
Fountain Hills
Gilbert
Oro Valley
Here is where you will find some of Arizona's finest millionaires and billionaires residing. If your Income qualifies, these are the best wealthy communities to choose from throughout the state.
Follow along as we take you through the top ten wealthiest cities of Arizona. We will also briefly discuss what exactly determines whether a city is wealthy. It comes down to more than just the average residential Income and the amenities available to the residents of these areas.
Do You Need to Hire Movers?
Get free, zero-commitment quotes from pro contractors near you.
What Determines Whether A City Is Wealthy?
If the Income is there for you to afford to live in some of these areas, you can expect to get what you pay for. With safe communities, lots of activities, and highly rated school systems, wealthy communities can be worth their weight in gold.
Like Maricopa and Pima county, some counties in Arizona are ranked among the richest in the state and the country.
We thoroughly researched several well-known areas in Arizona to find out the average income and the different faculties available to the residents, such as healthcare, safe communities, school systems, and many other factors.
Top 10 Wealthiest Cities In Arizona
| | | |
| --- | --- | --- |
| City | Population | Average Income |
| Paradise Valley | 14,353 | $173,500 |
| Queen Creek | 35,000 | $90,000 |
| Carefree | 3,400 | $92,000 |
| Catalina Foothills | 50,000 | $80,000 |
| Litchfield Park | 5,500 | $85,000 |
| Scottsdale | 246,600 | $76,500 |
| Rio Verde | 2,000 | $85,000 |
| Fountain Hills | 24,500 | $75,300 |
| Gilbert | 237,100 | $85,600 |
| Oro Valley | 44,000 | $76,000 |
1. Paradise Valley
Population: 14,353
Average Income: $173,500
This Valley lives up to its name of paradise. It is found at the base of Mummy Mountain with Piestewa Mountain and Camelback Mountain, adding to the landscape in the background. This area is a suburb of Phoenix, approximately twenty minutes from downtown.
Paradise Valley claims to have the highest average Income within the Phoenix area, but it is a smaller neighborhood. Only 16.5 square miles around, it offers eleven schools and four medical facilities for its residents.
It also provides a top tourist destination; this could be due to having nine resorts, three golf courses, and a high-end shopping center. Scottsdale Fashion Square is a famous shopping center known for top brands like Gucci and Tiffany & co.
2. Queen Creek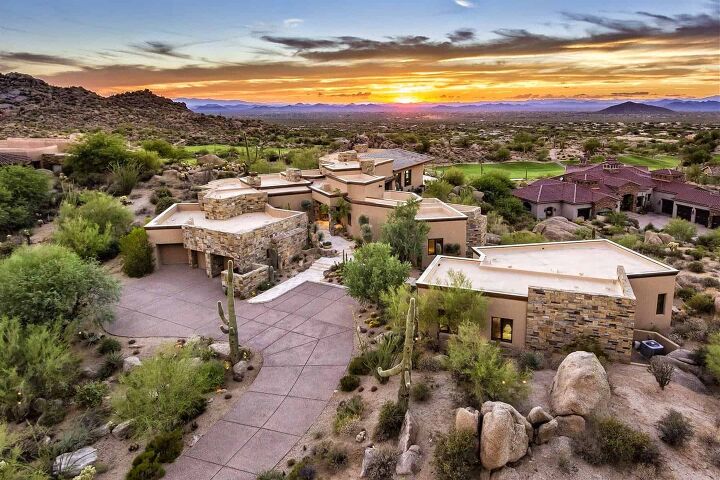 Population: 35,000
Average Income: $90,000
Located at the foothills of the San Tan Mountains, Queen Creek is a tight-knit community. Many of the residents are farmers and can be found selling fresh produce.
One hidden gem of Queen Creek is Olive Mill. It is the only working olive farm and mill in Arizona. They not only provide tours to the 100-acre farm, but they have a full-service menu with catering options as well as bookings for special events.
They also fulfill online orders to ship all over the country. Queen Creek offers so much more than just farms, though.
Being right at the foothills of the mountain, outdoor activities are very accessible with hiking trails and the ability to enjoy the beautiful landscape.
3. Carefree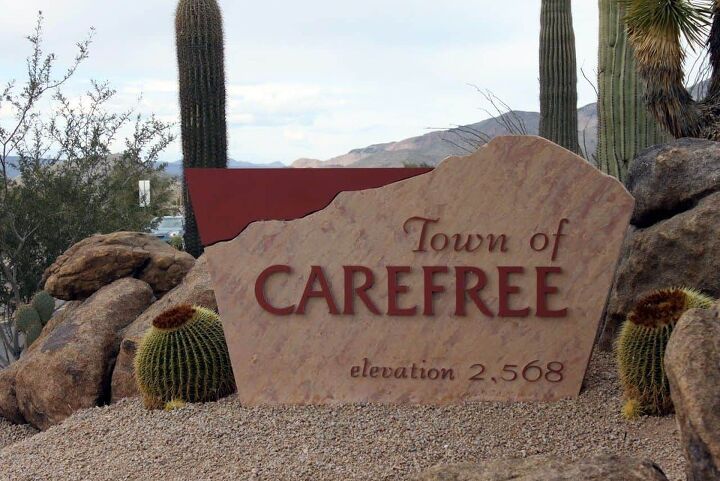 Population: 3,400
Average Income: $92,000
Another Arizona town that lives up to its name. Carefree is a suburb of Phoenix located in the Sonoran Desert. This town has the most scenic views of the desert landscape. There are a lot of outdoor activities that are easily accessible at Cave Creek Regional Park and Barlett Lake. Here you can hike, fish and even camp.
However, if you are not into rigorous activity, downtown Carefree offers fine dining, boutique shopping, and much more. In the center of the town, you will find The Carefree Sundial. This artistry stands 35-feet tall and is considered the largest sundial in the country.
However, their pride and joy are the Carefree Desert Gardens, which is a 4-acre botanical garden. Not to mention, the schools are among the highest-rated in the nation.
4. Catalina Foothills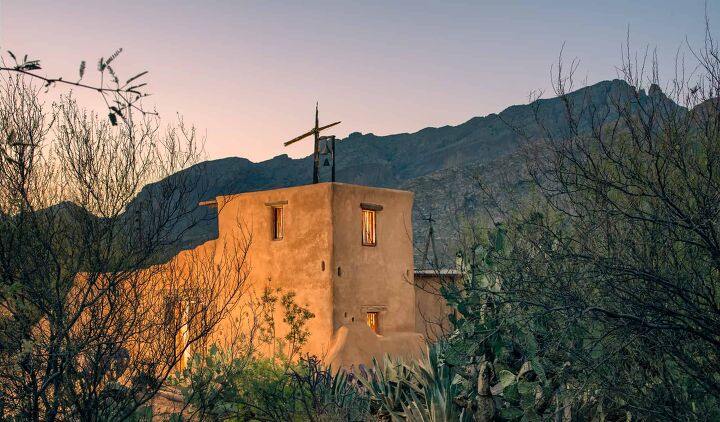 Population: 50,000
Average Income: $80,000
Found in the Santa Catalina Mountain, this town is deemed one of Pima County's wealthiest and has some of the most expensive properties.
It ranks at 14 for the highest Income in the United States. This is probably why this town has more of an exclusive atmosphere, which is a perk of being one of the residents.
Hiking and spectacular landscape views are something you can also find here, but the most significant activity in this town is shopping.
The largest shopping center in the Tucson area is La Encantada, and this provides top brands like Luis Vuitton and Coach to the residents of Catalina.
5. Litchfield Park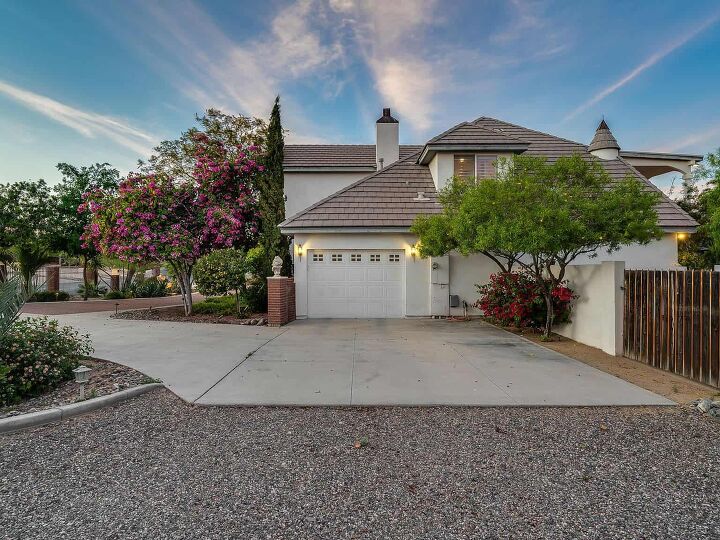 Population: 5,500
Average Income: $85,000
Litchfield is the definition of small-town. It is a little over 3 square miles, and many residents live a quiet lifestyle. The town has many locally-owned businesses and a small shopping center that provides the necessities for the town's residents.
The residents are very neighborly, and it is that type of town where everybody knows everybody. It has a public area that the city maintains and a low crime rate, probably due to the community being so close.
There is also a weekly farmers market, and if the residents cannot find everything they need, Phoenix is just forty miles away.
6. Scottsdale
Population: 246,600
Average Income: $76,500
"Most Western Town in the West" is the definition of Scottsdale. Downtown has a cowboy vibe, and they host a rodeo every year that lasts for a whole month. Even though this town is known for ranching and its wild west feel, it has a lot more to offer.
Scottsdale Center for Performing Arts is a fundamental part of the culture scene, which also includes a lot of museums and galleries.
You can also find outdoor activities at the McDowell Sonoran Preserve, and you can never forget about golf. If you want to move to Scottsdale, take a look at our roundup of The 5 Best Neighborhoods In Scottsdale, Arizona.
7. Rio Verde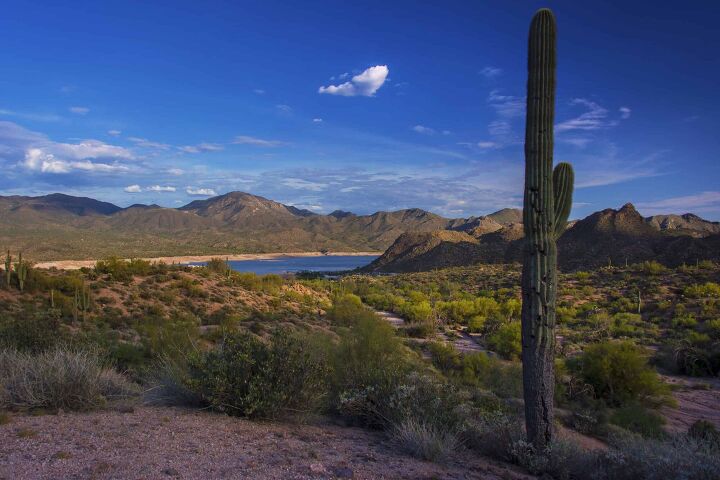 Population: 2,000
Average Income: $85,000-$90,ooo.
This town is identified as a golfing community, which is more than likely geared towards the fact that this is a planned retirement community. It accommodates retirees of 55 and older.
This town is centered around golf, with its private country club. The club offers a large practice area, a pro shop, two courses, and two restaurants.
Even though this is a popular spot with the residents, if you do not want to golf, there are plenty of National Parks, like Tonto National Forest and Yavapai Nation Indian Reservation, where you can enjoy things like biking horseback riding.
8. Fountain Hills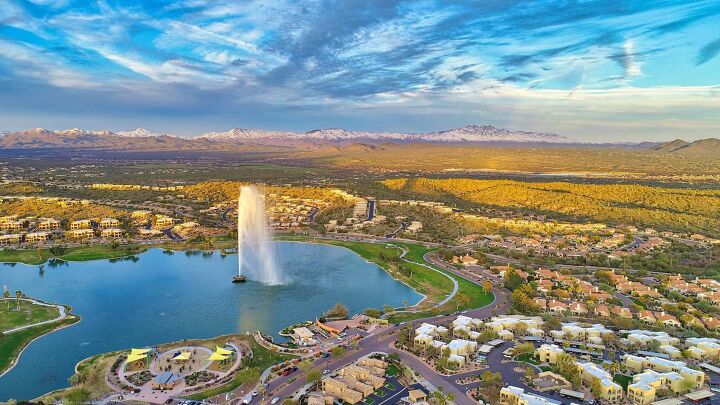 Population: 24,500
Average Income: $75,300
In the middle of the town, there is a 560-foot fountain, where many community events take place. This area is the pride and joy in the city, so it is no wonder named after Fountain Park.
The park is more than 120,000-acres and offers a lot of recreational activities. This includes hiking, horseback riding, and camping. The park has campsites for tents and RVs to accommodate residents and tourists.
There are guided hikes and stargazing events, but what cannot be found in the park is the thriving downtown scene.
There are multiple galleries for the cultural background and a couple of wineries throughout the town. However, if you want to get away from all this, twenty minutes away is Saguaro Lake, where you can enjoy boating and fishing.
9. Gilbert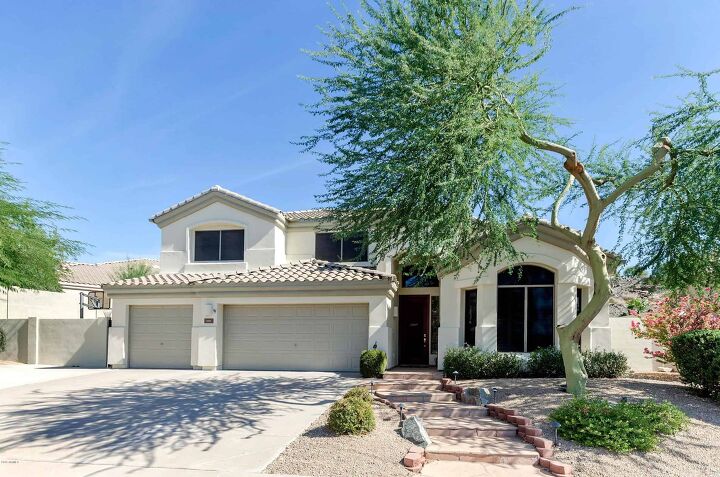 Population: 237,100
Average income: $85,600
Somewhere between his small thriving town. This town claims a spot on one of the fastest-growing cities in the nation. However, the city holds to its roots, since the shopping ranges from local shops to high-end fashions.
They also have four performing arts theaters and take pride in the fact that one of those theaters is the longest-running, privately owned theater in the country.
There are many parks and The Riparian Preserve at Water Ranch, which helps keep the town eco-friendly. These areas offer residents a safe place to exercise, fish, and even golf.
10. Oro Valley
Population: 44,000
Average Income: $76,000
This town is popular with wealthy retirees since it is a quiet and safe town. However, it is a hiker's paradise. There are 200 acres of trails in Naranja Park, and the Valley sits along the Catalina State Park. This can provide residents with hiking, camping, horseback riding, mountain biking, and much more.
This is due to the state park containing canyons and foothills. The town is proud of its above-average school system as well as its infamous farmers' market, where residents sell everything from local meat to homemade soaps.
Do You Need to Hire Movers?
Get free, zero-commitment quotes from pro contractors near you.
---
Related Questions
What is the richest part of Phoenix?
Paradise valley is listed as the area in Phoneix that had the highest median Income back in 2014. If you want to pinpoint an exact location, then the zipcode 85253 is the wealthiest zip code within Phoenix.
Some neighborhoods such as Tilyou Ranchitos and Mummy Mountain Estates have recent record sales within real estate.
What is considered wealthy in Arizona?
If you're going solely by Income, then by Arizonas standards, you will need to earn around $107,125 every year if you are looking to fall into the 'rich' category. That's more than three times of Arizona's average household income that falls around $36,000.
How much do you need to make to live comfortably in Phoenix, AZ?
Not everyone wants a luxurious lifestyle. Most want to live comfortably. So, financially, how much do you need to earn to be comfortable in Phoenix?
You would need to make at least $50,000 per year to enjoy a comfortable life in Phoenix. But, if you're willing to settle for Tucson for the time being, then you would need at least $40,000 per year.
Related Guides

Heather Robbins
Heather is a passionate writer who loves anything DIY. Growing up, she learned everything from home repairs to design, and wants to share her tips with you. When she's not writing, she's usually hiking or searching for her next DIY project.
More by Heather Robbins
Published March 24th, 2021 12:13 PM